How climate change is shaping fashion trends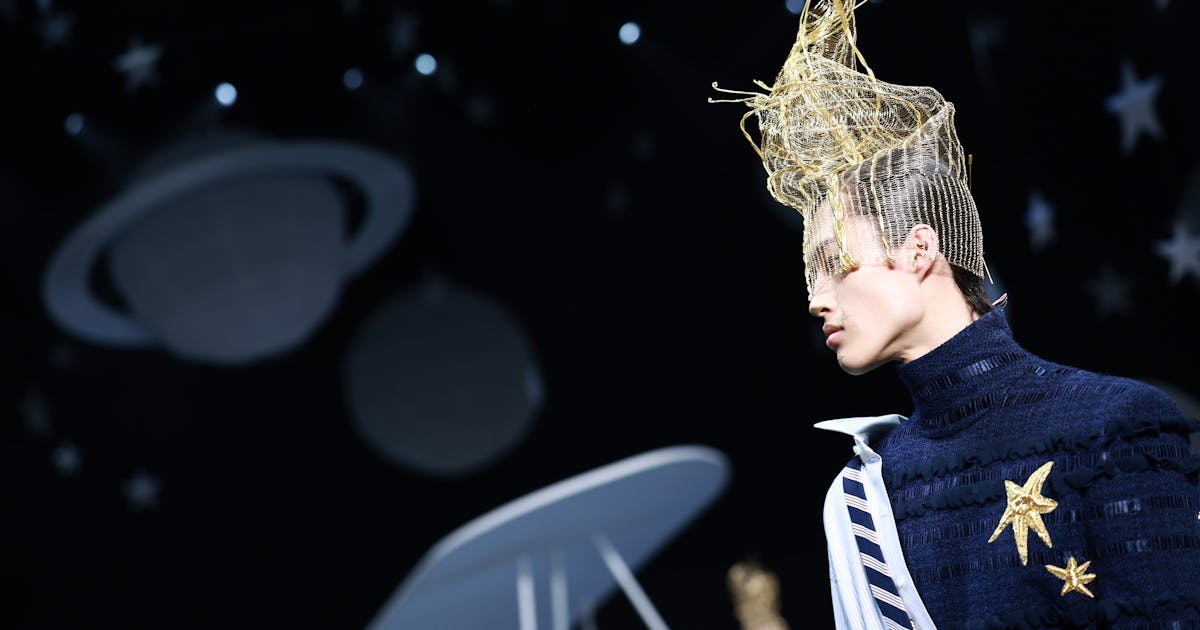 Not to be depressing, but doesn't there seem to be news of another catastrophic environmental event almost daily? From record-breaking tornado outbreaks to actual rain in Los Angeles, unpredictable weather is the new normal, wreaking havoc among those affected and causing anxiety among those watching it unfold from a distance, including the creators of fashion. Recently, these creative talents have come out of the storm, drawing inspiration from these events to imagine new ways of dressing, unexpected uses of textiles, and relatively climate change-friendly(ish) production policies to reduce their impact. The result? Looks that bring more drama than a summer afternoon thunderstorm.
As efforts to delay the devastating impact of global warming continue to emerge, albeit at a seemingly (melting) glacial pace, designers have attempted to offer a range of solutions in their latest collections for fall/ winter 2023. ready to watch whimsical creatures from Collina Stradas and Acne Studios offering clothing that is both functional and wildlife-like, the runways were teeming with ideas on how to acclimate and deal with the climate crisis in rapidly changing, of which the fashion industry, especially fast fashion, is a key contributor. According to Geneva environment networkFashion production accounts for 10% of humanity's carbon emissions, dries up water sources and pollutes rivers and streams.
One of the least talked about manifestations is how climate adaptation will drive new types of demand and the resulting design response to that need. Global climates are changing and the functions we prioritize in our clothes will continue to change because of it, explains Lorna Roomdirector of fashion intelligence at WGSNa trend analysis company.
Of course, challenging through art sometimes displays the most innovative and groundbreaking works that spark conversations and invoke lasting change (the right kind). Look at Aurora James, Nan Goldin, Dame Vivienne Westwood or Kim Petras. Below, discover the most important and thoughtful ways designers are investigating global warming through their work.
Spaced
Thom BrowneNina Westervelt/WWD/Getty Images
Paco RabanneGiovanni Giannoni/WWD/Getty Images
From reinterpreted mod looks and runway-ready spacesuits, this direction was all about retro-futurism, while also offering clothes prepared for intergalactic travel. Thom Browne stans will be ready to travel to the stars in style. Button seams, bulky padding, and oversized outerwear reconsidered the concept of space, while perhaps suggesting a desire to make a good first impression on any new alien neighbors. Orbiting the pragmatic dress dress mixed with superfluous sleeves and spaceship-ready uniforms in one look met the demand for clothes that could be transported from the space shuttle to the surface of the moon. Think of it as the new day-to-night dressing.
The fashion shows took place in more detail on a universe of Thom Browne. The mood was one of distinct wonder, as if to ask: How did we run out of time?
Activity around private space ventures has brought the interplanetary sphere to the fore, innovations in textile development often emerge from growth spurts in the space industry and this becomes an area of ​​interest and creative imagination for design , says Hall.
Meanwhile, Marine Serre has also taken a stand on where we might go as a society stylistically and geographically if the fashion industry doesn't take hold of the catastrophic carbon footprint it leaves in its wake. Pointed, cropped jackets constructed from upcycled tote bags and repurposed fishing nets in her moiré fabric, Serre has long been an environmental activist. It's the mix of clean silhouettes (the first looks were particularly successful with prim pencil skirts worn with futuristic underwear). On their own, these outfits would have been just interesting, a talking point, but the unexpected addition of face masks raised the question of air quality and future protective gear that might be needed in years to come. .
Themes of space exploration, magic, mysticism, psychedelia and spirituality are all huge influences right now as we look beyond the trials of everyday life for solace, echoes Emily Gordon SmithContent Director and Head of Sustainability at Stylea fashion forecasting company.
As for the man responsible for the original space-age mod look, a finale of metal-bound A-line minis at Paco Rabanne paid homage to the work of the late designer, who passed away earlier this year. Taking flight in the late 1960s with his groundbreaking galactic looks, Rabanne designed costumes for the epic 1968 sci-fi thriller, Barbarelle. A testimony of his memory? The looks seem as timely today as when they debuted. Additionally, the use of unconventional metals offers further investigation into found materials that can be used in future fashion production to reduce its impact on the climate.
Key details: Slim pants, trapeze dresses, short jackets and pencil skirts in upcycled textiles.
nymph core
In this direction, sad playfulness replaced the pragmatism introduced by Thom Browne and others. The emotion? You can only prepare for the end of the world for so long before you need to lighten the mood, even if darkness can erupt just out of frame. Take, for example, the Rodarte fairies, adorned with sprouting flowers and headdresses, reminiscent of early fairy folklore: a ruse concealed under the cover of forests, gardens and meadows. What could happen if a fairy's house burned down in a forest fire? Will she lose her wings every time a rainforest is razed? It's unclear. But fittingly, Rodarte's mythical beings had a dark but quietly menacing tone; the looks were constructed in muted, receding colors, and carried distressed detailing to impose a sense of gloomy resilience.
There are always contradictions in fashion and in response to all the pragmatism and anxiety that exists around us, playful and hedonistic self-expression is embraced by certain cohorts of consumers, says Gordon-Smith. What's interesting here is the young creatives' focus on sustainability, developing looks that historically would involve the most harmful materials.
This was the case at Collina Strada, where a lighter interpretation took center stage. The models were dressed in animal faces. Clothing printed with realistic fur patterns echoed a sense of whimsy when interacting with the audience. The hyper-layered looks were deconstructed and useful. The style contributed to an idea of ​​legacy for the sake of survival, what can be reused and reinvented? All of this could serve as a reminder of the wildlife that could apparently be saved with more sustainable practices, which the line advocates.
We really try to make sure that we use conscious fabrics and that we don't ship them all over the world to produce, says Hillary Taymourcreative director of Collina Strada, sustainable practical lines.
Key details: Lightweight bias-cut dresses in understated palettes, trompe l'oeil animal prints and responsibly made pieces layered for functionality. Optional: fairy headdresses and animal ear prostheses for a dose of fun.
Organic utility
Dominique Maître/WWD/Getty Images
Natacha ZinkoVictor VIRGILE/Gamma-Rapho/Getty Images
If you can't beat it, join it was the underlying message from designers like Acne Studios, –Natasha ZinkoAnd Who decides the war. From leaf appliques and war-ready outfits at Acne Studios to hooded anoraks and cargo bottoms at Who Decides War, it was clear that these looks were as functional as they made a statement. Dealing with climate disasters requires as much struggle from policy makers as it does from people who experience erratic weather. As such, military details have merged with worn and distressed treatments invoking a utilitarian and hard-working vibe. What felt particularly fresh, however, was the blending of nature, whether with the use of natural materials or borrowing from the forest or wildlife (think: reimagined camouflage) for prints and materials.
Nature-focused aesthetics and activations are certainly driving the narrative for many designers and brands. And that can mean a lot of things, says Gordon-Smith. From exploring flora and fauna through fantastical prints and patterns to youth level [styling]the natural world now represents an ultimate luxury that informs both visual directions and materiality.
The pursuit and maintenance of luxury can lead to a nasty fight (just look Succession, Yeah). So, cadets for climate change or what might be born from exposure to the elements walked the trail of Natasha Zinko. Intensely Titled Monster, Zinko quoted radiationa common culprit in the comics of turning superheroes into alter egos, and a deadly byproduct of nuclear power generation, like what could unleash the inner monster residing in all of us.
[The radiation mentioned] could be climate change, but also humans are changing and becoming more selfish, Zinko says. The latter is another important cause of unresolved climate problems.
Zinkos' eponymous line has long prioritized sustainable practices, and the Fall/Winter 2023 collection was no exception. Upcycling is a common practice in all my collections. Several looks were created from unsold and recycled inventory. The Violet Hulk shorts were made from my unsold white denim jeans. I personally dyed them and distressed them, she says.
Key details: Upcycled denim, multifunctional outerwear, deteriorated rosettes, modular padding. Add distressed and laced details to embody a weather warrior.
Sources
2/ https://www.thezoereport.com/fashion/climate-change-fashion-trends
The mention sources can contact us to remove/changing this article
What Are The Main Benefits Of Comparing Car Insurance Quotes Online
LOS ANGELES, CA / ACCESSWIRE / June 24, 2020, / Compare-autoinsurance.Org has launched a new blog post that presents the main benefits of comparing multiple car insurance quotes. For more info and free online quotes, please visit https://compare-autoinsurance.Org/the-advantages-of-comparing-prices-with-car-insurance-quotes-online/ The modern society has numerous technological advantages. One important advantage is the speed at which information is sent and received. With the help of the internet, the shopping habits of many persons have drastically changed. The car insurance industry hasn't remained untouched by these changes. On the internet, drivers can compare insurance prices and find out which sellers have the best offers. View photos The advantages of comparing online car insurance quotes are the following: Online quotes can be obtained from anywhere and at any time. Unlike physical insurance agencies, websites don't have a specific schedule and they are available at any time. Drivers that have busy working schedules, can compare quotes from anywhere and at any time, even at midnight. Multiple choices. Almost all insurance providers, no matter if they are well-known brands or just local insurers, have an online presence. Online quotes will allow policyholders the chance to discover multiple insurance companies and check their prices. Drivers are no longer required to get quotes from just a few known insurance companies. Also, local and regional insurers can provide lower insurance rates for the same services. Accurate insurance estimates. Online quotes can only be accurate if the customers provide accurate and real info about their car models and driving history. Lying about past driving incidents can make the price estimates to be lower, but when dealing with an insurance company lying to them is useless. Usually, insurance companies will do research about a potential customer before granting him coverage. Online quotes can be sorted easily. Although drivers are recommended to not choose a policy just based on its price, drivers can easily sort quotes by insurance price. Using brokerage websites will allow drivers to get quotes from multiple insurers, thus making the comparison faster and easier. For additional info, money-saving tips, and free car insurance quotes, visit https://compare-autoinsurance.Org/ Compare-autoinsurance.Org is an online provider of life, home, health, and auto insurance quotes. This website is unique because it does not simply stick to one kind of insurance provider, but brings the clients the best deals from many different online insurance carriers. In this way, clients have access to offers from multiple carriers all in one place: this website. On this site, customers have access to quotes for insurance plans from various agencies, such as local or nationwide agencies, brand names insurance companies, etc. "Online quotes can easily help drivers obtain better car insurance deals. All they have to do is to complete an online form with accurate and real info, then compare prices", said Russell Rabichev, Marketing Director of Internet Marketing Company. CONTACT: Company Name: Internet Marketing CompanyPerson for contact Name: Gurgu CPhone Number: (818) 359-3898Email: [email protected]: https://compare-autoinsurance.Org/ SOURCE: Compare-autoinsurance.Org View source version on accesswire.Com:https://www.Accesswire.Com/595055/What-Are-The-Main-Benefits-Of-Comparing-Car-Insurance-Quotes-Online View photos
to request, modification Contact us at Here or [email protected]