Tracee Ellis Ross exudes glamor as she poses in a belted white dress with over the knee boots (photos)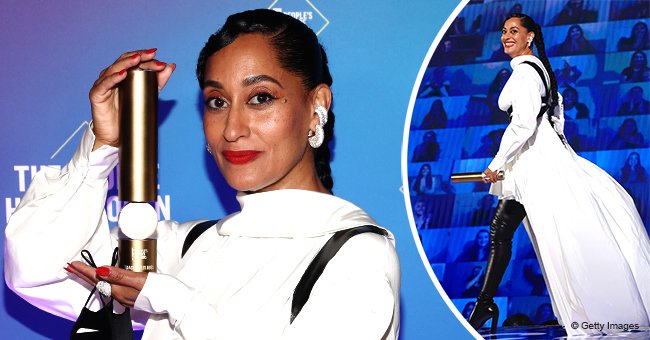 "Black-ish" star Tracee Ellis Ross shows further proof why she's a fashion icon this year. She recently delighted fans with a photo of herself in a stunning ensemble.
Tracee Ellis Ross is a woman of grace and style. As fashion runs deep in her veins, the 48-year-old actress continues to kill various pieces with confidence.
Ross took to Instagram to share two photos of herself wearing an avogue outfit that looked perfect for a fashion queen like her. She really served up a royal look as many fans were at a loss for words when looking at her.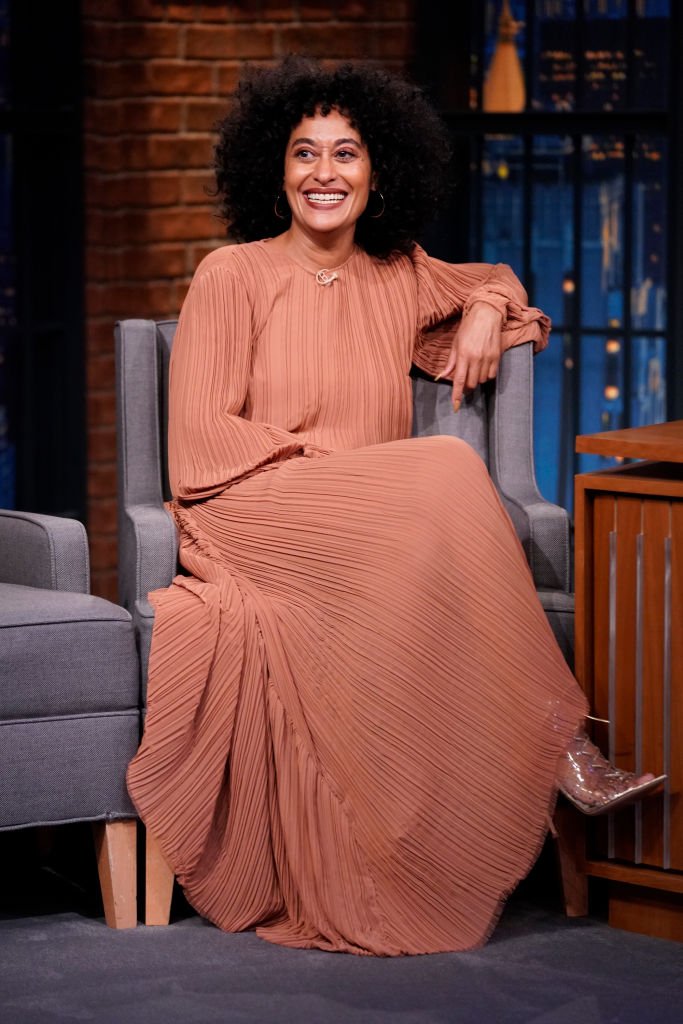 THE QUEEN OF GLAM
The asymmetric dress Ross posted online was an elegant piece she wore when she accepted her Fashion Icon Award at the 2020 Peoples Choice Awards.
She paired her stunning white dress with a black belt to show off her slim waist and topped it off with a pair of black over the knee boots and silver accessories. She wrote:
"MCQUEEN.
The stunning photo of the actress has garnered plenty of comments online. All of Ross's Instagram followers agreed that she looked glamorous and gorgeous in her Alexander McQueen harness dress.
One fan noted that Ross's outfit was the right dress for the price, while another said she had the best style and best smile in the photo.
Ross previously explained online how his mother has become an instrument to fulfill her desire to be a model.
HIS BIG FASHION INFLUENCE
After her victory, Ross, who put her on long signature braids with her white dress, shared in her speech that she attributes to her mother, the legendary singer Diana Ross, her great influence on fashion.
She said her sense of style and her epic closet introduced him to the world of fashion. She also thanked her other fashion influencers, including designers Thierry Mugler and Azzedine Alaa.
Ross reminded viewers and fans that fashion has the power to influence others. They should let their clothes be their "superhero cape" by making a statement about what they believe in.
CATWALK-INGWITH DIANA
Ross earlier shared online on how her mother became an instrument of her desire to become a model. She took part in her first fashion show with the iconic singer on the Muglers Butterfly Show 30 years ago.
Held in Paris, Ross was happy to have been able to walk hand in hand with her mother. In addition to the mother-daughter show, Ross was delighted to see famous models sharing a track with her.
She hit the runway with Cindy Crawford, Linda Evangelista and Christy Turlington. For Ross, it was his best birthday present at 18.
Days after being honored as this year's Fashion Icon Award winner, Ross was grateful for the recognition. She took to Instagram Story to share several snaps of herself in beautiful dresses over the years.
In one of her favorite looks, she included a photo of herself as a teenager wearing a royal blue ensemble with a large ribbon in the front.
What Are The Main Benefits Of Comparing Car Insurance Quotes Online
LOS ANGELES, CA / ACCESSWIRE / June 24, 2020, / Compare-autoinsurance.Org has launched a new blog post that presents the main benefits of comparing multiple car insurance quotes. For more info and free online quotes, please visit https://compare-autoinsurance.Org/the-advantages-of-comparing-prices-with-car-insurance-quotes-online/ The modern society has numerous technological advantages. One important advantage is the speed at which information is sent and received. With the help of the internet, the shopping habits of many persons have drastically changed. The car insurance industry hasn't remained untouched by these changes. On the internet, drivers can compare insurance prices and find out which sellers have the best offers. View photos The advantages of comparing online car insurance quotes are the following: Online quotes can be obtained from anywhere and at any time. Unlike physical insurance agencies, websites don't have a specific schedule and they are available at any time. Drivers that have busy working schedules, can compare quotes from anywhere and at any time, even at midnight. Multiple choices. Almost all insurance providers, no matter if they are well-known brands or just local insurers, have an online presence. Online quotes will allow policyholders the chance to discover multiple insurance companies and check their prices. Drivers are no longer required to get quotes from just a few known insurance companies. Also, local and regional insurers can provide lower insurance rates for the same services. Accurate insurance estimates. Online quotes can only be accurate if the customers provide accurate and real info about their car models and driving history. Lying about past driving incidents can make the price estimates to be lower, but when dealing with an insurance company lying to them is useless. Usually, insurance companies will do research about a potential customer before granting him coverage. Online quotes can be sorted easily. Although drivers are recommended to not choose a policy just based on its price, drivers can easily sort quotes by insurance price. Using brokerage websites will allow drivers to get quotes from multiple insurers, thus making the comparison faster and easier. For additional info, money-saving tips, and free car insurance quotes, visit https://compare-autoinsurance.Org/ Compare-autoinsurance.Org is an online provider of life, home, health, and auto insurance quotes. This website is unique because it does not simply stick to one kind of insurance provider, but brings the clients the best deals from many different online insurance carriers. In this way, clients have access to offers from multiple carriers all in one place: this website. On this site, customers have access to quotes for insurance plans from various agencies, such as local or nationwide agencies, brand names insurance companies, etc. "Online quotes can easily help drivers obtain better car insurance deals. All they have to do is to complete an online form with accurate and real info, then compare prices", said Russell Rabichev, Marketing Director of Internet Marketing Company. CONTACT: Company Name: Internet Marketing CompanyPerson for contact Name: Gurgu CPhone Number: (818) 359-3898Email: [email protected]: https://compare-autoinsurance.Org/ SOURCE: Compare-autoinsurance.Org View source version on accesswire.Com:https://www.Accesswire.Com/595055/What-Are-The-Main-Benefits-Of-Comparing-Car-Insurance-Quotes-Online View photos
picture credit
to request, modification Contact us at Here or [email protected]