Bakhtawar Bhutto to 'recreate' Benazir Bhutto's Nikkah dress for engagement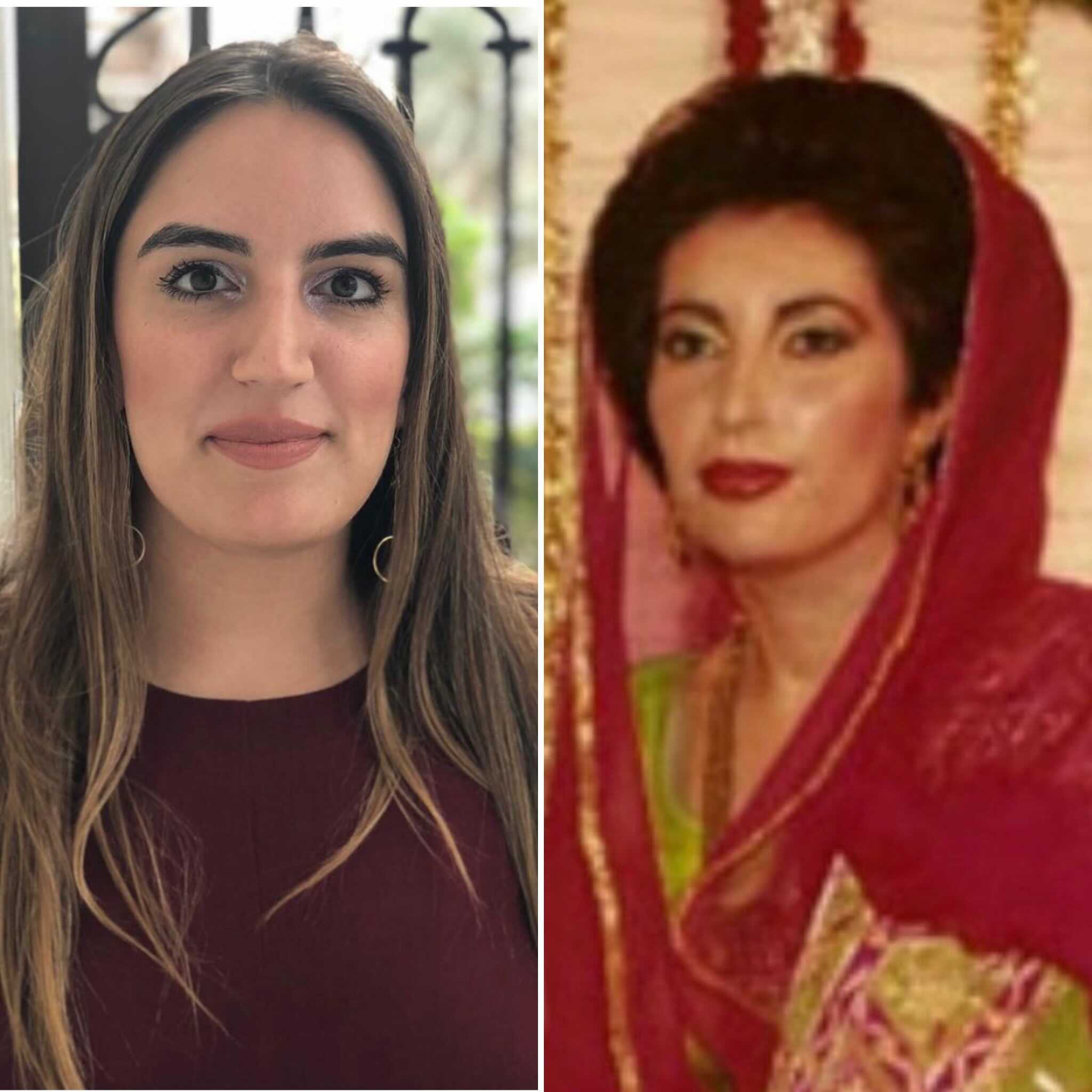 Last week it was announced that Bakhtawar Bhutto Zardari, daughter of former President Asif Ali Zardari and former PPP Chairman Benazir Bhutto, will be engaged to Mahmood Choudhry this week at Bilawal House. While the party has yet to officially announce the happy occasion, a copy of the invitation has taken to social media and congratulatory messages have started pouring in.
Bakhtawar will tie the knot in January of next year. However, speculation about what Bhutto's eldest daughter will wear during her festivities has already started.
Now, if rumors are to be trusted, Bakhtawar will be wearing a recreation of his late mother, Benazir Bhutto's nikkah dress. Designed by Resham Revaj and donned by the former prime minister on his nikah in Asif Ali, the pink and green ensemble with intense workmanship is still fresh on people's minds.
Speaking to their official Instagram page, the designer shared a photo of Benazir from his nikkah day and wrote, "Congratulations to Bakhtawar Bhutto-Zardari on his engagement, feeling honored to want to recreate Muhtarma Benazir Bhutto's nikkah jorah designed by #ReshamRevaj. Share the photo of the original outfit. "
Guess we have to wait and watch for the final reveal of the dress.
Previously, the Pakistani People's Party shared a statement about Bakhtawar's future husband and who he was. "Mahmood Choudhry is the son of Mohammad Younas and Begum Suraiya Choudhry, originally from the old town of Lahore, Pakistan. Mr. Younas emigrated to the United Arab Emirates in 1973 where, through his hard work, he established businesses in the construction and transport sector. " the official announcement read.
Bakhtawar's 32-year-old future fiancé is the latest of five siblings and was born in Abu Dhabi city on July 28, 1988.
"He completed his primary education in Abu Dhabi and his secondary education in the UK. Mahmood continued his law studies at Durham University." Choudhry's country of residence will remain the UAE, where he runs construction, finance and technology companies, the party confirmed.
Later, Bakhtawar also cleared the air, revealing that the invitations were leaked even before they were officially sent.
"Thank you all for the good wishes. Unfortunately, the cards were leaked even before their official dispatch was scheduled!" Bakhtawar posted.
"Have absolutely NO family affiliation in the United States, which is widely cited by most of the media. Hope this clears up any misinformation."
Do you have something to add to the story? Share it in the comments below.
What Are The Main Benefits Of Comparing Car Insurance Quotes Online
LOS ANGELES, CA / ACCESSWIRE / June 24, 2020, / Compare-autoinsurance.Org has launched a new blog post that presents the main benefits of comparing multiple car insurance quotes. For more info and free online quotes, please visit https://compare-autoinsurance.Org/the-advantages-of-comparing-prices-with-car-insurance-quotes-online/ The modern society has numerous technological advantages. One important advantage is the speed at which information is sent and received. With the help of the internet, the shopping habits of many persons have drastically changed. The car insurance industry hasn't remained untouched by these changes. On the internet, drivers can compare insurance prices and find out which sellers have the best offers. View photos The advantages of comparing online car insurance quotes are the following: Online quotes can be obtained from anywhere and at any time. Unlike physical insurance agencies, websites don't have a specific schedule and they are available at any time. Drivers that have busy working schedules, can compare quotes from anywhere and at any time, even at midnight. Multiple choices. Almost all insurance providers, no matter if they are well-known brands or just local insurers, have an online presence. Online quotes will allow policyholders the chance to discover multiple insurance companies and check their prices. Drivers are no longer required to get quotes from just a few known insurance companies. Also, local and regional insurers can provide lower insurance rates for the same services. Accurate insurance estimates. Online quotes can only be accurate if the customers provide accurate and real info about their car models and driving history. Lying about past driving incidents can make the price estimates to be lower, but when dealing with an insurance company lying to them is useless. Usually, insurance companies will do research about a potential customer before granting him coverage. Online quotes can be sorted easily. Although drivers are recommended to not choose a policy just based on its price, drivers can easily sort quotes by insurance price. Using brokerage websites will allow drivers to get quotes from multiple insurers, thus making the comparison faster and easier. For additional info, money-saving tips, and free car insurance quotes, visit https://compare-autoinsurance.Org/ Compare-autoinsurance.Org is an online provider of life, home, health, and auto insurance quotes. This website is unique because it does not simply stick to one kind of insurance provider, but brings the clients the best deals from many different online insurance carriers. In this way, clients have access to offers from multiple carriers all in one place: this website. On this site, customers have access to quotes for insurance plans from various agencies, such as local or nationwide agencies, brand names insurance companies, etc. "Online quotes can easily help drivers obtain better car insurance deals. All they have to do is to complete an online form with accurate and real info, then compare prices", said Russell Rabichev, Marketing Director of Internet Marketing Company. CONTACT: Company Name: Internet Marketing CompanyPerson for contact Name: Gurgu CPhone Number: (818) 359-3898Email: [email protected]: https://compare-autoinsurance.Org/ SOURCE: Compare-autoinsurance.Org View source version on accesswire.Com:https://www.Accesswire.Com/595055/What-Are-The-Main-Benefits-Of-Comparing-Car-Insurance-Quotes-Online View photos
picture credit
to request, modification Contact us at Here or [email protected]