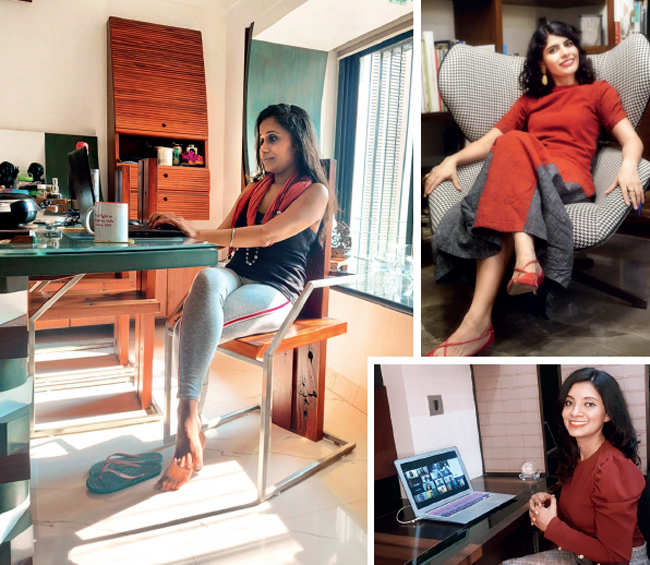 By | Anindita paul

What you wear when working from home can influence your productivity and also improve your mood.
With job from home (WFH) becoming a big part of the new normal, many professionals are swapping their suits and jackets for a more comfortable uniform of sweatpants and shorts. With longer work hours, a frequently disrupted work routine that stems from sharing your workspace with other family members, and even altered sleep cycles, it's easy to see why many people embrace the respite from not having to change loungewear to start their workday. However, experts say there is a strong case to be made in the process of preparing for your workday. The WFH eliminates the processes needed to get to work, such as getting ready by putting on your work clothes and going to work, explains psychologist Priyanka Bajaria. These tasks prepare our mind and body to devote the assigned work hours to professional tasks. By maintaining the activity of switching from your house clothes to work clothes before clocking in during the FHM, you symbolically activate the same system and thus encourage your body to be more productive during these hours. Additionally, dressing can also help set boundaries (which can get blurry in a WFH setup). After the clocking is done, switching from work clothes to lounge clothes can help you relax and unwind. Your Clothing is a tool that separates your work and your home, adds Bajaria. Dressing well can also improve your mood, says Greeshma Thampi, an image consultant. It communicates to your family members that you are at work and can set the tone for you and them, she adds.
To create a capsule wardrobe


At the start of the lockdown, Rashmi Dhanwani, 35, founder of The ArtX Company, observed that it became increasingly difficult to stay motivated and focused without the ritualistic aspect of dressing for work. I took out all of my comfy clothes that look worthy of work and put them in a separate part of my wardrobe. I focused on cotton clothes with comfortable silhouettes. On days when I have a public event or webinar, I shop in my larger wardrobe for something more dressy. I find that if you have to start your day rummaging through your clothes for something comfortable, you're much more likely to spend the day lounging in your pajamas and shorts, she says.



Silhouette and fabric


I have always loved Indian clothes. Considering the nature of my job, which often involves interacting with people outside of major cities on video calls, I am looking for salwar kameez and cotton sarees. I prefer hand looms and hand-dyed fabrics, which work well in our climate, says Ipsita Bandyopadhyay, 32, a consumer insights professional. Fashion designer Sanjana Bubber finds herself looking for tops in stretch fabrics or with empire silhouette (a bodice fitted to the waist and a loose fit beyond). Men can opt for collared t-shirts, half-sleeve shirts and chinos. Keep a linen jacket handy that you can wear for important calls. Avoid fully lined jackets and suits, they can be uncomfortable when worn for long hours. Be careful when wearing prints. Large prints can be made even larger because they were sitting so close to the camera. Choose more subtle designs and smaller designs. You could be with color, as bright shades can make you feel more energetic and can also help you stand out in video conferences with multiple participants, she adds. Thampi points out that for video calls it is advisable to avoid shiny fabrics such as satin which reflects light. Likewise, colors that may blend into the background won't work to your advantage. Designer Anjali Bhaskar recommends kaftans and other flowy silhouettes that can be dressed up or down, depending on how you accessorize it. In video meetings, add a cute organza dupatta and tighten it at the waist with a belt. It instantly elevates the most mundane looks, she says.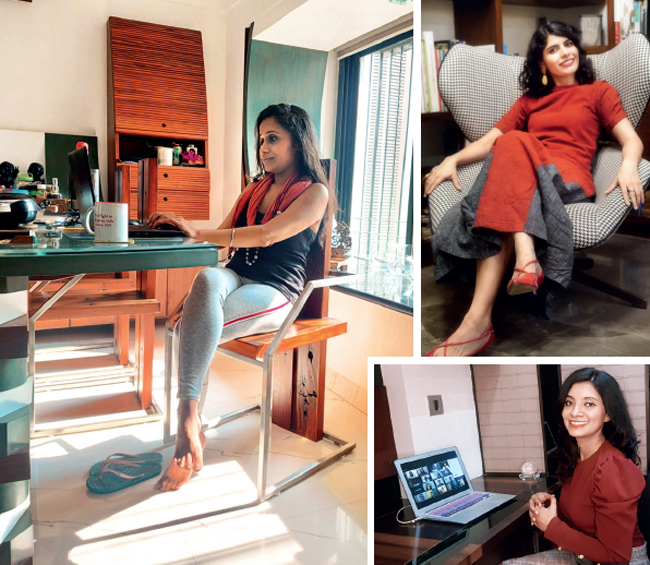 Experiment with accessories


With so many WFHs involving video calls, professionals like Deepa Doshi, 37, a communications manager, have devised some ingenious ways to quickly watch together. Since only my top half is visible on calls, I often wear shorts or sweatpants underneath and dress my basic t-shirts with a stylish scarf. Adding a necklace and earrings can make you look more formal. On the days that I have back-to-back calls, I'll often keep the rest of my outfit the same and refresh my look by changing up my accessories, she says. Like her capsule wardrobe, Dhanwani has also separated a few neutral necklaces that work with most outfits. I quickly put one on and wear a few rings. In terms of makeup, I use a light pinch of kohl and wear a pretty lipstick. It immediately makes me look (and feel) more assembled, she says. Recognizing that working from home also includes extended screen time, Dhawani decided to replace his glasses with prescription glasses. She says it was a great investment, since a stylish pair of glasses can be less taxing on the eyes, while still looking good on screen. For video calls, Thampi recommends avoiding large and loud jewelry to avoid audio disturbance. Although he lives alone, Bandyopadhyay adds a touch of fragrance as a final touch.
Focus on grooming


Groomed hair and fresh skin are non-negotiable on video calls. For men, grooming your facial hair is important, says Thampi. If you wear makeup, keep it minimal so that your look will look good all day long.

I have always loved Indian clothes. Given the nature of my job, which often involves interacting with people outside of major cities during video calls, I take cotton salwar kameez and sarees
– Ipsita Bandyopadhyay, consumer insight professional
What Are The Main Benefits Of Comparing Car Insurance Quotes Online
LOS ANGELES, CA / ACCESSWIRE / June 24, 2020, / Compare-autoinsurance.Org has launched a new blog post that presents the main benefits of comparing multiple car insurance quotes. For more info and free online quotes, please visit https://compare-autoinsurance.Org/the-advantages-of-comparing-prices-with-car-insurance-quotes-online/ The modern society has numerous technological advantages. One important advantage is the speed at which information is sent and received. With the help of the internet, the shopping habits of many persons have drastically changed. The car insurance industry hasn't remained untouched by these changes. On the internet, drivers can compare insurance prices and find out which sellers have the best offers. View photos The advantages of comparing online car insurance quotes are the following: Online quotes can be obtained from anywhere and at any time. Unlike physical insurance agencies, websites don't have a specific schedule and they are available at any time. Drivers that have busy working schedules, can compare quotes from anywhere and at any time, even at midnight. Multiple choices. Almost all insurance providers, no matter if they are well-known brands or just local insurers, have an online presence. Online quotes will allow policyholders the chance to discover multiple insurance companies and check their prices. Drivers are no longer required to get quotes from just a few known insurance companies. Also, local and regional insurers can provide lower insurance rates for the same services. Accurate insurance estimates. Online quotes can only be accurate if the customers provide accurate and real info about their car models and driving history. Lying about past driving incidents can make the price estimates to be lower, but when dealing with an insurance company lying to them is useless. Usually, insurance companies will do research about a potential customer before granting him coverage. Online quotes can be sorted easily. Although drivers are recommended to not choose a policy just based on its price, drivers can easily sort quotes by insurance price. Using brokerage websites will allow drivers to get quotes from multiple insurers, thus making the comparison faster and easier. For additional info, money-saving tips, and free car insurance quotes, visit https://compare-autoinsurance.Org/ Compare-autoinsurance.Org is an online provider of life, home, health, and auto insurance quotes. This website is unique because it does not simply stick to one kind of insurance provider, but brings the clients the best deals from many different online insurance carriers. In this way, clients have access to offers from multiple carriers all in one place: this website. On this site, customers have access to quotes for insurance plans from various agencies, such as local or nationwide agencies, brand names insurance companies, etc. "Online quotes can easily help drivers obtain better car insurance deals. All they have to do is to complete an online form with accurate and real info, then compare prices", said Russell Rabichev, Marketing Director of Internet Marketing Company. CONTACT: Company Name: Internet Marketing CompanyPerson for contact Name: Gurgu CPhone Number: (818) 359-3898Email: [email protected]: https://compare-autoinsurance.Org/ SOURCE: Compare-autoinsurance.Org View source version on accesswire.Com:https://www.Accesswire.Com/595055/What-Are-The-Main-Benefits-Of-Comparing-Car-Insurance-Quotes-Online View photos
picture credit
to request, modification Contact us at Here or [email protected]