Trashion Fashion continues with the parade on April 10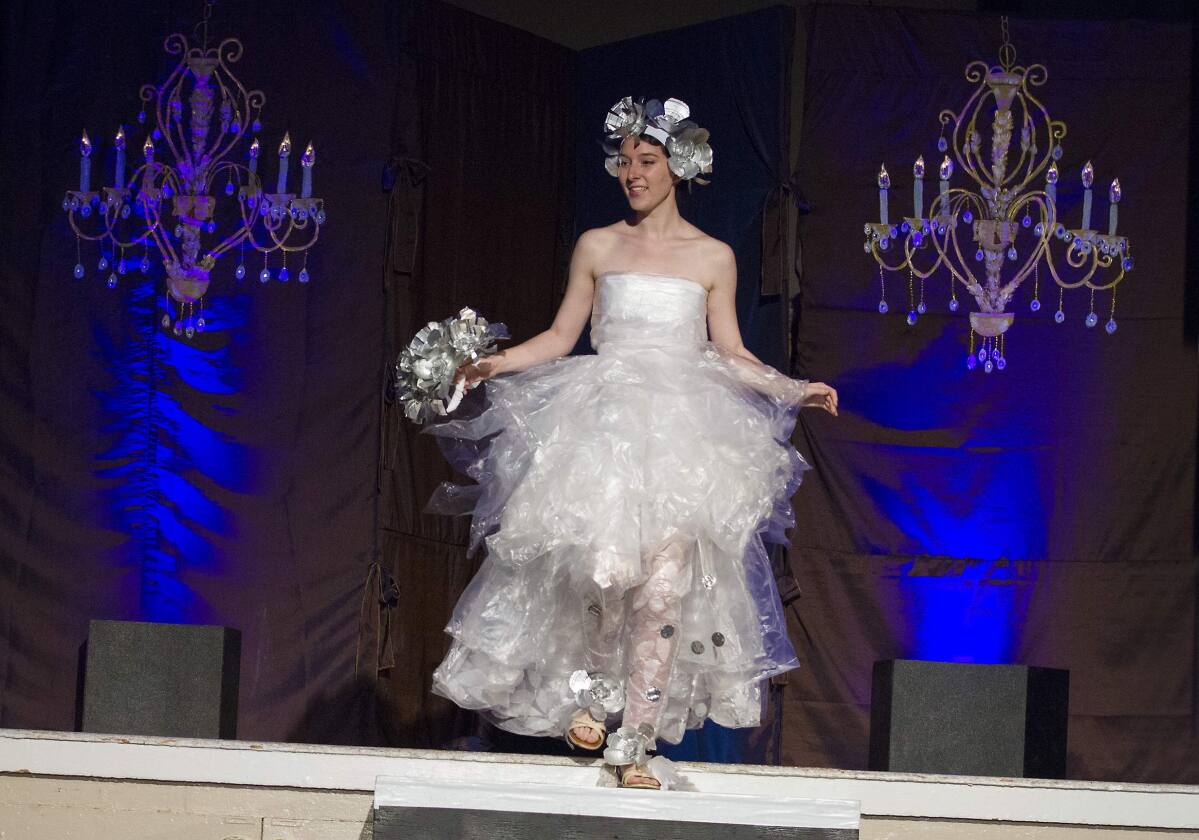 They arrived stained and smelly, pine needles and twigs growing out of their heads; and they were all naked, in desperate need of clothes. It was time for Barbie Spa Day and Trashion Fashion.
We clean them, disinfect them, shampoo them and wash things off their hair. We give them full treatment, said Eric Jackson, director of creative programs at Sonoma Community Center.
Fashion Trashion, now in its 11th year, has grown in popularity since its inception. The annual event is based on recycling and reusing so-called " trash " items for artists to create outfits for the Barbie dolls and humans who model their creative tailoring on a catwalk.
In 2019, the last time the event was held in person, there was a reserved standing presence and people had to be turned away. The 2020 pandemic disrupted continuity, but in 2021, Trashion Fashion is back.
Like many other events, Trashion Fashion cannot be held in person, but the popular fashion show, demonstrating what can be done with what has been cast, will be broadcast live on Saturday April 10th. other events, including artist conferences; demonstrations on creating baskets, gifts and other items made of plastic, cardboard and other recyclable materials; and, of course, the Barbie Gallery.
Why Barbies? The dolls have a short lifespan and cannot be recycled, Jackson said. So we use them as the basis for a new work of art.
Thanks to a partnership with Recology Sonoma Marin, dozens of Barbies are diverted from landfill and put aside for Trashion Fashion. Recologys' new head of public education, Marie Kneemeyer, helped facilitate the collection of the dolls.
I was able to work with our operations team and get myself a barrel of Barbies, she said. Delivering them to the community center was really funny, like a wacky backdoor deal.
Kneemeyer will be the judge for the creators track competition and is also a featured artist in the Artist Talk series. On April 6, she will demonstrate how to weave a basket using plastic bags. A full list of events is online at sonomacommunitycenter.org/trashion-fashion-week-2021.
I've always been really, really passionate about zero waste. I have made different types of recycled artwork throughout my life, Kneemeyer said.
Plastic bags have always frustrated her. They enter waterways, fill landfills and can gum up recycling machines. I saw them float in our ocean and hurtle down the street. It breaks my heart to see this.
The best thing to do to have no plastic bags at all, she said, is to reuse them. She will show how to use plarn, plastic thread, which is basically plastic strips that she will weave in a basket.
As one of the judges for upcoming fashions on the catwalk, Kneemeyer said Shell is looking for creative uses of found objects and materials capable of creating patterns and textures. Shell investigates how the shape of the outfit complements the human form.
This kind of play between the human form and the object found on the human body, she says. I love to see a very strong use of color. Whether as a very exciting fun palette or more monochrome, just a smart or creative way to use color.
She is particularly interested in seeing how designers use techniques to trick the eye into creating a cohesive piece that doesn't look like a trash can.
Spencer Morton, a Sonoma High School graduate and former Trashion Fashion attendee, returns to the catwalk after attending a Manchester Fashion Institute in London where they (preferred pronoun) studied fashion promotion.
The entry of Mortons this year has a long history in the family. What started out as a tablecloth grew into a table runner and curtains and has been used around the family home for the past 15 years, Morton said.
It's really being revised upwards, Morton said.
The material is now a dress with a matching headpiece that Morton will wear on the catwalk.
Another artist returning to the catwalks is the one tasked with bringing Trashion Fashion to the Sonoma stage 11 years ago. Margaret Hatcher, who was in charge of the fiber arts at the community center, launched the first Trashion parade.
She says she didn't develop the concept, but thought it would be a fun idea once. It was so popular the first year that it never stopped, Hatcher said. Trashion is a fun way to reuse things instead of just sending them straight to the landfill. Not everything is recyclable, she said.
Participating as an artist made him realize how much was thrown away. It's made me super aware of the byproduct of being human right now, with all the packaging we're making, Hatcher said.
Its entry for 2021 is made of plastic soil amendment bags. They are very colorful. I almost see it as (fabric) footage.
Her outfit, which she wants to keep a little secret until the catwalk is unveiled, is very thematic, she said.
The Hatchers' work will be judged by three judges, including a newcomer to Sonoma, but an expert in doll design. Singaporean Barbie doll collector Jian Yang turns ordinary toilet paper into flawless work, Jackson said. Yangs toilet paper garments are haute couture and one of them will be featured in the Barbie gallery.
Jackson said he had been blown away by the craftsmanship this year and while he was disappointed that Trashion Fashion could no longer be in person, going virtual opened up other possibilities to expand audiences.
The Barbie Gallery is open to Fashion Trashion now until April 10, certain hours only at the community center, 276 E. Napa St. A docent will escort groups of four at a time; those interested can register for a 20 minute meeting at the gallery with a limited audience.
Zoom-based artist talks and demonstrations take place daily from April 6-8, and a runway preview and behind-the-scenes look at how designers design their creations is broadcast via YouTube on April 9.
The live broadcast of the Trashion Fashion Show is at 4 p.m. on Saturday, April 10. Tickets cost $ 10 to https://sonomacommunitycenter.org/trashion-fashion-week-2021/.
What Are The Main Benefits Of Comparing Car Insurance Quotes Online
LOS ANGELES, CA / ACCESSWIRE / June 24, 2020, / Compare-autoinsurance.Org has launched a new blog post that presents the main benefits of comparing multiple car insurance quotes. For more info and free online quotes, please visit https://compare-autoinsurance.Org/the-advantages-of-comparing-prices-with-car-insurance-quotes-online/ The modern society has numerous technological advantages. One important advantage is the speed at which information is sent and received. With the help of the internet, the shopping habits of many persons have drastically changed. The car insurance industry hasn't remained untouched by these changes. On the internet, drivers can compare insurance prices and find out which sellers have the best offers. View photos The advantages of comparing online car insurance quotes are the following: Online quotes can be obtained from anywhere and at any time. Unlike physical insurance agencies, websites don't have a specific schedule and they are available at any time. Drivers that have busy working schedules, can compare quotes from anywhere and at any time, even at midnight. Multiple choices. Almost all insurance providers, no matter if they are well-known brands or just local insurers, have an online presence. Online quotes will allow policyholders the chance to discover multiple insurance companies and check their prices. Drivers are no longer required to get quotes from just a few known insurance companies. Also, local and regional insurers can provide lower insurance rates for the same services. Accurate insurance estimates. Online quotes can only be accurate if the customers provide accurate and real info about their car models and driving history. Lying about past driving incidents can make the price estimates to be lower, but when dealing with an insurance company lying to them is useless. Usually, insurance companies will do research about a potential customer before granting him coverage. Online quotes can be sorted easily. Although drivers are recommended to not choose a policy just based on its price, drivers can easily sort quotes by insurance price. Using brokerage websites will allow drivers to get quotes from multiple insurers, thus making the comparison faster and easier. For additional info, money-saving tips, and free car insurance quotes, visit https://compare-autoinsurance.Org/ Compare-autoinsurance.Org is an online provider of life, home, health, and auto insurance quotes. This website is unique because it does not simply stick to one kind of insurance provider, but brings the clients the best deals from many different online insurance carriers. In this way, clients have access to offers from multiple carriers all in one place: this website. On this site, customers have access to quotes for insurance plans from various agencies, such as local or nationwide agencies, brand names insurance companies, etc. "Online quotes can easily help drivers obtain better car insurance deals. All they have to do is to complete an online form with accurate and real info, then compare prices", said Russell Rabichev, Marketing Director of Internet Marketing Company. CONTACT: Company Name: Internet Marketing CompanyPerson for contact Name: Gurgu CPhone Number: (818) 359-3898Email: [email protected]: https://compare-autoinsurance.Org/ SOURCE: Compare-autoinsurance.Org View source version on accesswire.Com:https://www.Accesswire.Com/595055/What-Are-The-Main-Benefits-Of-Comparing-Car-Insurance-Quotes-Online View photos
picture credit
to request, modification Contact us at Here or [email protected]