Official opening of the NuLu market in Louisville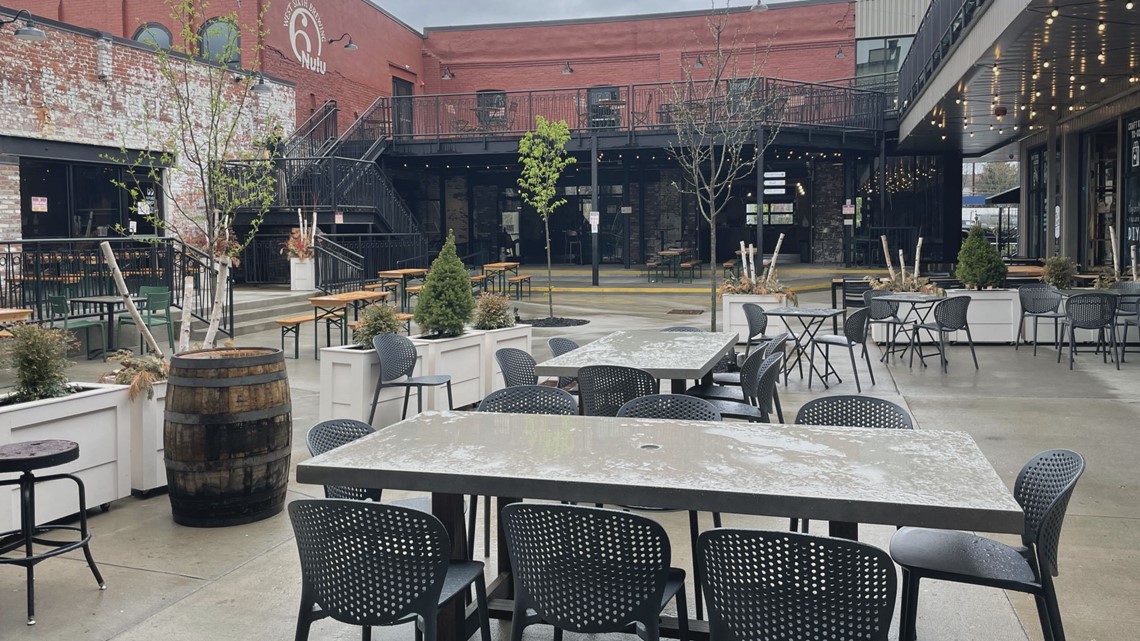 NuLu Marketplace had its grand opening on Wednesday with nearly 100% of the room filled with local small businesses.
LOUISVILLE, Ky. A massive business center in the East Market and Main Streets shows Louisville that there is a light at the end of the tunnel after achieving a vision during a pandemic. NuLu Marketplace had its grand opening on Wednesday with nearly 100% of the room filled with local small businesses.
"The majority of people are local, they're small businesses, they're entrepreneurs and startups," developer Mo Deljoo said.
The vision of using old buildings to breathe new life into NuLu began two years ago.
"I think this will be one of the most significant redevelopments in the whole country," said Mayor Greg Fischer. "It already is, but as people start to see what's going on here, it was a difficult project."
Deljoo has remained persistent despite the challenges posed by the coronavirus pandemic.
"Every day and every night we had to eat and breathe here to make sure that happened," said Deljoo.
As protesters called for racial fairness and more diversity in one of Louisville's most popular business communities, NuLu Diversity Empowerment Council chairman Andre Wilson took action.
"We need to empower ourselves, we need to provide resources, we need a business incubator, we need to educate," Wilson said. "So we did a diversity training, talking about microaggressions, gentrification."
NuLu only had one black-owned business six months ago, but today it has four, according to Wilson.
"I would probably say that by the time you get into the fall with our business incubator, we'll be looking at around 15 to 20," Wilson said.
The market offers food, bars, fashion, art, a speakeasy, offices, and Airbnb rentals. The goal is to get more people to shop and explore NuLu as the neighborhood continues to grow.
"We are a community place where everyone is welcome, everyone can find a place where they want to eat, drink or relax," said Matt Bolus, owner of Torino's Sandwich Bar and Gertie's Bar.
Bolus opened Gertie's Bar in Nashville and decided to return to his hometown of Louisville to bring the business to NuLu.
Some of the businesses in NuLu Marketplace opened months ago, while others opened in April.
"We've actually been looking for the right space here in Louisville for over five years and we've looked at the buildings, I mean, all around town," Ben Self said of West Sixth Brewing.
Melissa Huff opened her spot just a week before the pandemic ended in March 2020.
"I was literally in shock, I mean it took so long to get that space because the space was just a blank shell," Huff said. "Things are not going as fast as we thought they would be, but hey, now that things are opening up to the market and things are improving on the Main Street side, things are going a lot better."
To start increasing foot traffic in the area, NuLu Marketplace will be hosting a live music series starting on Saturday and every second Saturday in April.
Make it easy for yourself to update with more stories like this. Download the WHAS11 News app now. For Apple or Android users.
What Are The Main Benefits Of Comparing Car Insurance Quotes Online
LOS ANGELES, CA / ACCESSWIRE / June 24, 2020, / Compare-autoinsurance.Org has launched a new blog post that presents the main benefits of comparing multiple car insurance quotes. For more info and free online quotes, please visit https://compare-autoinsurance.Org/the-advantages-of-comparing-prices-with-car-insurance-quotes-online/ The modern society has numerous technological advantages. One important advantage is the speed at which information is sent and received. With the help of the internet, the shopping habits of many persons have drastically changed. The car insurance industry hasn't remained untouched by these changes. On the internet, drivers can compare insurance prices and find out which sellers have the best offers. View photos The advantages of comparing online car insurance quotes are the following: Online quotes can be obtained from anywhere and at any time. Unlike physical insurance agencies, websites don't have a specific schedule and they are available at any time. Drivers that have busy working schedules, can compare quotes from anywhere and at any time, even at midnight. Multiple choices. Almost all insurance providers, no matter if they are well-known brands or just local insurers, have an online presence. Online quotes will allow policyholders the chance to discover multiple insurance companies and check their prices. Drivers are no longer required to get quotes from just a few known insurance companies. Also, local and regional insurers can provide lower insurance rates for the same services. Accurate insurance estimates. Online quotes can only be accurate if the customers provide accurate and real info about their car models and driving history. Lying about past driving incidents can make the price estimates to be lower, but when dealing with an insurance company lying to them is useless. Usually, insurance companies will do research about a potential customer before granting him coverage. Online quotes can be sorted easily. Although drivers are recommended to not choose a policy just based on its price, drivers can easily sort quotes by insurance price. Using brokerage websites will allow drivers to get quotes from multiple insurers, thus making the comparison faster and easier. For additional info, money-saving tips, and free car insurance quotes, visit https://compare-autoinsurance.Org/ Compare-autoinsurance.Org is an online provider of life, home, health, and auto insurance quotes. This website is unique because it does not simply stick to one kind of insurance provider, but brings the clients the best deals from many different online insurance carriers. In this way, clients have access to offers from multiple carriers all in one place: this website. On this site, customers have access to quotes for insurance plans from various agencies, such as local or nationwide agencies, brand names insurance companies, etc. "Online quotes can easily help drivers obtain better car insurance deals. All they have to do is to complete an online form with accurate and real info, then compare prices", said Russell Rabichev, Marketing Director of Internet Marketing Company. CONTACT: Company Name: Internet Marketing CompanyPerson for contact Name: Gurgu CPhone Number: (818) 359-3898Email: [email protected]: https://compare-autoinsurance.Org/ SOURCE: Compare-autoinsurance.Org View source version on accesswire.Com:https://www.Accesswire.Com/595055/What-Are-The-Main-Benefits-Of-Comparing-Car-Insurance-Quotes-Online View photos
picture credit
to request, modification Contact us at Here or [email protected]