Inclusive fashion is about more than size inclusion – The Ticker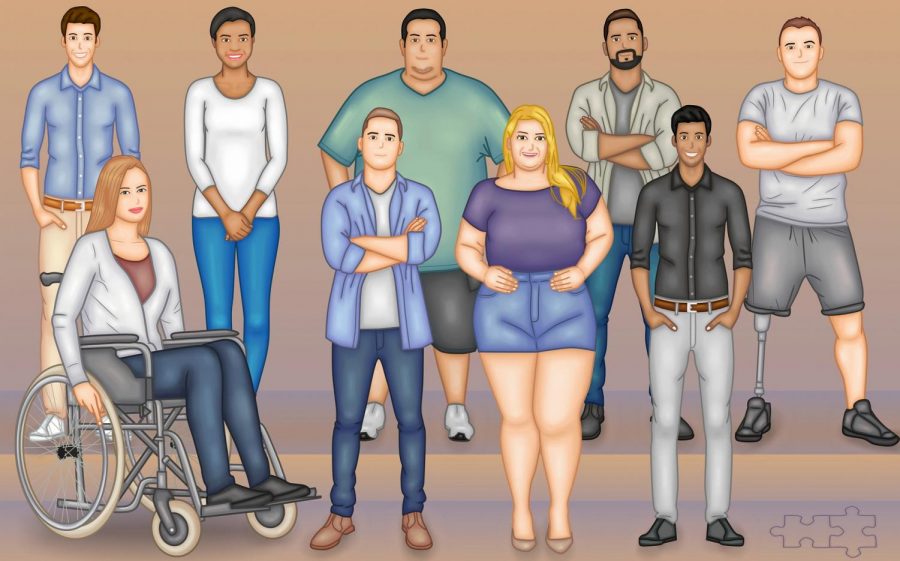 Consumer awareness has grown exponentially in recent years, with Gen Z voices and this century's socio-political movements taking center stage in all forms of social media.
The fashion industry has faced a wide range of criticism involving diversity, inclusiveness, ethics and sustainability, and although fashion brands have made unprecedented incremental efforts, there is still a long way to go. way to go.
Diversity and inclusiveness have become essential components of online retailing for fashion consumers. Brands that recognize the need for racial diversity, bodily inclusion, gender representation and community representation of people with disabilities are not only necessary, but represent the future of fashion.
One of the earliest culprits of fashion inclusion was and still is size inclusion. The narrative of skinny, leggy models with fair skin and clean features is slowly fading in favor of the body positivity movement, where women and men of all body types and sizes are represented.
The unrealistic beauty standards of US sizes 0-4 are no longer tolerated by the public, and the body positivity movement is the biggest pushback against the lack of diversity and positive self-images in the fashion industry, according to Luxiders Magazine.
Body positivity was one of the first aspects of fashion inclusiveness to be highlighted in the public eye, in large part because mainstream model agencies wanted white, skinny, young and feminine.
The narrative of slim, Euro-centric beauty being the norm has contributed greatly to the lack of self-esteem so vividly present among both men and women. According to the Park Nicollet Melrose Center, near 70% of perfectly healthy women want to be slimmer and 80% just don't like what they look like.
Size inclusiveness is only part of the problem. What faces growing demand now is the need for diversity in the fashion industry, especially racial and ethnic diversity.
According to The Business of Fashion, the practice of occasionally put a non-white face on a magazine cover is no longer sufficient, nor has it ever been. Fashion is meant to reflect the audience it is intended for, which ultimately means representing people of the community of color rather than exclusively targeting whites.
Racial and ethnic diversity is not limited to role models; true diversity means hiring non-white stylists, designers, directors and producers. This means creating fashion agencies with both a diverse staff and diverse models, because diversity in perspective.
Enabling men and women of color to not only model, but also build, design and produce fashion campaigns connects communities across the man-made obstacle of race.
More importantly, the diversity of fashion opens the door for people of color to enter mainstream media where they desperately want to see faces and struggles that look like their own. This helps to make an entire fragmented community.
The inclusiveness, however, doesn't end there. Representation of the LGBTQ + community is also integral to the future of fashion, and given that the cumulative purchasing power of this community represent the fourth largest economy in the world, the fashion industry to get off to a better start
listen to this neglected demographic.
The lack of fashion personalization is a pervasive issue for the LGBTQ + community, especially the younger demographic. Consumers are forced to choose between two sexes regardless of whether they identify with one or the other and, for young people who are still in the process of determining both their sexual and personal identity, it is extremely limiting. Modeling similarly failed, with many transgender and non-binary models feeling forced to hide their identity in order to achieve success in the fashion industry, according to Womens Wear Daily. Members of the LGBTQ + community shouldn't have to hide their sexuality or gender in order to be successful.
When individuals who struggle in the same way can succeed in a world as fierce as high fashion, it opens the door to a whole new market of consumers who want to support the fashion in which they see themselves represented.
This is also true for people with disabilities, who are often overlooked in the fashion world despite an estimated population of 1 billion, according to Glamor. There is a huge lack of representation of people with disabilities.
Seeing models in wheelchairs, with canes, or wearing colostomy bags, among other types of physical disabilities, are images that people with disabilities hardly see in the fashion industry now. ASOS, for example, only recently presented a model with a cochlear implant, which is laudable enough, but it really is the bare minimum.
Another huge problem is the real lack of clothing options available to people with disabilities.
Take a blogger Nicola Lavin, for example. Her battle with Lyme disease means she needs functional clothing that can explain her temperature irregularities as well as her fluctuating weight gain. However, asking for clothes that take this into account means that they will be hard to find and will often cost more in specialty stores, Lavin said, as Glamor reported.
This is where the flaws of the fashion industry lie, and it is high time that these flaws were corrected. Inclusiveness and diversity are dedications to be engaged in in all aspects of the fashion industry, from employees and models to salespeople and producers. It can no longer be a side project.
The good news is that making a commitment to increase inclusiveness and diversity, while certainly not easy, will lead to lasting social change and huge benefits for businesses and consumers.
Consumers will benefit from positive representation and the necessary options, and businesses win the hearts of consumers and employees, Forbes reported.
Bigger markets and better products mean higher profits, and best of all, the fashion industry will finally make amends and do its consumers good.
What Are The Main Benefits Of Comparing Car Insurance Quotes Online
LOS ANGELES, CA / ACCESSWIRE / June 24, 2020, / Compare-autoinsurance.Org has launched a new blog post that presents the main benefits of comparing multiple car insurance quotes. For more info and free online quotes, please visit https://compare-autoinsurance.Org/the-advantages-of-comparing-prices-with-car-insurance-quotes-online/ The modern society has numerous technological advantages. One important advantage is the speed at which information is sent and received. With the help of the internet, the shopping habits of many persons have drastically changed. The car insurance industry hasn't remained untouched by these changes. On the internet, drivers can compare insurance prices and find out which sellers have the best offers. View photos The advantages of comparing online car insurance quotes are the following: Online quotes can be obtained from anywhere and at any time. Unlike physical insurance agencies, websites don't have a specific schedule and they are available at any time. Drivers that have busy working schedules, can compare quotes from anywhere and at any time, even at midnight. Multiple choices. Almost all insurance providers, no matter if they are well-known brands or just local insurers, have an online presence. Online quotes will allow policyholders the chance to discover multiple insurance companies and check their prices. Drivers are no longer required to get quotes from just a few known insurance companies. Also, local and regional insurers can provide lower insurance rates for the same services. Accurate insurance estimates. Online quotes can only be accurate if the customers provide accurate and real info about their car models and driving history. Lying about past driving incidents can make the price estimates to be lower, but when dealing with an insurance company lying to them is useless. Usually, insurance companies will do research about a potential customer before granting him coverage. Online quotes can be sorted easily. Although drivers are recommended to not choose a policy just based on its price, drivers can easily sort quotes by insurance price. Using brokerage websites will allow drivers to get quotes from multiple insurers, thus making the comparison faster and easier. For additional info, money-saving tips, and free car insurance quotes, visit https://compare-autoinsurance.Org/ Compare-autoinsurance.Org is an online provider of life, home, health, and auto insurance quotes. This website is unique because it does not simply stick to one kind of insurance provider, but brings the clients the best deals from many different online insurance carriers. In this way, clients have access to offers from multiple carriers all in one place: this website. On this site, customers have access to quotes for insurance plans from various agencies, such as local or nationwide agencies, brand names insurance companies, etc. "Online quotes can easily help drivers obtain better car insurance deals. All they have to do is to complete an online form with accurate and real info, then compare prices", said Russell Rabichev, Marketing Director of Internet Marketing Company. CONTACT: Company Name: Internet Marketing CompanyPerson for contact Name: Gurgu CPhone Number: (818) 359-3898Email: [email protected]: https://compare-autoinsurance.Org/ SOURCE: Compare-autoinsurance.Org View source version on accesswire.Com:https://www.Accesswire.Com/595055/What-Are-The-Main-Benefits-Of-Comparing-Car-Insurance-Quotes-Online View photos
picture credit
to request, modification Contact us at Here or [email protected]