Patriotic illustrators try to paint the internet red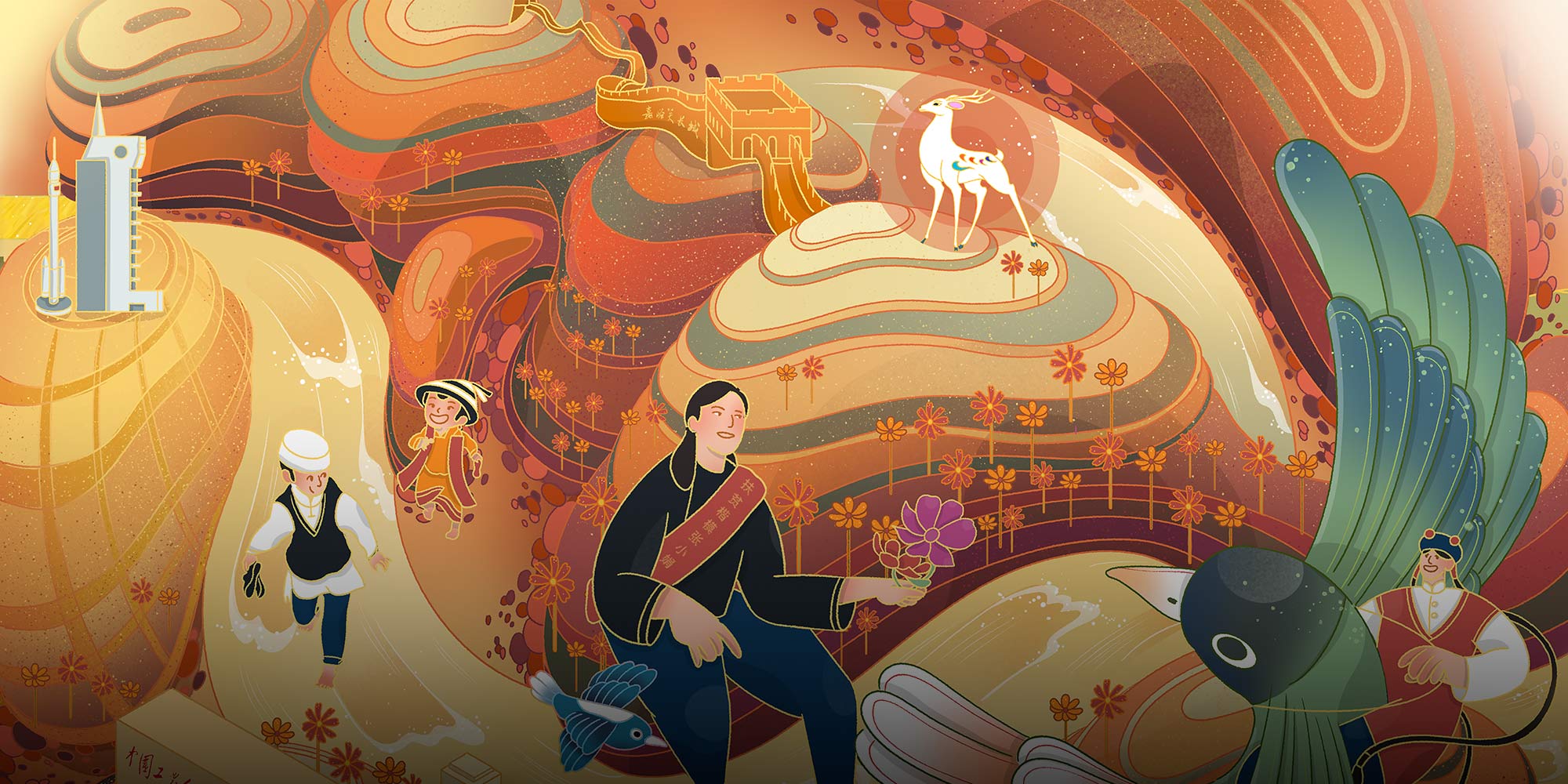 The summary of the project was intimidating: the team had to create a sprawling digital animation incorporating the 56 recognized ethnic groups in China, each of its 34 provincial-level territories, as well as its major mountains and rivers.
And it had to be ready in time for the Chinese Communist Party's 100th anniversary celebrations in July.
That was the mission taken on by Fusion Era, a Shanghai-based animation studio, earlier this year.
Supported by an office under the Shanghai branch of the CCP, the project was the latest example of China's push to promote patriotism through new media.
The final animation, a 24-chapter work titled Out of Poverty: Not One Less, was released as an interactive game on the Gen Z-focused Chinese video streaming platform Bilibili on July 2.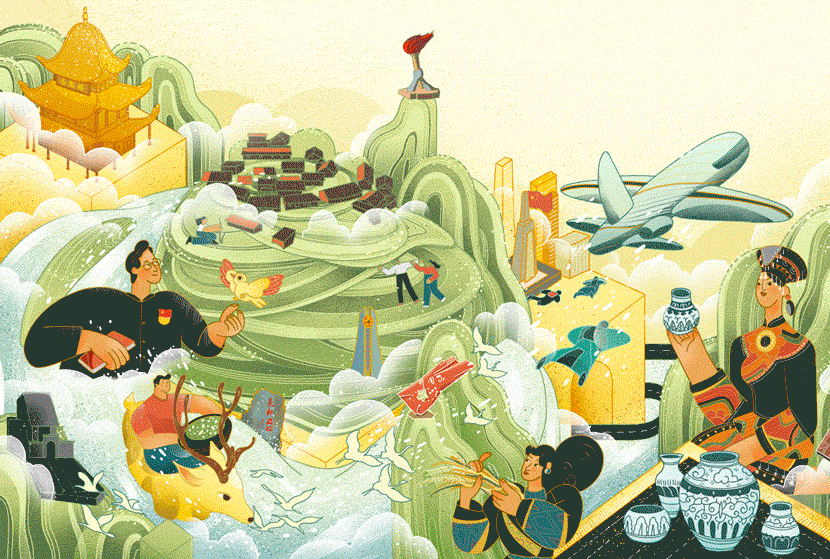 A GIF shows a section of the interactive game Out of Poverty: Not One Less. Courtesy of Fusion Era
On the site, the game was heavily promoted by a group of 24 Bilibili influencers, including two well-known Western vloggers who often support projects affiliated with the Chinese government. The page had already received nearly 15 million views at the time of publication.
Out of Poverty: Not One Less was not the only anniversary outing targeting young Chinese people. The previous month, a 15-minute hip-hop track praising China's newfound strength, titled 100%, was released with great fanfare on the music streaming platform NetEase Cloud Music.
State media Xinhua, meanwhile, has set up a team dedicated to producing viral videos promoting major events involving President Xi Jinping.
This new media dynamic is articulated with a new generation of young Chinese digital artists who need little encouragement to integrate patriotic messages into their work.
Li Tianzhi, a 26-year-old illustrator who created the visual design for Out of Poverty: Not One Less, has been a freelance illustrator since 2020. His previous work focused primarily on promoting the preservation of China's ancient buildings.
Since my childhood, I have been fascinated by the diverse geographical landscapes of China and its 56 ethnic groups, Li tells Sixth Tone.
Li spent an entire month creating the 24 chapters of the project, which mimic the style of 12th-century classical Chinese painting along the river during the Qingming Festival.
The idea of ​​representing the success of China's anti-poverty campaign across the country's mountains and rivers, he said, was inspired by President Xis. two mountains theory, which touts the positive impact that green policies can have on the economy.
Hu Muyang, co-founder of Fusion Era, told Sixth Tone that he was especially proud of the chapter dedicated to Yunnan, the mountainous southwestern province that has long been one of the poorest in China.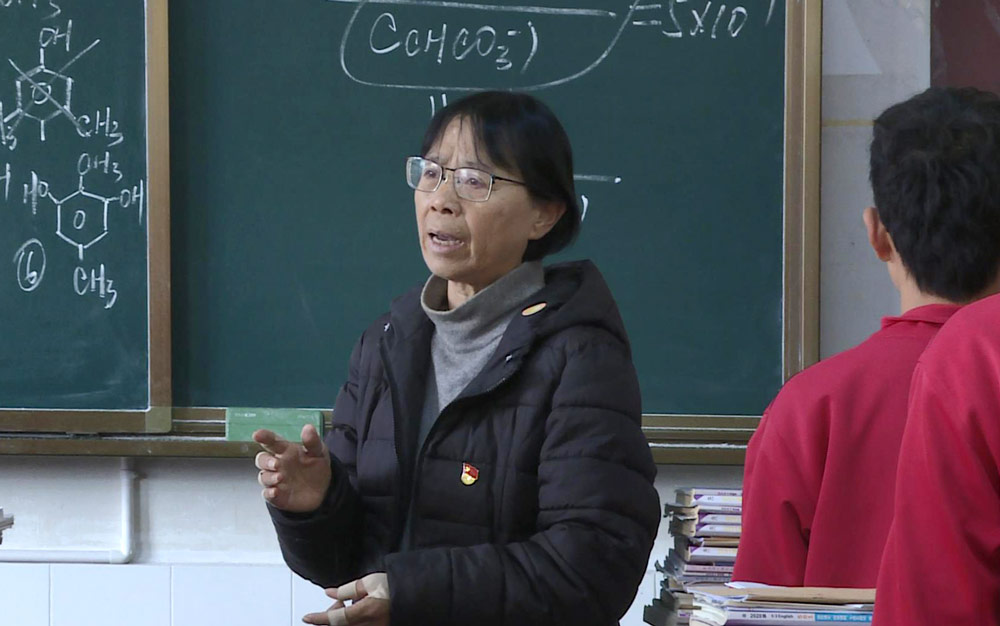 Zhang Guimei teaches a class in Lijiang, Yunnan Province, December 12, 2020. Wang Hongqiang / Chengdu Business Daily / IC
In the Yunnan section, Hu decided to incorporate the image of Zhang Guimei, a Chinese educator famous for founding the country's first free school for girls in a poor part of the province.
He is a sensational figure who has suffered pain, distress and hardship, Hu said. His story always brings tears to the eyes of people.
But rather than focusing on the tragic aspects of Zhang's life, the educator lost both parents in her childhood and later became a widow.
I believe her dedication should also give her joy and pleasure, as she has persisted in her educational career for decades, Hu said.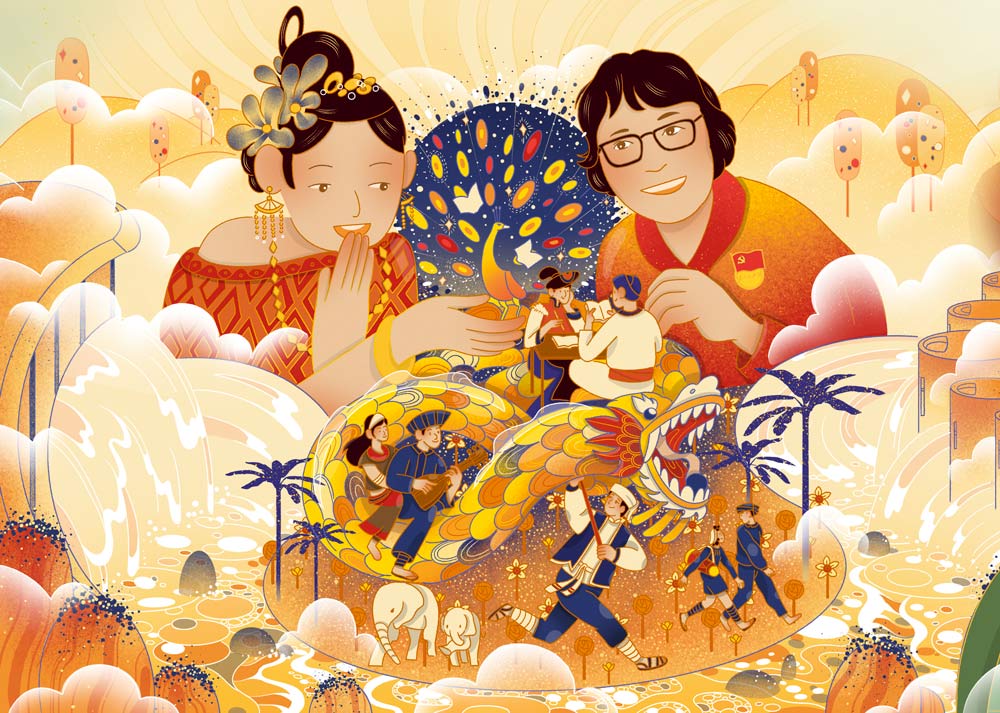 Zhang Guimei smiles at Yunnan Province in the interactive game Out of Poverty: Not One Less. Courtesy of Fusion Era
Other Chinese illustrators, meanwhile, promote a more vehement form of patriotism. In 2020, digital artist Wuheqilin gained fame and notoriety for his satirical works poking fun at Western hypocrisy on issues such as Hong Kong, forced labor, and the COVID-19 pandemic.
Often dubbed the Chinese Wolf Warrior Artist, Wuheqilin has attracted more than 2.8 million followers on the Chinese microblogging platform Weibo and inspired many imitators.
I don't think there is any economic interest behind such creations, Hu said. They are young Chinese artists who want to speak directly and freely to the West.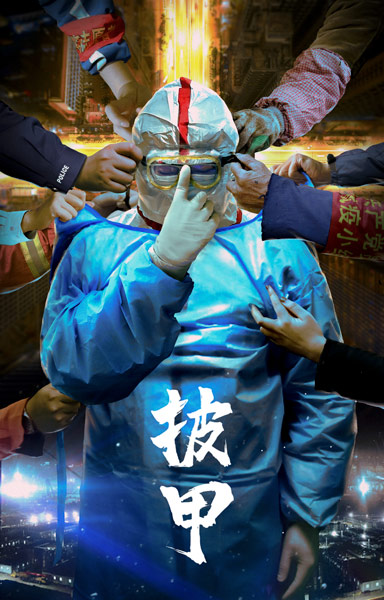 A work by Wuheqilin depicts a medical worker during the pandemic. From @ on Weibo
Hu, however, says illustrators should try to express patriotism in a sober and thoughtful way. When creating works that comment on international issues, he adds, it is important that artists are politically savvy and socially responsible.
After Japan announced its decision to dump contaminated wastewater from its Fukushima nuclear power plant into the Pacific Ocean in April, several young illustrators turned to Hus for advice on creating pieces that address the problem. He told them to come down.
We shouldn't look at this incident from a Chinese perspective, but from an Earth citizen's perspective, Hu said. We must emphasize our common destiny as members of humanity.
(Header image: Detail from Out of Poverty: Not One Less. Courtesy of Fusion Era)
Sources
2/ https://www.sixthtone.com/news/1008050/the-patriotic-illustrators-trying-to-paint-the-internet-red
The mention sources can contact us to remove/changing this article
What Are The Main Benefits Of Comparing Car Insurance Quotes Online
LOS ANGELES, CA / ACCESSWIRE / June 24, 2020, / Compare-autoinsurance.Org has launched a new blog post that presents the main benefits of comparing multiple car insurance quotes. For more info and free online quotes, please visit https://compare-autoinsurance.Org/the-advantages-of-comparing-prices-with-car-insurance-quotes-online/ The modern society has numerous technological advantages. One important advantage is the speed at which information is sent and received. With the help of the internet, the shopping habits of many persons have drastically changed. The car insurance industry hasn't remained untouched by these changes. On the internet, drivers can compare insurance prices and find out which sellers have the best offers. View photos The advantages of comparing online car insurance quotes are the following: Online quotes can be obtained from anywhere and at any time. Unlike physical insurance agencies, websites don't have a specific schedule and they are available at any time. Drivers that have busy working schedules, can compare quotes from anywhere and at any time, even at midnight. Multiple choices. Almost all insurance providers, no matter if they are well-known brands or just local insurers, have an online presence. Online quotes will allow policyholders the chance to discover multiple insurance companies and check their prices. Drivers are no longer required to get quotes from just a few known insurance companies. Also, local and regional insurers can provide lower insurance rates for the same services. Accurate insurance estimates. Online quotes can only be accurate if the customers provide accurate and real info about their car models and driving history. Lying about past driving incidents can make the price estimates to be lower, but when dealing with an insurance company lying to them is useless. Usually, insurance companies will do research about a potential customer before granting him coverage. Online quotes can be sorted easily. Although drivers are recommended to not choose a policy just based on its price, drivers can easily sort quotes by insurance price. Using brokerage websites will allow drivers to get quotes from multiple insurers, thus making the comparison faster and easier. For additional info, money-saving tips, and free car insurance quotes, visit https://compare-autoinsurance.Org/ Compare-autoinsurance.Org is an online provider of life, home, health, and auto insurance quotes. This website is unique because it does not simply stick to one kind of insurance provider, but brings the clients the best deals from many different online insurance carriers. In this way, clients have access to offers from multiple carriers all in one place: this website. On this site, customers have access to quotes for insurance plans from various agencies, such as local or nationwide agencies, brand names insurance companies, etc. "Online quotes can easily help drivers obtain better car insurance deals. All they have to do is to complete an online form with accurate and real info, then compare prices", said Russell Rabichev, Marketing Director of Internet Marketing Company. CONTACT: Company Name: Internet Marketing CompanyPerson for contact Name: Gurgu CPhone Number: (818) 359-3898Email: [email protected]: https://compare-autoinsurance.Org/ SOURCE: Compare-autoinsurance.Org View source version on accesswire.Com:https://www.Accesswire.Com/595055/What-Are-The-Main-Benefits-Of-Comparing-Car-Insurance-Quotes-Online View photos
to request, modification Contact us at Here or [email protected]