Listen guys! These are the market sentiment lines for next week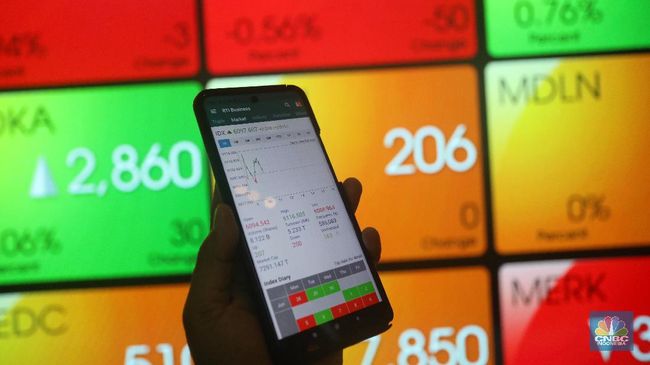 Jakarta, CNBC Indonesia – The Composite Stock Price Index (JCI) fell in trading this week, amid an increase in Covid-19 cases that 'haunted' Asia. Foreign investors also sell their shares on the Indonesian Stock Exchange.
During the week, the JCI fell 0.52% on a point to point. In the weekend's trade, JCI had to settle for being kicked out of the 6,100 level.
The purchase of shares by foreign investors this week amounted to 14.3 trillion rupees. However, foreign investors sold more at 15.39 trillion rupees. Thus, foreign investors made a net sale of Rs 1.04 trillion.
The frequency of stock transactions this week is 7.14 million times, involving 95.35 billion share units worth Rp 64.54 trillion. The total trading frequency of all instruments is 7.34 million times, involving 107.89 billion assets worth 64.98 billion rupees.
Meanwhile, the rupee's exchange rate against the United States (US) dollar has strengthened this week. Inflows of capital, especially in the government bond market, became the capital of the motherland's currency.
Throughout this week, the rupee has strengthened 0.21% against the currency of Uncle Sam's country in general point to point. The US dollar was pushed further below Rp 14,500.
Domestically, the strengthening of the rupee was supported by capital inflows into the financial market. On the stock market, investors record a net sale (net sale) over IDR 1 trillion, but not in the government bond market.
As of July 27, 2021, foreign ownership of government securities (SBNs) stood at IDR 965,566 billion. An increase of Rp 2.79 trillion from the previous week's position.
Market sentiment next week
From inside the country, investors will continue to observe the evolution of the Covid-19 case in the country, which is still not fully under control as the level 4 community activity restrictions (PPKM) will end. Monday (2/8) tomorrow.
President Joko Widodo (Jokowi) once said that while there is a downward trend in cases, it is not impossible that there will be a relaxation of PPKM after August 2. However, so far no decision has been made on whether to maintain or relax the PPKM.
Although the trend to add Covid-19 cases has tended to decrease in recent days, the number is still in the range of 30,000 to 40,000 cases. The death rate from Covid-19 is also still high, with an average of more than 1,500 cases per day.
The good news is that during this week the number of recovered cases of Covid-19 exceeded the addition of new cases.
At last, today, Sunday (1/8/2021) there were 30,738 new cases of Covid-19. With this, the total number of cases is 3,440,396 cases.
This achievement is even better than Saturday (7/31) which amounted to 37,284 new cases.
The patient's recovery is very encouraging. Today, 39,446 patients have recovered from Covid-19. This brings the total number of COVID-19 patients recovered in Indonesia to 2,809,538.
The active cases of Covid-19 in Indonesia were down by 10,312 today. This brings the total number of Covid-19 cases in Indonesia to 535,135 people.
The number of deaths is still quite high, reaching 1,604 cases. This brings the total number of deceased Covid-19 patients to 95,723 people.
In addition to sentiment regarding the Covid-19 affair, Monday (2/8), The Central Statistics Agency (BPS) will publish Inflation data from IRuntil July 2021.
Indonesia's inflation rate in July 2021 is estimated to be very slow, almost flat. It seems that the policy of implementing Community Activity Restrictions (PPKM) has eaten a "victim", namely the weakness of demand.
Market consensus collected CNBC Indonesia estimates inflation at 0.01% on a monthly basis (month to month / mmt). At the same time, compared to July 2020 (year-on-year / year-on-year), the inflation rate is estimated at 1.45%. Then core inflation "forecast" of 1.35% year-on-year.
Bank Indonesia (BI) in the Price Watch Survey (SPH) through Week IV predicts July 2021 inflation at 0.01% mtm. Thus, inflation throughout 2021 or calendar year (year to date) will be 0.75% and annual inflation will be 1.45%.
Then on Thursday (5/8), there will be a publication of the data on gross domestic income (GDP) of the Republic of Indonesia in the second quarter of this year. Trade economypredict that the Indonesian economy will grow by 3% on a monthly basis and 7% on an annual basis. Meanwhile, according to Bank Permata SVP economist Josua Pardede, Indonesia's GDP in the second quarter of 2021 will be in the range of 6% to 6.5% on an annual basis.
Previously, BPS noted that Indonesia's economic growth in the first quarter of 2021 contracted by minus 0.96% on a quarterly basis and minus 0.74% year-on-year.
On Friday (6/8), Bank Indonesia (BI) will release statistical dataforeign exchange reserves (cadev)Indonesia in July 2021. For your information, BI reported that the cadev in June jumped US $ 700 million to US $ 137.1 billion. Analysts predict that cadevRI in July will rise again to $ 138 billion.
Sources
2/ https://www.cnbcindonesia.com/market/20210801175217-17-265237/simak-gaes-ini-deretan-sentimen-pasar-buat-pekan-depan
The mention sources can contact us to remove/changing this article
What Are The Main Benefits Of Comparing Car Insurance Quotes Online
LOS ANGELES, CA / ACCESSWIRE / June 24, 2020, / Compare-autoinsurance.Org has launched a new blog post that presents the main benefits of comparing multiple car insurance quotes. For more info and free online quotes, please visit https://compare-autoinsurance.Org/the-advantages-of-comparing-prices-with-car-insurance-quotes-online/ The modern society has numerous technological advantages. One important advantage is the speed at which information is sent and received. With the help of the internet, the shopping habits of many persons have drastically changed. The car insurance industry hasn't remained untouched by these changes. On the internet, drivers can compare insurance prices and find out which sellers have the best offers. View photos The advantages of comparing online car insurance quotes are the following: Online quotes can be obtained from anywhere and at any time. Unlike physical insurance agencies, websites don't have a specific schedule and they are available at any time. Drivers that have busy working schedules, can compare quotes from anywhere and at any time, even at midnight. Multiple choices. Almost all insurance providers, no matter if they are well-known brands or just local insurers, have an online presence. Online quotes will allow policyholders the chance to discover multiple insurance companies and check their prices. Drivers are no longer required to get quotes from just a few known insurance companies. Also, local and regional insurers can provide lower insurance rates for the same services. Accurate insurance estimates. Online quotes can only be accurate if the customers provide accurate and real info about their car models and driving history. Lying about past driving incidents can make the price estimates to be lower, but when dealing with an insurance company lying to them is useless. Usually, insurance companies will do research about a potential customer before granting him coverage. Online quotes can be sorted easily. Although drivers are recommended to not choose a policy just based on its price, drivers can easily sort quotes by insurance price. Using brokerage websites will allow drivers to get quotes from multiple insurers, thus making the comparison faster and easier. For additional info, money-saving tips, and free car insurance quotes, visit https://compare-autoinsurance.Org/ Compare-autoinsurance.Org is an online provider of life, home, health, and auto insurance quotes. This website is unique because it does not simply stick to one kind of insurance provider, but brings the clients the best deals from many different online insurance carriers. In this way, clients have access to offers from multiple carriers all in one place: this website. On this site, customers have access to quotes for insurance plans from various agencies, such as local or nationwide agencies, brand names insurance companies, etc. "Online quotes can easily help drivers obtain better car insurance deals. All they have to do is to complete an online form with accurate and real info, then compare prices", said Russell Rabichev, Marketing Director of Internet Marketing Company. CONTACT: Company Name: Internet Marketing CompanyPerson for contact Name: Gurgu CPhone Number: (818) 359-3898Email: [email protected]: https://compare-autoinsurance.Org/ SOURCE: Compare-autoinsurance.Org View source version on accesswire.Com:https://www.Accesswire.Com/595055/What-Are-The-Main-Benefits-Of-Comparing-Car-Insurance-Quotes-Online View photos
to request, modification Contact us at Here or [email protected]