Joe Biden calls out Xi Jinping as US-China relations get complicated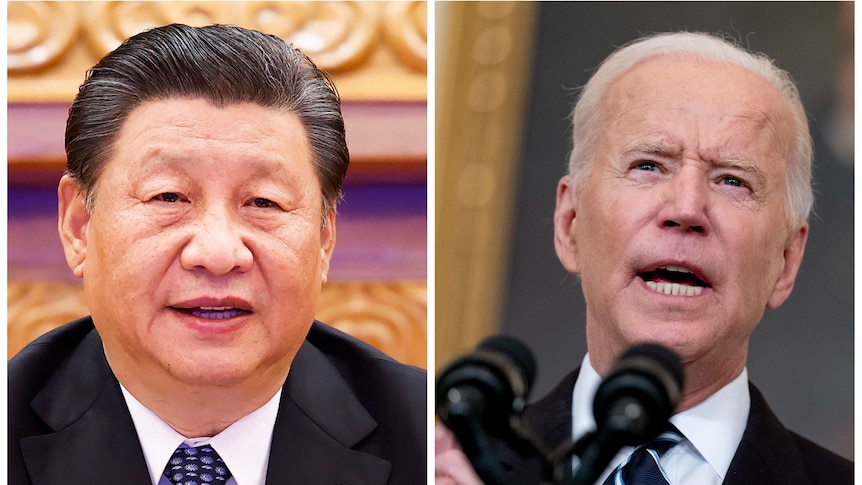 US President Joe Biden has spoken to China's Xi Jinping, amid growing frustration on the US side that the high-level engagement between the two leaders' top advisers has been largely unsuccessful.
Key points:
The United States is optimistic about its ability to cooperate with China on issues such as climate change and the prevention of a nuclear crisis on the Korean Peninsula.

Xi Jinping says US policy towards Beijing has caused "serious difficulties" in relations

Joe Biden sees China as America's most important economic competitor and a growing concern for national security
Mr Biden launched the call with MrXi, the second between the two leaders since taking office on Thursday US time.
It comes at a time when there is no shortage of thorny issues between the two nations, including cybersecurity loopholes from China, Beijing's handling of the coronavirus pandemic, and what the White House calls "coercive and unfair business practices." " Chinese people.
But Mr Biden's focus on the 90-minute call was less focused on one of those burning issues and instead focused on discussing the way forward for US-China relations, the House said. White.
The White House said in a statement that "the two leaders had a broad strategic discussion in which they discussed areas where our interests converge and areas where our interests, values ​​and perspectives diverge."
The White House hopes the two sides can work together on issues of mutual concern, including climate change and preventing a nuclear crisis on the Korean Peninsula despite growing differences.
Beijing, however, has pushed back on American pressure and has increasingly suggested that it may remain broadly uncooperative until Mr Biden reduces criticism of what he sees as Chinese internal affairs.
Xi told Biden that the US government's policy towards China is causing "serious difficulties" in relations, the state-run Xinhua News Agency reported.
"It is not in the fundamental interest of the two peoples," Xisaid said, according to Xinhua.
Xi said the two sides should cooperate on climate change, epidemic prevention, economic recovery and other issues, Xinhua reported.
Ahead of the call, a senior administration official said the White House was not happy with early engagements with the Chinese.
The official, who was not authorized to comment publicly and spoke on condition of anonymity, said White House officials hoped Xi would hear directly from Biden to prove beneficial.
Xi-Biden conversation comes after a series of grueling interactions
The high-level engagement during Mr Biden's first year of administration has been most noticeable with each side blowing up the other with recriminations.
Last week, Chinese Foreign Minister Wang Yi warned Biden's climate envoy John Kerry that deteriorating US-China relations could undermine cooperation on climate change.
Wang told Mr. Kerry, who was traveling to Tianjin for climate talks with his Chinese counterparts, that such cooperation could not be separated from the larger relationship, and called on the United States to take steps to improve their relationships.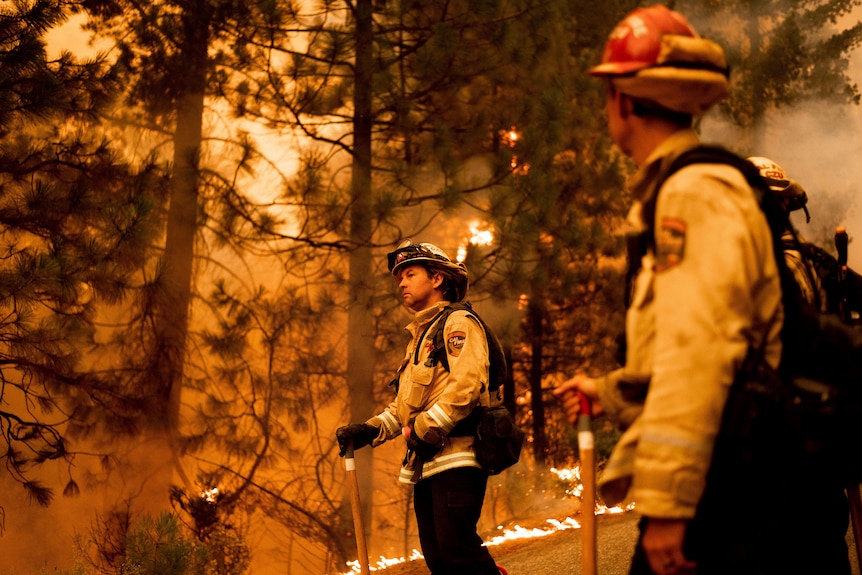 In July, US Under Secretary of State Wendy Sherman faced a long list of demands and complaints, including accusations that the United States was trying to contain and suppress development in China.
Vice Foreign Minister Xie Feng urged the United States "to change its highly mistaken mentality and dangerous policy."
In March, Secretary of State Antony Blinken and White House National Security Advisor Jake Sullivan had heated discussions with Communist Party of China Foreign Chief Yang Jiechi when they met with senior Chinese officials in Anchorage, Alaska.
At that meeting, Mr. Yang accused the United States of failing to address its own human rights issues and challenged what he called American hypocrisy.
U.S. officials suspect that part of the rhetoric at these high-profile meetings was more about performing in front of a national audience through the press than sending a message to the White House.
With that in mind, Biden stressed the importance of the two leaders' ability to have private conversations and be clear about their priorities, the administration official said.
Mr Biden has sought to put more emphasis on China since becoming president, bringing together allies to speak with a more unified voice about Beijing's human rights record, its business practices and its increasingly assertive military behavior, which pissed off American allies in the Pacific.
He sees Beijing as the United States' most important economic competitor and a growing concern for national security.
But Mr Biden also expressed hope that his long-standing working relationship with Mr Xi, which dates back to when he was Barack Obama's vice president, could bear fruit in the two cooperating countries on certain issues. critical questions.
The two spent time on call remembering their travel time together when they were both vice presidents, administration official Biden said.
The White House said the leaders had agreed to engage "openly and directly" on issues where nations disagreed and there was agreement.
PA
Sources
2/ https://www.abc.net.au/news/2021-09-10/joe-biden-calls-xi-jinping-us-china-relationship/100452788
The mention sources can contact us to remove/changing this article
What Are The Main Benefits Of Comparing Car Insurance Quotes Online
LOS ANGELES, CA / ACCESSWIRE / June 24, 2020, / Compare-autoinsurance.Org has launched a new blog post that presents the main benefits of comparing multiple car insurance quotes. For more info and free online quotes, please visit https://compare-autoinsurance.Org/the-advantages-of-comparing-prices-with-car-insurance-quotes-online/ The modern society has numerous technological advantages. One important advantage is the speed at which information is sent and received. With the help of the internet, the shopping habits of many persons have drastically changed. The car insurance industry hasn't remained untouched by these changes. On the internet, drivers can compare insurance prices and find out which sellers have the best offers. View photos The advantages of comparing online car insurance quotes are the following: Online quotes can be obtained from anywhere and at any time. Unlike physical insurance agencies, websites don't have a specific schedule and they are available at any time. Drivers that have busy working schedules, can compare quotes from anywhere and at any time, even at midnight. Multiple choices. Almost all insurance providers, no matter if they are well-known brands or just local insurers, have an online presence. Online quotes will allow policyholders the chance to discover multiple insurance companies and check their prices. Drivers are no longer required to get quotes from just a few known insurance companies. Also, local and regional insurers can provide lower insurance rates for the same services. Accurate insurance estimates. Online quotes can only be accurate if the customers provide accurate and real info about their car models and driving history. Lying about past driving incidents can make the price estimates to be lower, but when dealing with an insurance company lying to them is useless. Usually, insurance companies will do research about a potential customer before granting him coverage. Online quotes can be sorted easily. Although drivers are recommended to not choose a policy just based on its price, drivers can easily sort quotes by insurance price. Using brokerage websites will allow drivers to get quotes from multiple insurers, thus making the comparison faster and easier. For additional info, money-saving tips, and free car insurance quotes, visit https://compare-autoinsurance.Org/ Compare-autoinsurance.Org is an online provider of life, home, health, and auto insurance quotes. This website is unique because it does not simply stick to one kind of insurance provider, but brings the clients the best deals from many different online insurance carriers. In this way, clients have access to offers from multiple carriers all in one place: this website. On this site, customers have access to quotes for insurance plans from various agencies, such as local or nationwide agencies, brand names insurance companies, etc. "Online quotes can easily help drivers obtain better car insurance deals. All they have to do is to complete an online form with accurate and real info, then compare prices", said Russell Rabichev, Marketing Director of Internet Marketing Company. CONTACT: Company Name: Internet Marketing CompanyPerson for contact Name: Gurgu CPhone Number: (818) 359-3898Email: [email protected]: https://compare-autoinsurance.Org/ SOURCE: Compare-autoinsurance.Org View source version on accesswire.Com:https://www.Accesswire.Com/595055/What-Are-The-Main-Benefits-Of-Comparing-Car-Insurance-Quotes-Online View photos
to request, modification Contact us at Here or [email protected]