DBON dispels athletes' fears and worries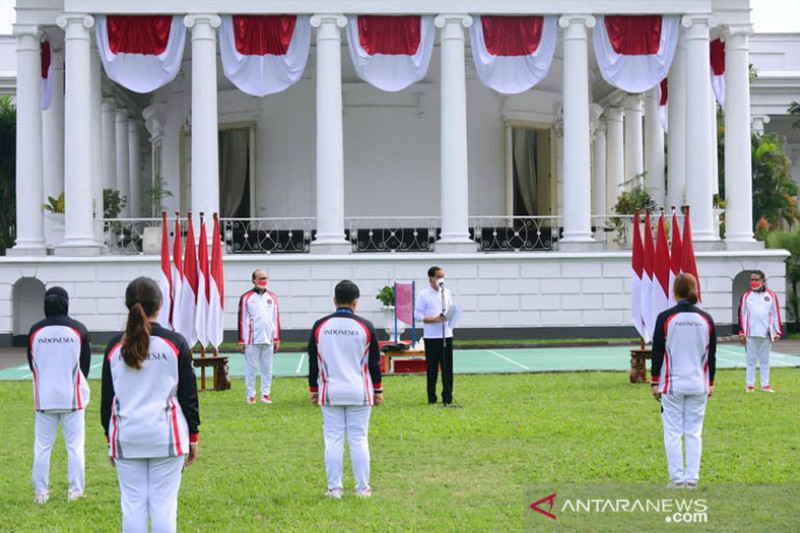 Indonesian archery athlete Riau Ega Agatha Salsabila no longer worries about his future as a "rejected" athlete when he retires due to better support and attention from from the government.
"I used to be worried. However, the government has paid a lot of attention to us (the athletes) now. So the fear fades slightly and we can anticipate better," he said.
Salsabila was not one of the recipients of the billions of rupees disbursed as a reward by the government since it had failed to pocket any medals at the Tokyo Olympics in 2020.
However, he admitted that he was surprised that he also received a bonus despite not getting a medal. For the first time, the government gave a bonus of Rs 100 million to each of the non-medalist athletes competing in the Olympics.
Salsabila noted that the Olympic bonus and other bonuses will really help secure his future when he is no longer an athlete.
Relying not only on bonuses, the 29-year-old also spoke of having various options already after retirement, ranging from entrepreneur to coach, as the government is also ready to help athletes become competent in other fields.
"We as athletes used to be confused as to what we would like to do when we retire. If we are to become a coach, we must first learn the skill. Moreover, if we want to be an entrepreneur, "he said.
"However, although currently we are still active as athletes, we have already been able to learn. The government is also helping to improve our skills. So when we retire, we already have the skills for the new role we want to take on, "noted the 2018 Asian Games bronze medalist.
In addition, he assured that more young people would be interested in becoming athletes if government support continued as it is today – or improved as well.
Thus, being an athlete will no longer be underestimated, but considered as a profession that promises a bright future.
"I hope the government will ensure in the future that being an athlete is a recognized profession. So children can have several employment options later on, "he said.
Therefore, the government persevered to entice young people to play various sports by offering huge bonuses to Olympic medalists. The nominal tends to increase from time to time.
At the Rio de Janeiro Olympics in 2016, the government handed out generous rewards of 5 billion rupees for gold medalists, 2 billion rupees for silver medalists and 1 billion rupees for bronze medalists.
The nominal rose by 500 million rupees at the Tokyo Olympics in 2020. In fact, Indonesia is ranked among the top 13 countries to offer the highest bonuses to medal-winning athletes at the Olympics. Indonesia ranks fifth in the world and second in Southeast Asia.
The awards are given by the government as a mark of appreciation and recognition for the hard work of the athletes.
In addition, the awards are expected to boost the enthusiasm of the country's sports community to continue to excel and make the nation proud on the world stage.
In addition, the bonus payment aims to encourage many young people to start seeing sport as a promising job – not to mention the additional income from sponsors, exposure, cooperation opportunities, brand ambassadors, as well as ads.
If there are exceptional athletes who still struggle after making so much money, it is usually because of their inability to manage their wealth.
According to a study conducted by the American magazine Sports Illustrated, about 60% of the players in the National Basketball Association went bankrupt or experienced financial difficulties after five years of retirement because they failed to manage their finances properly while they were still active as athletes.
Badminton player Anthony Sinisuka Ginting is susceptible to a similar condition for some Indonesian athletes in the future.
Ginting – who got a bonus of Rp1.5 billion by winning a bronze medal at the Olympic Games Tokyo 2020 – expre
Sources
2/ https://en.antaranews.com/news/188889/dbon-dispels-fears-concerns-among-athletes
The mention sources can contact us to remove/changing this article
What Are The Main Benefits Of Comparing Car Insurance Quotes Online
LOS ANGELES, CA / ACCESSWIRE / June 24, 2020, / Compare-autoinsurance.Org has launched a new blog post that presents the main benefits of comparing multiple car insurance quotes. For more info and free online quotes, please visit https://compare-autoinsurance.Org/the-advantages-of-comparing-prices-with-car-insurance-quotes-online/ The modern society has numerous technological advantages. One important advantage is the speed at which information is sent and received. With the help of the internet, the shopping habits of many persons have drastically changed. The car insurance industry hasn't remained untouched by these changes. On the internet, drivers can compare insurance prices and find out which sellers have the best offers. View photos The advantages of comparing online car insurance quotes are the following: Online quotes can be obtained from anywhere and at any time. Unlike physical insurance agencies, websites don't have a specific schedule and they are available at any time. Drivers that have busy working schedules, can compare quotes from anywhere and at any time, even at midnight. Multiple choices. Almost all insurance providers, no matter if they are well-known brands or just local insurers, have an online presence. Online quotes will allow policyholders the chance to discover multiple insurance companies and check their prices. Drivers are no longer required to get quotes from just a few known insurance companies. Also, local and regional insurers can provide lower insurance rates for the same services. Accurate insurance estimates. Online quotes can only be accurate if the customers provide accurate and real info about their car models and driving history. Lying about past driving incidents can make the price estimates to be lower, but when dealing with an insurance company lying to them is useless. Usually, insurance companies will do research about a potential customer before granting him coverage. Online quotes can be sorted easily. Although drivers are recommended to not choose a policy just based on its price, drivers can easily sort quotes by insurance price. Using brokerage websites will allow drivers to get quotes from multiple insurers, thus making the comparison faster and easier. For additional info, money-saving tips, and free car insurance quotes, visit https://compare-autoinsurance.Org/ Compare-autoinsurance.Org is an online provider of life, home, health, and auto insurance quotes. This website is unique because it does not simply stick to one kind of insurance provider, but brings the clients the best deals from many different online insurance carriers. In this way, clients have access to offers from multiple carriers all in one place: this website. On this site, customers have access to quotes for insurance plans from various agencies, such as local or nationwide agencies, brand names insurance companies, etc. "Online quotes can easily help drivers obtain better car insurance deals. All they have to do is to complete an online form with accurate and real info, then compare prices", said Russell Rabichev, Marketing Director of Internet Marketing Company. CONTACT: Company Name: Internet Marketing CompanyPerson for contact Name: Gurgu CPhone Number: (818) 359-3898Email: [email protected]: https://compare-autoinsurance.Org/ SOURCE: Compare-autoinsurance.Org View source version on accesswire.Com:https://www.Accesswire.Com/595055/What-Are-The-Main-Benefits-Of-Comparing-Car-Insurance-Quotes-Online View photos
to request, modification Contact us at Here or [email protected]