Boris Johnson rejects calls to activate Covid Plan B
Boris Johnson continues to resist calls from health officials for tighter Covid restrictions despite rising levels of infections.
The prime minister admitted the figures were "high" but said they were "within parameters" expected by scientists advising the government.
It came as the daily number of reported cases in the UK surpassed 50,000 for the first time since mid-July.
Speaking during a visit to a primary school in Co Antrim, Northern Ireland, he said the most effective way to fight the disease was to continue the booster program.
His comments follow calls from the Confederation of the NHS and the British Medical Association (BMA) for ministers to activate their winter plan B for England, fearing the health services could be overwhelmed.
BMA board chairman Dr Chaand Nagpaul said refusing to introduce additional measures – including Covid passports, wearing masks in crowded public spaces and a return to work from home – amounted to "willful negligence".
However, Mr Johnson said the successful roll-out of the vaccination program meant the country was in a "incomparably better" position than it was 12 months ago and the government was sticking to its plan. TO.
"We are continuing the plan we established in July. We are monitoring the numbers very carefully every day, "he said in a clip bundled for broadcasters.
"The number of infections is high but we are within the parameters of what the predictions were, of what Spi-M (modeling group) and the others said we would be at this point given the measurements that we take.
"We are sticking to our plan. "
The prime minister urged those over 50 to come forward and get their recall as soon as they become eligible.
"You get the call, get the jab. We've done about 4 million booster jabs already, but as soon as you become eligible, as soon as you get that call, everyone over 50 should get that jab, "he said.
"90% of the adult population has antibodies right now, but we need to strengthen ourselves further.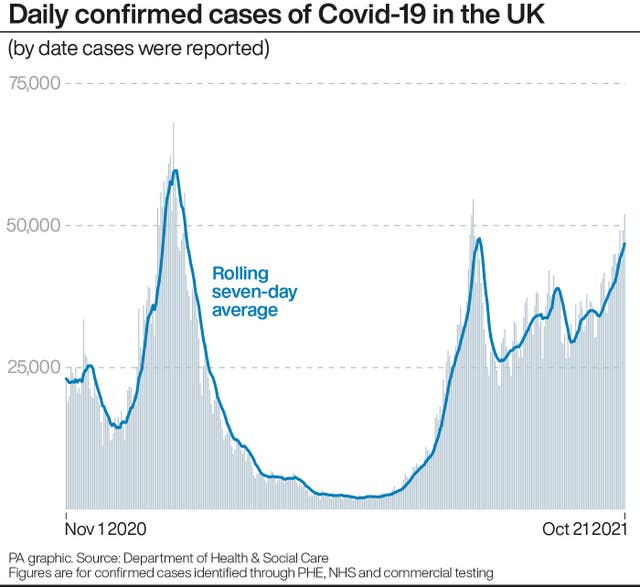 "The number (of infections) is high, we can see what's going on, we can see the increase, now is the time to get those booster shots."
His call came as the latest official figures showed around 4.7 million booster doses were delivered in the UK, up from 4.4 million on Wednesday.
NHS England said on Wednesday that a record number of people had booked their reminder through the national reservation service, with 234,000 bookings.
Meanwhile, another 52,009 laboratory-confirmed cases of the virus as of 9 a.m. Thursday, the highest daily number since mid-July.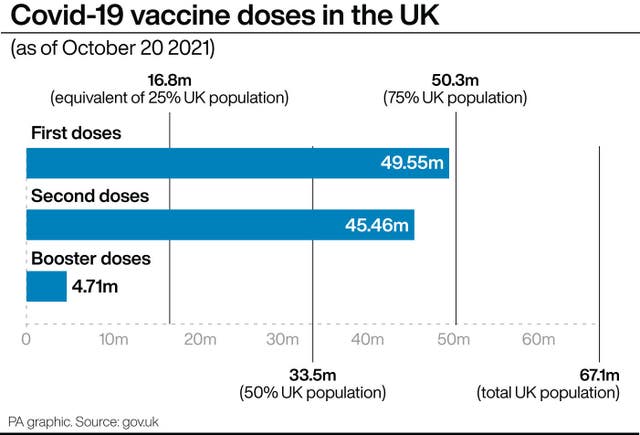 This follows a warning from Health Secretary Sajid Javid at a press conference in Downing Street on Wednesday that new cases could reach 100,000 a day.
He said the government may be forced to introduce new restrictions as Christmas approaches unless people take their booster shots and follow continued guidelines on social distancing.
Leading virologist Dr Chris Smith of the University of Cambridge said the numbers were already probably close to 100,000, with around half of all cases asymptomatic.
"We're looking very hard, we're doing over a million tests a day now, but we probably have very high levels around that sort of number right now," he told BBC Breakfast.
Meanwhile, Labor leader Sir Keir Starmer said the vaccination program had stalled and urged the government to commit to a target of 500,000 injections per day.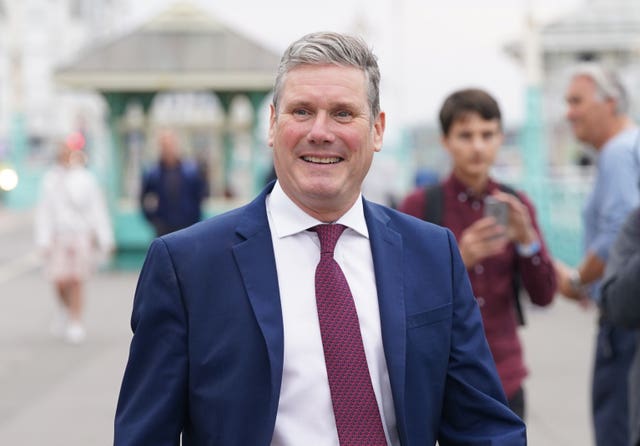 "The government has said the vaccine will be the security wall against the virus. And now the government is letting this wall collapse, "he said.
"The stimulus package has slowed down so much that at this rate we're not going to finish it until the spring of next year. The government has to change, it has to take back control.
Despite the increase in the number of cases, Downing Street insisted that there was still spare capacity in the NHS and that Plan B would only be activated if it came under "significant pressure".
The Prime Minister's official spokesperson said there are currently 95,000 hospital beds in the NHS, of which 7,000 are occupied by Covid patients, while around 6,000 are free.
"We will be monitoring hospitalization rates very carefully, admission rates, intensive care (intensive care unit) rates, the usual metrics we have used during this pandemic to judge how our NHS is coping" , said the spokesperson.
"Obviously, we will not hesitate to act if necessary.
The spokesperson denied reports that authorities were considering a Plan C to ban household mixing if the situation continued to deteriorate.
"It is important to stress that neither ministers nor officials are working on these proposals.
"This is not correct," the spokesperson said.
Sources
2/ https://www.barryanddistrictnews.co.uk/news/national/19664218.boris-johnson-rejects-calls-activate-covid-plan-b/
The mention sources can contact us to remove/changing this article
What Are The Main Benefits Of Comparing Car Insurance Quotes Online
LOS ANGELES, CA / ACCESSWIRE / June 24, 2020, / Compare-autoinsurance.Org has launched a new blog post that presents the main benefits of comparing multiple car insurance quotes. For more info and free online quotes, please visit https://compare-autoinsurance.Org/the-advantages-of-comparing-prices-with-car-insurance-quotes-online/ The modern society has numerous technological advantages. One important advantage is the speed at which information is sent and received. With the help of the internet, the shopping habits of many persons have drastically changed. The car insurance industry hasn't remained untouched by these changes. On the internet, drivers can compare insurance prices and find out which sellers have the best offers. View photos The advantages of comparing online car insurance quotes are the following: Online quotes can be obtained from anywhere and at any time. Unlike physical insurance agencies, websites don't have a specific schedule and they are available at any time. Drivers that have busy working schedules, can compare quotes from anywhere and at any time, even at midnight. Multiple choices. Almost all insurance providers, no matter if they are well-known brands or just local insurers, have an online presence. Online quotes will allow policyholders the chance to discover multiple insurance companies and check their prices. Drivers are no longer required to get quotes from just a few known insurance companies. Also, local and regional insurers can provide lower insurance rates for the same services. Accurate insurance estimates. Online quotes can only be accurate if the customers provide accurate and real info about their car models and driving history. Lying about past driving incidents can make the price estimates to be lower, but when dealing with an insurance company lying to them is useless. Usually, insurance companies will do research about a potential customer before granting him coverage. Online quotes can be sorted easily. Although drivers are recommended to not choose a policy just based on its price, drivers can easily sort quotes by insurance price. Using brokerage websites will allow drivers to get quotes from multiple insurers, thus making the comparison faster and easier. For additional info, money-saving tips, and free car insurance quotes, visit https://compare-autoinsurance.Org/ Compare-autoinsurance.Org is an online provider of life, home, health, and auto insurance quotes. This website is unique because it does not simply stick to one kind of insurance provider, but brings the clients the best deals from many different online insurance carriers. In this way, clients have access to offers from multiple carriers all in one place: this website. On this site, customers have access to quotes for insurance plans from various agencies, such as local or nationwide agencies, brand names insurance companies, etc. "Online quotes can easily help drivers obtain better car insurance deals. All they have to do is to complete an online form with accurate and real info, then compare prices", said Russell Rabichev, Marketing Director of Internet Marketing Company. CONTACT: Company Name: Internet Marketing CompanyPerson for contact Name: Gurgu CPhone Number: (818) 359-3898Email: [email protected]: https://compare-autoinsurance.Org/ SOURCE: Compare-autoinsurance.Org View source version on accesswire.Com:https://www.Accesswire.Com/595055/What-Are-The-Main-Benefits-Of-Comparing-Car-Insurance-Quotes-Online View photos
to request, modification Contact us at Here or [email protected]