Xi falsely claims China never started a war or took "an inch of land"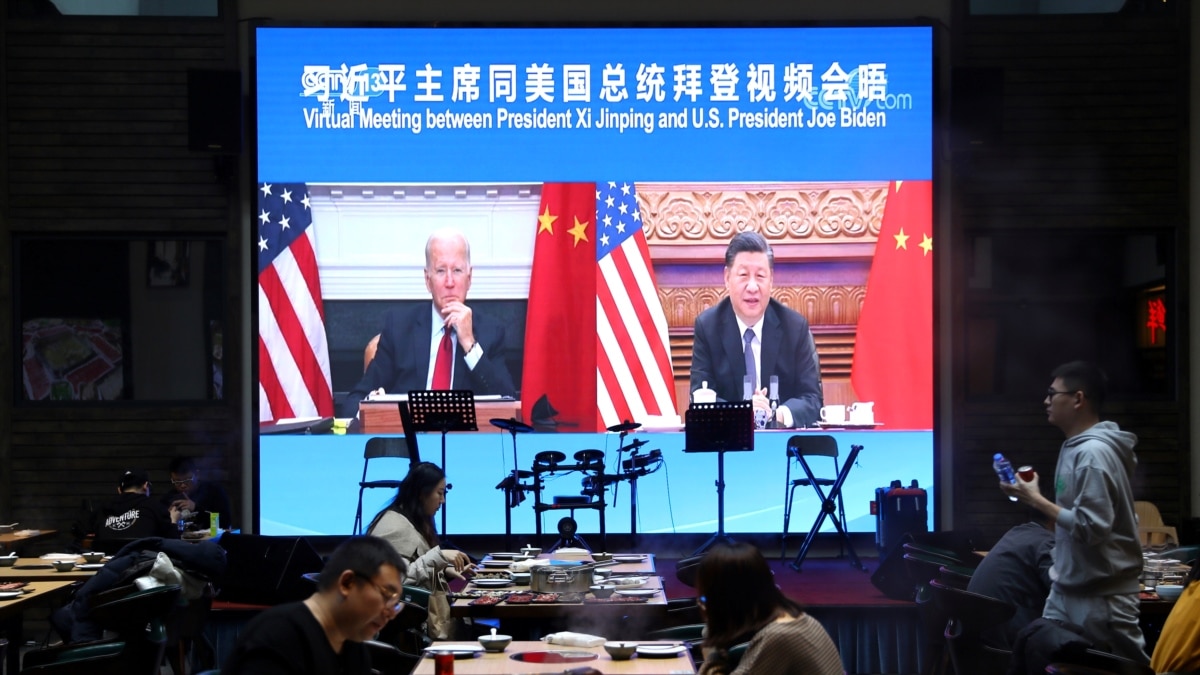 On November 15, US President Joe Biden and Chinese President Xi Jinping held a virtual one-on-one summit, their first such meeting since Biden took office in January.
Several potential bilateral cooperation issues were on the agenda, including climate change, arms control and human rights.
An urgent point was the status of Taiwan.
Biden, who previously had told reporters that Taiwan was independent, said the United States continued to support the one-China policy, which recognizes the Chinese Communist Party as the Chinese government.
However, the United States does not subscribe to the one-China principle, which regards Taiwan as an inalienable part of China.
Xi, for his part, said Taiwan's attempts to gain US support for independence are play with fire.
In October, China sent a record number of planes to the southwestern part of Taiwan's air defense identification zone, prompting Taiwan's foreign minister to declare his country ready. at war.
Yet, according to China Global Television Network (CGTN), Xi touted China's peaceful intentions while speaking with Biden.
Xi said the Chinese people have always loved and appreciated peace, adding that aggression or hegemony is not in the blood of the Chinese nation, CGTN reported.
Since the founding of the People's Republic, China has never started a single war or conflict and has never taken an inch of land from other countries, CGTN said citing Xi. The country does not intend to sell its own development path to the world.
It is wrong to claim that China has never started a war or taken an inch of land from other countries.
As Polygraph.info previously reported, the People's Republic of China has invaded Vietnam and India. Tens of thousands of people were killed during its invasion of Vietnam in 1979.
Intermittent fighting continued until 1991, with China occupying Vietnamese territory.
In 1974, China captured the Vietnamese-controlled part of the Paracel Island chain, and captured six Spratly Island Vietnam reefs in 1988. Both island chains lie in the South China Sea.
Evidence has surfaced, raising doubts about Beijing's claims that it has maintained some form of dominance over Paracel and Spratly Islands since ancient times.
In 1962, three years after China's invasion of Tibet, China also started a war with India along their disputed Himalayan border.
During this conflict, China consolidated its control over Aksai Chin, the eastern part of the Kashmir region, which India continues to claim.
Beijing started another Himalayan border war with India in 1967, with hostilities resuming last year after decades of relative calm.
China has built settlements in the territory claimed by India, an initiative that some analysts say is changing the status quo along the real line of control separating Chinese territory from Indian territory.
As Polygraph.info previously noted, Tibet's independence era from 1911 to 1951 ended after the Chinese People's Liberation Army invaded Tibet in October 1950.
More recently, China has claimed vast territorial claims in the South China Sea.
In 2009, China asserted it had undisputed sovereignty over the South China Sea islands and adjacent waters, as well as sovereign rights and jurisdiction over the waters concerned as well as the seabed and its subsoil.
In 2016, an international tribunal in The Hague partially reprimanded these allegations. However, Beijing ignored this decision.
China not only seized islands and reefs from Vietnam, but also captured the Scarborough Shoal, some 137 miles east of the Philippine island of Luzon.
In 1994, China captured Mischief Reef, an atoll located 250 kilometers west of Palwan Island in the Philippines. China also maintains an illegal blockade of the Second Thomas Shoal, near Mischief Reef.
November 16, Chinese coastguard stranded a resupply mission from a small Philippine military outpost on Second Thomas Shoal, which falls under the Philippine Exclusive Economic Zone (EEC).
In 2016, the court in The Hague ruled that Mischief Reef and Second Thomas Shoal are in fact part the Philippine Continental Shelf.
Yet Beijing militarized Mischief Reef and built an artificial island on it.
China has also had dozens of Maritime Militia ships moored, anchored and stationary at Julian Felipe Reef in the Spratly Islands, which is also part of the Philippine EEZ, Radio Free Asia reported in March. (Radio Free Asia is a sister news organization of Voice of America.)
This is part of China's broader efforts to maintain its dominance in the South China Sea by building military outposts on Paracel and Spratly Islands and deploying anti-ship cruise missiles and surface-to-air missiles to Long range.
Japan has accused China of stepping up efforts to assert dominance in the East China Sea, particularly around the disputed Senkaku / Diaoyu islands.
On November 13, Japan's new Foreign Minister Yoshimasa Hayashi said US Secretary of State Antony Blinken assured him that the US commitment to defend Japan, including the Senkaku Islands, was " unwavering, Reuters reported.
Sources
2/ https://www.polygraph.info/a/fact-check-biden-xi-started-war/31568058.html
The mention sources can contact us to remove/changing this article
What Are The Main Benefits Of Comparing Car Insurance Quotes Online
LOS ANGELES, CA / ACCESSWIRE / June 24, 2020, / Compare-autoinsurance.Org has launched a new blog post that presents the main benefits of comparing multiple car insurance quotes. For more info and free online quotes, please visit https://compare-autoinsurance.Org/the-advantages-of-comparing-prices-with-car-insurance-quotes-online/ The modern society has numerous technological advantages. One important advantage is the speed at which information is sent and received. With the help of the internet, the shopping habits of many persons have drastically changed. The car insurance industry hasn't remained untouched by these changes. On the internet, drivers can compare insurance prices and find out which sellers have the best offers. View photos The advantages of comparing online car insurance quotes are the following: Online quotes can be obtained from anywhere and at any time. Unlike physical insurance agencies, websites don't have a specific schedule and they are available at any time. Drivers that have busy working schedules, can compare quotes from anywhere and at any time, even at midnight. Multiple choices. Almost all insurance providers, no matter if they are well-known brands or just local insurers, have an online presence. Online quotes will allow policyholders the chance to discover multiple insurance companies and check their prices. Drivers are no longer required to get quotes from just a few known insurance companies. Also, local and regional insurers can provide lower insurance rates for the same services. Accurate insurance estimates. Online quotes can only be accurate if the customers provide accurate and real info about their car models and driving history. Lying about past driving incidents can make the price estimates to be lower, but when dealing with an insurance company lying to them is useless. Usually, insurance companies will do research about a potential customer before granting him coverage. Online quotes can be sorted easily. Although drivers are recommended to not choose a policy just based on its price, drivers can easily sort quotes by insurance price. Using brokerage websites will allow drivers to get quotes from multiple insurers, thus making the comparison faster and easier. For additional info, money-saving tips, and free car insurance quotes, visit https://compare-autoinsurance.Org/ Compare-autoinsurance.Org is an online provider of life, home, health, and auto insurance quotes. This website is unique because it does not simply stick to one kind of insurance provider, but brings the clients the best deals from many different online insurance carriers. In this way, clients have access to offers from multiple carriers all in one place: this website. On this site, customers have access to quotes for insurance plans from various agencies, such as local or nationwide agencies, brand names insurance companies, etc. "Online quotes can easily help drivers obtain better car insurance deals. All they have to do is to complete an online form with accurate and real info, then compare prices", said Russell Rabichev, Marketing Director of Internet Marketing Company. CONTACT: Company Name: Internet Marketing CompanyPerson for contact Name: Gurgu CPhone Number: (818) 359-3898Email: [email protected]: https://compare-autoinsurance.Org/ SOURCE: Compare-autoinsurance.Org View source version on accesswire.Com:https://www.Accesswire.Com/595055/What-Are-The-Main-Benefits-Of-Comparing-Car-Insurance-Quotes-Online View photos
to request, modification Contact us at Here or [email protected]