When Jokowi wants-Want to stop PLTU-Carbon neutral ambition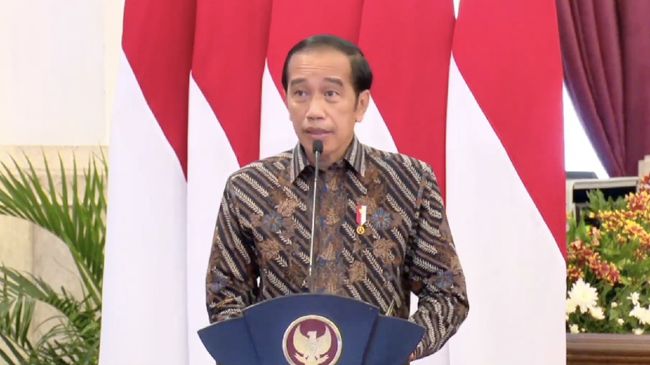 Jakarta, CNBC Indonesia – Indonesia aims to achieve carbon neutrality by 2060 or earlier. One of the measures taken to achieve this ambition is to decommission the coal-fired steam plant (PLTU).
So far, the cost of generating electricity from coal is still the cheapest compared to new and renewable energy (EBT). If the PLTU is interrupted and switches to NRE-based electricity, there will be an additional cost risk as the price of NRE electricity is more expensive than coal-fired electricity.
Therefore, President Joko Widodo (Jokowi) warned that this energy transition plan should not be a burden on the state and the people.
At the opening of the 10th EBTKE ConEx Indonesia 2021 at the Jakarta State Palace on Monday 11/22/2021, Jokowi said that during the G20 and COP26 events in Glasgow in late October-early November, the discussion only focused on how the global scenario in transition.
According to him, the same discussion had also been mentioned the previous year and no solution had yet been found, in particular financing solutions for energy transitions in developing countries. Such conversations, he said, are repeated every year.
"When we were at the G20, as well as at the COP26 in Glasgow, we were only talking about how the global scenario entered into the energy transition. Last year we got into this theme, but we haven't figured out the strategy yet. , what kind of program, "he told the minister. Coordinator of Maritime Affairs and Investments Luhut Binsar Pandjaitan, Minister of Energy and Mineral Resources Arifin Tasrif, Indonesian Renewable Energy Company (METI) and New Renewable Energies (EBT) entrepreneurs who were present at the Palace of the Status, Monday (11/22/2021).
"This year it was discussed again and the pattern was not found. It was promised $ 100 billion but its provenance was not respected," he added.
Jokowi admitted that British Prime Minister Boris Johnson asked him why Indonesia's carbon neutrality or net zero emission target is still at 2060, couldn't it be further ahead? Because according to the British Prime Minister, other countries can aim for 2050.
"Yes, it's ok if not, if you say it right, I can also pass it on roadmap-what does it look like, what does the roadmap look like? "he said.
Indonesia, Jokowi continued, has enormous power, where renewable energy sources reach 418 Giga Watt (GW) from hydropower, geothermal / geothermal, wind, solar / solar and others.
But on the other hand, Indonesia has long contracted with coal-fired power plants.
"The question is, what does the scenario look like? For example, the funding comes, the investment comes, right, the price (EBT) is more expensive than coal. Who pays for the gap? 'State? Us? It's impossible,' he said. .
Because to cover the difference in the cost of renewable energies and coal, according to him, it could cost up to hundreds of trillions. According to him, this cost is also impossible to charge to the community because it will certainly make noise due to the very sharp increase in electricity tariffs.
"How many hundreds of billions of billions is the number, is it impossible or charged by the community? Electricity tariffs will go up? It is not possible either, there will be many people later. It will be upsetting if something like this happens because the increase is so high, "he said.
"Wong has seen a 10-15% increase in protests over the past 3 months. What kind of scenario I assign to the coordinating minister for Marves, the minister of energy and mineral resources, as well as the minister of public enterprises, that are concrete? things, "he said.
"But the calculations are real. The calculations are real numbers. If we can make the transition, there has to be a price increase. When it goes up, the question is who is responsible? Government, society or society. global community? they want to make that up? " he added.
Sources
2/ https://www.cnbcindonesia.com/news/20211123101108-4-293640/saat-jokowi-wanti-wanti-soal-stop-pltu-ambisi-netral-karbon
The mention sources can contact us to remove/changing this article
What Are The Main Benefits Of Comparing Car Insurance Quotes Online
LOS ANGELES, CA / ACCESSWIRE / June 24, 2020, / Compare-autoinsurance.Org has launched a new blog post that presents the main benefits of comparing multiple car insurance quotes. For more info and free online quotes, please visit https://compare-autoinsurance.Org/the-advantages-of-comparing-prices-with-car-insurance-quotes-online/ The modern society has numerous technological advantages. One important advantage is the speed at which information is sent and received. With the help of the internet, the shopping habits of many persons have drastically changed. The car insurance industry hasn't remained untouched by these changes. On the internet, drivers can compare insurance prices and find out which sellers have the best offers. View photos The advantages of comparing online car insurance quotes are the following: Online quotes can be obtained from anywhere and at any time. Unlike physical insurance agencies, websites don't have a specific schedule and they are available at any time. Drivers that have busy working schedules, can compare quotes from anywhere and at any time, even at midnight. Multiple choices. Almost all insurance providers, no matter if they are well-known brands or just local insurers, have an online presence. Online quotes will allow policyholders the chance to discover multiple insurance companies and check their prices. Drivers are no longer required to get quotes from just a few known insurance companies. Also, local and regional insurers can provide lower insurance rates for the same services. Accurate insurance estimates. Online quotes can only be accurate if the customers provide accurate and real info about their car models and driving history. Lying about past driving incidents can make the price estimates to be lower, but when dealing with an insurance company lying to them is useless. Usually, insurance companies will do research about a potential customer before granting him coverage. Online quotes can be sorted easily. Although drivers are recommended to not choose a policy just based on its price, drivers can easily sort quotes by insurance price. Using brokerage websites will allow drivers to get quotes from multiple insurers, thus making the comparison faster and easier. For additional info, money-saving tips, and free car insurance quotes, visit https://compare-autoinsurance.Org/ Compare-autoinsurance.Org is an online provider of life, home, health, and auto insurance quotes. This website is unique because it does not simply stick to one kind of insurance provider, but brings the clients the best deals from many different online insurance carriers. In this way, clients have access to offers from multiple carriers all in one place: this website. On this site, customers have access to quotes for insurance plans from various agencies, such as local or nationwide agencies, brand names insurance companies, etc. "Online quotes can easily help drivers obtain better car insurance deals. All they have to do is to complete an online form with accurate and real info, then compare prices", said Russell Rabichev, Marketing Director of Internet Marketing Company. CONTACT: Company Name: Internet Marketing CompanyPerson for contact Name: Gurgu CPhone Number: (818) 359-3898Email: [email protected]: https://compare-autoinsurance.Org/ SOURCE: Compare-autoinsurance.Org View source version on accesswire.Com:https://www.Accesswire.Com/595055/What-Are-The-Main-Benefits-Of-Comparing-Car-Insurance-Quotes-Online View photos
to request, modification Contact us at Here or [email protected]