Orban tightrope walk on China ahead of Hungarian election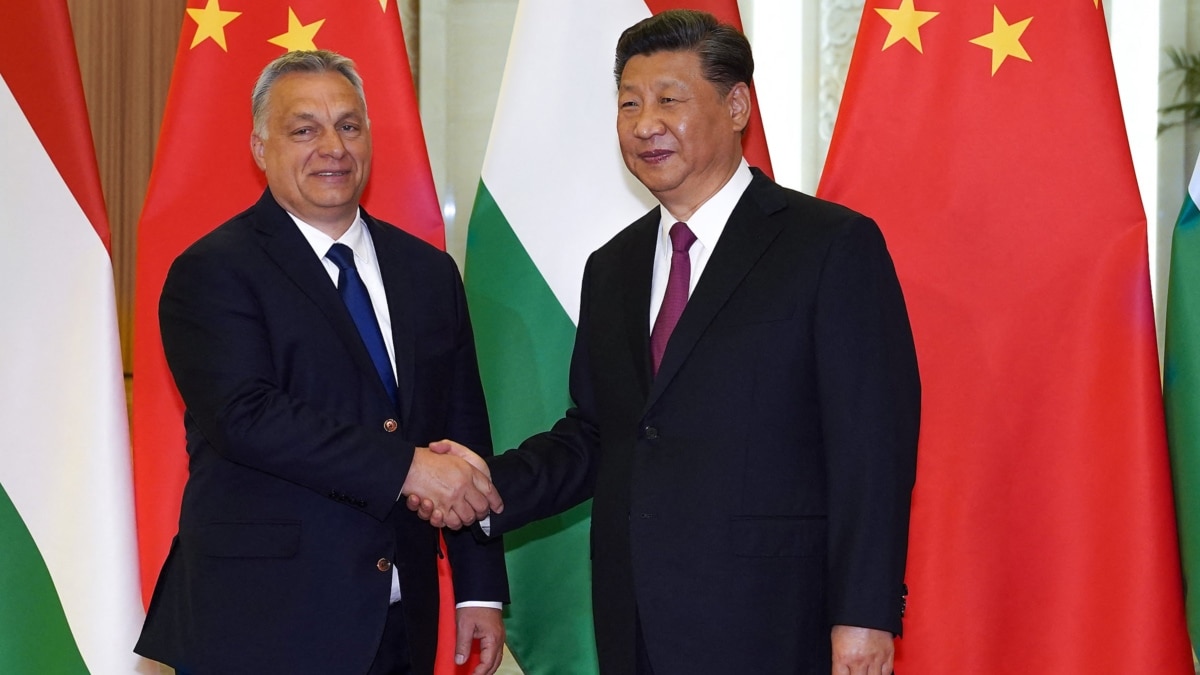 With Hungarian Prime Minister Viktor Orbans' close ties with Beijing becoming a target for the country's opposition in a tightening election campaign, the government is now trying to distance itself from some of its most controversial Chinese policies.
The Orban government's new tactic comes as Peter Marki-Zay – a conservative small town mayor who has emerged as a Unity candidate chosen by a coalition of opposition parties – has come to represent what many see it as the best chance to oust Orban in more than a decade.
In what looks to be a close race ahead of the spring parliamentary elections, Budapest takes a fresh approach as Marki-Zay vows to upset the country's warm relationship with China and target China-funded projects in the country.
The Hungarian government is now silent on these controversial China-related issues and tries to highlight the bright side of [China-Hungary] ties, such as the amount of Chinese investment flowing into the country, Tamas Matura, assistant professor at Corvinus University in Budapest, told RFE / RL.
Under Orban, in office since 2010, Hungary has forged close ties with China.
The relations widened further under the Hungarian leaders' eastern opening policy aimed at cultivating close ties with Beijing and Moscow in order to attract investment and economic opportunities for the country.
Since then, Orban has opened the door for a series of controversial Chinese initiatives in the country – including a China-funded university in Budapest, a railroad to Belgrade, and the purchase of Chinese ventilators and vaccines during the pandemic. – who have found themselves in the crosshairs of the opposition on debt and corruption issues.
With polls showing Marki-Zay neck and neck with the Orbans Fidesz party, the opposition candidate has attempted to shed light on Orbans' controversial relations with China and requested a review Hungary's relations with Beijing.
The opposition candidate also accused Orban of corruption in the negotiations over the financing of the Budapest-Belgrade railway, where the government took out a Chinese loan of $ 1.9 billion over 20 years, and pledged to stop interfering with European Union efforts to censor Beijing on human rights issues in Hong Kong and China's western Xinjiang province.
In Brussels, several EU officials familiar with Chinese bloc policies told RFE / RL that Hungarian officials did not oppose renewed sanctions against Beijing on Xinjiang, largely because Budapest wanted to avoid reinforce opposition attempts to target Orban on his China. connections.
Everything must be revisited and reviewed and any corruption must be identified, Marki-Zay told the South China Morning Post. The Budapest-Belgrade railway and vaccine supply must be carefully reviewed and controlled by open and independent authorities.
"Opening of the East" meets Marki-Zay
Marki-Zays' challenge left the Orban government to engage in a high-flying act at home and abroad regarding its policy in China.
This change was particularly felt in Brussels, where the Hungarian authorities were willing to come to the aid of Beijing to woo more Chinese investment and maintain diplomatic support in Budapest. democratic retreat, which has been the subject of repeated clashes between Hungary and the EU.
Following tit-for-tat sanctions between Beijing and Brussels in March for China's human rights abuses in Xinjiang, Hungarian Foreign Minister Peter Szijjarto denounced the measures as "unnecessary, self-glorifying and harmful" .
In April and May, Budapest was the only one of the 27 EU member states to refuse to support punitive measures in response to Beijing's imposition of a national security law on Hong Kong and has since blocked any action. future.
But behind the scenes in Brussels, EU officials familiar with the issue who were not authorized to speak to the media told RFE / RL that Hungary has so far indicated it will not oppose to the extension of Xinjiang's measures as it tries to avoid the emergence of closer ties with China in the midst of the tight electoral cycle.
Hungary is also increasingly finding itself as an outlier in Central and Eastern Europe in its relations with China.
A new government in the Czech Republic says more is needed antagonistic position towards Beijing and the new coalition in Germany also called for a reassessment of Berlin's policies in China following Chancellor Angela Merkels the court of Beijing as a partner.
Several countries in the region also hosted Taiwan's foreign minister for a historic European tour in October, while Lithuania was involved in a tense quarrel with Beijing on the Baltic States' links with Taipei.
These tensions seem set to intensify.
On November 21, China degraded diplomatic relations with Lithuania on the opening of a Taiwanese office in Vilnius. Meanwhile, in Brussels, the EU is working on new supply chain due diligence and anti-coercion legislation that could also target China and unravel with Beijing.
According to Matura, this leaves the Orban government in a delicate position as it seeks to deal with rising anti-Chinese sentiments among Hungary's neighbors.
[This] could increase Orban's importance to China, as he is one of Beijing's last friends across the EU, he said. Meanwhile, he can't be very supportive of China in the midst of the campaign, I think Orban has taken a wait-and-see approach. [for] now.
Spring elections
The Chinese-funded Hungarian projects under Orban are no stranger to the scandal, but analysts say the central question for Marki-Zay ahead of the election is whether he resonates with the electorate.
There is certainly an attempt to get China into the election campaign, but it remains to be seen whether it will be successful, Kesarev analyst Dominik Istrate told RFE / RL.
Corruption issues have followed the Budapest-Belgrade railway project since it was first proposed in 2014 and the government's purchase of the Chinese-made Sinopharm vaccine has also been mixed up in the controversy on high costs and corruption charges.
However, a project to build a campus in Budapest for the prestigious Fudan University in Shanghai received the largest repression of the public, with around 10,000 people taking to the streets of the capital in June after leaked documents showed the government would take out a $ 1.5 billion loan from a Chinese bank to cover most of the costs.
Orban has since said he will hold a referendum on the issue, but such a vote faces growing uncertainty.
The Fudan project remains unpopular with voters, with a August survey showing that more than two-thirds of Hungarians oppose the campus. Members of the Hungarian opposition, including Budapest mayor Gergely Karacsony, are also pushing for a nationwide referendum on campus that could be included in the ballot for federal elections. But it currently faces several legal challenges that could delay it until after the 2022 vote.
While criticizing the Chinese megaprojects that were given the green light under Orban, Marki-Zay also sought to carefully position himself as not being anti-China. The mayor of the small town of Hodmezovasarhely said Chinese investments are welcome as long as they are on a mutually beneficial basis, and said he respects Beijing's achievements.
The Orban government, meanwhile, has turned its attention to other issues that could galvanize voters and define elections.
Pro-Fidesz experts have already said there will be major US interference in the 2022 elections and took aim at the time of Marki-Zays living in the United States as evidence that he represents foreign interests.
The Orban government also propose your own referendum on current legislation that limits schools' ability to teach about homosexuality and transgender issues, which the prime minister has touted as part of an ideological war with the EU.
Ultimately, the election will be a referendum on Orbans' ability to govern and on the country's position after 11 years of Fidesz, Istrate said. Ultimately, the election will come down to questions of domestic politics.
Sources
2/ https://www.rferl.org/a/hungary-china-orban-election/31573850.html
The mention sources can contact us to remove/changing this article
What Are The Main Benefits Of Comparing Car Insurance Quotes Online
LOS ANGELES, CA / ACCESSWIRE / June 24, 2020, / Compare-autoinsurance.Org has launched a new blog post that presents the main benefits of comparing multiple car insurance quotes. For more info and free online quotes, please visit https://compare-autoinsurance.Org/the-advantages-of-comparing-prices-with-car-insurance-quotes-online/ The modern society has numerous technological advantages. One important advantage is the speed at which information is sent and received. With the help of the internet, the shopping habits of many persons have drastically changed. The car insurance industry hasn't remained untouched by these changes. On the internet, drivers can compare insurance prices and find out which sellers have the best offers. View photos The advantages of comparing online car insurance quotes are the following: Online quotes can be obtained from anywhere and at any time. Unlike physical insurance agencies, websites don't have a specific schedule and they are available at any time. Drivers that have busy working schedules, can compare quotes from anywhere and at any time, even at midnight. Multiple choices. Almost all insurance providers, no matter if they are well-known brands or just local insurers, have an online presence. Online quotes will allow policyholders the chance to discover multiple insurance companies and check their prices. Drivers are no longer required to get quotes from just a few known insurance companies. Also, local and regional insurers can provide lower insurance rates for the same services. Accurate insurance estimates. Online quotes can only be accurate if the customers provide accurate and real info about their car models and driving history. Lying about past driving incidents can make the price estimates to be lower, but when dealing with an insurance company lying to them is useless. Usually, insurance companies will do research about a potential customer before granting him coverage. Online quotes can be sorted easily. Although drivers are recommended to not choose a policy just based on its price, drivers can easily sort quotes by insurance price. Using brokerage websites will allow drivers to get quotes from multiple insurers, thus making the comparison faster and easier. For additional info, money-saving tips, and free car insurance quotes, visit https://compare-autoinsurance.Org/ Compare-autoinsurance.Org is an online provider of life, home, health, and auto insurance quotes. This website is unique because it does not simply stick to one kind of insurance provider, but brings the clients the best deals from many different online insurance carriers. In this way, clients have access to offers from multiple carriers all in one place: this website. On this site, customers have access to quotes for insurance plans from various agencies, such as local or nationwide agencies, brand names insurance companies, etc. "Online quotes can easily help drivers obtain better car insurance deals. All they have to do is to complete an online form with accurate and real info, then compare prices", said Russell Rabichev, Marketing Director of Internet Marketing Company. CONTACT: Company Name: Internet Marketing CompanyPerson for contact Name: Gurgu CPhone Number: (818) 359-3898Email: [email protected]: https://compare-autoinsurance.Org/ SOURCE: Compare-autoinsurance.Org View source version on accesswire.Com:https://www.Accesswire.Com/595055/What-Are-The-Main-Benefits-Of-Comparing-Car-Insurance-Quotes-Online View photos
to request, modification Contact us at Here or [email protected]