FPKS Vice President: Green energy program should not be an image for President Jokowi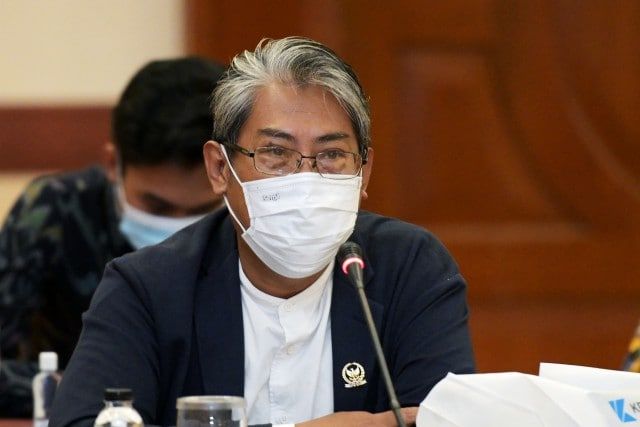 Jakarta (24/11) – President Joko Widodo's statement at the opening of Indonesia's 10th EBTKE ConEx 2021 (11/22/2021), that the government does not want the energy transition to weigh on the population and state finances, received a response from Commission Member VII DPR RI, Mulyanto.
Mulyanto felt that Joko Widodo's statement contradicted what was conveyed at the high-level climate change conference in Glasgow some time ago.
At that time, Joko Widodo boasted that Indonesia was ready to implement a green energy program. But now the president is complaining about the difficulty of carrying out this program.
"Now it is proven that what the president said at the climate change summit is just a picture. Due to the fact that we need time and big funds to make a technological transition from fossil energy to new and renewable energy (EBT), "said Mulyanto.
Regarding this green energy program, Mulyanto asked the government to be realistic. Don't force yourself too much and make it into a picture material. Because the process of transferring technology from fossil fuels to green energy requires very significant funds.
"If the government is not careful, it could lead to an energy crisis like the one developed countries experienced some time ago," Mulyanto said.
Mulyanto said PKS urges the government to exercise caution in implementing the RUPTL 2021-2030 (Business Plan for Electricity Supply), which would be very green.
"Do not let Indonesia be swayed by the optimism of an overdose or simply spread the charm of this energy transition. Because the victims will be soaring electricity tariffs or skyrocketing the burden of subsidies. ", did he declare.
The government, Mulyanto said, must prepare for the energy transition process gradually and carefully. Don't be too ambitious without any foundation.
The government should indeed increase the mix of new and renewable energies (EBT). In addition, the issue of green energy has become the global agenda. However, the implementation must be cautious, so that the base cost of generation (BPP) or electricity tariffs do not increase. If that happens, people will also become victims, Mulyanto said.
According to the RUPTL 2021-2030, where the NRE share will reach 52%, the BPP of PLN will increase from 1,423 Rp / kWh in 2021 to 1,689 Rp / kWh in 2025.
The additional burden of subsidies and offsets will more than double, from IDR 71.9 trillion in 2021 to IDR 182.3 trillion in 2025.
"Does the government have the money to shoulder this burden? This burden should also not be transferred to the population, thus producing expensive electricity. Currently, the electricity tariff for domestic customers in Indonesia is almost double the electricity tariff in Malaysia. Because for the community what is needed is an affordable electricity rate. No clean electricity, but expensive, "Mulyanto said.
Mulyanto encouraged the government to develop NREs in energy deficit areas. Do not develop NRE in areas with excess energy, such as Java and Sumatra. This will be redundant and lead to increased costs for PLN.
Government should not be dictated by developed countries. Giant PLTU countries such as China, India and America have not committed to eliminating this PLTU. Also committed funds of $ 100 billion from developed countries to developing countries. Besides being too small, its realization is also not clear. We must be committed to the nation's interests with regard to national energy security, providing sufficient, cheap and clean energy. Don't charge people with stuffy electricity tariffs, Mulyanto said.
Sources
2/ https://fraksi.pks.id/2021/11/24/wakil-ketua-fpks-program-energi-hijau-jangan-jadi-bahan-pencitraan-presiden-jokowi/
The mention sources can contact us to remove/changing this article
What Are The Main Benefits Of Comparing Car Insurance Quotes Online
LOS ANGELES, CA / ACCESSWIRE / June 24, 2020, / Compare-autoinsurance.Org has launched a new blog post that presents the main benefits of comparing multiple car insurance quotes. For more info and free online quotes, please visit https://compare-autoinsurance.Org/the-advantages-of-comparing-prices-with-car-insurance-quotes-online/ The modern society has numerous technological advantages. One important advantage is the speed at which information is sent and received. With the help of the internet, the shopping habits of many persons have drastically changed. The car insurance industry hasn't remained untouched by these changes. On the internet, drivers can compare insurance prices and find out which sellers have the best offers. View photos The advantages of comparing online car insurance quotes are the following: Online quotes can be obtained from anywhere and at any time. Unlike physical insurance agencies, websites don't have a specific schedule and they are available at any time. Drivers that have busy working schedules, can compare quotes from anywhere and at any time, even at midnight. Multiple choices. Almost all insurance providers, no matter if they are well-known brands or just local insurers, have an online presence. Online quotes will allow policyholders the chance to discover multiple insurance companies and check their prices. Drivers are no longer required to get quotes from just a few known insurance companies. Also, local and regional insurers can provide lower insurance rates for the same services. Accurate insurance estimates. Online quotes can only be accurate if the customers provide accurate and real info about their car models and driving history. Lying about past driving incidents can make the price estimates to be lower, but when dealing with an insurance company lying to them is useless. Usually, insurance companies will do research about a potential customer before granting him coverage. Online quotes can be sorted easily. Although drivers are recommended to not choose a policy just based on its price, drivers can easily sort quotes by insurance price. Using brokerage websites will allow drivers to get quotes from multiple insurers, thus making the comparison faster and easier. For additional info, money-saving tips, and free car insurance quotes, visit https://compare-autoinsurance.Org/ Compare-autoinsurance.Org is an online provider of life, home, health, and auto insurance quotes. This website is unique because it does not simply stick to one kind of insurance provider, but brings the clients the best deals from many different online insurance carriers. In this way, clients have access to offers from multiple carriers all in one place: this website. On this site, customers have access to quotes for insurance plans from various agencies, such as local or nationwide agencies, brand names insurance companies, etc. "Online quotes can easily help drivers obtain better car insurance deals. All they have to do is to complete an online form with accurate and real info, then compare prices", said Russell Rabichev, Marketing Director of Internet Marketing Company. CONTACT: Company Name: Internet Marketing CompanyPerson for contact Name: Gurgu CPhone Number: (818) 359-3898Email: [email protected]: https://compare-autoinsurance.Org/ SOURCE: Compare-autoinsurance.Org View source version on accesswire.Com:https://www.Accesswire.Com/595055/What-Are-The-Main-Benefits-Of-Comparing-Car-Insurance-Quotes-Online View photos
to request, modification Contact us at Here or [email protected]