PMQ: Starmer asks Boris Johnson if he is "okay" while accusing him of introducing a "working class dementia tax" | Politics News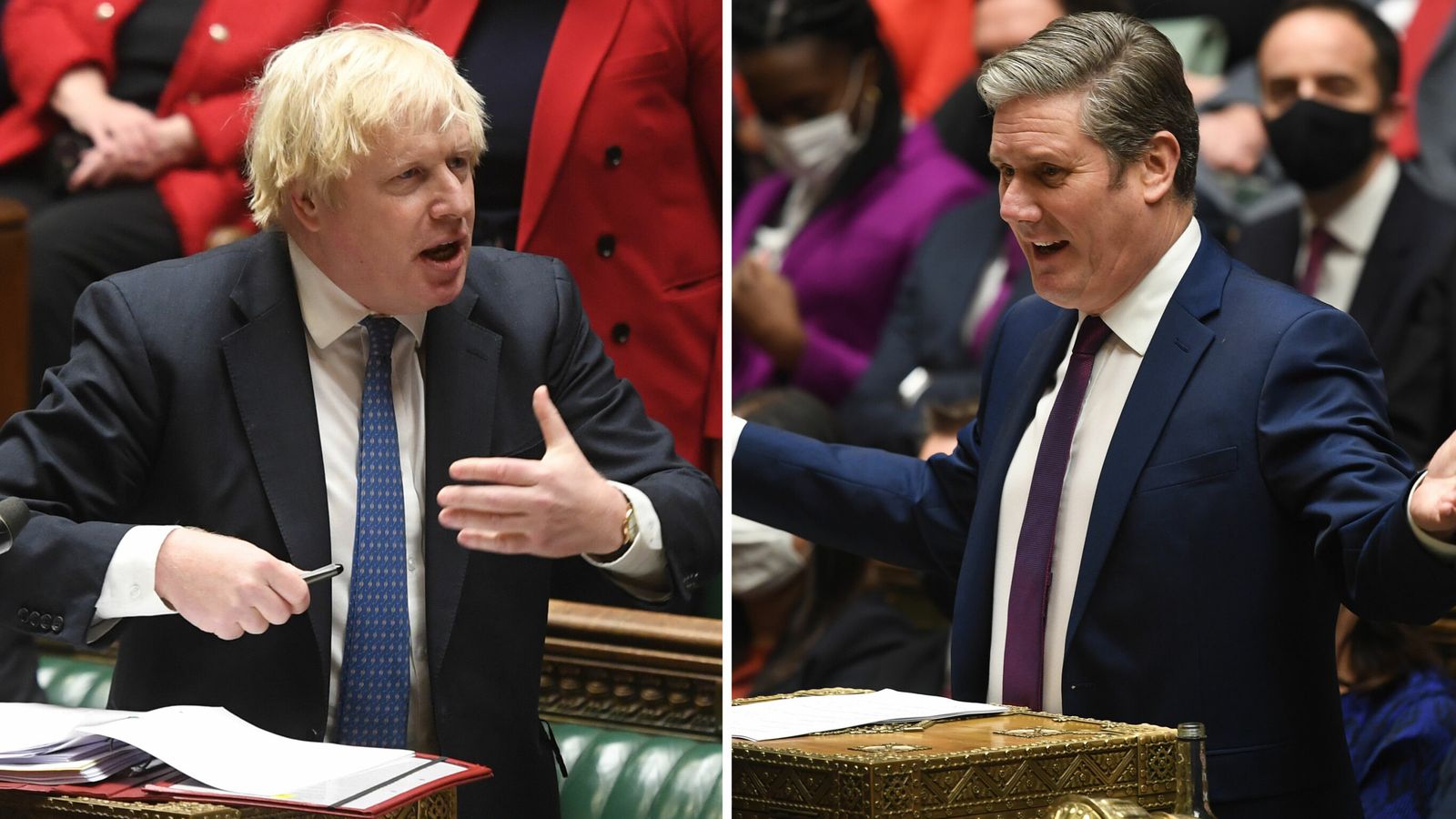 Sir Keir Starmer wondered if Boris Johnson was "okay" as he accused him of introducing a "working class dementia tax" as part of this week's reform of government funding. social care.
The Labor leader said the Prime Minister was leading a 'Covent Garden pick-pocketing operation' on the reform, meaning that only what individuals personally pay for their social care will contribute to the lifetime cap of £ 86,000.
It was pushed into the Commons by a small majority after a conservative rebellion but experts said it would mean poorer people will take longer to hit the cap than rich people, so more of their assets will be eaten up by the costs of care.
PM asked 'is everything okay?' after the speech

Highlighting the problem during Prime Minister's Questions, Sir Keir said: "The only thing he is proposing is high taxes, high prices and low growth. I'm not sure the Prime Minister should be shouting at this subject.
"And it's not just about broken promises, it's also about fairness. Everyone needs to be protected from massive health and care costs.
"But according to his plan, someone with assets worth around £ 100,000 will lose almost everything, but someone with assets of around £ 1million will keep almost everything."
After questioning the Prime Minister on several occasions on the matter, Sir Keir added: "This is a classic scam game. A Covent Garden pick-pocketing operation. The Prime Minister is the leader, distracting people with crazy promises and panto speeches while his chancellor plunges his hand into their pocket. "
And he asked, "How did he manage to design a tax on working class dementia?"
The Prime Minister countered that the welfare plan "does more for workers up and down the country than Labor has ever done."
Quite a noisy PMQ, but did we really learn a lot? | Analysis by Kate McCann, political correspondent
Sir Keir Starmer had a lot of pressure on his shoulders to perform this week, with a plethora of materials to choose from.
He avoided a joke from Peppa Pig (maybe she's getting a little older now), but had some digs at Boris Johnson on his party's loyalty, if he would be the leader in the next election and if he goes off the rails when it comes to decision making.
He landed a few hits, but by choosing to use all of his questions on welfare, a topic the Prime Minister is now accustomed to grappling with, tough issues he hasn't gone very far in terms of policy on.
Maybe it didn't matter, however, Sir Keir used his new expression, calling the welfare changes a "tax on working class dementia" – a line Labor hopes to keep.
Whether this is correct, whether all those affected by politics consider themselves to be working class is another matter.
As far as Boris Johnson is concerned, he almost made it out. His party had largely filled the green benches, the few shortcomings could be explained, and there was enough noise to convince those watching that no leadership challenges would arise in the weeks to come.
But the Prime Minister had little new to say, and questions about social services and rail only remind conservatives worried about broken promises that these problems will not go away.
Earlier this week, Mr Johnson gave a speech to business leaders in which he mimicked a car engine, lost his place and praised Peppa Pig World, sparking the exasperation of some conservatives high ranking.
And in addition to the Tories' rebellion over social care, it has been plagued by criticism over standards after a turnaround the government made after initially whipping Tory MPs into rejecting the former's suspension. Conservative MP. Owen Paterson for breaking the lobbying rules.
Subscribe to the All Out Politics podcast on Apple podcasts, Google podcasts, Spotify, Streamer
Sir Keir used PMQs to echo a reporter's question after Peppa Pig's speech, as he asked, "Is everything okay, Prime Minister?"
The Prime Minister replied: "I will tell you what does not work – it is this line of attack."
PM loses his place in speech and uses Peppa Pig's joke

Mr Johnson used Sir Keir's attack on him to downgrade Midlands and North rail plans by claiming there had been 'nothing like this for a century', when he referred to an investment promised £ 96 billion and three new high-speed lines.
He added: "It turns out that (he) actually campaigned against HS2, said it would be devastating and should be called off."
Johnson said: "I have decided it is the right thing to do for the long term interests of the whole country, how can they trust this man?"
Sources
2/ https://news.sky.com/story/pmqs-starmer-asks-boris-johnson-if-he-is-okay-while-accusing-him-of-introducing-a-working-class-dementia-tax-12477434
The mention sources can contact us to remove/changing this article
What Are The Main Benefits Of Comparing Car Insurance Quotes Online
LOS ANGELES, CA / ACCESSWIRE / June 24, 2020, / Compare-autoinsurance.Org has launched a new blog post that presents the main benefits of comparing multiple car insurance quotes. For more info and free online quotes, please visit https://compare-autoinsurance.Org/the-advantages-of-comparing-prices-with-car-insurance-quotes-online/ The modern society has numerous technological advantages. One important advantage is the speed at which information is sent and received. With the help of the internet, the shopping habits of many persons have drastically changed. The car insurance industry hasn't remained untouched by these changes. On the internet, drivers can compare insurance prices and find out which sellers have the best offers. View photos The advantages of comparing online car insurance quotes are the following: Online quotes can be obtained from anywhere and at any time. Unlike physical insurance agencies, websites don't have a specific schedule and they are available at any time. Drivers that have busy working schedules, can compare quotes from anywhere and at any time, even at midnight. Multiple choices. Almost all insurance providers, no matter if they are well-known brands or just local insurers, have an online presence. Online quotes will allow policyholders the chance to discover multiple insurance companies and check their prices. Drivers are no longer required to get quotes from just a few known insurance companies. Also, local and regional insurers can provide lower insurance rates for the same services. Accurate insurance estimates. Online quotes can only be accurate if the customers provide accurate and real info about their car models and driving history. Lying about past driving incidents can make the price estimates to be lower, but when dealing with an insurance company lying to them is useless. Usually, insurance companies will do research about a potential customer before granting him coverage. Online quotes can be sorted easily. Although drivers are recommended to not choose a policy just based on its price, drivers can easily sort quotes by insurance price. Using brokerage websites will allow drivers to get quotes from multiple insurers, thus making the comparison faster and easier. For additional info, money-saving tips, and free car insurance quotes, visit https://compare-autoinsurance.Org/ Compare-autoinsurance.Org is an online provider of life, home, health, and auto insurance quotes. This website is unique because it does not simply stick to one kind of insurance provider, but brings the clients the best deals from many different online insurance carriers. In this way, clients have access to offers from multiple carriers all in one place: this website. On this site, customers have access to quotes for insurance plans from various agencies, such as local or nationwide agencies, brand names insurance companies, etc. "Online quotes can easily help drivers obtain better car insurance deals. All they have to do is to complete an online form with accurate and real info, then compare prices", said Russell Rabichev, Marketing Director of Internet Marketing Company. CONTACT: Company Name: Internet Marketing CompanyPerson for contact Name: Gurgu CPhone Number: (818) 359-3898Email: [email protected]: https://compare-autoinsurance.Org/ SOURCE: Compare-autoinsurance.Org View source version on accesswire.Com:https://www.Accesswire.Com/595055/What-Are-The-Main-Benefits-Of-Comparing-Car-Insurance-Quotes-Online View photos
to request, modification Contact us at Here or [email protected]