Channel deaths: Boris Johnson draws up five-point plan to deal with level crossings following tragedy | Politics News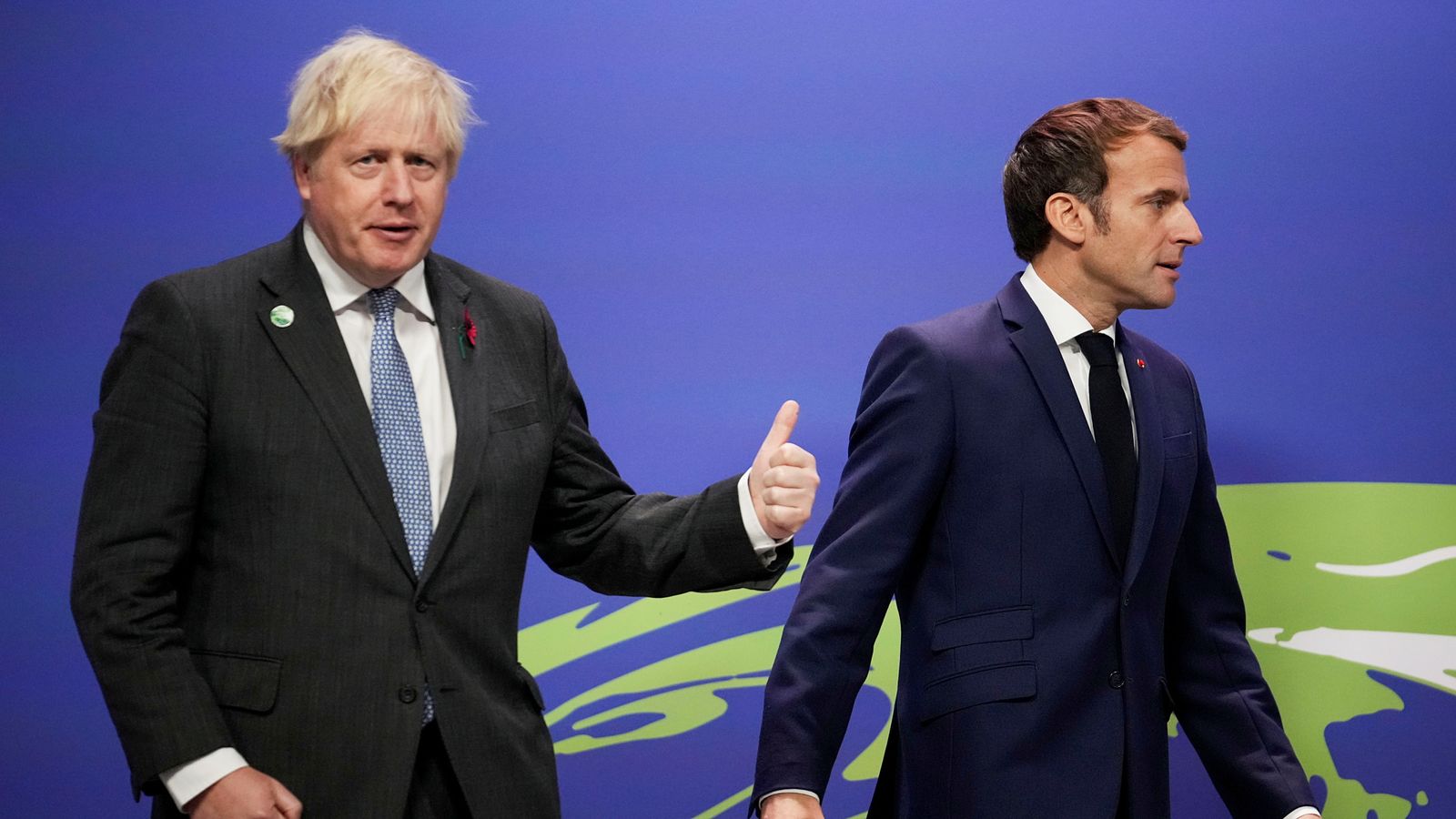 Boris Johnson offered to work with France to "go further and faster" to tackle small boat crossings and avoid a repeat of the "appalling tragedy" in the English Channel which left 27 dead.
The Prime Minister wrote to the president Emmanuel Macron and outlined five steps he believes the two sides should take "as soon as possible."
Mr Johnson's letter comes after 27 people – 17 men, seven women and two teenagers and a girl – died Wednesday near Calais while trying to cross the English Channel in a fragile boat.
Tonight, I wrote to President Macron to suggest that he go further and faster to prevent Channel crossings and avoid a repeat of yesterday's appalling tragedy that claimed the lives of at least 27 people.

1/8

– Boris Johnson (@BorisJohnson) 25 November 2021
The PM's five-point plan includes:
• Joint patrols to prevent boats from leaving French beaches
• Use of more advanced technologies such as sensors and radars
• Carry out reciprocal maritime patrols in the territorial waters of each nation and use airborne surveillance
• "Deepen the work" of the Joint Intelligence Unit and ensure better intelligence sharing to lead to more arrests and prosecutions
• Commit to "work immediately" to conclude a bilateral return agreement between Paris and London, as well as discussions on a UK-EU agreement
"If those who reach this country were promptly returned, the incentive for people to put their lives in the hands of traffickers would be drastically reduced," Mr Johnson said.
"It would be the biggest step we can take together to reduce the attractiveness of northern France and break the business model of criminal gangs.
"I am confident that by taking these steps and building on our existing cooperation, we can fight illegal migration and prevent more families from suffering the devastating loss we saw yesterday."
The Prime Minister said that after speaking to the French President following Wednesday's tragedy "I know President Macron recognizes, as I do, the urgency of the situation we are both facing."
Interior Minister Priti Patel will meet with French Interior Minister Gerald Darmanin this weekend to discuss the migrant crisis, along with his counterparts from Germany, Belgium and the Netherlands.
In his letter to Mr Macron, Mr Johnson said he was ready to "reclassify this meeting as a summit at the level of the leaders or to organize new bilateral discussions with you or with colleagues".
Ms. Patel and her French counterpart spoke on the phone Thursday to "put forward plans for more collaboration and innovation in stopping these deadly crossings."
Officials from the Interior Ministry and law enforcement will be in Paris on Friday to "step up joint cooperation and intelligence sharing."
Ms Patel, who is under pressure on the issue after pledging in August 2020 to make the Channel crossing route "unsustainable", also renewed an offer to send British officers to join patrols on French beaches.
"No miracle solution" to the migrant crisis

The Home Secretary told the Commons earlier There is no miracle solution" to face the crossings.
"It's about tackling long-term pull factors, crushing criminal gangs that treat people like commodities and attacking supply chains," she said.
Mr Macron said he was asking for more help from the UK.
"We are going to ask for more help from the British because all these men and women do not want to stay in France," he said.
Only five returns of migrants in 2021, admits the minister

"We tell them that they are obviously able to do it, and there are centers in Calais and Dunkirk where they can go, but we will in fact strengthen their rescue at sea."
Natacha Bouchart, mayor of Calais, blamed the British for the crisis and called on Mr Johnson to "take responsibility".
"The British government is to blame. I think Boris Johnson has, for a year and a half, chosen cynically to blame France," she said, according to French media.
And Franck Dhersin, vice president of transport for the northern Hauts-de-France region, said the "mafia bosses" who run the trafficking networks live in the UK and must be stopped.
Coastguards alert ships of sinking Channel boat

Wednesday's loss of life is the worst in the migrant crisis, which has seen the number of people reaching the UK by sea rise from 8,417 in 2020 to more than 25,000 so far this year.
New figures from the Home Office show UK asylum claims are at their highest level in nearly 20 years, with more than 37,500 claims lodged in the year through September.
A government minister revealed last week that only five people were returned to Europe after crossing the sea in small boats.
Evictions as a whole – not just for people crossing the Channel – are at an all-time low.
In the year ending June 2021, they fell to 2,910, less than half of the previous year. The government blamed the decline on the pandemic.
Sources
2/ https://news.sky.com/story/channel-deaths-boris-johnson-sets-out-five-point-plan-to-address-crossings-following-tragedy-12478765
The mention sources can contact us to remove/changing this article
What Are The Main Benefits Of Comparing Car Insurance Quotes Online
LOS ANGELES, CA / ACCESSWIRE / June 24, 2020, / Compare-autoinsurance.Org has launched a new blog post that presents the main benefits of comparing multiple car insurance quotes. For more info and free online quotes, please visit https://compare-autoinsurance.Org/the-advantages-of-comparing-prices-with-car-insurance-quotes-online/ The modern society has numerous technological advantages. One important advantage is the speed at which information is sent and received. With the help of the internet, the shopping habits of many persons have drastically changed. The car insurance industry hasn't remained untouched by these changes. On the internet, drivers can compare insurance prices and find out which sellers have the best offers. View photos The advantages of comparing online car insurance quotes are the following: Online quotes can be obtained from anywhere and at any time. Unlike physical insurance agencies, websites don't have a specific schedule and they are available at any time. Drivers that have busy working schedules, can compare quotes from anywhere and at any time, even at midnight. Multiple choices. Almost all insurance providers, no matter if they are well-known brands or just local insurers, have an online presence. Online quotes will allow policyholders the chance to discover multiple insurance companies and check their prices. Drivers are no longer required to get quotes from just a few known insurance companies. Also, local and regional insurers can provide lower insurance rates for the same services. Accurate insurance estimates. Online quotes can only be accurate if the customers provide accurate and real info about their car models and driving history. Lying about past driving incidents can make the price estimates to be lower, but when dealing with an insurance company lying to them is useless. Usually, insurance companies will do research about a potential customer before granting him coverage. Online quotes can be sorted easily. Although drivers are recommended to not choose a policy just based on its price, drivers can easily sort quotes by insurance price. Using brokerage websites will allow drivers to get quotes from multiple insurers, thus making the comparison faster and easier. For additional info, money-saving tips, and free car insurance quotes, visit https://compare-autoinsurance.Org/ Compare-autoinsurance.Org is an online provider of life, home, health, and auto insurance quotes. This website is unique because it does not simply stick to one kind of insurance provider, but brings the clients the best deals from many different online insurance carriers. In this way, clients have access to offers from multiple carriers all in one place: this website. On this site, customers have access to quotes for insurance plans from various agencies, such as local or nationwide agencies, brand names insurance companies, etc. "Online quotes can easily help drivers obtain better car insurance deals. All they have to do is to complete an online form with accurate and real info, then compare prices", said Russell Rabichev, Marketing Director of Internet Marketing Company. CONTACT: Company Name: Internet Marketing CompanyPerson for contact Name: Gurgu CPhone Number: (818) 359-3898Email: [email protected]: https://compare-autoinsurance.Org/ SOURCE: Compare-autoinsurance.Org View source version on accesswire.Com:https://www.Accesswire.Com/595055/What-Are-The-Main-Benefits-Of-Comparing-Car-Insurance-Quotes-Online View photos
to request, modification Contact us at Here or [email protected]