COVID-19: Boris Johnson has 'lost the moral authority to lead' and he should 'do the honorable thing' and step down, says Andrew Bridgen | UK News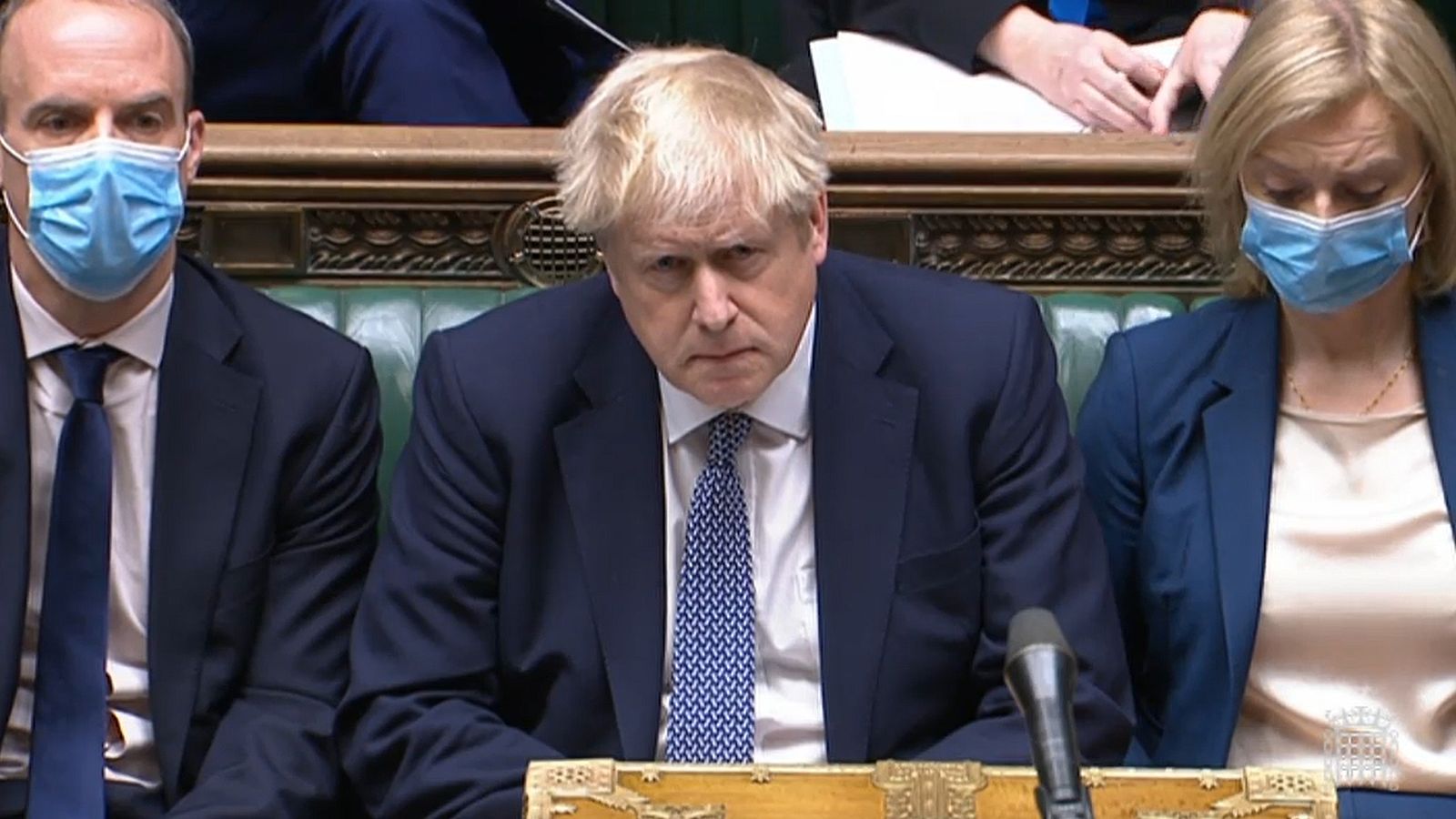 One of several Tory MPs calling for Boris Johnson's resignation told Sky News he had "lost his moral authority to lead" amid allegations from many Downing Street parties during the lockdown.
Andrew Bridgen, who represents North West Leicestershire, said the flurry of accusations against the Prime Minister and his Number 10 staff had "made his position untenable".
He claimed to have received more than 300 emails from voters infuriated by the party's allegations in one day on Friday.
Prime Minister launches 'Operation Save Big Dog'; follow live coronavirus updates
"We had around 150 emails regarding the Prime Minister's position. We deleted them and replied to all of them at midday, then at 3.30pm there were another 168," he said.
"It's not just a mistake Boris Johnson and those of number 10. It is a model of behavior.
"It tells me that they think they can do whatever they want and that's not acceptable to me, my constituents, and I don't think that's acceptable behavior for someone who's in charge. the country.
'Do the honorable thing and call it a day'
"He needs to take responsibility and do the honorable thing and call it a day – for the country, the government and the Conservative Party."
Fellow Tory MP Andrew Percy, who represents Brigg and Goole, said he and his constituents were "frustrated and irritated".
"Getting drunk in the basement I know the Prime Minister wasn't there, from Downing Street the day before the Duke of Edinburgh's funeral, clearly you should have known that's not behavior acceptable," he told Sky News.
Calls for the Prime Minister's resignation come amid new reports that around 50 Downing Street workers had "Wine Time Fridays" scheduled in their electronic calendars during various lockdown restrictions.
The Daily Mirror published a picture of a £142 drinks fridge on December 11, 2020 – when London was under 'Tier 2' restrictions and indoor socializing was banned – which was allegedly used by staff for weekly drinks between 4-7pm.
Number 10 did not deny the charges, instead pointing to the Sue Gray inquiry looking into the matter, and was forced to apologize to Buckingham Palace for two parties held inside Number 10 at the eve of Prince Philip's funeral.
As Boris Johnson faces his most perilous moment as Prime Minister, will there be a leadership challenge and how does that work?

Asked if Mr Johnson had the 'moral compass' to quit, Mr Bridgen, an ardent Brexiteer who backed the Prime Minister as Tory leader in 2019, suggested not.
"That's the evidence I see of these revelations that keep coming out," he said.
What parties would have taken place in Downing Street during the lockdown?
"It's not just him, it's the culture of those in number 10 who seem to have done whatever they want while restricting our freedoms for a long time. That's no way to go on."
Although reports suggest Mr Johnson could lift 'plan B' covid measures at the end of this month, Mr Bridgen said that if there was "another national emergency", Mr Johnson would not have the "moral authority" to ask the public to adhere to the restrictions.
"The Prime Minister has lost his moral authority to lead"
"The prime minister has lost his moral authority to lead and that's not coming back anytime soon," he said. "I don't think the revelations are going to end."
Mr Bridgen is one of three Tory MPs who have publicly confirmed that they submitted a letter of no confidence to Mr Johnson at the 1922 Tory committee.
He, Scottish Conservative leader Douglas Ross and Sir Roger Gale have all said they have written letters of censure, but they are given confidentially, so there is no accurate count of how many MPs have done so.
Follow the Daily podcast on apple podcast, google podcast, Spotify, Loud speaker
Under Tory rules, 54 MPs must submit letters of censure to committee chairman Sir Graham Brady for a vote to take place on the Prime Minister's leadership.
Mr Johnson would then need the backing of 181 MPs to survive, giving him immunity from another leadership bid for a year.
Sources
2/ https://news.sky.com/story/covid-19-boris-johnson-has-lost-moral-authority-to-lead-and-he-should-do-the-honourable-thing-and-resign-says-andrew-bridgen-12516445
The mention sources can contact us to remove/changing this article
What Are The Main Benefits Of Comparing Car Insurance Quotes Online
LOS ANGELES, CA / ACCESSWIRE / June 24, 2020, / Compare-autoinsurance.Org has launched a new blog post that presents the main benefits of comparing multiple car insurance quotes. For more info and free online quotes, please visit https://compare-autoinsurance.Org/the-advantages-of-comparing-prices-with-car-insurance-quotes-online/ The modern society has numerous technological advantages. One important advantage is the speed at which information is sent and received. With the help of the internet, the shopping habits of many persons have drastically changed. The car insurance industry hasn't remained untouched by these changes. On the internet, drivers can compare insurance prices and find out which sellers have the best offers. View photos The advantages of comparing online car insurance quotes are the following: Online quotes can be obtained from anywhere and at any time. Unlike physical insurance agencies, websites don't have a specific schedule and they are available at any time. Drivers that have busy working schedules, can compare quotes from anywhere and at any time, even at midnight. Multiple choices. Almost all insurance providers, no matter if they are well-known brands or just local insurers, have an online presence. Online quotes will allow policyholders the chance to discover multiple insurance companies and check their prices. Drivers are no longer required to get quotes from just a few known insurance companies. Also, local and regional insurers can provide lower insurance rates for the same services. Accurate insurance estimates. Online quotes can only be accurate if the customers provide accurate and real info about their car models and driving history. Lying about past driving incidents can make the price estimates to be lower, but when dealing with an insurance company lying to them is useless. Usually, insurance companies will do research about a potential customer before granting him coverage. Online quotes can be sorted easily. Although drivers are recommended to not choose a policy just based on its price, drivers can easily sort quotes by insurance price. Using brokerage websites will allow drivers to get quotes from multiple insurers, thus making the comparison faster and easier. For additional info, money-saving tips, and free car insurance quotes, visit https://compare-autoinsurance.Org/ Compare-autoinsurance.Org is an online provider of life, home, health, and auto insurance quotes. This website is unique because it does not simply stick to one kind of insurance provider, but brings the clients the best deals from many different online insurance carriers. In this way, clients have access to offers from multiple carriers all in one place: this website. On this site, customers have access to quotes for insurance plans from various agencies, such as local or nationwide agencies, brand names insurance companies, etc. "Online quotes can easily help drivers obtain better car insurance deals. All they have to do is to complete an online form with accurate and real info, then compare prices", said Russell Rabichev, Marketing Director of Internet Marketing Company. CONTACT: Company Name: Internet Marketing CompanyPerson for contact Name: Gurgu CPhone Number: (818) 359-3898Email: [email protected]: https://compare-autoinsurance.Org/ SOURCE: Compare-autoinsurance.Org View source version on accesswire.Com:https://www.Accesswire.Com/595055/What-Are-The-Main-Benefits-Of-Comparing-Car-Insurance-Quotes-Online View photos
to request, modification Contact us at Here or [email protected]