Donald Trump Jr. is trying to blame the impending Russian invasion of Ukraine on…Hunter Biden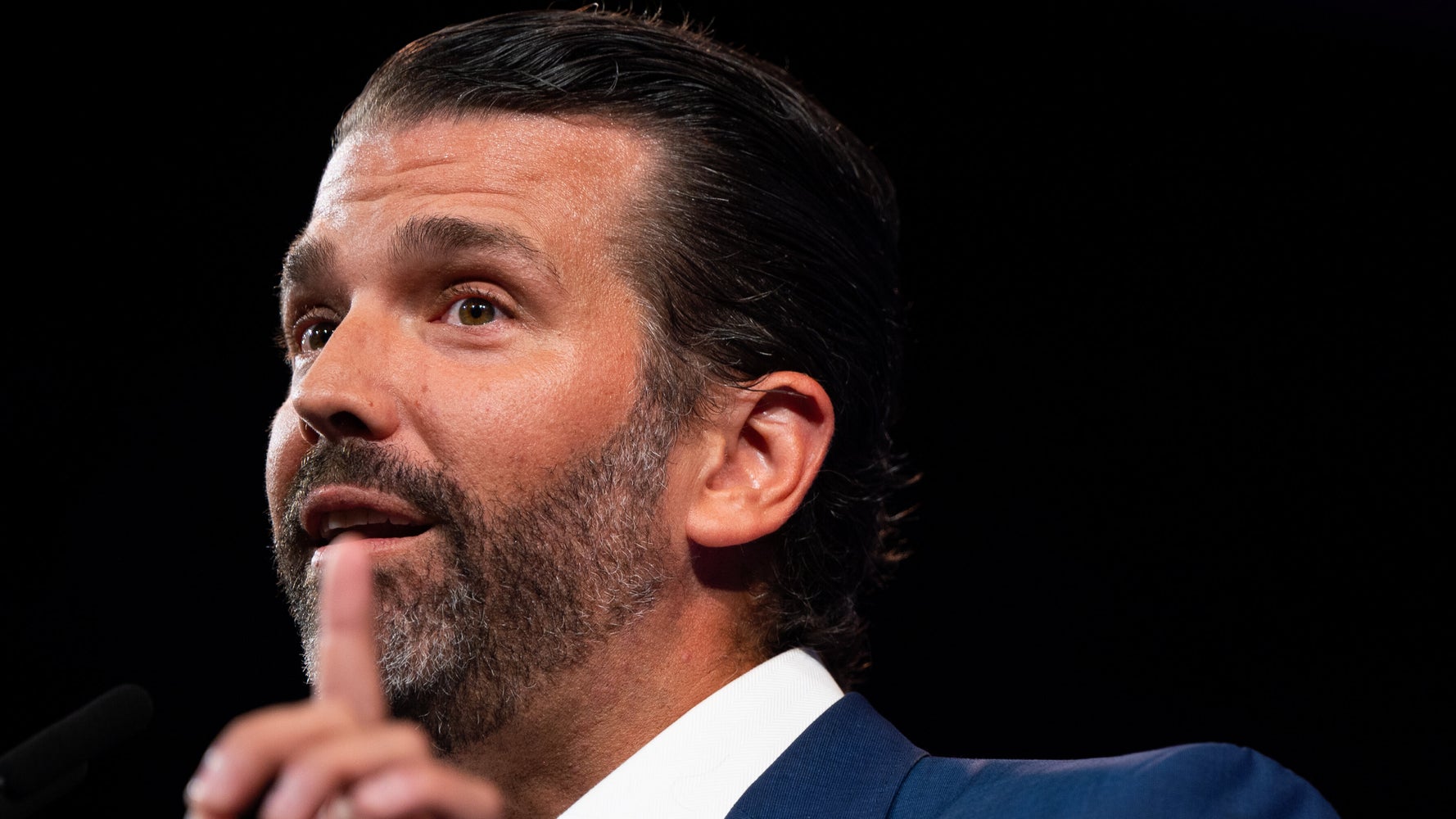 With Russian troops massing ominously on the Ukrainian border and the United States and NATO preparing for a possible invasion, Donald Trump Jr. can think of only one possible culprit (who only came to nobody else's mind): Hunter Biden.
Will it ultimately be Hunters AF's lucrative and shady business dealings in Ukraine that will drag us into a war with Russia? Trump Jr. wondered, without giving a single reason why that would be the case.
Will it ultimately be Hunters AF's lucrative and shady business dealings in Ukraine that will drag us into a war with Russia?
— Donald Trump Jr. (@DonaldJTrumpJr) January 24, 2022
In fact, it was his father who bragged as president about his friendship with Russian strongman Vladimir Putin, the overt aggressor in the Ukraine situation, and who accepted Putin's denials of Kremlin interference in the 2016 US election despite the findings of its own intelligence officials.
Former President Donald Trump has also spoken out against Ukraine and was impeached for threatening to withhold vital military assistance to prevent a Russian incursion unless Ukrainian President Volodymyr Zelensky launches a baseless investigation into the presidential candidate. Presidential Joe Bidens, son Hunter.
Hunter Biden served on the board of a Ukrainian natural gas company, Burisma, for five years, ending in 2019. The Trump campaign tried to portray Hunter Biden as a schemer who hoped to leverage possible influence of his father, but no connection with corruption. never surfaced, and now a connection to a possible Russian invasion seems even more bizarre.
Even Florida businessman Lev Parnas, a Ukrainian-American linked to Trump lawyer Rudy Giuliani, reminded Donald Jr. that it was his father who was impeached because he withheld military aid to Ukraine.
Parnas admitted to working with Giuliani to try to pressure Ukrainian officials to launch an investigation into Joe and Hunter Biden in 2019. Parnas, who said Donald Trump knew everything they were doing, was acknowledged guilty last October of illegally funneling money from a Russian financier to Republican politicians in the United States, among other charges.
Other critics on Twitter had a field day.
Russia, if you listen, Trump said looking directly at a TV camera, I hope you can find the missing 30,000 emails.
Tampa, Florida July 27, 2016
— Walter Blake (@WalterBlake1) January 24, 2022
2017 – Ukraine, the first victim of the Trump-Putin alliance
In Donetsk, they wonder what the future holds for them if the American president weaves solid ties with Moscow.
Now they know pic.twitter.com/pfd8GlyuG1
— DrawOutsideTheLines (@lines_draw) January 24, 2022
Donald Jr.'s bonkers Hunter tweet wasn't the only thing that drew criticism on social media. Some were also commenting on a raging video rant about Joe Biden he posted earlier. Check it here:
Sources
2/ https://www.huffpost.com/entry/donald-trump-jr-russian-invasion-ukraine-hunter-biden_n_61ef4155e4b010a5a234566f
The mention sources can contact us to remove/changing this article
What Are The Main Benefits Of Comparing Car Insurance Quotes Online
LOS ANGELES, CA / ACCESSWIRE / June 24, 2020, / Compare-autoinsurance.Org has launched a new blog post that presents the main benefits of comparing multiple car insurance quotes. For more info and free online quotes, please visit https://compare-autoinsurance.Org/the-advantages-of-comparing-prices-with-car-insurance-quotes-online/ The modern society has numerous technological advantages. One important advantage is the speed at which information is sent and received. With the help of the internet, the shopping habits of many persons have drastically changed. The car insurance industry hasn't remained untouched by these changes. On the internet, drivers can compare insurance prices and find out which sellers have the best offers. View photos The advantages of comparing online car insurance quotes are the following: Online quotes can be obtained from anywhere and at any time. Unlike physical insurance agencies, websites don't have a specific schedule and they are available at any time. Drivers that have busy working schedules, can compare quotes from anywhere and at any time, even at midnight. Multiple choices. Almost all insurance providers, no matter if they are well-known brands or just local insurers, have an online presence. Online quotes will allow policyholders the chance to discover multiple insurance companies and check their prices. Drivers are no longer required to get quotes from just a few known insurance companies. Also, local and regional insurers can provide lower insurance rates for the same services. Accurate insurance estimates. Online quotes can only be accurate if the customers provide accurate and real info about their car models and driving history. Lying about past driving incidents can make the price estimates to be lower, but when dealing with an insurance company lying to them is useless. Usually, insurance companies will do research about a potential customer before granting him coverage. Online quotes can be sorted easily. Although drivers are recommended to not choose a policy just based on its price, drivers can easily sort quotes by insurance price. Using brokerage websites will allow drivers to get quotes from multiple insurers, thus making the comparison faster and easier. For additional info, money-saving tips, and free car insurance quotes, visit https://compare-autoinsurance.Org/ Compare-autoinsurance.Org is an online provider of life, home, health, and auto insurance quotes. This website is unique because it does not simply stick to one kind of insurance provider, but brings the clients the best deals from many different online insurance carriers. In this way, clients have access to offers from multiple carriers all in one place: this website. On this site, customers have access to quotes for insurance plans from various agencies, such as local or nationwide agencies, brand names insurance companies, etc. "Online quotes can easily help drivers obtain better car insurance deals. All they have to do is to complete an online form with accurate and real info, then compare prices", said Russell Rabichev, Marketing Director of Internet Marketing Company. CONTACT: Company Name: Internet Marketing CompanyPerson for contact Name: Gurgu CPhone Number: (818) 359-3898Email: [email protected]: https://compare-autoinsurance.Org/ SOURCE: Compare-autoinsurance.Org View source version on accesswire.Com:https://www.Accesswire.Com/595055/What-Are-The-Main-Benefits-Of-Comparing-Car-Insurance-Quotes-Online View photos
to request, modification Contact us at Here or [email protected]