Russia & China vs the West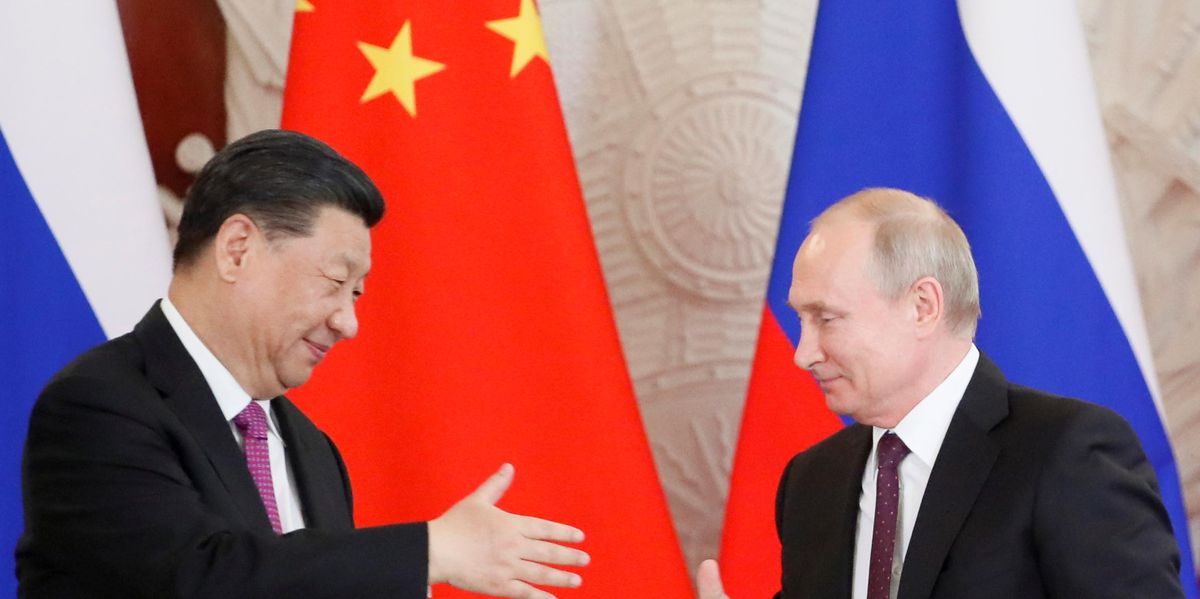 The relationship between Russia and China has always been complicated. They almost went to war over a border dispute in 1969, and have historically regarded each other as neither friends nor enemies, but rather competitors for influence in Asia and elsewhere.
But that all started to change in 2014, the year Moscow and Beijing saw a US hand in the revolutions that prompted Russia to sixteen Crimea from Ukraine, and China to crack down on umbrella-wearing protesters in Hong Kong. China is increasingly thirsty for Russian oil and natural gas, and both have a common interest in standing up to the West.
Vladimir Putin and Xi Jinping are now showing off their authoritarian bromance in the face of growing animosity from the US and its allies over flashpoints such as Ukraine and Taiwan.
We know how much of the West views Russia and China. But how do Russia and China view the West? Here's a hypothetical catch-up conversation between BFFs Putin and Xi.
---
Xi: My dear Vladimir, whats your Ukraine endgame? The Americans and NATO clearly think you're going to invade, and threaten to punish you for it. The question is, as always, will they be willing to walk the talk with sanctions that'll hurt them too, especially the Europeans who need your gas? Probably not.
The most theyll do is send the Ukrainians weapons to fight you. Theyll put lots of NATO troops on alert, but no boots on the ground inside Ukraine.
You know China has your back. And if push comes to shove, we're already working on an alternative to the global SWIFT payments network if the Americans kick you out. It's about time we do business on our own system, without the US sanctimoniously telling us how to behave in our own backyard.
Putin: Yes, my old friend, the West is freaking out as usual. First, I never said Id invade. In fact, my boys told them that was not my plan, though Im happy they dont quite believe that. Second, Im baffled at all the uproar over my red lines when I've simply asked NATO to stop encroaching on former Soviet territory.
China has much to gain if I get my way with the Ukrainians. If the US and NATO agree to even some of my demands, that'll demonstrate the West is weak and in decline, while the East, our two great nations, are strong and on the rise. The world will be right to wonder how America would respond to you making similar plays for the South China Sea or Taiwan.
Xi: For sure, but no need to rush. After all, you have the Americans and the Europeans exactly where you've always wanted them: outraged, but at odds over how to respond. They can't call your bluff, if you are indeed only posturing, because they're not a united front like us.
So, can you please hold-off for a month or so? I have the Beijing Winter Olympics coming up, and my zero-COVID policy hasn't made things easy. And don't get me started on Xinjiang, which has nothing to do with the Games and is no one else's business anyway yet has all my international sponsors in a tizzy.
Putin: I guess we have a scheduling conflict then. If I wait until after the Olympics, the terrain will be too muddy for my soldiers.
Whats more, now we have an opportunity to carve out our respective global spheres of influence: Chinas in East Asia, and Russias in the former Soviet Union. Why should the Americans get to dictate what we get to do on our borders then they are thousands of miles away, and can't even get their own democratic house in order?
Xi: Absolutely. It's time for a multipolar world. China is ready to lead it, and you know we wont forget our friends and fans in Moscow. Wed still like a longer chat about Kazakhstan, some other Stans, and maybe Siberian.
Putin: Uh, sorry, my friend. Youre breaking up a bit. Bad wifi. let's talk later
Sources
2/ https://www.gzeromedia.com/russia-china-vs-the-west
The mention sources can contact us to remove/changing this article
What Are The Main Benefits Of Comparing Car Insurance Quotes Online
LOS ANGELES, CA / ACCESSWIRE / June 24, 2020, / Compare-autoinsurance.Org has launched a new blog post that presents the main benefits of comparing multiple car insurance quotes. For more info and free online quotes, please visit https://compare-autoinsurance.Org/the-advantages-of-comparing-prices-with-car-insurance-quotes-online/ The modern society has numerous technological advantages. One important advantage is the speed at which information is sent and received. With the help of the internet, the shopping habits of many persons have drastically changed. The car insurance industry hasn't remained untouched by these changes. On the internet, drivers can compare insurance prices and find out which sellers have the best offers. View photos The advantages of comparing online car insurance quotes are the following: Online quotes can be obtained from anywhere and at any time. Unlike physical insurance agencies, websites don't have a specific schedule and they are available at any time. Drivers that have busy working schedules, can compare quotes from anywhere and at any time, even at midnight. Multiple choices. Almost all insurance providers, no matter if they are well-known brands or just local insurers, have an online presence. Online quotes will allow policyholders the chance to discover multiple insurance companies and check their prices. Drivers are no longer required to get quotes from just a few known insurance companies. Also, local and regional insurers can provide lower insurance rates for the same services. Accurate insurance estimates. Online quotes can only be accurate if the customers provide accurate and real info about their car models and driving history. Lying about past driving incidents can make the price estimates to be lower, but when dealing with an insurance company lying to them is useless. Usually, insurance companies will do research about a potential customer before granting him coverage. Online quotes can be sorted easily. Although drivers are recommended to not choose a policy just based on its price, drivers can easily sort quotes by insurance price. Using brokerage websites will allow drivers to get quotes from multiple insurers, thus making the comparison faster and easier. For additional info, money-saving tips, and free car insurance quotes, visit https://compare-autoinsurance.Org/ Compare-autoinsurance.Org is an online provider of life, home, health, and auto insurance quotes. This website is unique because it does not simply stick to one kind of insurance provider, but brings the clients the best deals from many different online insurance carriers. In this way, clients have access to offers from multiple carriers all in one place: this website. On this site, customers have access to quotes for insurance plans from various agencies, such as local or nationwide agencies, brand names insurance companies, etc. "Online quotes can easily help drivers obtain better car insurance deals. All they have to do is to complete an online form with accurate and real info, then compare prices", said Russell Rabichev, Marketing Director of Internet Marketing Company. CONTACT: Company Name: Internet Marketing CompanyPerson for contact Name: Gurgu CPhone Number: (818) 359-3898Email: [email protected]: https://compare-autoinsurance.Org/ SOURCE: Compare-autoinsurance.Org View source version on accesswire.Com:https://www.Accesswire.Com/595055/What-Are-The-Main-Benefits-Of-Comparing-Car-Insurance-Quotes-Online View photos
to request, modification Contact us at Here or [email protected]