Trump is not confused about his bromance with Putin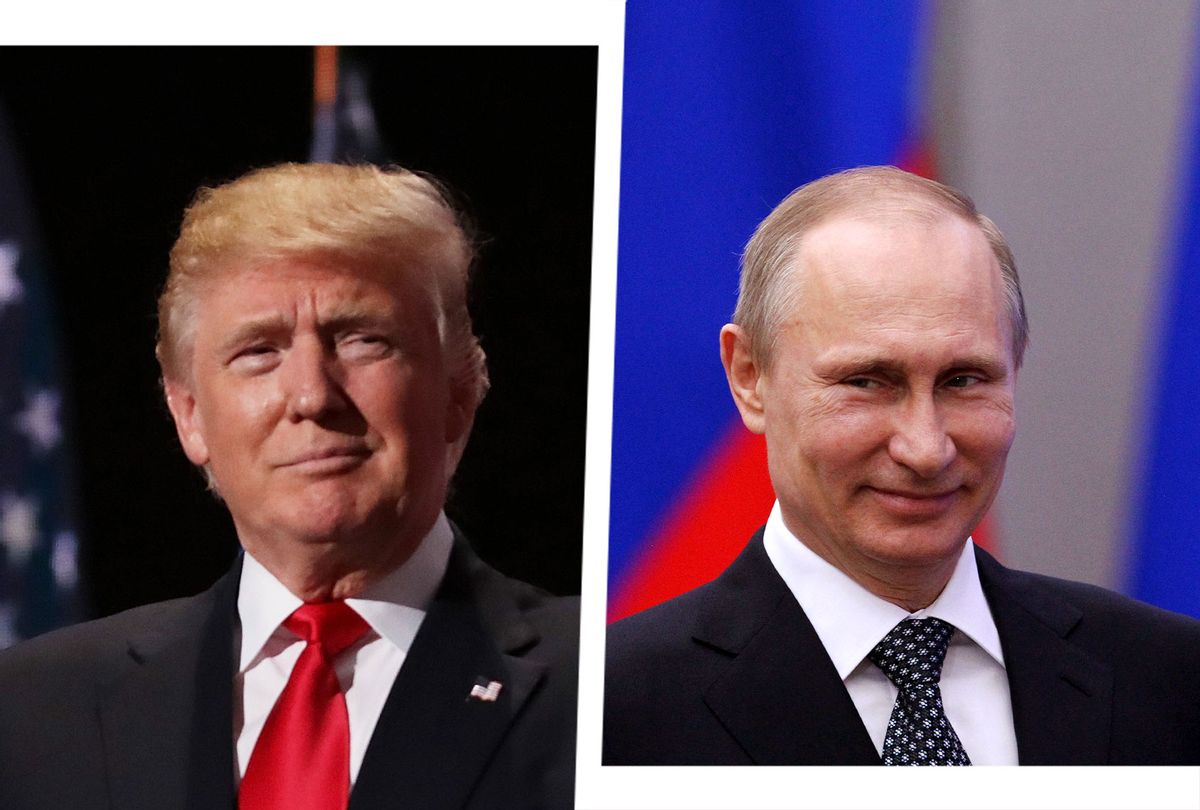 I don't think anyone who turned on the TV or went online over the weekend missed the horrific events unfolding in Ukraine. So far, the Ukrainians are fighting a valiant fight and appear to have thwarted the enemy's plan for a quick capture of their capital and the beheading of the democratically elected government. But it's still early days, so it's important not to be too optimistic. It will be a very difficult time for the Ukrainian people.
It also looks like it will be a very difficult time for Russia as President Vladimir Putin has accomplished something he probably did not anticipate: uniting most of the world against him.
The European Union and the United States, along with several other key countries in Europe and around the world, moved very quickly to impose tough sanctions on Putin and his wealthy oligarch compatriots. Russia is already cut off from the international banking system and the Ukrainians have already seen a massive resupply of military equipment. NATO has never been so united. Countries like Finland, which have always rejected NATO membership, are suddenly discussing the possibility of joining.
This is not what Putin wanted. He believed he was dealing with a fractured alliance and a United States so bitterly divided that it could act with no credibility. Turns out he was wrong.
It's a bit difficult to focus on domestic politics while all of this is going on, but since the United States is involved, whether we like it or not, and our political situation is extremely relevant, it's important not to lose sight of what is happening here at home. This weekend, the Conservative Political Action Conference was meeting in Orlando, Florida, and the keynote speaker was their dear former and future leader Donald Trump. He addressed an ecstatic crowd on Saturday night eager to hear him perform his greatest hits.
I think everyone in politics was interested in hearing what they had to say about the situation in Ukraine. Last week, his comments about the invasion were odious. After remaining silent the entire time the United States warned Ukraine that invasion was imminent, he finally stood up and said this:
"I walked in yesterday and there was a TV screen, and I said, 'This is great. Putin declares a large part of Ukraine of Ukraine Putin declares it independent. Oh, that's wonderful. He used the word 'independent' and 'we'll come out and we'll come in and we'll help keep peace.' You gotta say that's pretty clever."
He followed that up with this comment the next day at a political event in Mar-a-lago:
"Oh, Trump said Putin was smart." I mean, he took over a country for $2 in sanctions. I would say that's pretty smart. He's taking over a country, really a big, big place, a big piece of land with lots of people and just walking."
It's the kind of speech you expect from drunk guys at the end of the bar, not from a former American president. But it's Donald Trump, so what else could we expect?
In the days following those comments, there was a sea change within the GOP coalition when it became apparent that much of their pro-Putin comments were falling flat with the public. Putin cheerleaders like Tucker Carlson abruptly shifted from attacking those who criticized Putin to attacking President Joe Biden for his weakness and inability to stand up to him. And to be fair, Trump had said the same thing, of course, suggesting all along that Putin's genius and savvy would never have attempted the invasion if he was still president.
His appearance at CPAC on Saturday night would finally clarify whether Trump would continue to tout Putin's great genius as he has for years in the face of a brutal, unprovoked invasion of a sovereign country or whether he would finally find it in himself. same. condemn the actions of his favorite dictator. He didn't do the latter.
It was the usual prepared speech (which sounded like a Stephen Miller special) mixed with ad libs about how America is an apocalyptic hellhole interspersed with shoutouts to his buddies and fangirls. It took nearly 15 minutes for Trump to even mention Ukraine and when he did, it was an aside on "the perfect phone call." His first mention of Ukrainian President Volodymyr Zelensky was how he allegedly told the world that Trump had done nothing wrong. (Zelensky didn't.) It took several minutes before he finally got to the part of his script where he condemned the invasion, calling it outrage and atrocity before starting to start again. brag about the great president he had been.
In his first mention of Putin, he said he made the decision to attack Ukraine after witnessing the withdrawal from Afghanistan and once again said he was smart and that NATO and the United States was stupid.
If you take control of Ukraine, we will punish you, they say. Sanction? This is a weak statement. Putin says they sanctioned me for the past 25 years. I can take over a whole country and they'll punish me? They're not going to blow us up… at least psychologically?
Make them explode psychologically? What in the world?
Then he slammed Democrats for defending Ukraine's sovereignty when they supposedly don't care about protecting their own borders, which drew huge cheers from the crowd. Apparently, Trump and his supporters see no difference between people crossing the border to work in restaurants and harvest crops and an army mowing down innocent people with rockets and tanks.
And then that was it for Putin.
So Putin is just a smart guy doing the smart thing according to our former president. But there is a serious threat to democracy and world peace that is far worse:
It's tempting to make jokes about it, but I really can't. Trump has pretty much announced that he is showing up again at this event. (He said he had already won twice and was going to do it a third time.) And according to at least one recent poll, nearly half of Americans disapprove of Biden's handling of the situation in Ukraine. Only 66% of Democrats even approve. I don't know what they think he should have done differently, maybe bow down to dictators like Trump did?
All of this is very worrying. Biden and his team have actually done a good job of wrangling a fractured alliance and putting in place very tough economic sanctions. Their decision to telegraph the news that the invasion was imminent also took courage from them, for had Russia withdrawn they would have been accused of lying or being hysterical. As things stand, Biden and his team prepared the world for what was to come and laid the groundwork for a unified response. The fact that the President does not even have the full support of his own supporters despite this is a very bad omen.
The man who practically declared war on Canada and who literally can't speak ill of a dictator who has just invaded his own neighbor is still almost certain to be the next Republican candidate for president.
Sources
2/ https://www.salon.com/2022/02/28/is-not-confused-about-his-bromance-with-putin/
The mention sources can contact us to remove/changing this article
What Are The Main Benefits Of Comparing Car Insurance Quotes Online
LOS ANGELES, CA / ACCESSWIRE / June 24, 2020, / Compare-autoinsurance.Org has launched a new blog post that presents the main benefits of comparing multiple car insurance quotes. For more info and free online quotes, please visit https://compare-autoinsurance.Org/the-advantages-of-comparing-prices-with-car-insurance-quotes-online/ The modern society has numerous technological advantages. One important advantage is the speed at which information is sent and received. With the help of the internet, the shopping habits of many persons have drastically changed. The car insurance industry hasn't remained untouched by these changes. On the internet, drivers can compare insurance prices and find out which sellers have the best offers. View photos The advantages of comparing online car insurance quotes are the following: Online quotes can be obtained from anywhere and at any time. Unlike physical insurance agencies, websites don't have a specific schedule and they are available at any time. Drivers that have busy working schedules, can compare quotes from anywhere and at any time, even at midnight. Multiple choices. Almost all insurance providers, no matter if they are well-known brands or just local insurers, have an online presence. Online quotes will allow policyholders the chance to discover multiple insurance companies and check their prices. Drivers are no longer required to get quotes from just a few known insurance companies. Also, local and regional insurers can provide lower insurance rates for the same services. Accurate insurance estimates. Online quotes can only be accurate if the customers provide accurate and real info about their car models and driving history. Lying about past driving incidents can make the price estimates to be lower, but when dealing with an insurance company lying to them is useless. Usually, insurance companies will do research about a potential customer before granting him coverage. Online quotes can be sorted easily. Although drivers are recommended to not choose a policy just based on its price, drivers can easily sort quotes by insurance price. Using brokerage websites will allow drivers to get quotes from multiple insurers, thus making the comparison faster and easier. For additional info, money-saving tips, and free car insurance quotes, visit https://compare-autoinsurance.Org/ Compare-autoinsurance.Org is an online provider of life, home, health, and auto insurance quotes. This website is unique because it does not simply stick to one kind of insurance provider, but brings the clients the best deals from many different online insurance carriers. In this way, clients have access to offers from multiple carriers all in one place: this website. On this site, customers have access to quotes for insurance plans from various agencies, such as local or nationwide agencies, brand names insurance companies, etc. "Online quotes can easily help drivers obtain better car insurance deals. All they have to do is to complete an online form with accurate and real info, then compare prices", said Russell Rabichev, Marketing Director of Internet Marketing Company. CONTACT: Company Name: Internet Marketing CompanyPerson for contact Name: Gurgu CPhone Number: (818) 359-3898Email: [email protected]: https://compare-autoinsurance.Org/ SOURCE: Compare-autoinsurance.Org View source version on accesswire.Com:https://www.Accesswire.Com/595055/What-Are-The-Main-Benefits-Of-Comparing-Car-Insurance-Quotes-Online View photos
to request, modification Contact us at Here or [email protected]