The cost of living in Turkey soars by almost 70%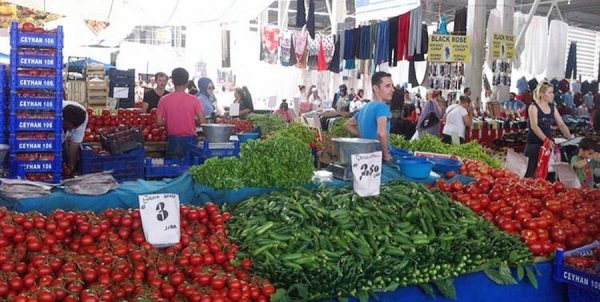 ISTANBUL Consumer prices in Turkey soared nearly 70% in April from a year ago, hitting a two-decade high, official figures show.
Transport, food prices and household equipment recorded the largest increase in annual inflation, with transport costs more than doubling over the year.
Countries around the world are facing a growing cost of living crisis.
But Turkey's problems have been compounded by its president's reluctance to raise interest rates, a tool commonly used to help calm inflation.
The cost of food and non-alcoholic beverages saw an annual increase of 89.1%, while furniture and household equipment increased by 77.64%.
On a monthly basis, prices jumped 7.25% in April, according to data from the Turkish Statistical Institute.
Turkey has seen the value of the pound plummet, with President Recep Tayyip Erdogan prioritizing exports over monetary stability.
Erdogan has described interest rates as "the mother and father of all evil" and has used less orthodox policy to try to drive down prices, including intervening in currency markets.
Faced with pressure from the Turkish president, the country's central bank cut rates to 14% from 19% since September.
In April, it kept rates stable for the fourth consecutive month, despite soaring inflation.
Tuba Canpolat, a former health worker living in Istanbul, said her family struggled to get by on her husband's salary alone. He works in construction.
She had planned to return to work after taking three months of maternity leave, but with the prices so high, she was unable to afford childcare.
"I get what we call unemployment benefit in Turkey, but it's such a low number that it doesn't even meet my baby's monthly diaper needs," she told the BBC.
"I am looking for odd jobs that can be done online. But for now it is not possible for us to live on a salary of 5,000 Turkish liras when the rents are 3,000 to 4,000 Turkish liras. "
Tuba said she was forced to buy cheaper nappies for her baby and change them less often, while their food costs also skyrocketed.
"We can't take it. In fact, we survive on the support of our family," she added.
Charlie Robertson, chief global economist at Renaissance Capital, said the disruption caused by the war in Ukraine was contributing to higher prices, including for food.
However, he said a big part of the underlying reason for the high inflation was "Turkey's very strange monetary policies."
But Jason Tuvey, emerging markets economist at Capital Economics, said there were "no signs that policymakers are about to change course and raise interest rates" and predicted that inflation would remain around the current high rates for much of this year.
Prices are rising rapidly around the world, due to factors such as COVID-related supply shortages and the war in Ukraine, which has driven up energy and food prices.
Many countries have responded by raising interest rates to encourage individuals and businesses to borrow and spend less, in an effort to limit inflation.
The Bank of England raised the interest rate to the highest level since 2009 while on Wednesday the US Federal Reserve announced its biggest rate hike in more than two decades.
Countries like India and Australia have also increased their borrowing costs. BBC
Sources
2/ https://saudigazette.com.sa/article/620119/World/Europe/Turkeys-cost-of-living-soars-nearly-70
The mention sources can contact us to remove/changing this article
What Are The Main Benefits Of Comparing Car Insurance Quotes Online
LOS ANGELES, CA / ACCESSWIRE / June 24, 2020, / Compare-autoinsurance.Org has launched a new blog post that presents the main benefits of comparing multiple car insurance quotes. For more info and free online quotes, please visit https://compare-autoinsurance.Org/the-advantages-of-comparing-prices-with-car-insurance-quotes-online/ The modern society has numerous technological advantages. One important advantage is the speed at which information is sent and received. With the help of the internet, the shopping habits of many persons have drastically changed. The car insurance industry hasn't remained untouched by these changes. On the internet, drivers can compare insurance prices and find out which sellers have the best offers. View photos The advantages of comparing online car insurance quotes are the following: Online quotes can be obtained from anywhere and at any time. Unlike physical insurance agencies, websites don't have a specific schedule and they are available at any time. Drivers that have busy working schedules, can compare quotes from anywhere and at any time, even at midnight. Multiple choices. Almost all insurance providers, no matter if they are well-known brands or just local insurers, have an online presence. Online quotes will allow policyholders the chance to discover multiple insurance companies and check their prices. Drivers are no longer required to get quotes from just a few known insurance companies. Also, local and regional insurers can provide lower insurance rates for the same services. Accurate insurance estimates. Online quotes can only be accurate if the customers provide accurate and real info about their car models and driving history. Lying about past driving incidents can make the price estimates to be lower, but when dealing with an insurance company lying to them is useless. Usually, insurance companies will do research about a potential customer before granting him coverage. Online quotes can be sorted easily. Although drivers are recommended to not choose a policy just based on its price, drivers can easily sort quotes by insurance price. Using brokerage websites will allow drivers to get quotes from multiple insurers, thus making the comparison faster and easier. For additional info, money-saving tips, and free car insurance quotes, visit https://compare-autoinsurance.Org/ Compare-autoinsurance.Org is an online provider of life, home, health, and auto insurance quotes. This website is unique because it does not simply stick to one kind of insurance provider, but brings the clients the best deals from many different online insurance carriers. In this way, clients have access to offers from multiple carriers all in one place: this website. On this site, customers have access to quotes for insurance plans from various agencies, such as local or nationwide agencies, brand names insurance companies, etc. "Online quotes can easily help drivers obtain better car insurance deals. All they have to do is to complete an online form with accurate and real info, then compare prices", said Russell Rabichev, Marketing Director of Internet Marketing Company. CONTACT: Company Name: Internet Marketing CompanyPerson for contact Name: Gurgu CPhone Number: (818) 359-3898Email: [email protected]: https://compare-autoinsurance.Org/ SOURCE: Compare-autoinsurance.Org View source version on accesswire.Com:https://www.Accesswire.Com/595055/What-Are-The-Main-Benefits-Of-Comparing-Car-Insurance-Quotes-Online View photos
to request, modification Contact us at Here or [email protected]