Xi urges Germany to help avoid escalation of conflict in Ukraine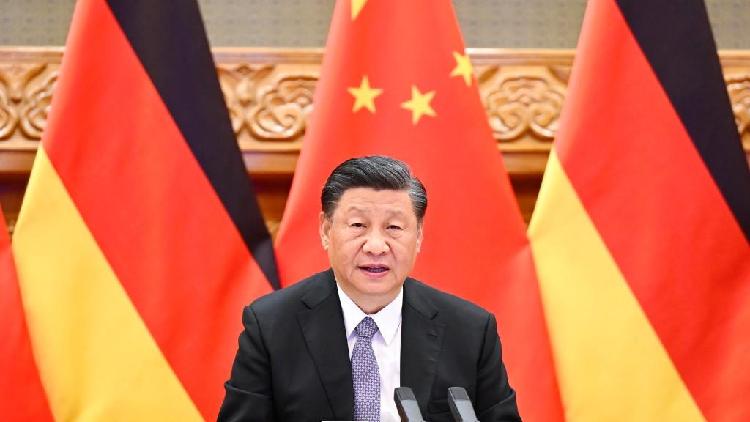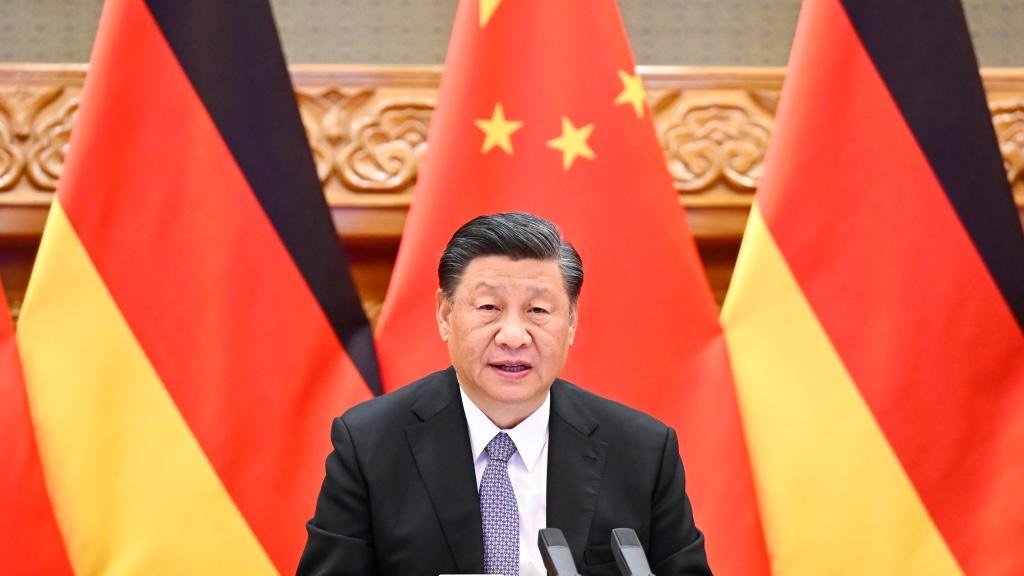 President Xi Jinping said China and Germany should focus on expanding cooperation in new areas. /Li Xueren/Xinhua
President Xi Jinping said China and Germany should focus on expanding cooperation in new areas. /Li Xueren/Xinhua
President Xi Jinping held a video meeting with German Chancellor Olaf Scholz on Monday and urged the German leader to work with China and other countries to prevent the Ukraine conflict from becoming an "unmanageable situation".
"Every effort should be made to avoid the intensification and expansion of the conflict in Ukraine, which could lead to an unmanageable situation," Xi said during the video call, according to Chinese state radio.
During the meeting, Xi stressed that the current international situation continues to evolve in a complex way, and the difficulties and challenges for global security and development have greatly increased.
The two leaders had an in-depth and frank exchange of views on the situation in Ukraine. Xi pointed out that China and Germany both have a lot of influence across the world, and given the current situation, the two countries should maintain healthy and stable relations with each other, as this will not only benefit both nations, but also contribute to global development. peace and stability.
He said it was important to advocate for "true multilateralism, to uphold international fairness and justice, and to come together to safeguard the key role the United Nations plays in international affairs."
Develop cooperation
Xi pointed out that over the past 50 years, the two countries have strengthened cooperation to achieve common development goals. He said China's original intention to further develop Sino-German relations remains unchanged, as does his confidence in the opportunities for the two countries to continue working together.
The Chinese president described areas such as climate change, macroeconomic policy, financial stability, energy security, food security and industrial chain supply chain stability as key areas for future cooperation.
The Chinese leader said Beijing and Berlin should focus on expanding their cooperation in new areas such as environmental protection, trade in services, artificial intelligence and digitalization.
Common interest
Xi acknowledged that China and Europe are comprehensive strategic partners, with the two regions presenting opportunities for each other. He said the common interests of China and Europe far outweigh their possible differences.
He added that China supports the EU's strategic autonomy and China's relations with the bloc are not affected by any third party and the two sides should strengthen communication and build mutual trust. Referring to the ongoing conflict in Ukraine, President Xi said that in the face of the current geopolitical crisis, the two sides should advocate dialogue and cooperation.
To meet the challenges of post-pandemic recovery, they need to strengthen their development strategies and policy coordination, and promote the stabilization and growth of the global economy.
"I hope the German side will play a positive role in the stable and healthy development of China-EU relations," he added.
Chancellor Scholz said that relations between the two countries have developed very well in recent years and Germany is keen to celebrate the 50th anniversary of diplomatic relations with China.
He also said that they wanted to maintain close communication at all levels and conduct a dialogue on important issues such as the stability of global supply chains and the coordination of macroeconomic policies, as well as strengthening cooperation in the trade and investment, climate change, the fight against epidemics. , health, education and culture.
persuade for peace
The German leader said his country welcomes China's commitment to expanding a high level of openness to the outside world, which will bring more opportunities to Germany.
Xi stressed that China has always stood on the side of peace, promoted the talks and pushed for the situation to cool down. The crisis in Ukraine has once again pushed European security to a critical crossroads.
He said the European side should exercise historical responsibility and exercise political wisdom to focus on achieving long-term peace in Europe and seek to promote a responsible solution.
"China supports Europe to play an active role in promoting peace talks and ultimately building a balanced, effective and sustainable European security framework," Xi said.
"China welcomes all efforts by the international community that are conducive to persuading and promoting peace talks, and all parties concerned should support Russia and Ukraine to achieve peace through negotiations," he said. he added.
Sources
2/ https://newseu.cgtn.com/news/2022-05-10/China-s-Xi-urges-Germany-to-help-avoid-Ukraine-conflict-intensifying-19TVlShArg4/index.html
The mention sources can contact us to remove/changing this article
What Are The Main Benefits Of Comparing Car Insurance Quotes Online
LOS ANGELES, CA / ACCESSWIRE / June 24, 2020, / Compare-autoinsurance.Org has launched a new blog post that presents the main benefits of comparing multiple car insurance quotes. For more info and free online quotes, please visit https://compare-autoinsurance.Org/the-advantages-of-comparing-prices-with-car-insurance-quotes-online/ The modern society has numerous technological advantages. One important advantage is the speed at which information is sent and received. With the help of the internet, the shopping habits of many persons have drastically changed. The car insurance industry hasn't remained untouched by these changes. On the internet, drivers can compare insurance prices and find out which sellers have the best offers. View photos The advantages of comparing online car insurance quotes are the following: Online quotes can be obtained from anywhere and at any time. Unlike physical insurance agencies, websites don't have a specific schedule and they are available at any time. Drivers that have busy working schedules, can compare quotes from anywhere and at any time, even at midnight. Multiple choices. Almost all insurance providers, no matter if they are well-known brands or just local insurers, have an online presence. Online quotes will allow policyholders the chance to discover multiple insurance companies and check their prices. Drivers are no longer required to get quotes from just a few known insurance companies. Also, local and regional insurers can provide lower insurance rates for the same services. Accurate insurance estimates. Online quotes can only be accurate if the customers provide accurate and real info about their car models and driving history. Lying about past driving incidents can make the price estimates to be lower, but when dealing with an insurance company lying to them is useless. Usually, insurance companies will do research about a potential customer before granting him coverage. Online quotes can be sorted easily. Although drivers are recommended to not choose a policy just based on its price, drivers can easily sort quotes by insurance price. Using brokerage websites will allow drivers to get quotes from multiple insurers, thus making the comparison faster and easier. For additional info, money-saving tips, and free car insurance quotes, visit https://compare-autoinsurance.Org/ Compare-autoinsurance.Org is an online provider of life, home, health, and auto insurance quotes. This website is unique because it does not simply stick to one kind of insurance provider, but brings the clients the best deals from many different online insurance carriers. In this way, clients have access to offers from multiple carriers all in one place: this website. On this site, customers have access to quotes for insurance plans from various agencies, such as local or nationwide agencies, brand names insurance companies, etc. "Online quotes can easily help drivers obtain better car insurance deals. All they have to do is to complete an online form with accurate and real info, then compare prices", said Russell Rabichev, Marketing Director of Internet Marketing Company. CONTACT: Company Name: Internet Marketing CompanyPerson for contact Name: Gurgu CPhone Number: (818) 359-3898Email: [email protected]: https://compare-autoinsurance.Org/ SOURCE: Compare-autoinsurance.Org View source version on accesswire.Com:https://www.Accesswire.Com/595055/What-Are-The-Main-Benefits-Of-Comparing-Car-Insurance-Quotes-Online View photos
to request, modification Contact us at Here or [email protected]