Imran Khan's political career is far from over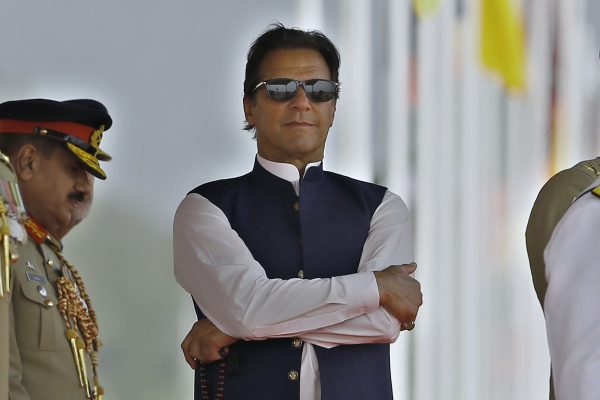 The pulse | Politics | South Asia
Less than a month after his ousting, the former Pakistani prime minister has been able to significantly rekindle his support base, leading many to believe he could win an election today.
Pakistani Prime Minister Imran Khan attends a military parade to mark Pakistan's National Day, in Islamabad, Pakistan, Wednesday, March 23, 2022.
Credit: AP Photo/Anjum Naveed, FileAdvertisement
Former Prime Minister Imran Khan is planning a long march to Islamabad later this month to force the government to announce new elections.
Since being ousted from power by a no-confidence motion in parliament last month, Khan has increased pressure on the government and other state institutions not only to delegitimize the new ruling coalition, but also to cast them as conspirators. . In this regard, Khan very skillfully used the issue of alleged foreign conspiracy against his regime to mobilize his support base.
When Khan was removed from office last month, people believed his time in Pakistani politics was over. However, Khan had other plans.
Less than a month after his ousting, Khan has rekindled his base of support to such an extent that it is now widely believed that if free and fair elections are held, Pakistan Tehreek-e-Insaf (PTI) will emerge victorious.
Diplomat BriefWeekly newsletterN
Get notified with the story of the week and develop stories to watch across Asia-Pacific.
Receive the newsletter
One of the main reasons why Khan's political career may not yet be over is the overwhelming support his party enjoys within state institutions. He showed that if you have support within state institutions and can make the leadership of those institutions appear controversial, your chances of returning to power could increase.
Moreover, Khan's current relevance in Pakistani politics shows that if a party supported and brought to power by the country's national security institutions turns its back on them, the security institutions may not consider suppressing the party.
For the past few weeks, Khan has relentlessly targeted the army leadership, but the army has taken no action against him or the PTI leadership. Supporters of Khans among the retired and serving military made it difficult for the military to launch a crackdown on the PTI.
A few months ago, no one would have imagined that the PTI, known as the military party, would become a protest party. One cannot even imagine a political party in Balochistan or Sindh saying or doing what Khan and his party said and did.
Advertisement
To some extent, Khan's willingness to put pressure on institutions has been facilitated by his willingness to involve religion in the current crisis. At his rallies, he often referred to his campaign as jihad. Speaking to party workers on Monday, he said his campaign against the government was jihad and not a political decision.
Additionally, over the past few weeks, Khan has met with different religious leaders to win their support for the long march ahead. So far, several religious leaders have offered their support to Khan in his campaign against the current government. Apparently, Tahir-ul-Qadri, the head of the Minhaj-ul-Quran International (MQI) also announced his support for the Khans' campaign.
The worsening economic situation benefits the Khans, fueling the PTI campaign against the Shehbaz Sharif government and other state institutions. Over the past month, inflation in Pakistan has increased significantly. The country has foreign exchange reserves to cover only a few weeks of imports. So far, the current government has failed to revive the ongoing rescue plan with the International Monetary Fund. To do so, it would have to remove the existing subsidy on petroleum products, a move that would have political costs.
A month ago, it was widely perceived that Khan's political party would disintegrate in the weeks and months to come and his supporters would abandon him. However, that did not happen as Khan skilfully exploited the circumstances of his ouster, meaning the new government now looks like a bigger crisis. It is unclear how Pakistan will emerge from this political mess and this too at a time when the country is facing an acute financial crisis and is in dire need of political stability.
Regardless of what happens in the coming weeks, Khan's political career is far from over.
Sources
2/ https://thediplomat.com/2022/05/imran-khans-political-career-far-from-over/
The mention sources can contact us to remove/changing this article
What Are The Main Benefits Of Comparing Car Insurance Quotes Online
LOS ANGELES, CA / ACCESSWIRE / June 24, 2020, / Compare-autoinsurance.Org has launched a new blog post that presents the main benefits of comparing multiple car insurance quotes. For more info and free online quotes, please visit https://compare-autoinsurance.Org/the-advantages-of-comparing-prices-with-car-insurance-quotes-online/ The modern society has numerous technological advantages. One important advantage is the speed at which information is sent and received. With the help of the internet, the shopping habits of many persons have drastically changed. The car insurance industry hasn't remained untouched by these changes. On the internet, drivers can compare insurance prices and find out which sellers have the best offers. View photos The advantages of comparing online car insurance quotes are the following: Online quotes can be obtained from anywhere and at any time. Unlike physical insurance agencies, websites don't have a specific schedule and they are available at any time. Drivers that have busy working schedules, can compare quotes from anywhere and at any time, even at midnight. Multiple choices. Almost all insurance providers, no matter if they are well-known brands or just local insurers, have an online presence. Online quotes will allow policyholders the chance to discover multiple insurance companies and check their prices. Drivers are no longer required to get quotes from just a few known insurance companies. Also, local and regional insurers can provide lower insurance rates for the same services. Accurate insurance estimates. Online quotes can only be accurate if the customers provide accurate and real info about their car models and driving history. Lying about past driving incidents can make the price estimates to be lower, but when dealing with an insurance company lying to them is useless. Usually, insurance companies will do research about a potential customer before granting him coverage. Online quotes can be sorted easily. Although drivers are recommended to not choose a policy just based on its price, drivers can easily sort quotes by insurance price. Using brokerage websites will allow drivers to get quotes from multiple insurers, thus making the comparison faster and easier. For additional info, money-saving tips, and free car insurance quotes, visit https://compare-autoinsurance.Org/ Compare-autoinsurance.Org is an online provider of life, home, health, and auto insurance quotes. This website is unique because it does not simply stick to one kind of insurance provider, but brings the clients the best deals from many different online insurance carriers. In this way, clients have access to offers from multiple carriers all in one place: this website. On this site, customers have access to quotes for insurance plans from various agencies, such as local or nationwide agencies, brand names insurance companies, etc. "Online quotes can easily help drivers obtain better car insurance deals. All they have to do is to complete an online form with accurate and real info, then compare prices", said Russell Rabichev, Marketing Director of Internet Marketing Company. CONTACT: Company Name: Internet Marketing CompanyPerson for contact Name: Gurgu CPhone Number: (818) 359-3898Email: [email protected]: https://compare-autoinsurance.Org/ SOURCE: Compare-autoinsurance.Org View source version on accesswire.Com:https://www.Accesswire.Com/595055/What-Are-The-Main-Benefits-Of-Comparing-Car-Insurance-Quotes-Online View photos
to request, modification Contact us at Here or [email protected]