Imran Khans imported government beards, allegations of army plot to depose him divide Pakistani society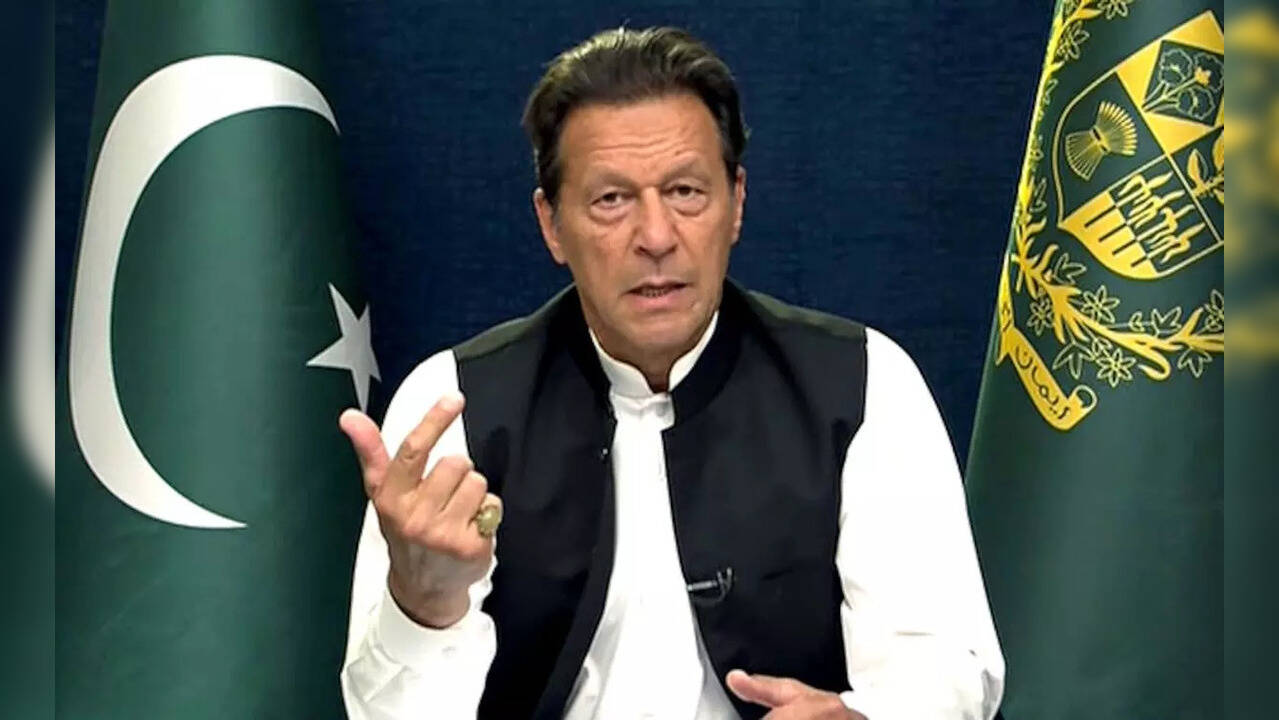 There are growing fears that Pakistan is heading for street clashes between the Imran Khan-led Pakistan Tehreek-e-Insaf and the Shahbaz Sharif government. Ousted Prime Minister Imran Khan has urged the Pakistani public to join him in bringing down the barely month-old government in the country which is in the throes of an economic crisis. Khan, the first Pakistani prime minister to lose a vote of no confidence, has hammered home his claim that he was overthrown due to a US plot with local accomplices. Khan called for a popular march to Islamabad on May 20, saying that when people take to the streets, everyone will understand that this nation cannot be enslaved.
Send your families if you cannot participate yourself for fear of losing your job, Khan said at a rally in Attock on Thursday where he appealed to government workers.
The PTI and the ruling Pakistani Muslim League Nawaz (PML-N) are on a collision course and it could lead to public chaos, with large-scale fighting and arrests. On Saturday May 14, police dispersed PTI workers by charging them with batons and using tear gas as they prepared for a rally in Sialkot. Television footage showed police dismantling structures erected for the rally amid clouds of tear gas smoke.
District police officer Hasan Iqbal, who was present at the rally site, told reporters that the local Christian community opposed the rally as the land belonged to them and they did not want a political rally is held there.
Neutrals not neutrals
In a country where the military is known for taking the reins and its blessings necessary for political legitimacy, Imran Khan and his PTI colleagues have not spared the establishment either.
Imran Khan wrote in a tweet: The market is waiting for policy and action that the imported government has failed to deliver. Shaukat Tarin and I warned the "neutrals" that if the conspiracy succeeded, our fragile economic recovery would crumble.
Rupee at low Rs193/$ (from Rs178/March 8); Interest rate at 15% at its highest since 1998; Stock market down t.co/SKc2UILzUI
— ANI (@ANI) May 13, 2022
Market waiting for policy and action, which the imported government did not provide. Shaukat Tareen and I warned t.co/ObWPks4kuz
— ANI (@ANI) May 13, 2022
Former PTI human rights minister Shireen Mazari said on Friday that everyone now knows that neutrals were not really neutral. She even suggested that it may have been part of the alleged plot to derail Pakistan on the economic and democratic front. The term neutrals is commonly used to refer to the Pakistani military.
PTI leaders have questioned institutions such as the country's Supreme Court and Electoral Commission for appearing to support the so-called plot against them.
Mazari called on Pakistan's chief electoral commissioner to resign because he was silent even as several PTI lawmakers defected to other parties. She said she was surprised that the Supreme Court ordered the date and time of the motion of no confidence.
Meanwhile, attacks by the PTI leadership on the military have sparked rare dissent against the forces from the Pakistani public.
This prompted the Pakistan Army's media wing, Inter-Service Public Relations, to respond to the allegations. "Recently there have been intensified and deliberate attempts to drag [the] The Pakistan Armed Forces and their leaders in [the] ongoing political discourse in the country," an ISPR statement read. These attempts manifest themselves in direct, insinuated or nuanced references to the armed forces and their senior leaders, made by some political leaders, some journalists and analysts in public forums and on social networks. media, he added.
[Les]Pakistan Armed Forces strongly opposes such illegal and unethical practices and expects all to abide by the law and keep the Armed Forces out of political discourse in the best interest of the country, a- he said, without mentioning who the politicians, journalists, and analysts were.
Imran Khan Power March
Imran Khan drew crowds to his rallies despite his lack of power. At these rallies, he tries to shape the narrative as one where his honest fight for real independence and international respect for Pakistan was cut short by the imported government.
Khan claims that the people have no confidence in the current government as it has failed to address the problems of economic mismanagement and rising inflation which were caused by PTI.
Even as Pakistan runs deep in debt and faces an unstable political situation, Khan is stirring up another storm by dividing the Pakistani people and preparing the perfect ground for more discord.
Pakistani media reports indicate that in a meeting with reporters at his Banigala residence on Friday, Khan said it would have been better to bomb Pakistan than to send "thieves" there.
He is preparing to march to the federal capital Islamabad with 2 million Pakistanis on May 20 to challenge the Sharif government.
Pakistan is divided between the two rival political parties, posing a threat to national cohesion in a country with regular sectarian violence between different ethnic and religious groups and a yawning gap between rich and poor.
Sources
2/ https://www.timesnownews.com/world/imran-khans-rebellion-after-ouster-is-further-dividing-pakistan-raising-anger-against-military-article-91562402
The mention sources can contact us to remove/changing this article
What Are The Main Benefits Of Comparing Car Insurance Quotes Online
LOS ANGELES, CA / ACCESSWIRE / June 24, 2020, / Compare-autoinsurance.Org has launched a new blog post that presents the main benefits of comparing multiple car insurance quotes. For more info and free online quotes, please visit https://compare-autoinsurance.Org/the-advantages-of-comparing-prices-with-car-insurance-quotes-online/ The modern society has numerous technological advantages. One important advantage is the speed at which information is sent and received. With the help of the internet, the shopping habits of many persons have drastically changed. The car insurance industry hasn't remained untouched by these changes. On the internet, drivers can compare insurance prices and find out which sellers have the best offers. View photos The advantages of comparing online car insurance quotes are the following: Online quotes can be obtained from anywhere and at any time. Unlike physical insurance agencies, websites don't have a specific schedule and they are available at any time. Drivers that have busy working schedules, can compare quotes from anywhere and at any time, even at midnight. Multiple choices. Almost all insurance providers, no matter if they are well-known brands or just local insurers, have an online presence. Online quotes will allow policyholders the chance to discover multiple insurance companies and check their prices. Drivers are no longer required to get quotes from just a few known insurance companies. Also, local and regional insurers can provide lower insurance rates for the same services. Accurate insurance estimates. Online quotes can only be accurate if the customers provide accurate and real info about their car models and driving history. Lying about past driving incidents can make the price estimates to be lower, but when dealing with an insurance company lying to them is useless. Usually, insurance companies will do research about a potential customer before granting him coverage. Online quotes can be sorted easily. Although drivers are recommended to not choose a policy just based on its price, drivers can easily sort quotes by insurance price. Using brokerage websites will allow drivers to get quotes from multiple insurers, thus making the comparison faster and easier. For additional info, money-saving tips, and free car insurance quotes, visit https://compare-autoinsurance.Org/ Compare-autoinsurance.Org is an online provider of life, home, health, and auto insurance quotes. This website is unique because it does not simply stick to one kind of insurance provider, but brings the clients the best deals from many different online insurance carriers. In this way, clients have access to offers from multiple carriers all in one place: this website. On this site, customers have access to quotes for insurance plans from various agencies, such as local or nationwide agencies, brand names insurance companies, etc. "Online quotes can easily help drivers obtain better car insurance deals. All they have to do is to complete an online form with accurate and real info, then compare prices", said Russell Rabichev, Marketing Director of Internet Marketing Company. CONTACT: Company Name: Internet Marketing CompanyPerson for contact Name: Gurgu CPhone Number: (818) 359-3898Email: [email protected]: https://compare-autoinsurance.Org/ SOURCE: Compare-autoinsurance.Org View source version on accesswire.Com:https://www.Accesswire.Com/595055/What-Are-The-Main-Benefits-Of-Comparing-Car-Insurance-Quotes-Online View photos
to request, modification Contact us at Here or [email protected]