Imran banishes doubt and says he will visit Sialkot today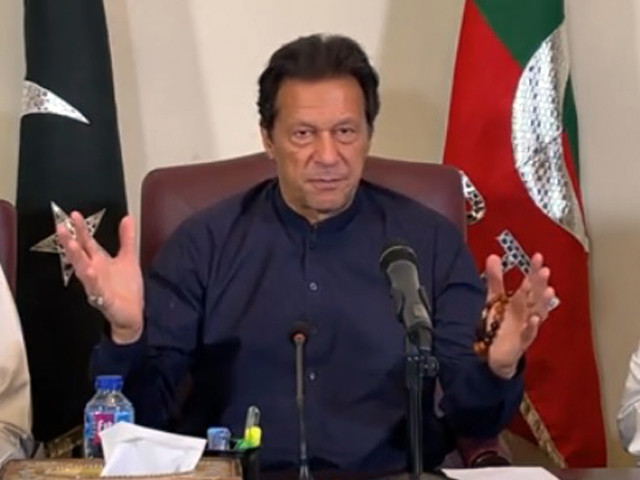 Dismissing naysayers following the heckling of Sialkot on Saturday morning, Pakistan Tehreek-e-Insaf (PTI) President Imran Khan announced that he would visit the town today and that there should be no "no doubt" about it.
The former prime minister's remarks came hours after police in Sialkot halted preparations for the rally of PTI workers at the CTI grounds and arrested several of them, including party leader Usman Dar.
I'm going to Sialkot today, no doubt about it. What the imported government did in Sialkot against our ldrship and our workers is outrageous, but not unexpected. This gang of bail criminals and their convicted mob boss in London have always used fascist tactics against their opponents
— Imran Khan (@ImranKhanPTI) May 14, 2022
According to the DPD of Sialkot, the PTI was trying to hold an unauthorized gathering in a place of worship, which was not allowed, and that the district administration had asked them to move the gathering.
Attacking the current government, Imran Khan said its actions were "outrageous" but "not unexpected". He expressed dismay at the developments and said they are abusing democracy in opposition and when in government.
when in power – storming of SC, murders of Model Town, corruption of judges, NS trying to declare himself Amir ul Momineen. They use and abuse democracy when in opposition and totally destroy all democratic norms when in power. But people have now risen up against them. #____
— Imran Khan (@ImranKhanPTI) May 14, 2022
Read Imran fires a warning shot at the government after the polls
Furthermore, the leader of the PTI said that his government never stopped any of their political rallies because his party was committed to democracy.
"I will be in Sialkot today and call on all our people to come out and demonstrate in their regions/cities after Isha's prayers against this fascist imported government," the former prime minister said.
Our government has never stopped any of its jalsas, sit-ins, rallies because we are committed to democracy. I will be in Sialkot today and call on all our people to come out and protest in their regions/cities after Isha prayers against this Fascist imported government. #SialkotFightsBack
— Imran Khan (@ImranKhanPTI) May 14, 2022
Ruckus in Sialkot
PTI workers were prevented by police and the Sialkot district administration on Saturday from staging a rally at the CTI grounds, as law enforcement used tear gas and batons to shell out supporters of the party who resisted this decision.
Besides Usman Dar, other arrested party supporters included Umar Dar, Hafiz Hamid Raza, Ali Asjad Malhi, Mehr Kashif, Saeed Ahmed and lawyer Jamshed Ghias.
In videos doing the rounds on social media, the DPO of Sialkot, while talking to PTI members, could be heard saying that no one was stopping the party from holding a rally in Sialkot, however, the grounds they were standing on held were the private property of the Presbyterian. American company.
"You didn't take their permission [the owners of the grounds] and they are a minority group," he added.
The DPD wondered if the State of Pakistan would not object to other groups arriving at a site without following due process.
Sources
2/ https://tribune.com.pk/story/2356579/imran-banishes-doubt-says-will-visit-sialkot-today
The mention sources can contact us to remove/changing this article
What Are The Main Benefits Of Comparing Car Insurance Quotes Online
LOS ANGELES, CA / ACCESSWIRE / June 24, 2020, / Compare-autoinsurance.Org has launched a new blog post that presents the main benefits of comparing multiple car insurance quotes. For more info and free online quotes, please visit https://compare-autoinsurance.Org/the-advantages-of-comparing-prices-with-car-insurance-quotes-online/ The modern society has numerous technological advantages. One important advantage is the speed at which information is sent and received. With the help of the internet, the shopping habits of many persons have drastically changed. The car insurance industry hasn't remained untouched by these changes. On the internet, drivers can compare insurance prices and find out which sellers have the best offers. View photos The advantages of comparing online car insurance quotes are the following: Online quotes can be obtained from anywhere and at any time. Unlike physical insurance agencies, websites don't have a specific schedule and they are available at any time. Drivers that have busy working schedules, can compare quotes from anywhere and at any time, even at midnight. Multiple choices. Almost all insurance providers, no matter if they are well-known brands or just local insurers, have an online presence. Online quotes will allow policyholders the chance to discover multiple insurance companies and check their prices. Drivers are no longer required to get quotes from just a few known insurance companies. Also, local and regional insurers can provide lower insurance rates for the same services. Accurate insurance estimates. Online quotes can only be accurate if the customers provide accurate and real info about their car models and driving history. Lying about past driving incidents can make the price estimates to be lower, but when dealing with an insurance company lying to them is useless. Usually, insurance companies will do research about a potential customer before granting him coverage. Online quotes can be sorted easily. Although drivers are recommended to not choose a policy just based on its price, drivers can easily sort quotes by insurance price. Using brokerage websites will allow drivers to get quotes from multiple insurers, thus making the comparison faster and easier. For additional info, money-saving tips, and free car insurance quotes, visit https://compare-autoinsurance.Org/ Compare-autoinsurance.Org is an online provider of life, home, health, and auto insurance quotes. This website is unique because it does not simply stick to one kind of insurance provider, but brings the clients the best deals from many different online insurance carriers. In this way, clients have access to offers from multiple carriers all in one place: this website. On this site, customers have access to quotes for insurance plans from various agencies, such as local or nationwide agencies, brand names insurance companies, etc. "Online quotes can easily help drivers obtain better car insurance deals. All they have to do is to complete an online form with accurate and real info, then compare prices", said Russell Rabichev, Marketing Director of Internet Marketing Company. CONTACT: Company Name: Internet Marketing CompanyPerson for contact Name: Gurgu CPhone Number: (818) 359-3898Email: [email protected]: https://compare-autoinsurance.Org/ SOURCE: Compare-autoinsurance.Org View source version on accesswire.Com:https://www.Accesswire.Com/595055/What-Are-The-Main-Benefits-Of-Comparing-Car-Insurance-Quotes-Online View photos
to request, modification Contact us at Here or [email protected]