PM Modi to meet Uttar Pradesh ministers in Lucknow on May 16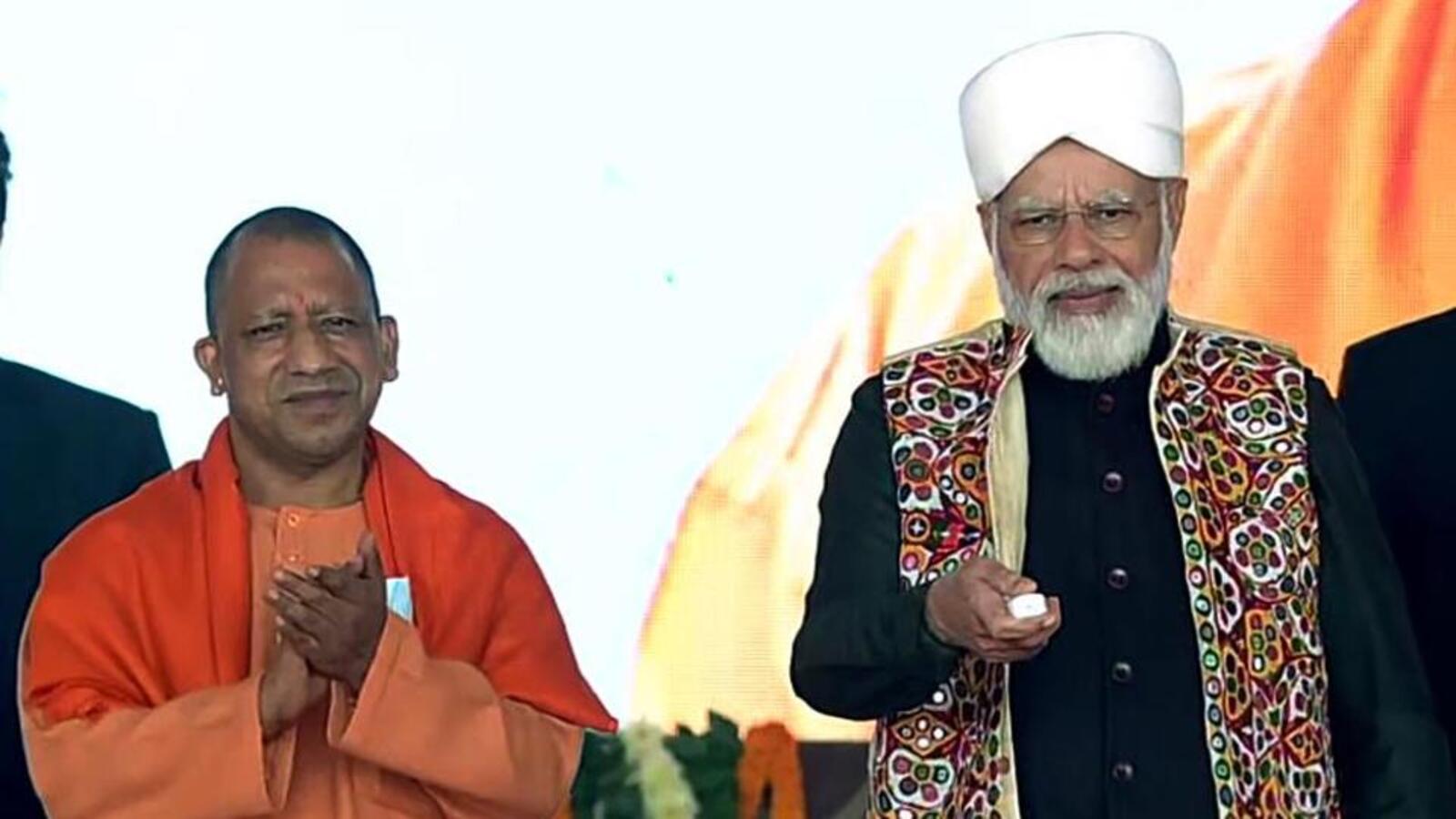 Uttar Pradesh Chief Minister Yogi Adityanath reviews preparations for Prime Minister Narendra Modis' visit to Kushinagar
Prime Minister Narendra Modi will arrive here to interact with Uttar Pradesh ministers at Chief Minister Yogi Adityanath's residence in Lucknow on Monday, May 16.
Modi is also due to travel to Kushinagar where he will attend a program held at Mahanirvana Stupa on the occasion of Buddha Purnima on the same day.
Chief Minister Yogi Adityanath visited Kushinagar on Saturday and reviewed the preparations for the PM's tour.
An official spokesperson confirmed that the prime minister was due to meet the cabinet at the chief ministers' residence in Lucknow.
Ministers from Uttar Pradesh recently concluded their visits to the 18 divisions of the state. Modis' interaction with Ministers of Uttar Pradesh can focus on the progress of implementation of development programs/projects at local level in various districts and divisions.
The Chief Minister issued directives to administrative and police officers during a meeting held at Kushinagar International Airport. He said all preparations should be completed on time. He went to the Mahaparinirvana Temple, offered prayers and also reviewed the arrangements.
Close story
Uttar Pradesh budget to be tabled on May 26, session may have eight sittings

Finance Minister Suresh Khanna will present the Uttar Pradesh budget to the state assembly here on May 26, three days after the start of the budget session of the UP legislature on May 23 . Governor Anandiben Patel will address a joint session of the state legislature in the Assembly Hall on May 23 to mark the opening of the budget session, the first after the constitution of the 18th Assembly of Uttar Pradesh (Vidhan Sabha).

Chartered accountants are guardians of the country's business ecosystem: Rajnath Singh

Defense Minister Rajnath Singh said on Saturday that chartered accountants (CAs) are the guardians of the country's business ecosystem. Rajnath Singh was speaking at a workshop on the financial market organized by the Lucknow branch of the Central India Regional Council of the Institute of Chartered Accountants of India (ICAI). Rajnath Singh represents Lucknow in the Lok Sabha and is on a two-day visit to the state capital.

Delhi reports 673 new cases and four deaths in past 24 hours; positivity rate

Delhi reported 673 new Covid-19s on Saturday, maintaining a steady downward trend, according to the city government's daily health bulletin. Four people have succumbed to the viral illness, bringing the total death toll to 26,192, the health report said. This is the highest number of deaths in one day for more than two months. With Saturday's additions, the city has an overall caseload of 18,99,745. By Thursday, Delhi had recorded 1,032 new cases of Covid-19 and zero deaths.

Fadnavis will hold a rally today and is expected to hit back at Thackeray and Sena

Mumbai: A day after Chief Minister Uddhav Thackeray's public rally on Saturday, opposition leader and former Maharashtra chief minister Devendra Fadnavis is holding a rally in Goregaon and is expected to hit back at Thackeray and Shiv Sena. The rally organized by the party's North Indian cell aims to galvanize North Indian voters, especially in the western suburbs of the city.

Marathi actor Ketaki Chitale arrested for objectionable post against Sharad Pawar

Thane: Marathi actor Ketaki Chitale and another man have been arrested for reprehensible messages against Nationalist Congress Party leader Sharad Pawar. Chitale, who has acted in Marathi soap operas, had shared a Marathi verse written by lawyer Nitin Bhave on his Facebook page. The verse is said to have made personal attacks on Pawar's health issues and behavior. A separate team has been formed to locate Bhave. Following the message, a resident of Kalwa, Swapnil Netake, filed a complaint.
Sources
2/ https://www.hindustantimes.com/cities/lucknow-news/pmmodi-to-meet-uttar-pradesh-ministers-in-lucknow-on-may-16-101652549426990.html
The mention sources can contact us to remove/changing this article
What Are The Main Benefits Of Comparing Car Insurance Quotes Online
LOS ANGELES, CA / ACCESSWIRE / June 24, 2020, / Compare-autoinsurance.Org has launched a new blog post that presents the main benefits of comparing multiple car insurance quotes. For more info and free online quotes, please visit https://compare-autoinsurance.Org/the-advantages-of-comparing-prices-with-car-insurance-quotes-online/ The modern society has numerous technological advantages. One important advantage is the speed at which information is sent and received. With the help of the internet, the shopping habits of many persons have drastically changed. The car insurance industry hasn't remained untouched by these changes. On the internet, drivers can compare insurance prices and find out which sellers have the best offers. View photos The advantages of comparing online car insurance quotes are the following: Online quotes can be obtained from anywhere and at any time. Unlike physical insurance agencies, websites don't have a specific schedule and they are available at any time. Drivers that have busy working schedules, can compare quotes from anywhere and at any time, even at midnight. Multiple choices. Almost all insurance providers, no matter if they are well-known brands or just local insurers, have an online presence. Online quotes will allow policyholders the chance to discover multiple insurance companies and check their prices. Drivers are no longer required to get quotes from just a few known insurance companies. Also, local and regional insurers can provide lower insurance rates for the same services. Accurate insurance estimates. Online quotes can only be accurate if the customers provide accurate and real info about their car models and driving history. Lying about past driving incidents can make the price estimates to be lower, but when dealing with an insurance company lying to them is useless. Usually, insurance companies will do research about a potential customer before granting him coverage. Online quotes can be sorted easily. Although drivers are recommended to not choose a policy just based on its price, drivers can easily sort quotes by insurance price. Using brokerage websites will allow drivers to get quotes from multiple insurers, thus making the comparison faster and easier. For additional info, money-saving tips, and free car insurance quotes, visit https://compare-autoinsurance.Org/ Compare-autoinsurance.Org is an online provider of life, home, health, and auto insurance quotes. This website is unique because it does not simply stick to one kind of insurance provider, but brings the clients the best deals from many different online insurance carriers. In this way, clients have access to offers from multiple carriers all in one place: this website. On this site, customers have access to quotes for insurance plans from various agencies, such as local or nationwide agencies, brand names insurance companies, etc. "Online quotes can easily help drivers obtain better car insurance deals. All they have to do is to complete an online form with accurate and real info, then compare prices", said Russell Rabichev, Marketing Director of Internet Marketing Company. CONTACT: Company Name: Internet Marketing CompanyPerson for contact Name: Gurgu CPhone Number: (818) 359-3898Email: [email protected]: https://compare-autoinsurance.Org/ SOURCE: Compare-autoinsurance.Org View source version on accesswire.Com:https://www.Accesswire.Com/595055/What-Are-The-Main-Benefits-Of-Comparing-Car-Insurance-Quotes-Online View photos
to request, modification Contact us at Here or [email protected]