Trump heads to Texas Rally as allies face subpoenas, Pence Clash escalates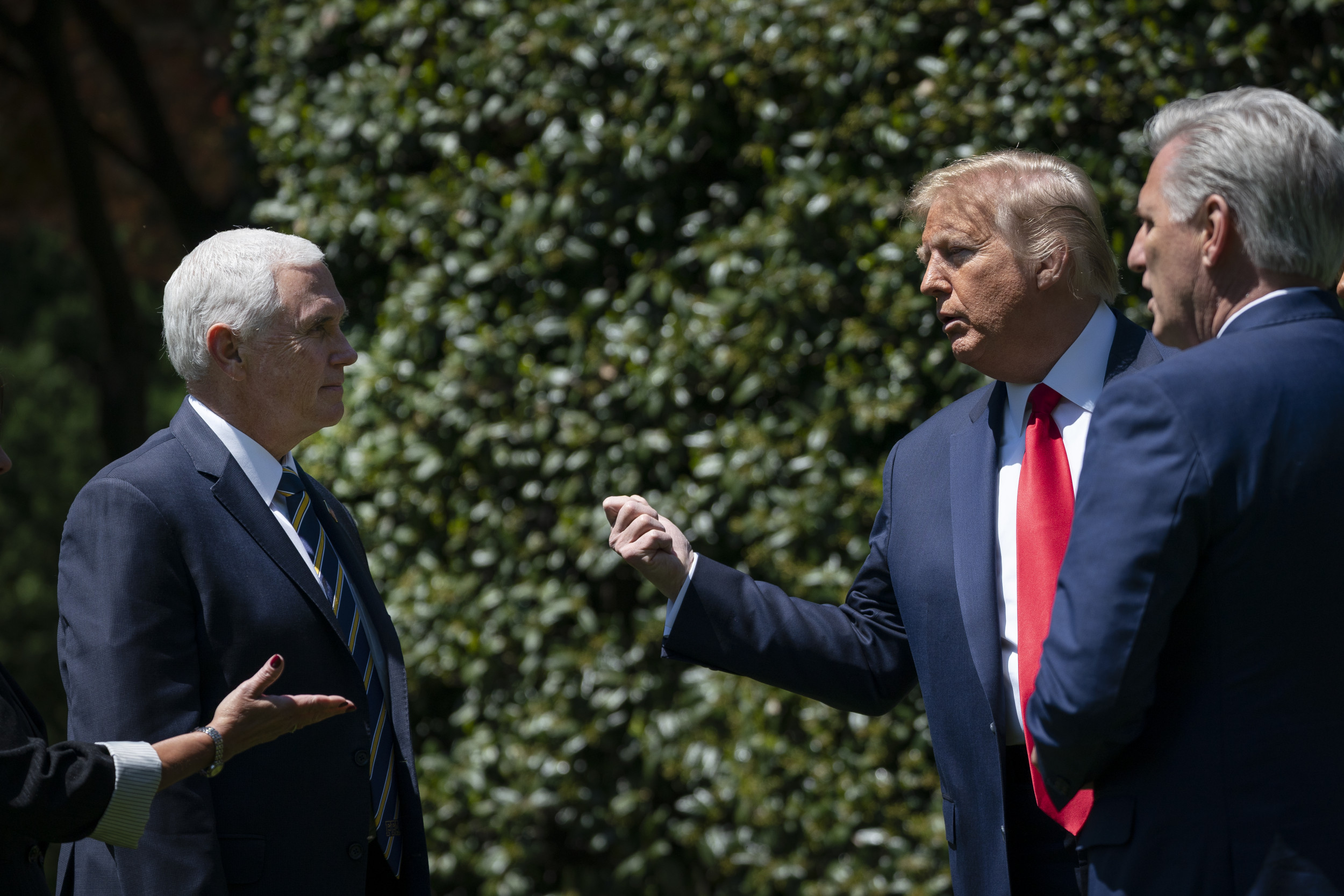 Donald Trump heads to Texas for a rally on Saturday as some of his top GOP allies in Congress face subpoenas, and as former Vice President Mike Pence escalates his political clash with the former president, joining other Republicans in backing rivals to Trump's picks in the party's primary races.
Trump plans to headline the American Freedom Tour event taking place in Austin from 8:15 a.m. to 5 p.m. CT on Saturday. The rally, which will also feature former Secretary of State Mike Pompeo, Donald Trump Jr., Trump Jr. fiancé Kimberly Guilfoyle and conservative commentator Dinesh D'Souza, among others, will be held at the Austin Convention Center.
Meanwhile, some of the former president's most prominent GOP allies in Congress are weighing their next steps after being subpoenaed Thursday to testify before the House Select Committee investigating the Jan. 6 attack. 2021 against the US Capitol. Five GOP House lawmakers, including Minority Leader Kevin McCarthy of California, Jim Jordan of Ohio, Mo Brooks of Alabama, Andy Biggs of Arizona and Scott Perry of Pennsylvania, have received formal requests to appear before the investigative body of the Chamber.
Former President Donald Trump travels to Texas on Saturday as his Republican allies in Congress, including House Minority Leader Kevin McCarthy, face subpoenas and his former Vice President Mike Pence plans to do campaign for his political target, Georgia Governor Brian Kemp. Above, Pence, Trump and McCarthy speak at the White House on April 22, 2020. Drew Angerer/Getty Images
"The Select Committee has learned that several of our colleagues have information relevant to our investigation into the January 6 attack and the events leading up to it. Before holding our hearings next month, we wanted to provide members with the opportunity to discuss these issues with the committee voluntarily," Rep. Bennie Thompson, a Mississippi Democrat who chairs the select committee, said in a statement Thursday.
"Unfortunately, those receiving subpoenas today have refused and we are compelled to take this action to help ensure the committee finds out the facts about January 6. We urge our colleagues to obey the law, do their patriotic duty, and cooperate with our investigation. as have hundreds of other witnesses," he said.
McCarthy criticized the subpoenas, which analysts and lawmakers say represent an unprecedented action taken by the House committee against other members of Congress.
"My view on the committee hasn't changed," McCarthy said, Politico reported. "They're not conducting a legitimate investigation. Looks like they just want to go after their political opponents."
Hundreds of Trump supporters attacked the US Capitol on January 6 in an apparent effort to disrupt the official certification of President Joe Biden's victory in the Electoral College. The violence came shortly after Trump spoke at a nearby rally, urging his supporters to march to the federal legislative building and "fight like hell." Many heeded the directive, with some members of the crowd threatening to "hang" then-Vice President Mike Pence, as well as harm other prominent lawmakers, such as House Speaker Nancy Pelosi.
The crowd was largely enlivened by Trump's false claims that the 2020 election was "rigged" or "stolen". These claims have been thoroughly challenged and discredited, including by prominent GOP election officials across the country and the former president's former attorney general William Barr, who was widely considered one of the most loyal public servants. from Trump's Cabinet and made his decision after asking the Justice Department to investigate the allegations.
The House Select Committee — which includes two Republicans, Liz Cheney of Wyoming and Adam Kinzinger of Illinois — aims to determine how the events of Jan. 6 and Trump's efforts to void the 2020 election were coordinated, as well as the course of the attack. Ten House Republicans, including Cheney and Kinzinger, along with House Democrats, voted to impeach Trump for inciting violence a week after the riot.
It remains to be seen how McCarthy and the other Republicans will respond to the subpoenas. It's unclear whether the House Select Committee will attempt to hold GOP lawmakers in contempt of Congress if they refuse to comply.
Challenge Trump's endorsement
As Trump and his allies continue to feel the strain of the Jan. 6 inquiry, the former president faces continued backlash from prominent Republicans amid the GOP's midterm primary season. So far, the former president's endorsements have largely failed, with candidates he has backed winning high-profile contests in several states.
But Pence, who has increasingly shown a willingness to overturn his relationship with Trump in recent months, is now throwing his weight behind Republican incumbent Georgia Governor Brian Kemp. Trump holds a public grudge against Kemp for his refusal to support efforts to overturn Biden's narrow victory in his state. The former president repeatedly attacked Kemp and lent his support to his main political rival, former Georgia GOP senator David Perdue.
Despite Trump's opposition to Kemp, Pence announced on Friday that he would host a rally with the incumbent GOP governor on May 23, the day before Georgia's primary election. Trump responded to the news in an Outside the Beltway interview with John Fredericks on Friday.
"Well, Mike tries to get involved and he's a very nice guy. But he really let us all down. He just let us down," the former president said. Trump has repeatedly criticized Pence for refusing to follow through on his unconstitutional effort to undo Biden's election victory. The former president and his allies wanted Pence to reject voters in several key swing states as he presided over congressional certification on Jan. 6. Pence refused, saying he had no constitutional authority to do so.
Similarly, Pompeo, who will appear in Austin at the event with Trump, also endorses Pennsylvania GOP Senate nominee David McCormick in opposition to former president-endorsed nominee Dr. Mehmet Oz. Pompeo has stepped up his criticism of Oz in recent weeks, raising what he described as "national security" concerns over the election of the Turkish-American dual national to Congress. The Oz campaign called the accusations "xenophobic."
Trump called McCormick a "liberal Wall Street Republican." At a rally in Pennsylvania earlier this month, Trump said of the GOP nominee, "If anybody was within 200 miles of me, they hired them…He really wanted my approval, but I couldn't do it."
The former president's endorsement of Oz drew significant backlash from Republicans in Pennsylvania as well as prominent conservatives around the country. At May's rally in support of Oz, Trump faced boos from the crowd as some supporters also turned their backs when the TV host and doctor spoke to the crowd.
Regardless of opposition from prominent Republicans, Trump's endorsements have so far been largely successful. The former president's favorite candidates for House, Senate and governor have won 39 of 40 total GOP primaries this year, according to analysis by FiveThirtyEight. The holding of this winning record will be determined over the coming months.
Newsweek has reached out to Trump's spokesperson for comment.
Sources
2/ https://www.newsweek.com/trump-heads-texas-rally-allies-face-subpoenas-pence-clash-ramps-1706669
The mention sources can contact us to remove/changing this article
What Are The Main Benefits Of Comparing Car Insurance Quotes Online
LOS ANGELES, CA / ACCESSWIRE / June 24, 2020, / Compare-autoinsurance.Org has launched a new blog post that presents the main benefits of comparing multiple car insurance quotes. For more info and free online quotes, please visit https://compare-autoinsurance.Org/the-advantages-of-comparing-prices-with-car-insurance-quotes-online/ The modern society has numerous technological advantages. One important advantage is the speed at which information is sent and received. With the help of the internet, the shopping habits of many persons have drastically changed. The car insurance industry hasn't remained untouched by these changes. On the internet, drivers can compare insurance prices and find out which sellers have the best offers. View photos The advantages of comparing online car insurance quotes are the following: Online quotes can be obtained from anywhere and at any time. Unlike physical insurance agencies, websites don't have a specific schedule and they are available at any time. Drivers that have busy working schedules, can compare quotes from anywhere and at any time, even at midnight. Multiple choices. Almost all insurance providers, no matter if they are well-known brands or just local insurers, have an online presence. Online quotes will allow policyholders the chance to discover multiple insurance companies and check their prices. Drivers are no longer required to get quotes from just a few known insurance companies. Also, local and regional insurers can provide lower insurance rates for the same services. Accurate insurance estimates. Online quotes can only be accurate if the customers provide accurate and real info about their car models and driving history. Lying about past driving incidents can make the price estimates to be lower, but when dealing with an insurance company lying to them is useless. Usually, insurance companies will do research about a potential customer before granting him coverage. Online quotes can be sorted easily. Although drivers are recommended to not choose a policy just based on its price, drivers can easily sort quotes by insurance price. Using brokerage websites will allow drivers to get quotes from multiple insurers, thus making the comparison faster and easier. For additional info, money-saving tips, and free car insurance quotes, visit https://compare-autoinsurance.Org/ Compare-autoinsurance.Org is an online provider of life, home, health, and auto insurance quotes. This website is unique because it does not simply stick to one kind of insurance provider, but brings the clients the best deals from many different online insurance carriers. In this way, clients have access to offers from multiple carriers all in one place: this website. On this site, customers have access to quotes for insurance plans from various agencies, such as local or nationwide agencies, brand names insurance companies, etc. "Online quotes can easily help drivers obtain better car insurance deals. All they have to do is to complete an online form with accurate and real info, then compare prices", said Russell Rabichev, Marketing Director of Internet Marketing Company. CONTACT: Company Name: Internet Marketing CompanyPerson for contact Name: Gurgu CPhone Number: (818) 359-3898Email: [email protected]: https://compare-autoinsurance.Org/ SOURCE: Compare-autoinsurance.Org View source version on accesswire.Com:https://www.Accesswire.Com/595055/What-Are-The-Main-Benefits-Of-Comparing-Car-Insurance-Quotes-Online View photos
to request, modification Contact us at Here or [email protected]