Narendra Modi – India's wheat export ban reflects rising government concerns over inflation and production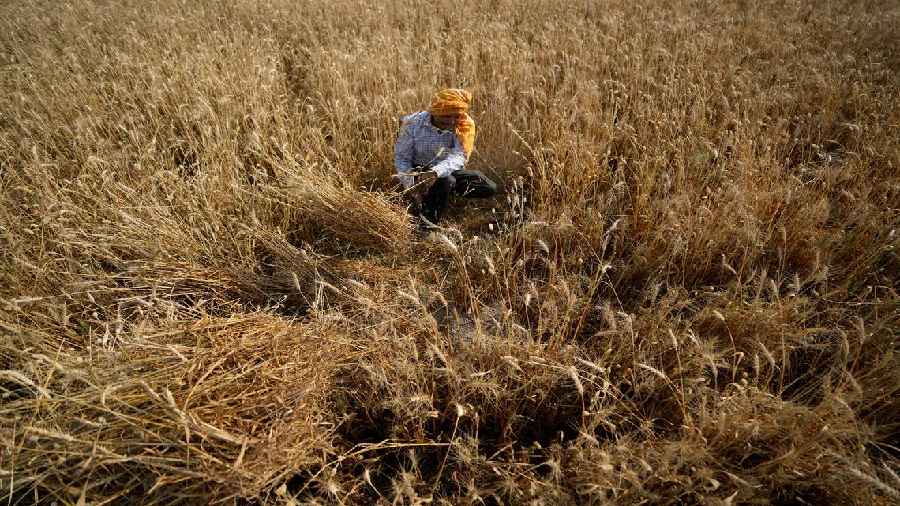 Center says India will still allow sales to countries that need wheat for their own food security needs if their governments ask for help
file picture
It was a 360 degree turnaround in just 24 hours. On Thursday, the government announced it was sending trade delegations to nine countries in a bid to boost wheat exports. India had set itself the target of exporting 10 million tonnes, up from a record 7 million last year.
The next day, the government released a statement saying it was shutting down its wheat export plans. Instead, he announced a total ban on all exports, except for contracts already signed and government-to-government agreements to friendly countries.
The reason for the government's sudden reversal is not difficult to understand, although it is difficult to understand what caused it to change its mind between Thursday and Friday.
On Thursday, he sounded particularly optimistic and said trade delegations would visit nine countries, including Lebanon, Indonesia, Morocco, Tunisia and Indonesia, to explore wheat sales. India has set a target of a record 10 million tonnes of wheat in 2022-23 amid rising global grain demand, the government has said.
The accelerated export plans came after Prime Minister Narendra Modi told an Indian diaspora gathering in Germany earlier this month that at a time when the world is facing a shortage of wheat, farmers Indians have stepped forward to feed the world. . Whenever humanity faces a crisis, India offers a solution.
Domestic headline inflation
The export ban comes after national headline inflation accelerated to an eight-year high of 7.79%, official data showed on Thursday. The increase was partly due to higher grain prices, with wheat prices up 7% year-on-year. India's central bank, meanwhile, warned of elevated global price pressures for key food commodities.
Indian sellers have struck deals to export 4 million tonnes of wheat so far this fiscal year. Shipments with irrevocable letters of credit will be permitted but will no longer be permitted, the government has said. Egypt, the world's largest wheat buyer, and Turkey have received permission to import wheat from India, according to the food ministry.
The heatwave factor
Searing temperatures in India and Pakistan have shrunk crops and damaged wheat yields. The scorching heat has prompted the government to revise India's wheat production estimates downward. Yields in some parts of the country reportedly fell by as much as 50% in March, the hottest on record. Due to the heatwave, India cut its production forecast to 105 million tonnes from a record 111.6 tonnes estimated earlier. India consumed about 104.5 million tons of wheat last year.
Despite good news from the meteorological office on Friday that the monsoon will arrive early and rains will be normal for a fourth consecutive year, which should give crop yields a boost, the government has decided not to take any risks by allowing exports. The rains are filling the reservoirs that irrigate winter crops and fields with water, meaning that rice and soybean plantings can go ahead as planned.
India, which, although it is the second largest wheat producer in the world after China, has always played a minor role in the world market for wheat exports, accounting for only 2% of international trade in this product.
Competitive advantage
But tight supplies and rising world prices have made Indian wheat competitive for the first time in many years and New Delhi had hoped to boost wheat shipments from India this year to a record 10 million metric tons, compared to a previous peak of 7 million tons last year. year. Of this total export figure, 50% was sold to Bangladesh.
The government's announcement will be disappointing for some farmers, like those in the country's breadbasket, Punjab, who were receiving minimum support prices, or MSPs, from multinational food exporting companies.
Russia and Ukraine, known as the breadbasket of the world, account for 30% of the world's wheat trade, but the conflict has reduced their ability to ship to other countries via the Black Sea region. Ukraine's agriculture ministry says 30% of the country's land is Russian-occupied, unsafe or too war-damaged to plant. Until now, many countries in West Asia, Southeast Asia and Africa depended on grain supplies from Ukraine and Russia.
Exceptions for countries in need
However, the government says India will still allow sales to countries that need the wheat for their own food security needs if their governments ask for help.
India's announcement will further stoke concerns over a global food shortage, especially as scientists fear that the La Nina weather phenomenon, which is already experiencing a prolonged double dip, could extend into an unusual triple dip. which could prolong droughts in cereal-growing regions of Latin America. as well as grain harvests in North America and Central Asia.
Removing food exports from Russia and Ukraine from the equation is likely to have a serious impact on global food security, experts say. The Food and Agriculture Organization of the United Nations' global food price index has reached a record high in real terms and up to 11 million people are at risk of starvation in South Africa alone. West in the coming months, according to the UN.
Global food protectionism
Apart from the reduced supplies available in world markets, India's export announcement is important for another reason. It is the latest example of global food protectionism with governments seeking to lock in local supplies with soaring agricultural prices. Indonesia, for example, halted its palm oil exports, driving up prices for the product in India, which is the world's biggest buyer of palm oil. Serbia and Kazakhstan have imposed quotas on their grain export sales.
Meanwhile, fertilizer prices have quadrupled from pre-pandemic levels. Russia has halted export sales of ammonium nitrate and a shortage of fertilizer could hurt production in the next growing season.
Sources
2/ https://www.telegraphindia.com/business/india-wheat-export-ban-reflects-governments-rising-alarm-about-inflation-output/cid/1865093
The mention sources can contact us to remove/changing this article
What Are The Main Benefits Of Comparing Car Insurance Quotes Online
LOS ANGELES, CA / ACCESSWIRE / June 24, 2020, / Compare-autoinsurance.Org has launched a new blog post that presents the main benefits of comparing multiple car insurance quotes. For more info and free online quotes, please visit https://compare-autoinsurance.Org/the-advantages-of-comparing-prices-with-car-insurance-quotes-online/ The modern society has numerous technological advantages. One important advantage is the speed at which information is sent and received. With the help of the internet, the shopping habits of many persons have drastically changed. The car insurance industry hasn't remained untouched by these changes. On the internet, drivers can compare insurance prices and find out which sellers have the best offers. View photos The advantages of comparing online car insurance quotes are the following: Online quotes can be obtained from anywhere and at any time. Unlike physical insurance agencies, websites don't have a specific schedule and they are available at any time. Drivers that have busy working schedules, can compare quotes from anywhere and at any time, even at midnight. Multiple choices. Almost all insurance providers, no matter if they are well-known brands or just local insurers, have an online presence. Online quotes will allow policyholders the chance to discover multiple insurance companies and check their prices. Drivers are no longer required to get quotes from just a few known insurance companies. Also, local and regional insurers can provide lower insurance rates for the same services. Accurate insurance estimates. Online quotes can only be accurate if the customers provide accurate and real info about their car models and driving history. Lying about past driving incidents can make the price estimates to be lower, but when dealing with an insurance company lying to them is useless. Usually, insurance companies will do research about a potential customer before granting him coverage. Online quotes can be sorted easily. Although drivers are recommended to not choose a policy just based on its price, drivers can easily sort quotes by insurance price. Using brokerage websites will allow drivers to get quotes from multiple insurers, thus making the comparison faster and easier. For additional info, money-saving tips, and free car insurance quotes, visit https://compare-autoinsurance.Org/ Compare-autoinsurance.Org is an online provider of life, home, health, and auto insurance quotes. This website is unique because it does not simply stick to one kind of insurance provider, but brings the clients the best deals from many different online insurance carriers. In this way, clients have access to offers from multiple carriers all in one place: this website. On this site, customers have access to quotes for insurance plans from various agencies, such as local or nationwide agencies, brand names insurance companies, etc. "Online quotes can easily help drivers obtain better car insurance deals. All they have to do is to complete an online form with accurate and real info, then compare prices", said Russell Rabichev, Marketing Director of Internet Marketing Company. CONTACT: Company Name: Internet Marketing CompanyPerson for contact Name: Gurgu CPhone Number: (818) 359-3898Email: [email protected]: https://compare-autoinsurance.Org/ SOURCE: Compare-autoinsurance.Org View source version on accesswire.Com:https://www.Accesswire.Com/595055/What-Are-The-Main-Benefits-Of-Comparing-Car-Insurance-Quotes-Online View photos
to request, modification Contact us at Here or [email protected]