Donald Trump Slams Fox News, Echoes Dinesh D'Souza's '2000 Mules' Complaint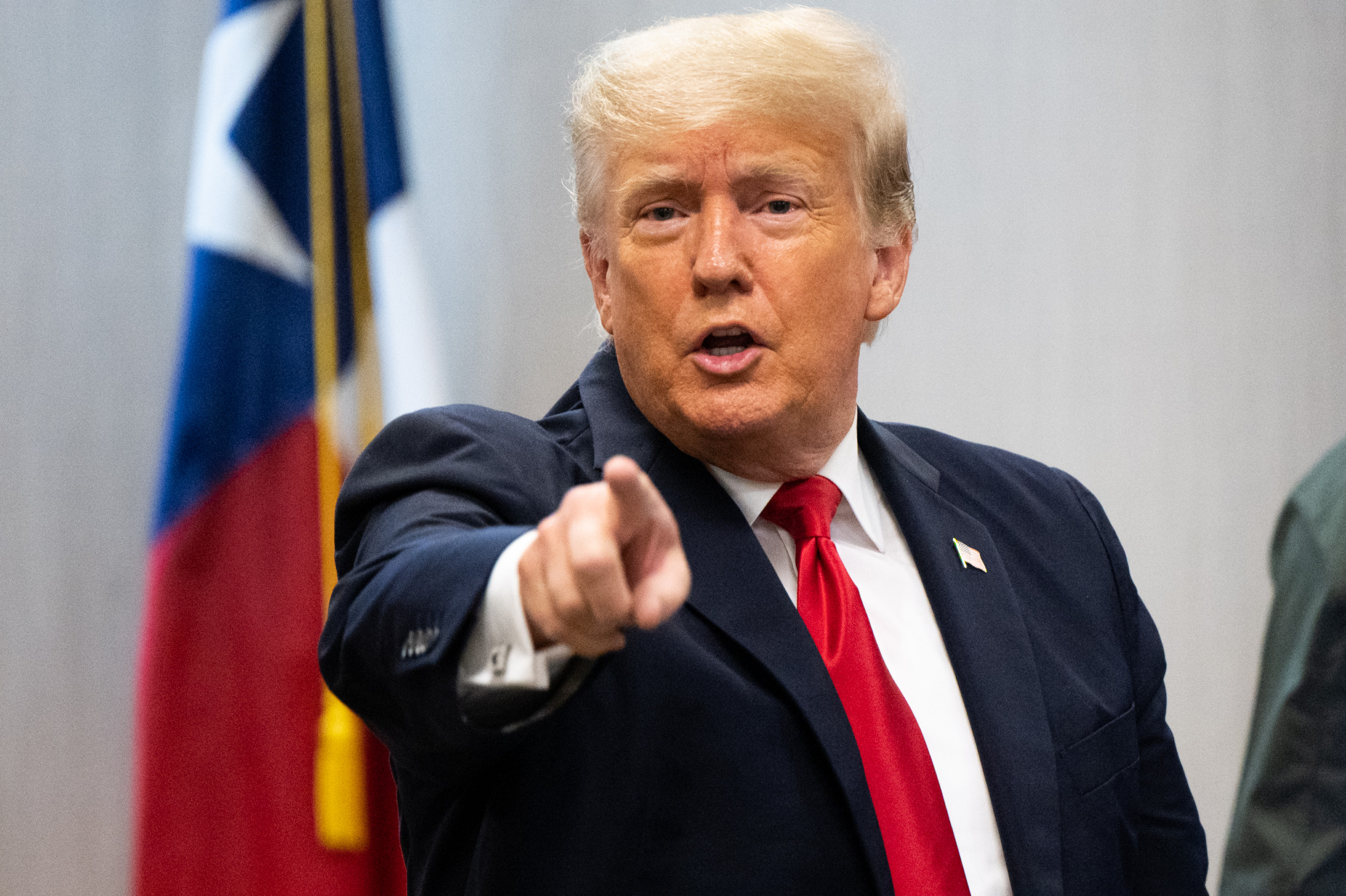 Former President Donald Trump slammed Fox News on Saturday, complaining that the outlet will not "show or discuss" Dinesh D'Souza's documentary 2000 Mules regarding allegations of voter fraud in the 2020 presidential election.
"Fox News is no longer Fox News," Trump said on his TruthSocial account. "They won't even show or discuss the greatest and most impactful documentary of our time, '2000 Mules'. Radical leftist Democrats are thrilled – they don't want the TRUTH out."
Trump's rebukes echoed those of conservative author and political commentator D'Souza, who on Monday accused Fox and Newsmax of failing to cover his film.
The former president's Fox News assessment preceded an event in Austin, Texas on Saturday where D'Souza was on the list to speak alongside Trump.
Former President Donald Trump took to Truth Social on Saturday to slam Fox News for what he says is a lack of coverage of Dinesh D'Souzas' documentary 2000 Mules. Above, he speaks to a member of the media after a border security briefing on June 30, 2021 in Weslaco, Texas. BRANDON BELL/GETTY IMAGES
"Depressing to see what happened to Fox! Trump said, calling on CNN to take the place of Fox News.
"CNN should go conservative and take control of the biggest, strongest and most powerful BASE in US history," he wrote. "Nobody watches CNN fake news now, so like I said, what have they got to lose? Sadly, they're too dumb to make the switch!"
Earlier this week, D'Souza accused Tucker Carlson and Fox News of telling Catherine Engelbrect, his 2000 Mules partner and founder of anti-voting fraud group True the Vote, not to talk about the film and claimed that Newsmax was also "blocking coverage". "
"I was booked on Grant Stinchfield's Newsmax show and then the network canceled me. Criticize the decision if you wish, but why isn't this a legit report? How do the so-called networks d information pretend it doesn't exist? D'Souza wrote on Twitter.
Newsmax host Grant Stinchfield, who was scheduled to host this interview, responded with a video posted to Twitter encouraging a "rogue FBI agent" to investigate the election, saying 2000 Mules had shown "irrefutable proof" of electoral fraud.
"So this is my message to any law enforcement officer, federal officer who works in Georgia, Wisconsin, Michigan, Arizona, Pennsylvania," Stinchfield said in the video. "You watch this movie and then you wonder how not to investigate? All it takes is for a law enforcement officer or a federal agent to say, 'I'm going to look into this and prove what Dinesh D'Souza has proven in private. .' You can do it. It must be done for the good of America, for the future of America. So if you're a law enforcement officer watching this, please take it upon yourself, go rogue. the Democrats have rogue FBI agents. How about the Republicans having a rogue FBI agent enforcing the law?"
Newsmax responded on Twitter to D'Souza's claims, saying the organization "has covered 2,000 Mules, including airing its trailer dozens of times, airing President Trump's comments on it, and featuring 2,000 Mules." in our daily podcast.
Newsweek has reached out to Fox News, Newsmax and Trump for comment.
Sources
2/ https://www.newsweek.com/donald-trump-slams-fox-news-echoes-dinesh-dsouzas-2000-mules-complaint-1706723
The mention sources can contact us to remove/changing this article
What Are The Main Benefits Of Comparing Car Insurance Quotes Online
LOS ANGELES, CA / ACCESSWIRE / June 24, 2020, / Compare-autoinsurance.Org has launched a new blog post that presents the main benefits of comparing multiple car insurance quotes. For more info and free online quotes, please visit https://compare-autoinsurance.Org/the-advantages-of-comparing-prices-with-car-insurance-quotes-online/ The modern society has numerous technological advantages. One important advantage is the speed at which information is sent and received. With the help of the internet, the shopping habits of many persons have drastically changed. The car insurance industry hasn't remained untouched by these changes. On the internet, drivers can compare insurance prices and find out which sellers have the best offers. View photos The advantages of comparing online car insurance quotes are the following: Online quotes can be obtained from anywhere and at any time. Unlike physical insurance agencies, websites don't have a specific schedule and they are available at any time. Drivers that have busy working schedules, can compare quotes from anywhere and at any time, even at midnight. Multiple choices. Almost all insurance providers, no matter if they are well-known brands or just local insurers, have an online presence. Online quotes will allow policyholders the chance to discover multiple insurance companies and check their prices. Drivers are no longer required to get quotes from just a few known insurance companies. Also, local and regional insurers can provide lower insurance rates for the same services. Accurate insurance estimates. Online quotes can only be accurate if the customers provide accurate and real info about their car models and driving history. Lying about past driving incidents can make the price estimates to be lower, but when dealing with an insurance company lying to them is useless. Usually, insurance companies will do research about a potential customer before granting him coverage. Online quotes can be sorted easily. Although drivers are recommended to not choose a policy just based on its price, drivers can easily sort quotes by insurance price. Using brokerage websites will allow drivers to get quotes from multiple insurers, thus making the comparison faster and easier. For additional info, money-saving tips, and free car insurance quotes, visit https://compare-autoinsurance.Org/ Compare-autoinsurance.Org is an online provider of life, home, health, and auto insurance quotes. This website is unique because it does not simply stick to one kind of insurance provider, but brings the clients the best deals from many different online insurance carriers. In this way, clients have access to offers from multiple carriers all in one place: this website. On this site, customers have access to quotes for insurance plans from various agencies, such as local or nationwide agencies, brand names insurance companies, etc. "Online quotes can easily help drivers obtain better car insurance deals. All they have to do is to complete an online form with accurate and real info, then compare prices", said Russell Rabichev, Marketing Director of Internet Marketing Company. CONTACT: Company Name: Internet Marketing CompanyPerson for contact Name: Gurgu CPhone Number: (818) 359-3898Email: [email protected]: https://compare-autoinsurance.Org/ SOURCE: Compare-autoinsurance.Org View source version on accesswire.Com:https://www.Accesswire.Com/595055/What-Are-The-Main-Benefits-Of-Comparing-Car-Insurance-Quotes-Online View photos
to request, modification Contact us at Here or [email protected]