During his visit to Texas, Donald Trump rallies Republican voters to launch a midterm GOP wave in November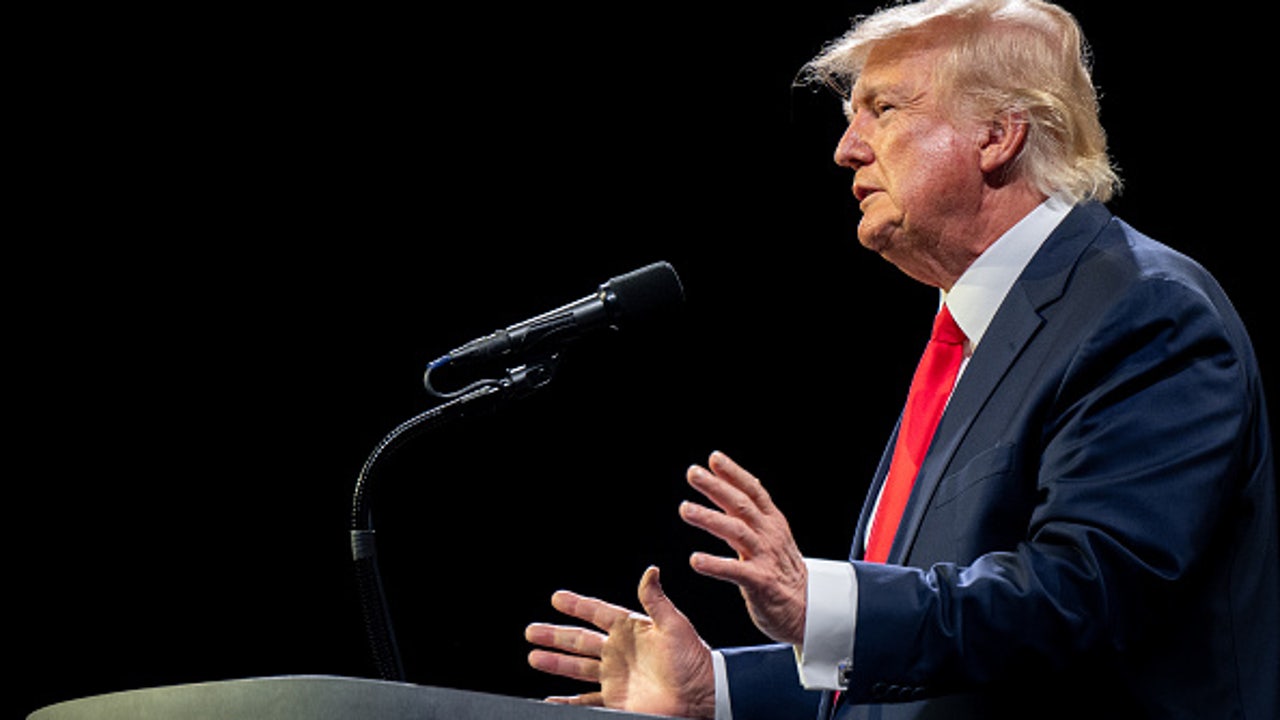 Donald Trump rallies Republican voters during his visit to Austin
The event was part of the larger America Freedom Tour, which aims to rally conservative energy around Trump.
AUSTIN, Texas — Former President Donald Trump slammed Democrats on a litany of issues Saturday, including inflation and immigration, at a rally in Austin where he urged conservative supporters to help the Republican Party fight back. take control of Congress in November's midterm elections.
"I'm asking you to prepare to work, to fight, to win — and to win like never before," Trump told a crowd of thousands at the Austin Convention Center. "Together, we will take back the House, we will take back the Senate and we will take back our country."
Despite losing re-election in 2020, Trump continues to wield outsized influence among conservatives, and his candidate endorsements have wielded considerable influence in the Republican Party. The GOP is expected to increase its margins in both houses of Congress after the November election, as the party that controls the White House has historically performed poorly in the midterms.
Trump touted several of his Texas endorsements on Saturday — including beleaguered Attorney General Ken Paxton, the state official whom Trump called a "fighter like no other" who takes on Lands Commissioner George P. Bush during a a GOP runoff this month.
Protesters gather outside the Austin Convention Center during Trump's visit
After gathering at the Capitol, pro-abortion protesters marched through downtown Austin to push back against former President Donald Trump and his policies.
The former president also reiterated his support for Senator Dawn Buckingham in her quest to become Texas Lands Commissioner, former State Senator Pete Flores in his campaign to re-enter the Legislature, Phil Sorrells in the race for Tarrant and Frederick Frazier County prosecutors in the House District. 61.
Early voting in the second round of the May 24 election begins on Monday.
"Our country is being destroyed in so many ways," Trump said of Democrats. "Biden's disasters are too many to count, but inflation is the highest in nearly 50 years. Gas prices have reached the highest price ever in our country's history, destroying families ."
Busy weekend ahead in downtown Austin with former President Trump's visit and other gatherings
The Austin Police Department is asking people to avoid downtown from 8 a.m. to 8 p.m. Saturday due to heavy traffic and road closures.
FRONT COVER:
Trump also touched on several flash topics that energized those on the far right, including public education, border security and the integrity of the vote. He also raised his debunked false claims that the 2020 election was stolen.
"Under a Republican Congress, we will ban critical race theory from our schools once and for all and defend parental rights," Trump said.
Critical Race Theory is a college-level academic framework that analyzes the intersections between race and the law — and experts say it's not taught in Texas public schools from K-12. Last year, Texas lawmakers passed a law limiting how race and current events are discussed in public schools. They called it the "critical race theory" bill, even though the term does not appear in the legislation.
AUSTIN, TEXAS – MAY 14: Former United States President Donald Trump speaks during the American Freedom Tour at the Austin Convention Center on May 14, 2022 in Austin, Texas. The national event brought together conservatives from across the country to advocate, empower
Trump also said teachers shouldn't be allowed to "teach transgender people." Florida lawmakers this year passed a bill that critics dubbed "don't say gay" for its restrictions on teaching about sexual orientation and gender identity. Texas Lieutenant Governor Dan Patrick said he wants to prioritize similar legislation in Texas next year.
"We achieved all kinds of things along the border. It was an incredible thing. It was an incredible time," Trump said of his border security efforts. "Biden is now systematically giving up all the benefits that I really did brilliantly get. They don't give me any credit."
Not all center seats were filled Thursday. Several supporters left the event hall during Trump's remarks, which capped a day-long event featuring a list of prominent voices within the conservative movement – including Donald Trump, Jr., the former adviser of Trump Kimberly Guilfoyle and former Secretary of State Mike Pompeo. .
The event was part of the larger America Freedom Tour, which aims to rally conservative energy around Trump. The tour will have its next stop in Memphis, Tennessee on June 18.
More from The Texas Tribune
Sources
2/ https://www.fox7austin.com/news/donald-trump-austin-texas-2022-elections
The mention sources can contact us to remove/changing this article
What Are The Main Benefits Of Comparing Car Insurance Quotes Online
LOS ANGELES, CA / ACCESSWIRE / June 24, 2020, / Compare-autoinsurance.Org has launched a new blog post that presents the main benefits of comparing multiple car insurance quotes. For more info and free online quotes, please visit https://compare-autoinsurance.Org/the-advantages-of-comparing-prices-with-car-insurance-quotes-online/ The modern society has numerous technological advantages. One important advantage is the speed at which information is sent and received. With the help of the internet, the shopping habits of many persons have drastically changed. The car insurance industry hasn't remained untouched by these changes. On the internet, drivers can compare insurance prices and find out which sellers have the best offers. View photos The advantages of comparing online car insurance quotes are the following: Online quotes can be obtained from anywhere and at any time. Unlike physical insurance agencies, websites don't have a specific schedule and they are available at any time. Drivers that have busy working schedules, can compare quotes from anywhere and at any time, even at midnight. Multiple choices. Almost all insurance providers, no matter if they are well-known brands or just local insurers, have an online presence. Online quotes will allow policyholders the chance to discover multiple insurance companies and check their prices. Drivers are no longer required to get quotes from just a few known insurance companies. Also, local and regional insurers can provide lower insurance rates for the same services. Accurate insurance estimates. Online quotes can only be accurate if the customers provide accurate and real info about their car models and driving history. Lying about past driving incidents can make the price estimates to be lower, but when dealing with an insurance company lying to them is useless. Usually, insurance companies will do research about a potential customer before granting him coverage. Online quotes can be sorted easily. Although drivers are recommended to not choose a policy just based on its price, drivers can easily sort quotes by insurance price. Using brokerage websites will allow drivers to get quotes from multiple insurers, thus making the comparison faster and easier. For additional info, money-saving tips, and free car insurance quotes, visit https://compare-autoinsurance.Org/ Compare-autoinsurance.Org is an online provider of life, home, health, and auto insurance quotes. This website is unique because it does not simply stick to one kind of insurance provider, but brings the clients the best deals from many different online insurance carriers. In this way, clients have access to offers from multiple carriers all in one place: this website. On this site, customers have access to quotes for insurance plans from various agencies, such as local or nationwide agencies, brand names insurance companies, etc. "Online quotes can easily help drivers obtain better car insurance deals. All they have to do is to complete an online form with accurate and real info, then compare prices", said Russell Rabichev, Marketing Director of Internet Marketing Company. CONTACT: Company Name: Internet Marketing CompanyPerson for contact Name: Gurgu CPhone Number: (818) 359-3898Email: [email protected]: https://compare-autoinsurance.Org/ SOURCE: Compare-autoinsurance.Org View source version on accesswire.Com:https://www.Accesswire.Com/595055/What-Are-The-Main-Benefits-Of-Comparing-Car-Insurance-Quotes-Online View photos
to request, modification Contact us at Here or [email protected]