Judge denies Trump allies' request to dismiss defamation case brought by former Dominion leader falsely accused of election rigging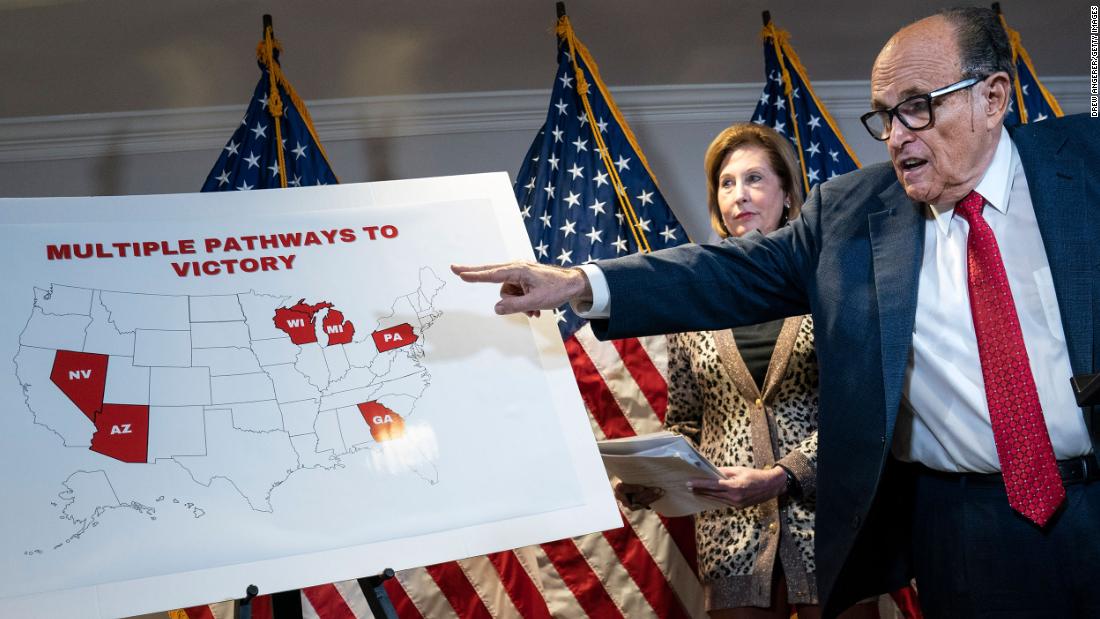 Friday's decision by District Judge Marie Avery Moses means the defamation case will move forward to trial, opening the door to further discovery that could shed light on the 'big lie' narrative that propelled the attempt. of Trump to cancel the election.
"There is no constitutional value in false statements of fact or the deliberate dissemination of dangerous and inflammatory political disinformation intended to sow distrust in democratic institutions," the judge wrote. "The public has an active interest in ensuring that there are remedies for defamatory statements."
The case was brought by Eric Coomer, a former Dominion Voting Systems executive, after several Trump allies falsely claimed Coomer was involved in a plot to rig the 2020 election.
On Friday, the Denver-based state court judge denied demands by defendants — including the Trump campaign, Trump-aligned lawyers Sidney Powell and Rudy Giuliani, and other right-wing figures — that the case be dismissed .
She said that based on the evidence presented so far in the case, Coomer "will be able to present the following credible evidence to a jury that would be sufficient to meet the standard of clear and convincing evidence in support of his legal allegations.
At this stage of the proceedings, the judge must consider the evidence and assertions put forward by Coomer to be true. With that in mind, she said Coomer presented evidence showing "actual malice" – a standard Coomer will have to prove to succeed in his trial.
"There is evidence that Giuliani's allegations against Coomer were consistent with a preconceived scenario of fraud given his post-election fraud allegations," the judge wrote. "Furthermore, there is evidence that Giuliani had an incentive to defame Coomer both to support former President Trump and to maintain national attention. This evidence is sufficient to support a finding of actual malice."
Judge cites minimal scrutiny of election rigging allegations by Trump allies
Already, the case has revealed that Trump's allies have done little to investigate the unsubstantiated allegations of voter fraud before repeating them in the public arena. The discovery Coomer was entitled to at the motion to dismiss stage produced a campaign memo from Trump – written days before Giuliani and Powell held their infamous RNC press conference where they promoted the voter fraud allegations – which debunked many of the allegations Trump's lawyers continued to make.
As part of the motion to dismiss, Powell, Guliani and others who have bolstered Trump's voter fraud lies sat for depositions in which they said they had looked into the allegations very little. regarding Coomer before touting those allegations to a national audience.
"The Trump campaign continues to take the position that the election was the result of fraud, but has offered absolutely no facts to support that claim, and no idea how Coomer could have helped a alleged voter fraud," the judge wrote, referring to a deposition. a campaign representative gave into the matter.
As they sought to challenge Trump's 2020 election defeat, Powell and Giuliani both pointed to an unsubstantiated claim — made first by a conservative Colorado media figure, Joe Oltmann — that Coomer bragged during from a conference call organized by Antifa to a plot to rig the election of President Joe Biden.
"Giuliani had good reason to know that his information regarding Coomer was unreliable and false. Prior to making statements regarding Coomer at the November 19, 2020 press conference, Giuliani spent virtually no time investigating on Coomer or the Antifa appeal," the judge wrote, noting Giuliani. remarks in the deposition.
The judge noted that Powell continued "to assert that the statements were substantially true", but did not "produce any evidence upon which to conclude that any of these statements were true".
In a statement to CNN after the decision, Powell said she planned to appeal the "erroneous" decision.
"My statements regarding Mr. Coomer stemmed from an affidavit under penalty of perjury and were used in cases I filed," she said. "Colorado law and litigation privilege should apply to protect my speech. Lawyers and judges rely on sworn information to make decisions every day."
Oltmann is a defendant in the case, as are right-wing commentator Michelle Malkin, who hosted interviews with Oltmann, and Gateway Pundit's Jim Hoft. Coomer also sued the far-right One America News network and its correspondent Chanel Rion, which featured the claims in an OAN broadcast segment titled "Dominion-izing the Vote."
The motions to dismiss filed by these defendants were also dismissed.
"The court has delivered a comprehensive and well-reasoned opinion that adds another volume to the judiciary's massive dismissal of baseless election fraud allegations," Coomer's attorney Charlie Cain said in a statement late Friday. "There is a long way to go, but this is an important decision for him and for the broader fight to safeguard our democracy."
Other efforts to hold accountable those who pushed the 2020 election
Coomer's case is one of many legal efforts aimed at holding accountable those who served as mouthpieces for Trump's lies about 2020 voter fraud.
A federal judge in Michigan has sanctioned Powell and several other attorneys who have worked on lawsuits challenging the 2020 election results, for the "frivolous" lawsuit they filed in that state. Powell and others facing penalties appealed the judge's order.
A similar effort in Wisconsin to seek sanctions for an election nullification lawsuit filed there by Trump has failed.
Coomer's lawsuit is separate from the defamation cases brought by Dominion, which include lawsuits in Washington, D.C., against Powell, Giuliani, and MyPillow CEO Mike Lindell, as well as a lawsuit Dominion filed in a Delaware court. against Fox.
Smartmatic, another electoral systems company that has been the target of voter fraud conspiracy theory, has also filed defamation lawsuits against several vendors of these allegations.
This story has been updated with additional details and reaction.
Sources
2/ https://www.cnn.com/2022/05/13/politics/coomer-case-dominion/index.html
The mention sources can contact us to remove/changing this article
What Are The Main Benefits Of Comparing Car Insurance Quotes Online
LOS ANGELES, CA / ACCESSWIRE / June 24, 2020, / Compare-autoinsurance.Org has launched a new blog post that presents the main benefits of comparing multiple car insurance quotes. For more info and free online quotes, please visit https://compare-autoinsurance.Org/the-advantages-of-comparing-prices-with-car-insurance-quotes-online/ The modern society has numerous technological advantages. One important advantage is the speed at which information is sent and received. With the help of the internet, the shopping habits of many persons have drastically changed. The car insurance industry hasn't remained untouched by these changes. On the internet, drivers can compare insurance prices and find out which sellers have the best offers. View photos The advantages of comparing online car insurance quotes are the following: Online quotes can be obtained from anywhere and at any time. Unlike physical insurance agencies, websites don't have a specific schedule and they are available at any time. Drivers that have busy working schedules, can compare quotes from anywhere and at any time, even at midnight. Multiple choices. Almost all insurance providers, no matter if they are well-known brands or just local insurers, have an online presence. Online quotes will allow policyholders the chance to discover multiple insurance companies and check their prices. Drivers are no longer required to get quotes from just a few known insurance companies. Also, local and regional insurers can provide lower insurance rates for the same services. Accurate insurance estimates. Online quotes can only be accurate if the customers provide accurate and real info about their car models and driving history. Lying about past driving incidents can make the price estimates to be lower, but when dealing with an insurance company lying to them is useless. Usually, insurance companies will do research about a potential customer before granting him coverage. Online quotes can be sorted easily. Although drivers are recommended to not choose a policy just based on its price, drivers can easily sort quotes by insurance price. Using brokerage websites will allow drivers to get quotes from multiple insurers, thus making the comparison faster and easier. For additional info, money-saving tips, and free car insurance quotes, visit https://compare-autoinsurance.Org/ Compare-autoinsurance.Org is an online provider of life, home, health, and auto insurance quotes. This website is unique because it does not simply stick to one kind of insurance provider, but brings the clients the best deals from many different online insurance carriers. In this way, clients have access to offers from multiple carriers all in one place: this website. On this site, customers have access to quotes for insurance plans from various agencies, such as local or nationwide agencies, brand names insurance companies, etc. "Online quotes can easily help drivers obtain better car insurance deals. All they have to do is to complete an online form with accurate and real info, then compare prices", said Russell Rabichev, Marketing Director of Internet Marketing Company. CONTACT: Company Name: Internet Marketing CompanyPerson for contact Name: Gurgu CPhone Number: (818) 359-3898Email: [email protected]: https://compare-autoinsurance.Org/ SOURCE: Compare-autoinsurance.Org View source version on accesswire.Com:https://www.Accesswire.Com/595055/What-Are-The-Main-Benefits-Of-Comparing-Car-Insurance-Quotes-Online View photos
to request, modification Contact us at Here or [email protected]