"If something happens to me": Imran Khan "reveals" that he plotted to kill him. Watch | world news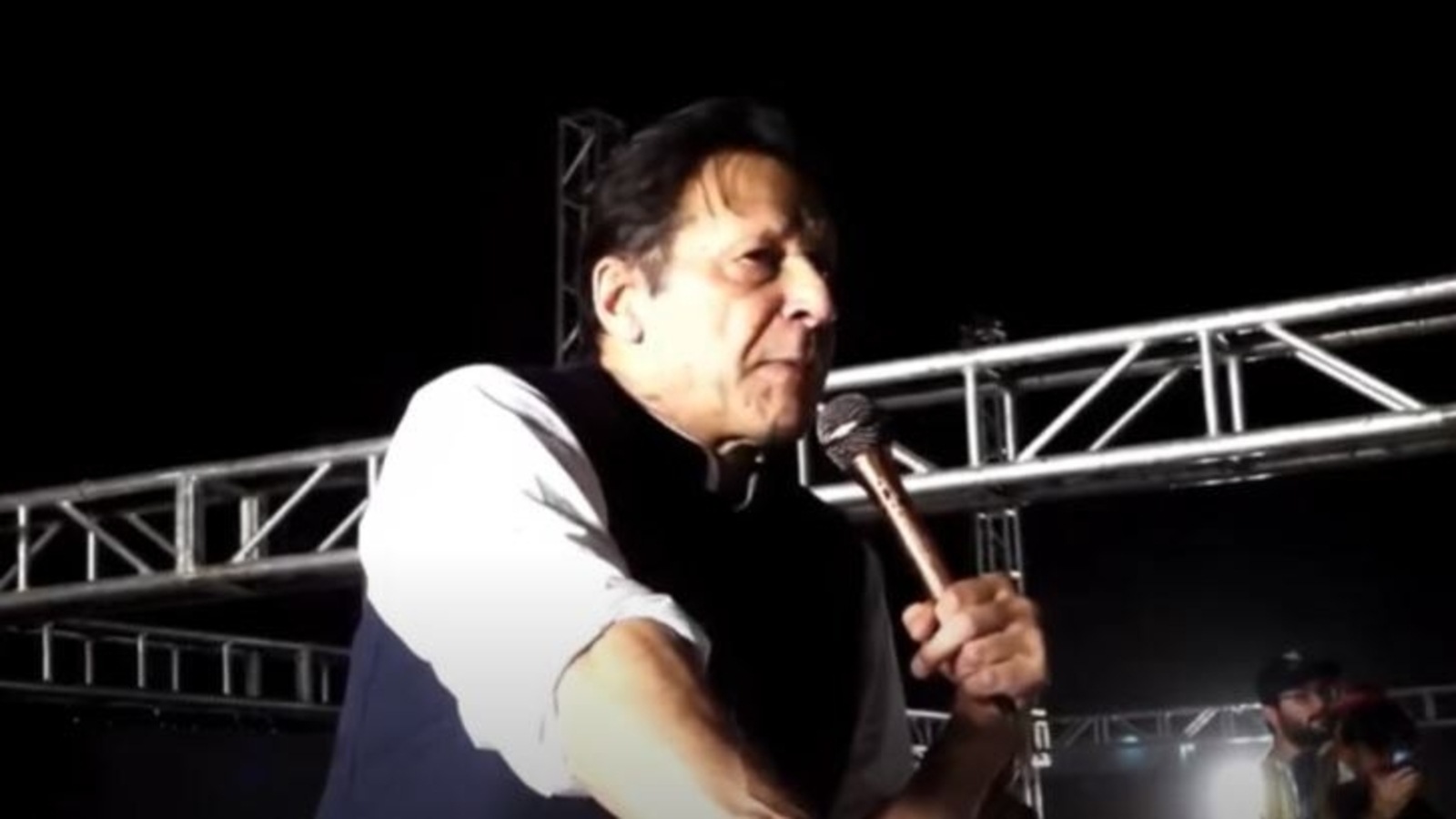 Former Pakistani Prime Minister Imran Khan said he recorded a video revealing all the names involved in the plot, which he said was being hatched to kill him. The video has been kept in a safe place, Imran Khan said.
Former Pakistani Prime Minister Imran Khan reiterated the threat to his life on Saturday and said he had recorded a video naming everyone involved in the plot to kill him since last summer. The comments were made by Imran Khan during the massive party rally in Sialkot. The plot is hatched in closed rooms inside and outside the country, the former prime minister said.
Watch the video
"I was aware of this plot. So I recorded a video and kept it in a safe place. If anything happens to me, then this video will be made public before the nation. In this- here, whoever has conspired against me, whoever has been an accomplice since last summer, I have named everyone," Imran Khan said.
"I made this video because in this country the powerful are never brought to justice. They are always innocent. Only the weak are taken to task. So I recorded a video so the nation would know who the traitors to the country," Imran Khan added.
Before Imran Khan was ousted from the post of Prime Minister by a motion of no confidence in the assembly, the head of the PTI, Faisal Vawda, first spoke of the alleged threat to Imran Khan's life.
Pakistani Defense Minister Khawaja Asif said Imran Khan made up this false story of his assassination to win the sympathy of the people. This man (Khan) has learned nothing although he has been in power for about four years. Now Khan says maybe America and her adversaries are plotting some sort of plot against him. There is no place for this madman in Pakistani politics, Asif told a private television channel.
Imran Khan is on a beleaguered path to bolster his party before Pakistan heads to fresh elections. He addressed rallies, gave interviews alleging his government was ousted with foreign aid, a claim which was denied by the Pakistani government. In a recent interaction, Imran Khan said that dropping an atomic bomb would have been better than handing the helm to the robbers.
ABOUT THE AUTHOR
Subscribe to our best newsletters
Successfully subscribed to the newsletter
Thank you for subscribing to our Daily News Capsule newsletter.
Close story Less time to read? Try Quickreads
Putin very ill, coup to overthrow him underway, Ukraine claims: report
Amid intense speculation about Russian President Vladimir Putin's health, Ukraine's military intelligence chief, Major General Kyrylo Budanov, in an exclusive interview with Sky News, said Putin was critically ill. Claiming that he does not spread Ukrainian propaganda against Russia, the major general said that it was impossible to carry out a coup in such a situation. The 36-year-old also said the ongoing war would reach a breaking point in the second half of August.
Blinken offers support to family of slain Palestinian journalist
US Secretary of State Antony Blinken has spoken to the family of slain Palestinian journalist Shireen Abu Akleh after criticizing Israel's use of force at Shireen Abu Akleh's funeral, an official said Sunday. Blinken, on his flight to Berlin on Saturday for a meeting of NATO foreign ministers, offered his "sincere condolences" in a phone call with family members of Shireen Abu Akleh, an official said. of the State Department.
Crisis-hit Sri Lanka lifts curfew for Buddhist festival
Sri Lankan authorities on Sunday lifted a nationwide curfew for a major Buddhist festival, with celebrations snuffed out as the island faces a deepening economic crisis. In recent weeks, protesters across the Buddhist-majority country have demanded the resignation of President Gotabaya Rajapaksa following Sri Lanka's worst economic crisis in its history as an independent nation. Sunday marks Vesak, the most important religious event in the Sri Lankan calendar, which celebrates the birth, enlightenment and death of Buddha.
N.Korea's Covid balance sheet at 42; Shanghai to gradually open businesses: key updates
In China, 226 locally transmitted cases have been seen in the past 24 hours, including 166 in Shanghai. Several citizens have tested positive for the Omicron variant. From Monday, Shanghai will gradually begin to reopen businesses, including shopping malls and hair salons, weeks after the Chinese city was placed under strict lockdown. South Africa is experiencing a further increase in infections caused by two sub-variants of Omicron – BA.4 and BA.5.
New Lankan Prime Minister Wickremesinghe appoints panel to protect Colombo protest site
Sri Lanka's new Prime Minister who was sworn in on Thursday, Ranil Wickremesinghe, has appointed a committee to ensure the protection of the 'Gota Go Gama' protest site in the country's commercial capital, Colombo, days after an attack on demonstrators by pro-Rajapaksa. supporters led to the resignation of Mahinda Rajapaksa, then prime minister. The government will only support protesters, he noted. A few hours later, Mahinda Rajapaksa, already under pressure to resign, resigned.
Sources
2/ https://www.hindustantimes.com/world-news/if-something-happens-to-me-imran-khan-reveals-conspiracy-to-kill-him-watch-101652575517407.html
The mention sources can contact us to remove/changing this article
What Are The Main Benefits Of Comparing Car Insurance Quotes Online
LOS ANGELES, CA / ACCESSWIRE / June 24, 2020, / Compare-autoinsurance.Org has launched a new blog post that presents the main benefits of comparing multiple car insurance quotes. For more info and free online quotes, please visit https://compare-autoinsurance.Org/the-advantages-of-comparing-prices-with-car-insurance-quotes-online/ The modern society has numerous technological advantages. One important advantage is the speed at which information is sent and received. With the help of the internet, the shopping habits of many persons have drastically changed. The car insurance industry hasn't remained untouched by these changes. On the internet, drivers can compare insurance prices and find out which sellers have the best offers. View photos The advantages of comparing online car insurance quotes are the following: Online quotes can be obtained from anywhere and at any time. Unlike physical insurance agencies, websites don't have a specific schedule and they are available at any time. Drivers that have busy working schedules, can compare quotes from anywhere and at any time, even at midnight. Multiple choices. Almost all insurance providers, no matter if they are well-known brands or just local insurers, have an online presence. Online quotes will allow policyholders the chance to discover multiple insurance companies and check their prices. Drivers are no longer required to get quotes from just a few known insurance companies. Also, local and regional insurers can provide lower insurance rates for the same services. Accurate insurance estimates. Online quotes can only be accurate if the customers provide accurate and real info about their car models and driving history. Lying about past driving incidents can make the price estimates to be lower, but when dealing with an insurance company lying to them is useless. Usually, insurance companies will do research about a potential customer before granting him coverage. Online quotes can be sorted easily. Although drivers are recommended to not choose a policy just based on its price, drivers can easily sort quotes by insurance price. Using brokerage websites will allow drivers to get quotes from multiple insurers, thus making the comparison faster and easier. For additional info, money-saving tips, and free car insurance quotes, visit https://compare-autoinsurance.Org/ Compare-autoinsurance.Org is an online provider of life, home, health, and auto insurance quotes. This website is unique because it does not simply stick to one kind of insurance provider, but brings the clients the best deals from many different online insurance carriers. In this way, clients have access to offers from multiple carriers all in one place: this website. On this site, customers have access to quotes for insurance plans from various agencies, such as local or nationwide agencies, brand names insurance companies, etc. "Online quotes can easily help drivers obtain better car insurance deals. All they have to do is to complete an online form with accurate and real info, then compare prices", said Russell Rabichev, Marketing Director of Internet Marketing Company. CONTACT: Company Name: Internet Marketing CompanyPerson for contact Name: Gurgu CPhone Number: (818) 359-3898Email: [email protected]: https://compare-autoinsurance.Org/ SOURCE: Compare-autoinsurance.Org View source version on accesswire.Com:https://www.Accesswire.Com/595055/What-Are-The-Main-Benefits-Of-Comparing-Car-Insurance-Quotes-Online View photos
to request, modification Contact us at Here or [email protected]