Why Young Thug's arrest should ring alarm bells for Trump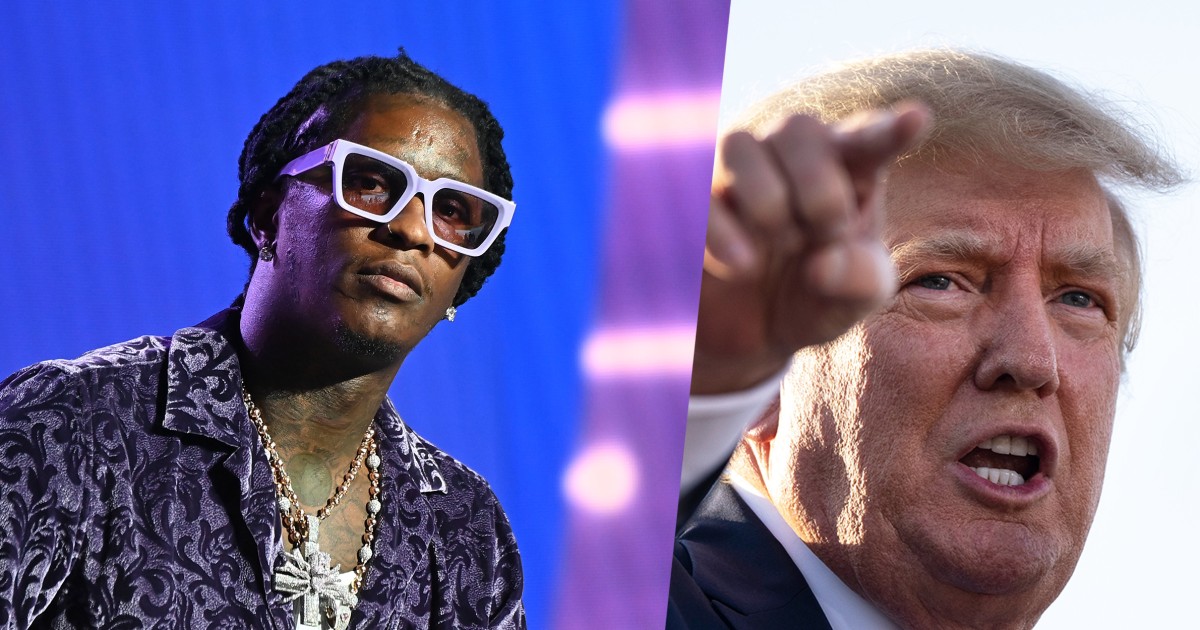 Like many people, I was surprised to learn last week that platinum-selling rapper Young Thug was at the center of a sweeping indictment accusing him and 27 other people of criminal gang activities.
Young Thug, real name Jeffrey Lamar Williams, co-founded Young Slime Life, a violent street gang founded in Atlanta in 2012, prosecutors say. The 56-count indictment includes several felony charges related to racketeering, drugs and weapons.
To bolster his case against Williams, Fulton County District Attorney Fani Willis used some of his words as evidence.
Williams pleaded not guilty. His lawyers said he was simply exercising his freedom of expression as an artist and that the state was seeking to insinuate criminal conduct from song lyric quotes and social media posts.
On the face of it, using song lyrics as corroborating evidence of criminality is a questionable practice with major implications for the First Amendment. That said, the courts have ruled that the lyrics are admissible evidence, and Willis clearly thinks they can be used to help prove that someone violated state laws on racketeer-influenced and corrupt organizations. (RICO).
But what about tweets?
Don't forget: Willis' office is also investigating former President Donald Trump for potential RICO charges stemming from his efforts to overturn his 2020 election loss to Joe Biden in Georgia. And if a song's lyrics can be used to frame a musician for a potential racketeering charge, shouldn't the ex-president face similar scrutiny for his conspiratorial and threatening tweets?
Georgia played a pivotal role in Trump's failed attempt to overturn the election results and stay in power. In January 2021, an audio leak revealed that he had asked Georgian Secretary of State Brad Raffensperger to "find" more votes for him to help him win.
But alongside that, Trump's tweets about Georgia help tell the story of an obsessive loser who has stopped at nothing to stir up a wave of right-wing anger over non-existent voter fraud, in the hopes that outrage would keep him in power as long as he wished.
Let's review:
Days after the 2020 election, when Biden had already been declared the predicted winner, Trump retweeted a message from Georgia Governor Brian Kemp about counting only legal ballots. Trump claimed that meant he was victorious. That's good news, it means I won! he tweeted. (It's not.) In December 2020, he tweeted that Kemp should step down, saying he was a filibuster who refuses to admit we won Georgia, BIG! (He didn't.) Trump also retweeted a post that month from right-wing conspiracy theorist and attorney Lin Wood saying that Raffensperger and Kemp will soon go to jail for baseless allegations they helped to trick Trump into getting re-elected. Trump posted a tweet in January 2021, falsely alleging there was an irregularity with voting machines in Republican strongholds during the Senate special election in Georgia. The tweet claimed that reports were coming out of Georgia's 12th congressional district that Dominion machines were not working in some Republican strongholds for more than an hour. Ballots are left in locked boxes, hope they count them. These claims were immediately pushed back by Republican election officials in Georgia. In another tweet that month, Trump launched a conspiracy theory about a pile of fraudulent votes being used to steal races from Republicans as vote tallies showed the GOP was on course to lose at least one Senate seat. in special elections. Looks like they're setting up a big campaign dump against Republican candidates. Waiting to see how many votes they need? he tweeted. It was a lie, of course, but a lie that Trump repeated over and over about the states he lost.
And the tweets only tell part of the story of Trump and his teams in Georgia. Reuters has extensively reported on the Trump campaign's efforts to scapegoat two black election workers, falsely alleging they fraudulently rejected votes for Trump. And all of these acts followed an anarchic plot to interfere in Georgia's electoral processes.
No matter how famous you are, how famous you are, if you come to Fulton County, Georgia, and commit crimes…you're going to become a target and a focus of this district attorney's office, and we We're going to prosecute you to the fullest extent of the law," Willis said at a news conference last week about Williams' arrest.
For country's sake, I just hope his definition of gangs goes beyond bands like YSL. The MAGA gang turned out to be the most dangerous of them all.
Related:
Sources
2/ https://www.msnbc.com/the-reidout/reidout-blog/young-thug-donald-trump-rcna28715
The mention sources can contact us to remove/changing this article
What Are The Main Benefits Of Comparing Car Insurance Quotes Online
LOS ANGELES, CA / ACCESSWIRE / June 24, 2020, / Compare-autoinsurance.Org has launched a new blog post that presents the main benefits of comparing multiple car insurance quotes. For more info and free online quotes, please visit https://compare-autoinsurance.Org/the-advantages-of-comparing-prices-with-car-insurance-quotes-online/ The modern society has numerous technological advantages. One important advantage is the speed at which information is sent and received. With the help of the internet, the shopping habits of many persons have drastically changed. The car insurance industry hasn't remained untouched by these changes. On the internet, drivers can compare insurance prices and find out which sellers have the best offers. View photos The advantages of comparing online car insurance quotes are the following: Online quotes can be obtained from anywhere and at any time. Unlike physical insurance agencies, websites don't have a specific schedule and they are available at any time. Drivers that have busy working schedules, can compare quotes from anywhere and at any time, even at midnight. Multiple choices. Almost all insurance providers, no matter if they are well-known brands or just local insurers, have an online presence. Online quotes will allow policyholders the chance to discover multiple insurance companies and check their prices. Drivers are no longer required to get quotes from just a few known insurance companies. Also, local and regional insurers can provide lower insurance rates for the same services. Accurate insurance estimates. Online quotes can only be accurate if the customers provide accurate and real info about their car models and driving history. Lying about past driving incidents can make the price estimates to be lower, but when dealing with an insurance company lying to them is useless. Usually, insurance companies will do research about a potential customer before granting him coverage. Online quotes can be sorted easily. Although drivers are recommended to not choose a policy just based on its price, drivers can easily sort quotes by insurance price. Using brokerage websites will allow drivers to get quotes from multiple insurers, thus making the comparison faster and easier. For additional info, money-saving tips, and free car insurance quotes, visit https://compare-autoinsurance.Org/ Compare-autoinsurance.Org is an online provider of life, home, health, and auto insurance quotes. This website is unique because it does not simply stick to one kind of insurance provider, but brings the clients the best deals from many different online insurance carriers. In this way, clients have access to offers from multiple carriers all in one place: this website. On this site, customers have access to quotes for insurance plans from various agencies, such as local or nationwide agencies, brand names insurance companies, etc. "Online quotes can easily help drivers obtain better car insurance deals. All they have to do is to complete an online form with accurate and real info, then compare prices", said Russell Rabichev, Marketing Director of Internet Marketing Company. CONTACT: Company Name: Internet Marketing CompanyPerson for contact Name: Gurgu CPhone Number: (818) 359-3898Email: [email protected]: https://compare-autoinsurance.Org/ SOURCE: Compare-autoinsurance.Org View source version on accesswire.Com:https://www.Accesswire.Com/595055/What-Are-The-Main-Benefits-Of-Comparing-Car-Insurance-Quotes-Online View photos
to request, modification Contact us at Here or [email protected]