Xi: stepping up the battle against illegal drugs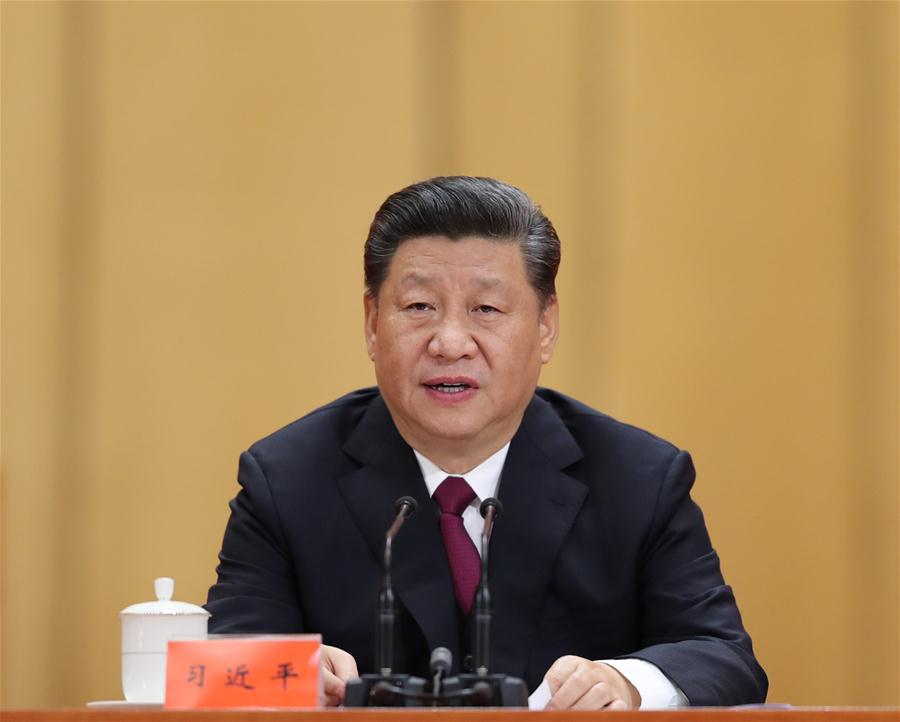 Related crimes seriously threaten people's lives and health, says president
President Xi Jinping called for efforts to continue the relentless fight against drugs and make further progress in drug control.
Xi, who is also secretary general of the Central Committee of the Communist Party of China and chairman of the Central Military Commission, said that drug problems at home and abroad, and related crimes, online and offline, threaten. seriously the lives of people and health and social stability must therefore continue unabated, decisively and thoroughly.
Noting the nation's steadfast stance against drugs, he directed Party committees and governments at all levels to adhere to the concept of people-centered development, improve the system of governance over drug control and deepen international anti-drug cooperation to further contribute to the maintenance of social harmony. and the stability and protection of people and their livelihoods.
Xi briefed a conference on Tuesday to congratulate organizations and individuals involved in the country's drug work.
The conference, which was held in Beijing by video and teleconference, recognized the significant contributions of 100 organizations and 100 people to drug control in China since 2015. It was held before the International Day against Drug Abuse and illicit drug trafficking, which falls annually on June 26.
According to the office of the National Narcotics Control Commission, the number of newly discovered drug users in China in 2019 fell 11.9% year-on-year, marking a downward trend for the fifth consecutive year. The country has made significant progress in drug control, as drug-related criminal activity has been effectively curbed in recent years.
In 2019, the number of new addicts under the age of 35 dropped by 64% compared to 2015, the office said.
In the past five years, China has discovered 638,000 drug-related crimes, dismantled 32,000 drug-producing and trafficking organizations, arrested 780,000 suspects and seized more than 400 tonnes of various drugs, he said. added.
The committee has carried out special campaigns in border areas to control drug trafficking. Anti-drug officials from 14 provinces jointly led a special campaign in which 13.5 tonnes of drugs and 3,221 tonnes of materials for the manufacture of drugs were seized, the statement said.
The committee also stepped up its crackdown on online drug trafficking. Authorities have discovered a total of 29,000 drug-related cases online, arrested over 39,000 suspects, seized 12 tonnes of drugs and shut down 960 drug-related websites.
China has actively improved the mechanism of international cooperation in drug control, widened the fields and channels of cooperation. The country has conducted pragmatic bilateral drug cooperation with key countries involved in the Belt and Road initiative, including Myanmar, Laos, Thailand, Vietnam and Malaysia.
A series of international cooperation measures against narcotic drugs have been introduced with neighboring countries, including poppy replacement programs in Myanmar and Laos.
With the help of satellites and remote sensing drones, China has destroyed more than 10.2 million illicit poppy plants and more than 3.4 million cannabis plants in the past five years.
It has also strengthened information sharing and law enforcement cooperation with countries such as the United States, Russia, Canada and New Zealand.
What Are The Main Benefits Of Comparing Car Insurance Quotes Online
LOS ANGELES, CA / ACCESSWIRE / June 24, 2020, / Compare-autoinsurance.Org has launched a new blog post that presents the main benefits of comparing multiple car insurance quotes. For more info and free online quotes, please visit https://compare-autoinsurance.Org/the-advantages-of-comparing-prices-with-car-insurance-quotes-online/ The modern society has numerous technological advantages. One important advantage is the speed at which information is sent and received. With the help of the internet, the shopping habits of many persons have drastically changed. The car insurance industry hasn't remained untouched by these changes. On the internet, drivers can compare insurance prices and find out which sellers have the best offers. View photos The advantages of comparing online car insurance quotes are the following: Online quotes can be obtained from anywhere and at any time. Unlike physical insurance agencies, websites don't have a specific schedule and they are available at any time. Drivers that have busy working schedules, can compare quotes from anywhere and at any time, even at midnight. Multiple choices. Almost all insurance providers, no matter if they are well-known brands or just local insurers, have an online presence. Online quotes will allow policyholders the chance to discover multiple insurance companies and check their prices. Drivers are no longer required to get quotes from just a few known insurance companies. Also, local and regional insurers can provide lower insurance rates for the same services. Accurate insurance estimates. Online quotes can only be accurate if the customers provide accurate and real info about their car models and driving history. Lying about past driving incidents can make the price estimates to be lower, but when dealing with an insurance company lying to them is useless. Usually, insurance companies will do research about a potential customer before granting him coverage. Online quotes can be sorted easily. Although drivers are recommended to not choose a policy just based on its price, drivers can easily sort quotes by insurance price. Using brokerage websites will allow drivers to get quotes from multiple insurers, thus making the comparison faster and easier. For additional info, money-saving tips, and free car insurance quotes, visit https://compare-autoinsurance.Org/ Compare-autoinsurance.Org is an online provider of life, home, health, and auto insurance quotes. This website is unique because it does not simply stick to one kind of insurance provider, but brings the clients the best deals from many different online insurance carriers. In this way, clients have access to offers from multiple carriers all in one place: this website. On this site, customers have access to quotes for insurance plans from various agencies, such as local or nationwide agencies, brand names insurance companies, etc. "Online quotes can easily help drivers obtain better car insurance deals. All they have to do is to complete an online form with accurate and real info, then compare prices", said Russell Rabichev, Marketing Director of Internet Marketing Company. CONTACT: Company Name: Internet Marketing CompanyPerson for contact Name: Gurgu CPhone Number: (818) 359-3898Email: [email protected]: https://compare-autoinsurance.Org/ SOURCE: Compare-autoinsurance.Org View source version on accesswire.Com:https://www.Accesswire.Com/595055/What-Are-The-Main-Benefits-Of-Comparing-Car-Insurance-Quotes-Online View photos
picture credit
to request, modification Contact us at Here or [email protected]