Will DG ISPR decide if a plot has been hatched or not, asks Imran Khan – Pakistan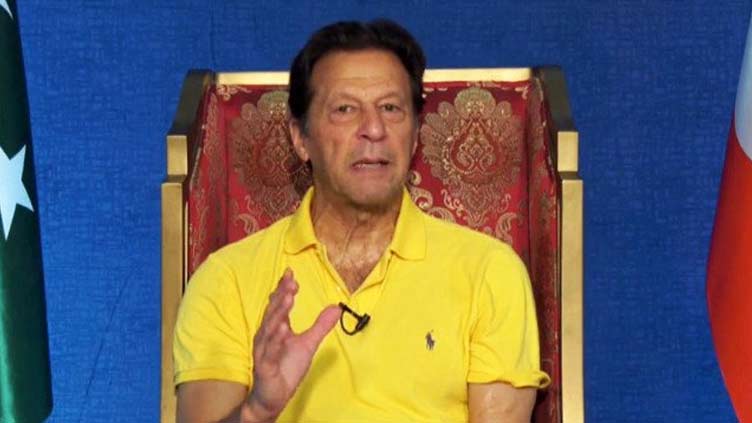 Posted Jun 15, 2022 10:29 PM
Imran Khan says the Supreme Court should appoint a judicial commission and conduct an investigation
ISLAMABAD (Dunya News) – Former Prime Minister and President of Pakistan Tehreek-e-Insaf (PTI), Imran Khan, asked on Wednesday whether the Director General (DG) Inter-Services Public Relations (ISPR), Major General Babar Iftikhar, would decide whether a plot had been hatched or not to overthrow his government.
Responding to questions from the general public on social media on Wednesday, he said it could be his [DG ISPR] point of view but not the decision. "It is said that if there has been interference, who will decide whether there has been interference or not," he asked.
Imran Khan said the Supreme Court should set up a judicial commission and carry out an investigation.
"We asked to hold a public hearing to find out if there had been any interference and the plot has awakened our nation," he said, adding that the overthrow of the PTI government was celebrated in India and Israel. . People should come out and fight for their rights as a living nation, he said.
The PTI President said that Shehbaz Sharif supports our position that there was interference, adding that no one can deny the facts about the encrypted messages. "We have a file and our people visited the US consulate, adding that our allies suddenly started leaving together and a motion of no confidence was submitted on March 8."
The former prime minister said: 'This threat was meant to remove me and our ambassador sent a figure which came directly to me, while Donald Lu threatened that the result would not be good if Imran Khan was not removed. .
Taking a dig at the Election Commission of Pakistan (ECP), Imran Khan said the commission wants to re-elect Hamza Shehbaz as chief minister of Punjab.
He further alleged that the commission was not filling the vacant reserved seats and was waiting for the Punjab by-elections to be able to carry out a "rigging".
"We know very well that ECP officials are meeting and dealing with Hamza and Maryam for this purpose," and added that he viewed the development as a humiliation for the parliamentary governance system.
Pakistan on the way to a situation similar to that of Sri Lanka
On the other hand, addressing a ceremony in Rawalpindi, the PTI President said that if the country continues with the current economic policies, the country is on the way to a situation similar to that of Sri Lanka.
The PTI chairman said today that exports fell by 10% as 700 billion rupees came off the stock exchange and Moody's also downgraded Pakistan's rating, adding that if the country continues like this, the country would be on the way to a situation similar to that of Sri Lanka. . Early and transparent elections are the only way to save the country.
Rebuking the current government, he said the leaders want the help of the ECP in the upcoming by-elections in 20 constituencies in Punjab, adding that there can be no clean and fair elections through this electoral commission.
He said "you should be fully prepared when I call for the long march", adding that during the PTI long march, people were bombarded like criminals, terrorists, policemen and we saw scenes as brutal as occupied Kashmir in Islamabad.
"Allah does not allow to be neutral. You have to decide whether to stand on the side of the righteous or on the other side," Imran Khan said.
Earlier, the former prime minister said Pakistan's most populous province is in complete political chaos.
In his Twitter statement, as he lashed out at Prime Minister Shehbaz Sharif and Punjab Chief Minister Hamza Shahbaz, Imran Khan wrote that "since Hamza Shahabaz came to power illegally following a Fake election in Punjab, Pakistan's most populous province is in political turmoil. »
The former prime minister said people are suffering, farmers' crops are at risk, but everywhere the mafia are challenging government decisions and leaders are unable to control them.
Turning his lens to the Punjab Police, he said the police and local government were facilitating the mafia, adding that they had tortured the peaceful PTI workers, leaders and their families during the long march. "Now they [PM Shehbaz, CM Hamza] think they are not accountable to the people, but we cannot allow this chaos and this criminal regime to prevail," Imran Khan added.
Sources
2/ https://dunyanews.tv/en/Pakistan/656175-Will-DG-ISPR-decide-if-conspiracy-was-hatched-or-not-asks-Imran-Khan
The mention sources can contact us to remove/changing this article
What Are The Main Benefits Of Comparing Car Insurance Quotes Online
LOS ANGELES, CA / ACCESSWIRE / June 24, 2020, / Compare-autoinsurance.Org has launched a new blog post that presents the main benefits of comparing multiple car insurance quotes. For more info and free online quotes, please visit https://compare-autoinsurance.Org/the-advantages-of-comparing-prices-with-car-insurance-quotes-online/ The modern society has numerous technological advantages. One important advantage is the speed at which information is sent and received. With the help of the internet, the shopping habits of many persons have drastically changed. The car insurance industry hasn't remained untouched by these changes. On the internet, drivers can compare insurance prices and find out which sellers have the best offers. View photos The advantages of comparing online car insurance quotes are the following: Online quotes can be obtained from anywhere and at any time. Unlike physical insurance agencies, websites don't have a specific schedule and they are available at any time. Drivers that have busy working schedules, can compare quotes from anywhere and at any time, even at midnight. Multiple choices. Almost all insurance providers, no matter if they are well-known brands or just local insurers, have an online presence. Online quotes will allow policyholders the chance to discover multiple insurance companies and check their prices. Drivers are no longer required to get quotes from just a few known insurance companies. Also, local and regional insurers can provide lower insurance rates for the same services. Accurate insurance estimates. Online quotes can only be accurate if the customers provide accurate and real info about their car models and driving history. Lying about past driving incidents can make the price estimates to be lower, but when dealing with an insurance company lying to them is useless. Usually, insurance companies will do research about a potential customer before granting him coverage. Online quotes can be sorted easily. Although drivers are recommended to not choose a policy just based on its price, drivers can easily sort quotes by insurance price. Using brokerage websites will allow drivers to get quotes from multiple insurers, thus making the comparison faster and easier. For additional info, money-saving tips, and free car insurance quotes, visit https://compare-autoinsurance.Org/ Compare-autoinsurance.Org is an online provider of life, home, health, and auto insurance quotes. This website is unique because it does not simply stick to one kind of insurance provider, but brings the clients the best deals from many different online insurance carriers. In this way, clients have access to offers from multiple carriers all in one place: this website. On this site, customers have access to quotes for insurance plans from various agencies, such as local or nationwide agencies, brand names insurance companies, etc. "Online quotes can easily help drivers obtain better car insurance deals. All they have to do is to complete an online form with accurate and real info, then compare prices", said Russell Rabichev, Marketing Director of Internet Marketing Company. CONTACT: Company Name: Internet Marketing CompanyPerson for contact Name: Gurgu CPhone Number: (818) 359-3898Email: [email protected]: https://compare-autoinsurance.Org/ SOURCE: Compare-autoinsurance.Org View source version on accesswire.Com:https://www.Accesswire.Com/595055/What-Are-The-Main-Benefits-Of-Comparing-Car-Insurance-Quotes-Online View photos
to request, modification Contact us at Here or [email protected]