China swears to support Russia, Xi Jinping joins the war in Ukraine?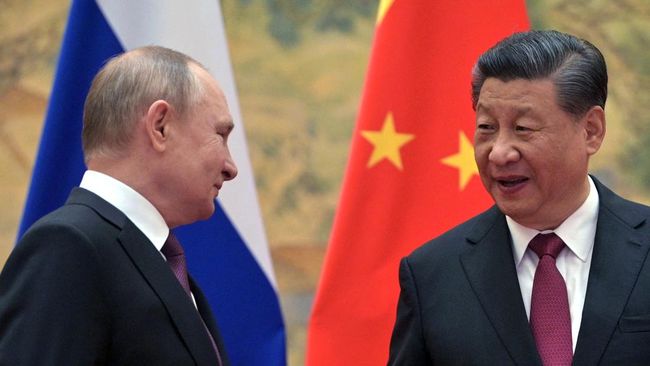 Jakarta, CNBC Indonesia– China has pledged to support Russia. This can be seen at least in the telephone communication between President Xi Jinping and President Vladimir Putin on Wednesday (6/15/2020).
Although still not engaged in an open war with Ukraine, China has convinced Russia to increase strategic cooperation between the two countries. Especially amid Western sanctions against Moscow.
"China is ready to continue to support (Russia) on issues of fundamental interests and major concerns such as sovereignty and security," CCTV reported on what Xi Jinping said in his statement. with Putin.AFP, Thursday.
"Beijing is ready to step up strategic coordination between the two countries."
This is Xi's second call since Putin launched the Feb. 24 attack on Ukraine. China has refused to condemn the attack and is often accused by the West of providing diplomatic cover for Russia by criticizing US-EU sanctions and arms sales to Kyiv.
"China is ready to strengthen communication and coordination with Russia in international organizations and push the international order and global governance towards more just and reasonable development," he added.
This Chinese commitment is fully appreciated by the Kremlin. The Russian government said the two countries would cooperate in the economic field in the face of Western sanctions which it called "illegal".
"It was agreed to expand cooperation in the areas of energy, finance, industry, transport and others, taking into account the increasingly complicated global economic situation due to the West's illegitimate sanctions policy," Russia said.
Beijing is Moscow's biggest trading partner. Trade volume last year was $147 billion, according to data from China Customs.
American comments?
Meanwhile, China's attitude has caused concern in the United States. UncleSam mocked China's line-up and called it "the wrong side of history".
"China claims to be neutral, but its behavior clearly shows that it continues to invest in close relations with Russia," the US State Department said.
"We are closely monitoring China's activities, including how, nearly four months after Russia's war in Ukraine, the Asian giant is still echoing Russian propaganda around the world and suggesting that Moscow's atrocities in Ukraine are exhibited."
"Countries that side with Vladimir Putin will surely find themselves on the wrong side of history… Now is not the time to quibble, hide or wait to see what happens next. What happened is clear," the US State Department concluded.
The war between Russia and Sudan has been going on since February 24. From the start of the war until today, the United Nations has recorded 4,452 dead and 5,531 injured.
[Gambas:Video CNBC]
next article
Xi Jinping and Putin officially meet "4 Eyes", here is the grid
(boss / boss)
Sources
2/ https://www.cnbcindonesia.com/news/20220616105700-4-347565/china-bersumpah-dukung-rusia-xi-jinping-ikut-perang-ukraina
The mention sources can contact us to remove/changing this article
What Are The Main Benefits Of Comparing Car Insurance Quotes Online
LOS ANGELES, CA / ACCESSWIRE / June 24, 2020, / Compare-autoinsurance.Org has launched a new blog post that presents the main benefits of comparing multiple car insurance quotes. For more info and free online quotes, please visit https://compare-autoinsurance.Org/the-advantages-of-comparing-prices-with-car-insurance-quotes-online/ The modern society has numerous technological advantages. One important advantage is the speed at which information is sent and received. With the help of the internet, the shopping habits of many persons have drastically changed. The car insurance industry hasn't remained untouched by these changes. On the internet, drivers can compare insurance prices and find out which sellers have the best offers. View photos The advantages of comparing online car insurance quotes are the following: Online quotes can be obtained from anywhere and at any time. Unlike physical insurance agencies, websites don't have a specific schedule and they are available at any time. Drivers that have busy working schedules, can compare quotes from anywhere and at any time, even at midnight. Multiple choices. Almost all insurance providers, no matter if they are well-known brands or just local insurers, have an online presence. Online quotes will allow policyholders the chance to discover multiple insurance companies and check their prices. Drivers are no longer required to get quotes from just a few known insurance companies. Also, local and regional insurers can provide lower insurance rates for the same services. Accurate insurance estimates. Online quotes can only be accurate if the customers provide accurate and real info about their car models and driving history. Lying about past driving incidents can make the price estimates to be lower, but when dealing with an insurance company lying to them is useless. Usually, insurance companies will do research about a potential customer before granting him coverage. Online quotes can be sorted easily. Although drivers are recommended to not choose a policy just based on its price, drivers can easily sort quotes by insurance price. Using brokerage websites will allow drivers to get quotes from multiple insurers, thus making the comparison faster and easier. For additional info, money-saving tips, and free car insurance quotes, visit https://compare-autoinsurance.Org/ Compare-autoinsurance.Org is an online provider of life, home, health, and auto insurance quotes. This website is unique because it does not simply stick to one kind of insurance provider, but brings the clients the best deals from many different online insurance carriers. In this way, clients have access to offers from multiple carriers all in one place: this website. On this site, customers have access to quotes for insurance plans from various agencies, such as local or nationwide agencies, brand names insurance companies, etc. "Online quotes can easily help drivers obtain better car insurance deals. All they have to do is to complete an online form with accurate and real info, then compare prices", said Russell Rabichev, Marketing Director of Internet Marketing Company. CONTACT: Company Name: Internet Marketing CompanyPerson for contact Name: Gurgu CPhone Number: (818) 359-3898Email: [email protected]: https://compare-autoinsurance.Org/ SOURCE: Compare-autoinsurance.Org View source version on accesswire.Com:https://www.Accesswire.Com/595055/What-Are-The-Main-Benefits-Of-Comparing-Car-Insurance-Quotes-Online View photos
to request, modification Contact us at Here or [email protected]