US mulls Biden-Xi call next month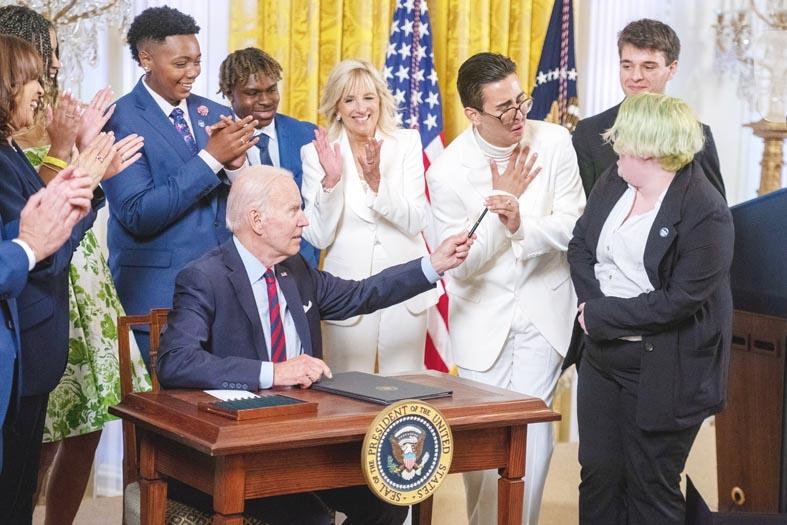 INTENSIVE DIPLOMACY:


A world dominated by Beijing would be darker and harsher for American families, said US National Security Advisor Jake Sullivan.

US officials are working to arrange a possible phone call this summer between US President Joe Biden and Chinese President Xi Jinping (2), said two people in Washington with knowledge of the plans.

People didn't have more details about what the US would want to be at the center of the call, but senior Biden administration officials stressed the importance of putting safeguards on relations with Beijing. to prevent disagreements from escalating into crises.

Taiwan, Ukraine and human rights are among the many pain points in US-China relations, and the two countries are vying for greater influence in the Indo-Pacific region.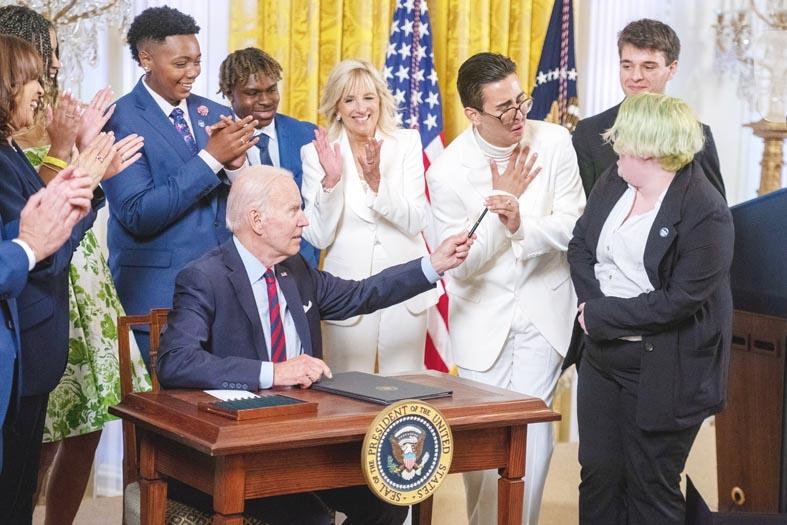 Photo: EPA-EFE
We want stability in relationships that require connection, U.S. Ambassador to China Nicholas Burns said Thursday at an event hosted by the Brookings Institution.
Asked about the state of relations between the two countries, he replied: Of course, our ultimate channel is the channel between our two presidents. Thus conducted an intensive diplomacy.
A person familiar with the planning said a potential call could take place as early as next month, but any in-person meeting of the two leaders would wait until after the National Congress of the Communist Party of China later this year.
Xi, who is seeking a third term as Chinese leader, has also halted international travel since the outbreak of COVID-19 more than two years ago.
Asked about a possible meeting, the spokesperson for the Chinese Embassy in the United States, Liu Pengyu (), said in an e-mail that China and the United States have smooth communication channels, but do not gave no details.
A spokeswoman for the White House National Security Council said Thursday that the Biden administration continues to maintain open lines of communication to manage the competition with China, but has no future calls or meetings to announce for now.
A call would follow a lengthy meeting between US national security adviser Jake Sullivan and director of China's Central Foreign Affairs Commission Yang Jiechi () in Luxembourg this week.
The United States said the meeting included frank, substantive and productive discussions on a number of regional and global security issues, as well as key issues in US-China relations.
Speaking at an event in Washington on Thursday, Sullivan explained what US officials see as the cost of China's dominance of the world.
When you play this world, it's a world that's darker and harsher for American families, and it's one that we need to stand up against and in favor of a worldview that actually offers people a better life. and that's the heart of what we try to do every day in a turbulent and crisis-laden international landscape," Sullivan said.
China has accused Washington of seeking to encircle it with a NATO-like system of alliances and trying to recreate a new Cold War.
Recent weeks have seen a wave of U.S. outreach in Asia, including from Biden, who visited South Korea and Japan last month, as well as U.S. Secretary of Defense Lloyd Austin and senior US State Department officials.
Biden and Xi last spoke in a nearly two-hour video call on March 18, their first after Russia's invasion of Ukraine.
The then US president warned Xi of the consequences if Beijing backed Russian President Vladimir Putin's war.
Comments will be moderated. Keep comments relevant to the article. Remarks containing abusive and obscene language, personal attacks of any kind or promotion will be removed and the user banned. The final decision will be at the discretion of the Taipei Times.
Sources
2/ https://www.taipeitimes.com/News/world/archives/2022/06/18/2003780097
The mention sources can contact us to remove/changing this article
What Are The Main Benefits Of Comparing Car Insurance Quotes Online
LOS ANGELES, CA / ACCESSWIRE / June 24, 2020, / Compare-autoinsurance.Org has launched a new blog post that presents the main benefits of comparing multiple car insurance quotes. For more info and free online quotes, please visit https://compare-autoinsurance.Org/the-advantages-of-comparing-prices-with-car-insurance-quotes-online/ The modern society has numerous technological advantages. One important advantage is the speed at which information is sent and received. With the help of the internet, the shopping habits of many persons have drastically changed. The car insurance industry hasn't remained untouched by these changes. On the internet, drivers can compare insurance prices and find out which sellers have the best offers. View photos The advantages of comparing online car insurance quotes are the following: Online quotes can be obtained from anywhere and at any time. Unlike physical insurance agencies, websites don't have a specific schedule and they are available at any time. Drivers that have busy working schedules, can compare quotes from anywhere and at any time, even at midnight. Multiple choices. Almost all insurance providers, no matter if they are well-known brands or just local insurers, have an online presence. Online quotes will allow policyholders the chance to discover multiple insurance companies and check their prices. Drivers are no longer required to get quotes from just a few known insurance companies. Also, local and regional insurers can provide lower insurance rates for the same services. Accurate insurance estimates. Online quotes can only be accurate if the customers provide accurate and real info about their car models and driving history. Lying about past driving incidents can make the price estimates to be lower, but when dealing with an insurance company lying to them is useless. Usually, insurance companies will do research about a potential customer before granting him coverage. Online quotes can be sorted easily. Although drivers are recommended to not choose a policy just based on its price, drivers can easily sort quotes by insurance price. Using brokerage websites will allow drivers to get quotes from multiple insurers, thus making the comparison faster and easier. For additional info, money-saving tips, and free car insurance quotes, visit https://compare-autoinsurance.Org/ Compare-autoinsurance.Org is an online provider of life, home, health, and auto insurance quotes. This website is unique because it does not simply stick to one kind of insurance provider, but brings the clients the best deals from many different online insurance carriers. In this way, clients have access to offers from multiple carriers all in one place: this website. On this site, customers have access to quotes for insurance plans from various agencies, such as local or nationwide agencies, brand names insurance companies, etc. "Online quotes can easily help drivers obtain better car insurance deals. All they have to do is to complete an online form with accurate and real info, then compare prices", said Russell Rabichev, Marketing Director of Internet Marketing Company. CONTACT: Company Name: Internet Marketing CompanyPerson for contact Name: Gurgu CPhone Number: (818) 359-3898Email: [email protected]: https://compare-autoinsurance.Org/ SOURCE: Compare-autoinsurance.Org View source version on accesswire.Com:https://www.Accesswire.Com/595055/What-Are-The-Main-Benefits-Of-Comparing-Car-Insurance-Quotes-Online View photos
to request, modification Contact us at Here or [email protected]