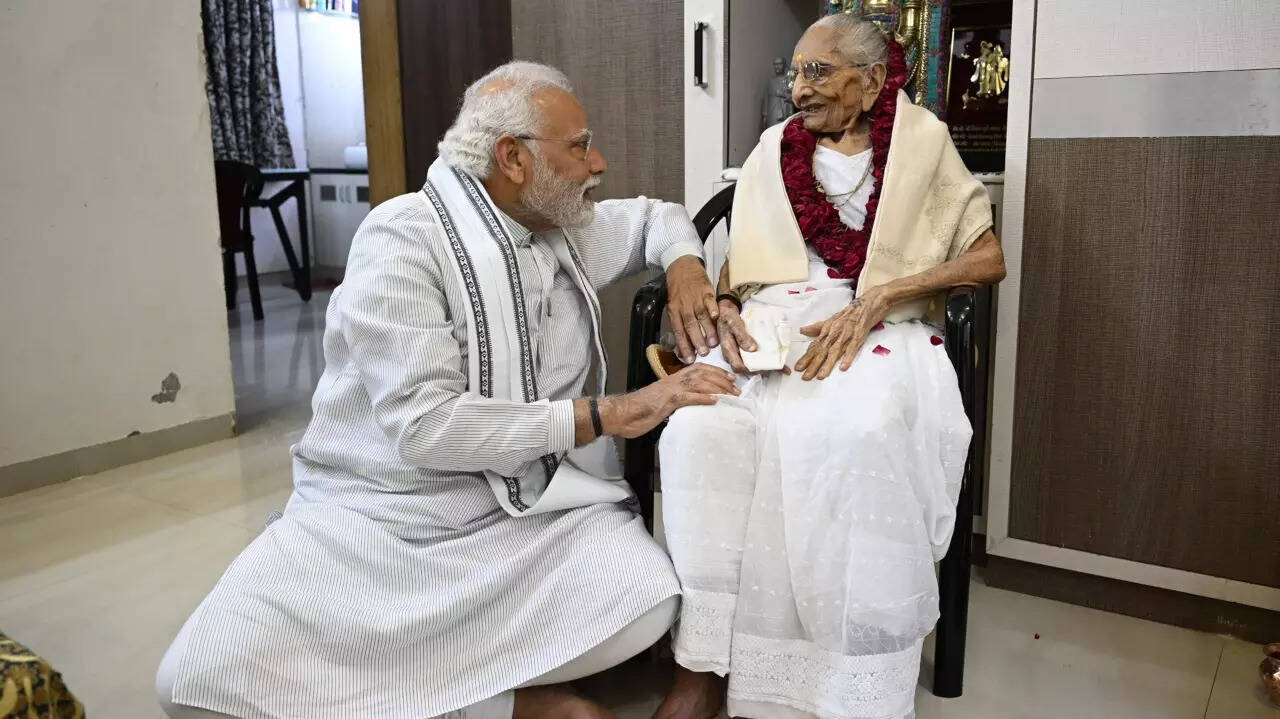 New Delhi: Prime Minister Narendra Modi wrote a note for his mother Hirabaen, expressing joy and gratitude as she entered the 100th year of her life on Saturday.
Maathis is not a single word but it captures a range of emotions. Today, June 18, is the day my mother Heeraba enters her 100th year. On this special day, I wrote some thoughts expressing joy and gratitude, the Prime Minister tweeted with the note.
In the note, PM Modi said: Today I feel extremely happy and lucky to share that my mother Smt Heeraba is entering her hundredth year. This will be the year of his centenary of birth. If my father had been alive, he too would have celebrated his 100th birthday last week. 2022 is a special year because my mother's centenary year begins, and my father would have finished his.
Hirabaen, who was born on June 18, 1923, lives with PM Modis' younger brother, Pankaj Modi, in Raysan village, on the outskirts of Gandhinagar city, Gujarat.
Even though she entered the 100e year of her life, she is still the same, the Prime Minister said, adding that age may have taken its toll physically, but she is still just as alert mentally.
I have no doubt that everything good in my life, and everything good in my character, can be attributed to my parents. Today, as I sit in Delhi, I am filled with memories of the past, the Prime Minister said.
He added: A mother's penance creates a good human being. His affection fills a child with human values ​​and empathy. A mother is not an individual or a personality, motherhood is a quality. It is often said that the Gods are made according to the nature of their devotees. Likewise, we experience our mothers and their motherhood according to our own nature and state of mind.
Recalling the untimely death of his grandmother due to the Spanish flu pandemic, Prime Minister Modi said Heeraba spent his entire childhood without his mother. She doesn't even remember my grandmother's face or the comfort of her knees. His childhood was marked by poverty and deprivation, he said.
Mother didn't have much of a childhood because of these struggles that she was forced to grow beyond her years. She was the eldest in her family and became the eldest daughter-in-law after marriage. In her childhood, she took care of the whole family and managed all the chores. After the wedding too, she took over all these responsibilities. Despite heavy responsibilities and daily struggles, Mother held the whole family together with calm and courage, he shared in his note.
Speaking about his family's struggles as a child, the Prime Minister said: Usually scarcity leads to stress. However, my parents never let the anxiety of daily struggles overwhelm the family atmosphere. Both of my parents carefully divided their responsibilities and fulfilled them.
The prime minister said he used to wash dirty clothes in a pond as a child. I really liked swimming in the local pond. So I used to take all the dirty clothes from the house and wash them in the pond. The washing of clothes and my play, the two were done together, he said.
Sharing various anecdotes from his life, the Prime Minister said: Mother has always inspired me to have a strong resolve and focus on Garib Kalian.
In my mother's life story, I see the penance, sacrifice and contribution of the matrushakti of India. Whenever I look at Mother and millions of women like her, I find there is nothing unachievable for Indian women. Far above every story of deprivation is a mother's glorious story, far above every struggle is a mother's firm resolve that I could never muster the courage to write at length publicly about your life so far, I bow before your feet, the Prime Minister concluded.
Sources
2/ https://www.timesnownews.com/india/pm-narendra-modi-pens-note-for-his-mother-heeraba-as-she-enters-100th-year-of-her-life-i-bow-at-your-feet-article-92292821
The mention sources can contact us to remove/changing this article
What Are The Main Benefits Of Comparing Car Insurance Quotes Online
LOS ANGELES, CA / ACCESSWIRE / June 24, 2020, / Compare-autoinsurance.Org has launched a new blog post that presents the main benefits of comparing multiple car insurance quotes. For more info and free online quotes, please visit https://compare-autoinsurance.Org/the-advantages-of-comparing-prices-with-car-insurance-quotes-online/ The modern society has numerous technological advantages. One important advantage is the speed at which information is sent and received. With the help of the internet, the shopping habits of many persons have drastically changed. The car insurance industry hasn't remained untouched by these changes. On the internet, drivers can compare insurance prices and find out which sellers have the best offers. View photos The advantages of comparing online car insurance quotes are the following: Online quotes can be obtained from anywhere and at any time. Unlike physical insurance agencies, websites don't have a specific schedule and they are available at any time. Drivers that have busy working schedules, can compare quotes from anywhere and at any time, even at midnight. Multiple choices. Almost all insurance providers, no matter if they are well-known brands or just local insurers, have an online presence. Online quotes will allow policyholders the chance to discover multiple insurance companies and check their prices. Drivers are no longer required to get quotes from just a few known insurance companies. Also, local and regional insurers can provide lower insurance rates for the same services. Accurate insurance estimates. Online quotes can only be accurate if the customers provide accurate and real info about their car models and driving history. Lying about past driving incidents can make the price estimates to be lower, but when dealing with an insurance company lying to them is useless. Usually, insurance companies will do research about a potential customer before granting him coverage. Online quotes can be sorted easily. Although drivers are recommended to not choose a policy just based on its price, drivers can easily sort quotes by insurance price. Using brokerage websites will allow drivers to get quotes from multiple insurers, thus making the comparison faster and easier. For additional info, money-saving tips, and free car insurance quotes, visit https://compare-autoinsurance.Org/ Compare-autoinsurance.Org is an online provider of life, home, health, and auto insurance quotes. This website is unique because it does not simply stick to one kind of insurance provider, but brings the clients the best deals from many different online insurance carriers. In this way, clients have access to offers from multiple carriers all in one place: this website. On this site, customers have access to quotes for insurance plans from various agencies, such as local or nationwide agencies, brand names insurance companies, etc. "Online quotes can easily help drivers obtain better car insurance deals. All they have to do is to complete an online form with accurate and real info, then compare prices", said Russell Rabichev, Marketing Director of Internet Marketing Company. CONTACT: Company Name: Internet Marketing CompanyPerson for contact Name: Gurgu CPhone Number: (818) 359-3898Email: [email protected]: https://compare-autoinsurance.Org/ SOURCE: Compare-autoinsurance.Org View source version on accesswire.Com:https://www.Accesswire.Com/595055/What-Are-The-Main-Benefits-Of-Comparing-Car-Insurance-Quotes-Online View photos
to request, modification Contact us at Here or [email protected]