Imran opposes the super tax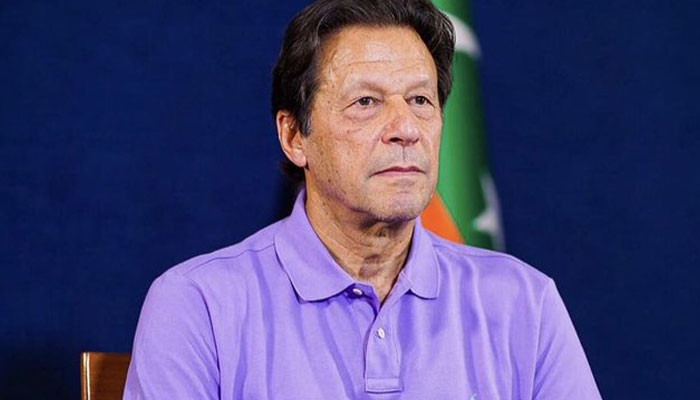 Former Prime Minister Imran Khan addressing a press conference via video link on June 25, 2022. Photo: Twitter/PTIOfficial
ISLAMABAD: Pakistan's President Tehreek-e-Insaf (PTI) and ex-Prime Minister Imran Khan on Saturday expressed concern over the government-imposed super tax and said it would increase pressure on industries and would increase unemployment.
Imran announced a protest meeting on July 2 at the Parade Ground in Islamabad against the government and its policies. He told a news conference via video link from his residence in Bani Gala that the nation should be clear that there was no preparation from the leadership to fix the economy, reduce the prices, even though there was a hustle and bustle "against us that inflation was rising". He stressed that it should now be clear that the government had no plan to fix the economy, but one thing was in their minds as to how to take another 'NRO' since the first 'NRO' was taken from Musharraf.
He said he had never heard in the history of Pakistan that a temporary budget was coming because they were not ready, so they introduced a temporary budget, when they had previously increased the prices. oil, leading to higher prices for other commodities. He said they had now presented another budget in which they had first economically "killed" the common man. They raised the prices of gasoline, diesel and electricity and would not stop there. He said they had introduced a petroleum tax which was Rs 50 per liter which would now further increase the prices of petroleum products. "When prices go up, the common man who is already struggling due to global inflation caused by corona will be even more burdened," he said.
Imran said that due to the super tax, corporate tax would drop to 39% while India and Bangladesh had 25%, which meant that this tax would make things more expensive. Likewise, he pointed out, the cost of making things would be expensive and it would have the greatest impact on employment because industries provided the most jobs and many industries had just started making unemployed. The situation would deteriorate further. He said the impact this was having on stock market investors was in front of everyone. Furthermore, the rupiah was also affected although it strengthened a little on the announcement of the foreign debt, but then fell.
He said that with diesel being expensive and load shedding would affect Pakistan's farmers and production, the working class he had previously granted exemption had now been reduced from below Rs 100,000 to Rs 50,000 slabs. Those whose salary was Rs 50,000 or Rs 100,000 were also taxed. Thus the working class already in difficulty would face more difficulties.
The PTI President said: "It will force people to evade taxes as we have collected record taxes and uncovered people's mortgage through artificial intelligence. We planned how to bring them into the tax net and increase the tax net. We had implemented a track and trace system to end sales tax evasion and had selected 20 industries and launched the track and trace system on 3 and planned to go to all 20 Imran noted that when the market learned that it was not ready, the rupiah began to fall rapidly and its impact was yet to come. This budget would not only cause inflation but would also affect "our employment, our industry and our agriculture".
He again criticized the government for the amendments to the NAB Act and said that "we went to the Supreme Court of Pakistan to challenge the amendments they made to the NAB Act and I have full confidence in our system judicial". He alleged that what they (leaders) were going to do was the destruction of the country. They had exempted all major thieves from liability. "Today, if I am very corrupt, they granted me an exemption. I will plunder the country as much as I can, but, under the law they passed, no one could catch me except from petty thieves," he lamented.
Regarding the amendments to the NAB Act, he said they had dug the grave of the liability system and Pakistan's future now looked bleak. He said the NAB had recovered Rs 280 billion before 2018 and then made recoveries worth Rs 480 billion from the PTI government. He said that if they succeed in changing the NAB laws, Pakistan will become a banana republic.
Sources
2/ https://www.thenews.com.pk/print/969333-imran-opposes-super-tax
The mention sources can contact us to remove/changing this article
What Are The Main Benefits Of Comparing Car Insurance Quotes Online
LOS ANGELES, CA / ACCESSWIRE / June 24, 2020, / Compare-autoinsurance.Org has launched a new blog post that presents the main benefits of comparing multiple car insurance quotes. For more info and free online quotes, please visit https://compare-autoinsurance.Org/the-advantages-of-comparing-prices-with-car-insurance-quotes-online/ The modern society has numerous technological advantages. One important advantage is the speed at which information is sent and received. With the help of the internet, the shopping habits of many persons have drastically changed. The car insurance industry hasn't remained untouched by these changes. On the internet, drivers can compare insurance prices and find out which sellers have the best offers. View photos The advantages of comparing online car insurance quotes are the following: Online quotes can be obtained from anywhere and at any time. Unlike physical insurance agencies, websites don't have a specific schedule and they are available at any time. Drivers that have busy working schedules, can compare quotes from anywhere and at any time, even at midnight. Multiple choices. Almost all insurance providers, no matter if they are well-known brands or just local insurers, have an online presence. Online quotes will allow policyholders the chance to discover multiple insurance companies and check their prices. Drivers are no longer required to get quotes from just a few known insurance companies. Also, local and regional insurers can provide lower insurance rates for the same services. Accurate insurance estimates. Online quotes can only be accurate if the customers provide accurate and real info about their car models and driving history. Lying about past driving incidents can make the price estimates to be lower, but when dealing with an insurance company lying to them is useless. Usually, insurance companies will do research about a potential customer before granting him coverage. Online quotes can be sorted easily. Although drivers are recommended to not choose a policy just based on its price, drivers can easily sort quotes by insurance price. Using brokerage websites will allow drivers to get quotes from multiple insurers, thus making the comparison faster and easier. For additional info, money-saving tips, and free car insurance quotes, visit https://compare-autoinsurance.Org/ Compare-autoinsurance.Org is an online provider of life, home, health, and auto insurance quotes. This website is unique because it does not simply stick to one kind of insurance provider, but brings the clients the best deals from many different online insurance carriers. In this way, clients have access to offers from multiple carriers all in one place: this website. On this site, customers have access to quotes for insurance plans from various agencies, such as local or nationwide agencies, brand names insurance companies, etc. "Online quotes can easily help drivers obtain better car insurance deals. All they have to do is to complete an online form with accurate and real info, then compare prices", said Russell Rabichev, Marketing Director of Internet Marketing Company. CONTACT: Company Name: Internet Marketing CompanyPerson for contact Name: Gurgu CPhone Number: (818) 359-3898Email: [email protected]: https://compare-autoinsurance.Org/ SOURCE: Compare-autoinsurance.Org View source version on accesswire.Com:https://www.Accesswire.Com/595055/What-Are-The-Main-Benefits-Of-Comparing-Car-Insurance-Quotes-Online View photos
to request, modification Contact us at Here or [email protected]