op-ed – New churn: Editorial on Narendra Modi's attendance at back-to-back world summits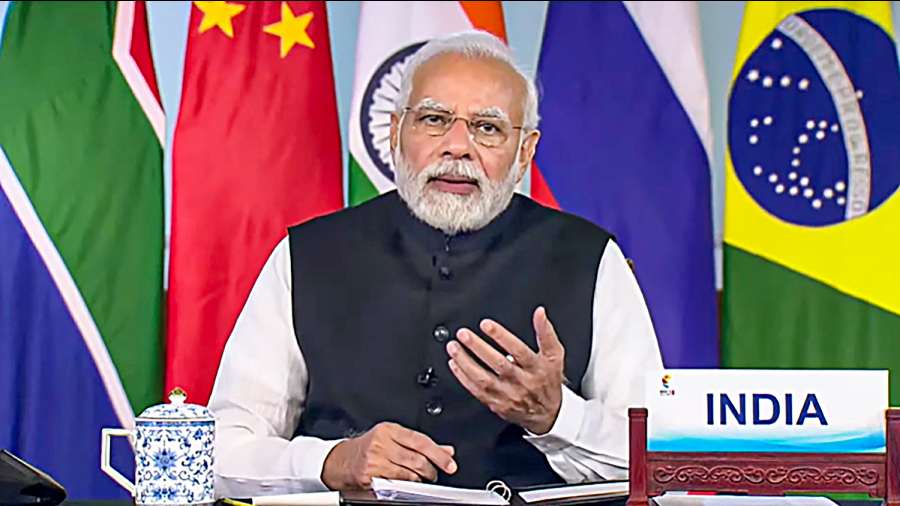 For India, it highlights New Delhi's balancing act between its Western friends and its traditional role as a key voice for the global South.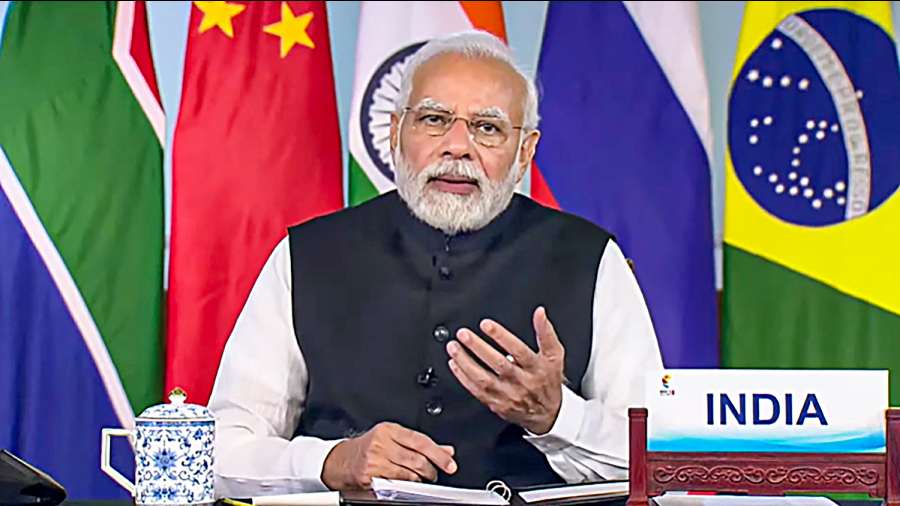 Prime Minister Narendra Modi addresses the BRICS summit via video conference in New Delhi.
file picture
---
|



Posted on 30.06.22, 02:35
---
Global summits are often as much about symbolism and messages as they are about well-defined outcomes. Last week, Prime Minister Narendra Modi attended, virtually, a meeting with the leaders of Brazil, Russia, China and South Africa – the BRICS grouping. Then on Monday, he joined leaders of the G7 group of major industrialized economies and their counterparts from Indonesia, South Africa, Argentina and Senegal at a physical summit in the Bavarian Alps. Back-to-back conclaves underscored the spinning world, with war in Ukraine, rising inflation around the world, and the threat of looming recession in the United States of America and parts of Europe. For India, they also showed the balance New Delhi is trying to strike between its Western friends and its traditional role as a key voice for the global South. The advantages of such an approach for India are numerous. It can strengthen cooperation with the West against threats posed by China without ceding leadership of the developing world to Beijing. At the same time, New Delhi and Beijing can speak with one voice on certain issues, such as climate change. India can also reap the benefits of warm relations with the United States and Russia.
But recent highs have also highlighted the risks of India's tightrope walking. New Delhi is believed to have played a role in ensuring that the BRICS statement released at the end of this meeting did not criticize the West. Meanwhile, a "statement on resilient democracies" issued by G7 leaders and their five guests after the summit in Germany was completely silent on the war in Ukraine, with no criticism of Russia. It would be easy to see this as an example of how India's neutral role in world affairs helps its friends on both sides of the debate. But in a world more polarized than it has been since the end of the Cold War, those who try to prevent large groups from asserting aggressive postures can just as easily be seen as obstacles or liabilities. India must remember the national strengths that have earned it repeated G7 invitations since 2003 and made it a pillar of the BRICS: economic promise and a stable society committed to democracy and pluralism. If he flounders over those at home, he won't be able to hold his ground abroad.
Sources
2/ https://www.telegraphindia.com/opinion/new-churn-editorial-on-narendra-modi-attending-back-to-back-global-summits/cid/1872439
The mention sources can contact us to remove/changing this article
What Are The Main Benefits Of Comparing Car Insurance Quotes Online
LOS ANGELES, CA / ACCESSWIRE / June 24, 2020, / Compare-autoinsurance.Org has launched a new blog post that presents the main benefits of comparing multiple car insurance quotes. For more info and free online quotes, please visit https://compare-autoinsurance.Org/the-advantages-of-comparing-prices-with-car-insurance-quotes-online/ The modern society has numerous technological advantages. One important advantage is the speed at which information is sent and received. With the help of the internet, the shopping habits of many persons have drastically changed. The car insurance industry hasn't remained untouched by these changes. On the internet, drivers can compare insurance prices and find out which sellers have the best offers. View photos The advantages of comparing online car insurance quotes are the following: Online quotes can be obtained from anywhere and at any time. Unlike physical insurance agencies, websites don't have a specific schedule and they are available at any time. Drivers that have busy working schedules, can compare quotes from anywhere and at any time, even at midnight. Multiple choices. Almost all insurance providers, no matter if they are well-known brands or just local insurers, have an online presence. Online quotes will allow policyholders the chance to discover multiple insurance companies and check their prices. Drivers are no longer required to get quotes from just a few known insurance companies. Also, local and regional insurers can provide lower insurance rates for the same services. Accurate insurance estimates. Online quotes can only be accurate if the customers provide accurate and real info about their car models and driving history. Lying about past driving incidents can make the price estimates to be lower, but when dealing with an insurance company lying to them is useless. Usually, insurance companies will do research about a potential customer before granting him coverage. Online quotes can be sorted easily. Although drivers are recommended to not choose a policy just based on its price, drivers can easily sort quotes by insurance price. Using brokerage websites will allow drivers to get quotes from multiple insurers, thus making the comparison faster and easier. For additional info, money-saving tips, and free car insurance quotes, visit https://compare-autoinsurance.Org/ Compare-autoinsurance.Org is an online provider of life, home, health, and auto insurance quotes. This website is unique because it does not simply stick to one kind of insurance provider, but brings the clients the best deals from many different online insurance carriers. In this way, clients have access to offers from multiple carriers all in one place: this website. On this site, customers have access to quotes for insurance plans from various agencies, such as local or nationwide agencies, brand names insurance companies, etc. "Online quotes can easily help drivers obtain better car insurance deals. All they have to do is to complete an online form with accurate and real info, then compare prices", said Russell Rabichev, Marketing Director of Internet Marketing Company. CONTACT: Company Name: Internet Marketing CompanyPerson for contact Name: Gurgu CPhone Number: (818) 359-3898Email: [email protected]: https://compare-autoinsurance.Org/ SOURCE: Compare-autoinsurance.Org View source version on accesswire.Com:https://www.Accesswire.Com/595055/What-Are-The-Main-Benefits-Of-Comparing-Car-Insurance-Quotes-Online View photos
to request, modification Contact us at Here or [email protected]