Hong Kong beefs up security ahead of Xi's 25th anniversary handover visit | hong kong
In downtown Hong Kong, huge barriers have been erected around the convention center, establishing a narrow two-tier secure zone with no civilian access. On Wednesday, hundreds of Hong Kong's distinctive red taxis, adorned with red Chinese flags and celebratory red banners, parked in the shape of number 25 in the city's central district. Across Kowloon Harbor, hundreds of Chinese and Hong Kong flags waved from the balcony railings of two housing estates, each with dozens of floors.
Hong Kong will mark 25 years since the territory was returned from Britain to China on Friday, and authorities are taking no chances, ensuring the day is filled with pomp and pageantry and no signs of dissent. . Chinese President Xi Jinping will attend a ceremony marking the anniversary, his first trip outside mainland China since the start of the pandemic.
On July 1, 1997, the territory was promised 50 years of autonomy and the freedoms of assembly, speech and press that are not allowed on the Communist-ruled Chinese mainland. As the city of 7.4 million marks a quarter century under Beijing's rule, those promises have all but evaporated.
As part of a plan to ensure the day goes off without a hitch, nearby metro stations will be closed and buses rerouted, while the port and other areas will be subject to temporary restricted theft zones.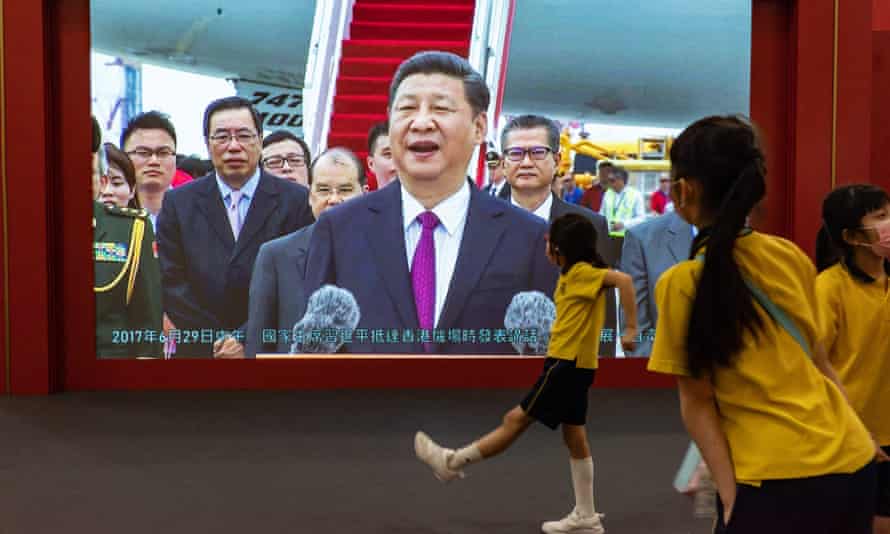 Opportunities to criticize Xi, or the Beijing-backed Hong Kong government, will be stifled. One of the few remaining pro-democracy groups in Hong Kong said it would not hold a protest, after several members were summoned by police.
Local and foreign outlets were denied access to the Friday event by authorities, citing the pandemic. On Tuesday, some licensed media outlets said individual journalists had since been denied access, too late for a replacement to get the required several days of negative tests.
Hong Kong's media has been hampered since the introduction of the National Security Law in 2020. Newspapers and websites have been forced to close, editors and executives have been arrested.
It's a way for Beijing to expand its influence and control in recent years. Protest is indeed banned following pro-democracy rallies that were crushed by police. Schools must now provide lessons on patriotism and national security, and some new textbooks deny that Hong Kong was ever a British colony. Electoral reforms have ensured that no opposition lawmakers, only those considered patriotic by Beijing, sit in the city's legislature.
Hong Kong's New Chapter
Friday will also see the inauguration of John Lee, the former security chief who oversaw the crackdown on Hong Kong's pro-democracy movement, as the territory's next chief executive. Lee will replace Carrie Lam, the maligned face of the crackdown that began in earnest in 2019. Asked by Bloomberg this month, if she wanted to apologize for anything during her tenure, she said no, that she was only sorry for the sacrifices made by her family to support my mission.
Lee pledged to unite the city for a new chapter, while promising a same more aggressive approach to counter the alarmism and denigration of critics.
Prominent Hong Kong journalist Ching Cheong, who was jailed by Chinese authorities for three years and covered the handover, said Lee had shown loyalty to Beijing and would be a figurehead at best implementing the handover. idea of ​​Beijing.
John Lee's career is security and he has no experience in other industries, Ching said.
Xi said he expected Lee and his new government to bring refreshing changes to Hong Kong's governance.
On Wednesday, Xinhua, the official news agency of the Communist Party of China, said Hong Kong's development had advanced by leaps and bounds under one country, two systems, with much-needed stability brought by the national security law. Meanwhile, a record number of people are leaving the city for good.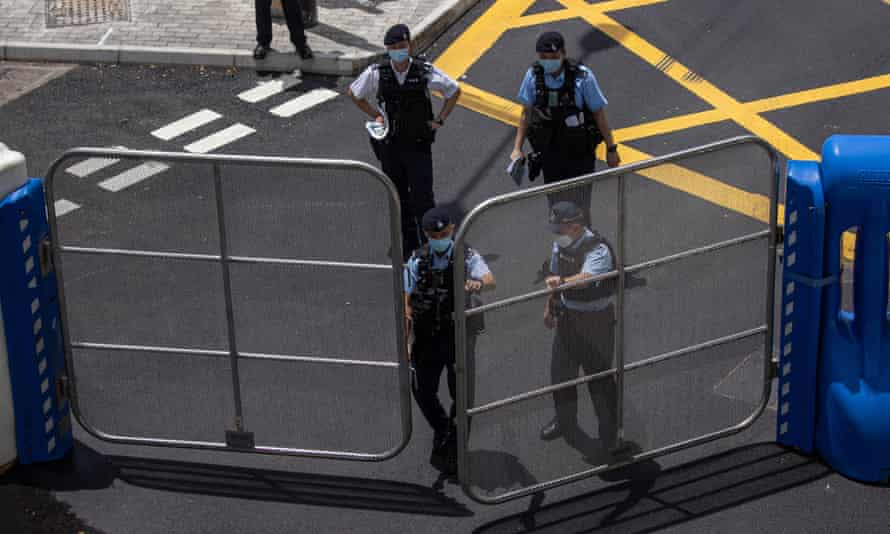 Missing faces
Normally, the anniversary would include familiar faces from the handover, like Martin Lee. Dubbed the father of democracy, Lee was instrumental in the Sino-British Joint Declaration and a prominent face of the pro-democracy movement for decades. As Britain's Prince Charles left Hong Kong, he voiced his fears: So we left Hong Kong to its fate and hope that Martin Lee, leader of the Democrats, would not be arrested.
Lee, now 82, was arrested last year and given a 12-month suspended prison sentence for organizing and participating in an unauthorized gathering at one of the 2019 pro-democracy rallies.
Dozens of his fellow activists and politicians have also been arrested or imprisoned. Those not incarcerated, like Lee, rarely speak in public and spend their days visiting and caring for friends and colleagues in prison. Under the national security law introduced in 2020, the risk of crossing vaguely defined red lines is too great and at least two people, including highly respected lawmaker Claudia Mo, have been denied bail after that their WhatsApp conversations with foreign journalists were presented as evidence.
For many former Hong Kongers, this anniversary will be a painful reminder of the promise the city once had and its rapid collapse.
Valérie was 17 when Hong Kong was returned. That day in 1997, she watched the ceremony on television, but without joy. In the final scenes of [former British governor Chris] The Pattens family get on the boat, I couldn't stop my tears, she tells the Guardian from her new home overseas.
I didn't understand politics much at that time, but I couldn't believe Hong Kong would get any better. Now I'm afraid Hong Kong culture will eventually die out.
Sources
2/ https://www.theguardian.com/world/2022/jun/30/hong-kong-tightens-security-ahead-of-xi-visit-for-25th-anniversary-of-handover
The mention sources can contact us to remove/changing this article
What Are The Main Benefits Of Comparing Car Insurance Quotes Online
LOS ANGELES, CA / ACCESSWIRE / June 24, 2020, / Compare-autoinsurance.Org has launched a new blog post that presents the main benefits of comparing multiple car insurance quotes. For more info and free online quotes, please visit https://compare-autoinsurance.Org/the-advantages-of-comparing-prices-with-car-insurance-quotes-online/ The modern society has numerous technological advantages. One important advantage is the speed at which information is sent and received. With the help of the internet, the shopping habits of many persons have drastically changed. The car insurance industry hasn't remained untouched by these changes. On the internet, drivers can compare insurance prices and find out which sellers have the best offers. View photos The advantages of comparing online car insurance quotes are the following: Online quotes can be obtained from anywhere and at any time. Unlike physical insurance agencies, websites don't have a specific schedule and they are available at any time. Drivers that have busy working schedules, can compare quotes from anywhere and at any time, even at midnight. Multiple choices. Almost all insurance providers, no matter if they are well-known brands or just local insurers, have an online presence. Online quotes will allow policyholders the chance to discover multiple insurance companies and check their prices. Drivers are no longer required to get quotes from just a few known insurance companies. Also, local and regional insurers can provide lower insurance rates for the same services. Accurate insurance estimates. Online quotes can only be accurate if the customers provide accurate and real info about their car models and driving history. Lying about past driving incidents can make the price estimates to be lower, but when dealing with an insurance company lying to them is useless. Usually, insurance companies will do research about a potential customer before granting him coverage. Online quotes can be sorted easily. Although drivers are recommended to not choose a policy just based on its price, drivers can easily sort quotes by insurance price. Using brokerage websites will allow drivers to get quotes from multiple insurers, thus making the comparison faster and easier. For additional info, money-saving tips, and free car insurance quotes, visit https://compare-autoinsurance.Org/ Compare-autoinsurance.Org is an online provider of life, home, health, and auto insurance quotes. This website is unique because it does not simply stick to one kind of insurance provider, but brings the clients the best deals from many different online insurance carriers. In this way, clients have access to offers from multiple carriers all in one place: this website. On this site, customers have access to quotes for insurance plans from various agencies, such as local or nationwide agencies, brand names insurance companies, etc. "Online quotes can easily help drivers obtain better car insurance deals. All they have to do is to complete an online form with accurate and real info, then compare prices", said Russell Rabichev, Marketing Director of Internet Marketing Company. CONTACT: Company Name: Internet Marketing CompanyPerson for contact Name: Gurgu CPhone Number: (818) 359-3898Email: [email protected]: https://compare-autoinsurance.Org/ SOURCE: Compare-autoinsurance.Org View source version on accesswire.Com:https://www.Accesswire.Com/595055/What-Are-The-Main-Benefits-Of-Comparing-Car-Insurance-Quotes-Online View photos
to request, modification Contact us at Here or [email protected]