Liz Cheney perfectly captured the choice Republicans now have to make on Donald Trump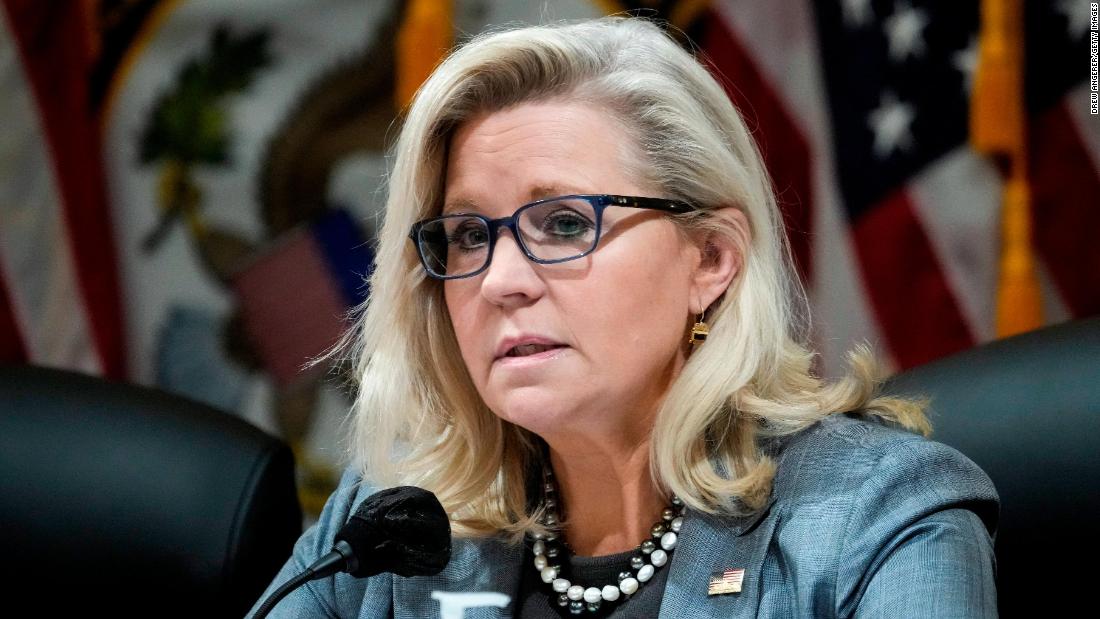 Speaking at the Ronald Reagan Presidential Library, the Wyoming Republican said:
"The reality we face today as Republicans – as we consider the choice before us – we have to choose. Because Republicans cannot be both loyal to Donald Trump and loyal to to the Constitution."
That call will almost certainly fall on deaf ears in Cheney's Republican conference, which ousted her from the party leadership earlier this year because she voted to impeach Trump for her action (and its inaction) on January 6, 2021.
But, it's worth unpacking Cheney's quote regardless — because there's real truth to it.
Start with what it takes to support Trump these days.
The former president has made belief – against fact – in his stolen election claims a litmus test for the party. If you're not willing to at least pay lip service to his conspiracy theories, vote mules! deaths ! – you are rejected as a RINO (Republican in name only) who doesn't care enough about the country to fight for it.
Then consider what we know about Trump's actions in the aftermath of the 2020 election:
He aggressively pressured swing state election officials to overturn the results or secure more votes for him. "I just want to find 11,780 votes," Trump told Georgia Secretary of State Brad Raffensperger on a call. He knew those gathered at the Jan. 6 "Stop the Steal" rally were armed and dangerous before he delivered a speech in which he urged them. to "fight like hell" or risk losing their country. "They're not here to hurt me," Trump told his aides of the crowd. President's refusal to overturn Electoral College tally that showed Joe Biden winning comfortably. Justice had "significant concerns" about the 2020 election. these things because he couldn't accept that he hadn't won. He had no proof – just the vague feeling that he should have won and he didn't do it in a way or another – other than he just thinks (Note: Biden actually got just over 81 million votes; Trump got 74 million).
Against all of this is the Constitution – the country's founding document – which states that there is no role, other than a ceremonial role, for the vice president in the counting of votes in the Electoral College. It also makes clear that a peaceful transition of power in which the person with the most electoral votes becomes president is at the heart of American democracy.
As Barack Obama said in his farewell speech in January 2017:
"In 10 days, the world will witness a hallmark of our democracy… [Audience boos] No, no, no, no, no – the peaceful transfer of power from one freely elected president to another. I promised President-elect Trump that my administration would ensure the smoothest transition possible, just as President Bush did for me. Because it is up to all of us to ensure that our government can help us meet the many challenges we still face. »
The simple fact is, you can't a) call yourself a constitutional conservative and b) support what Trump has done — and is doing — trying to undermine not just the 2020 election, but the broader democratic experience.
It's an either/or question. There is no place for tramps.
Sources
2/ https://www.cnn.com/2022/06/30/politics/liz-cheney-donald-trump-2024/index.html
The mention sources can contact us to remove/changing this article
What Are The Main Benefits Of Comparing Car Insurance Quotes Online
LOS ANGELES, CA / ACCESSWIRE / June 24, 2020, / Compare-autoinsurance.Org has launched a new blog post that presents the main benefits of comparing multiple car insurance quotes. For more info and free online quotes, please visit https://compare-autoinsurance.Org/the-advantages-of-comparing-prices-with-car-insurance-quotes-online/ The modern society has numerous technological advantages. One important advantage is the speed at which information is sent and received. With the help of the internet, the shopping habits of many persons have drastically changed. The car insurance industry hasn't remained untouched by these changes. On the internet, drivers can compare insurance prices and find out which sellers have the best offers. View photos The advantages of comparing online car insurance quotes are the following: Online quotes can be obtained from anywhere and at any time. Unlike physical insurance agencies, websites don't have a specific schedule and they are available at any time. Drivers that have busy working schedules, can compare quotes from anywhere and at any time, even at midnight. Multiple choices. Almost all insurance providers, no matter if they are well-known brands or just local insurers, have an online presence. Online quotes will allow policyholders the chance to discover multiple insurance companies and check their prices. Drivers are no longer required to get quotes from just a few known insurance companies. Also, local and regional insurers can provide lower insurance rates for the same services. Accurate insurance estimates. Online quotes can only be accurate if the customers provide accurate and real info about their car models and driving history. Lying about past driving incidents can make the price estimates to be lower, but when dealing with an insurance company lying to them is useless. Usually, insurance companies will do research about a potential customer before granting him coverage. Online quotes can be sorted easily. Although drivers are recommended to not choose a policy just based on its price, drivers can easily sort quotes by insurance price. Using brokerage websites will allow drivers to get quotes from multiple insurers, thus making the comparison faster and easier. For additional info, money-saving tips, and free car insurance quotes, visit https://compare-autoinsurance.Org/ Compare-autoinsurance.Org is an online provider of life, home, health, and auto insurance quotes. This website is unique because it does not simply stick to one kind of insurance provider, but brings the clients the best deals from many different online insurance carriers. In this way, clients have access to offers from multiple carriers all in one place: this website. On this site, customers have access to quotes for insurance plans from various agencies, such as local or nationwide agencies, brand names insurance companies, etc. "Online quotes can easily help drivers obtain better car insurance deals. All they have to do is to complete an online form with accurate and real info, then compare prices", said Russell Rabichev, Marketing Director of Internet Marketing Company. CONTACT: Company Name: Internet Marketing CompanyPerson for contact Name: Gurgu CPhone Number: (818) 359-3898Email: [email protected]: https://compare-autoinsurance.Org/ SOURCE: Compare-autoinsurance.Org View source version on accesswire.Com:https://www.Accesswire.Com/595055/What-Are-The-Main-Benefits-Of-Comparing-Car-Insurance-Quotes-Online View photos
to request, modification Contact us at Here or [email protected]