Xi in Hong Kong defends China's handover anniversary rule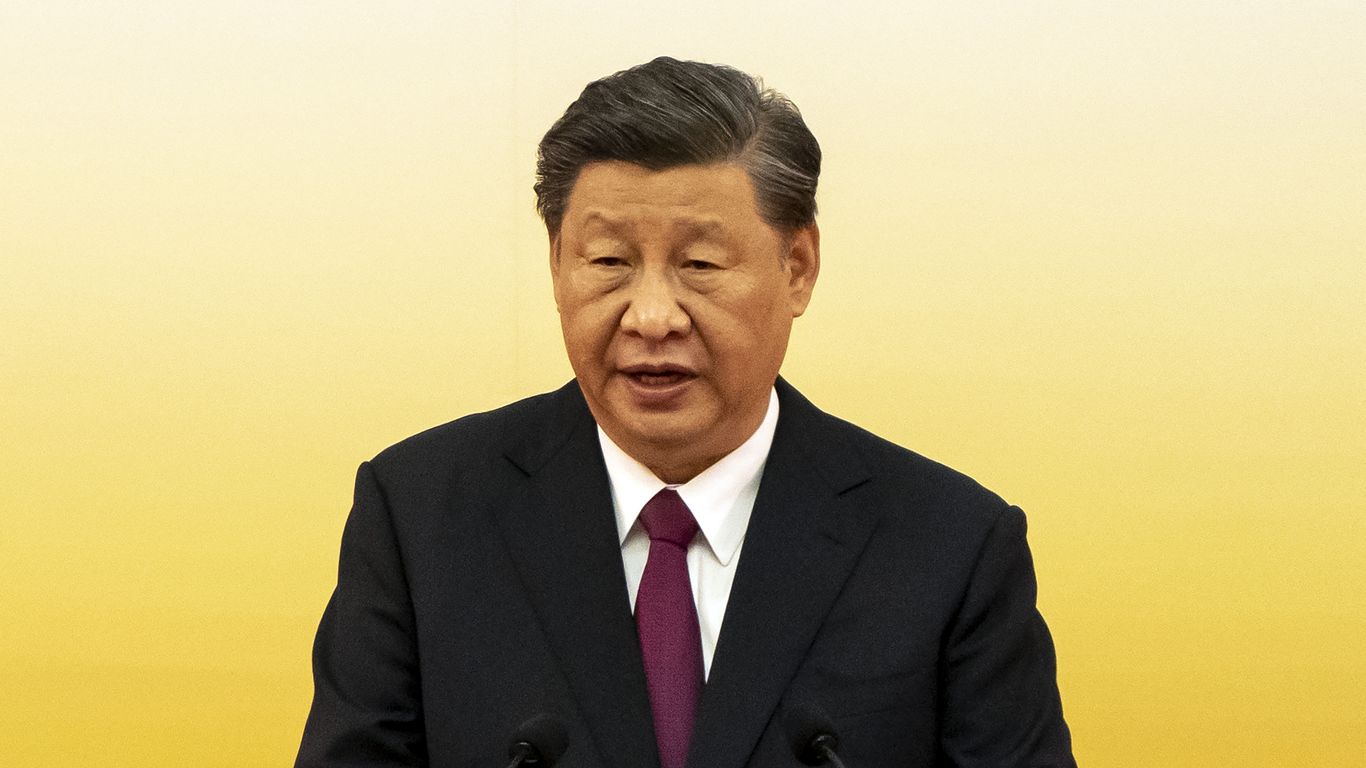 Chinese President Xi Jinping said his government acted 'for the good of Hong Kong' and defended the imposition of a new 'patriots-only' electoral system on the Asian financial hub during a visit to the city Friday.
Driving the news: Xi was in Hong Kong to mark the 25th anniversary of the former British colony's return to China as a semi-autonomous region and to attend the swearing-in ceremony for the city's new chief executive, approved by the Chinese government, John Lee, who helped lead the crackdown. on pro-democracy protesters in 2019.
What he says : "It is a universal rule in the world that political power should be in the hands of patriots," Xi said in his speech in Hong Kong.
"No country or region in the world will allow unpatriotic or even treacherous or traitorous forces and figures to take power," he added.
"'One country, two systems' has been tested and proven over and over again, and there is no reason to change such a good system," Xi said as he railed against what he called the foreign interference.
"Safeguarding national sovereignty, security and development interests" was a top priority, he said.
To note: "After returning to the motherland, Hong Kong compatriots became masters of their own affairs, the people of Hong Kong administered Hong Kong with a high degree of autonomy, and this was the beginning of real democracy in Hong Kong. Kong," Xi said.
"After all the storms, everyone has painfully learned that Hong Kong cannot fall into chaos and Hong Kong cannot afford chaos. It must get rid of all disturbances and focus on development."
Reality check: US Secretary of State Antony Blinken noted in a report that the anniversary of the July 1 handover "was envisaged as the midpoint of the autonomy promised under the framework of the" One country, two systems "" which was to last until 2047.
"Yet it is now clear that authorities in Hong Kong and Beijing no longer see democratic participation, fundamental freedoms and independent media as part of that vision," Blinken said.
The big picture: The national security law that Beijing first imposed on Hong Kong in 2020 has led to the arrest and imprisonment of dozens of pro-democracy activists and journalists and the shutdown of independent media outlets, including Chinese Communist Party critic Jimmy Lai's imprisoned tabloid, Apple Daily.
Editor's Note: This article has been updated with new details.
Sources
2/ https://www.axios.com/2022/07/01/xi-hong-kong-defends-china-rule-handover-anniversary
The mention sources can contact us to remove/changing this article
What Are The Main Benefits Of Comparing Car Insurance Quotes Online
LOS ANGELES, CA / ACCESSWIRE / June 24, 2020, / Compare-autoinsurance.Org has launched a new blog post that presents the main benefits of comparing multiple car insurance quotes. For more info and free online quotes, please visit https://compare-autoinsurance.Org/the-advantages-of-comparing-prices-with-car-insurance-quotes-online/ The modern society has numerous technological advantages. One important advantage is the speed at which information is sent and received. With the help of the internet, the shopping habits of many persons have drastically changed. The car insurance industry hasn't remained untouched by these changes. On the internet, drivers can compare insurance prices and find out which sellers have the best offers. View photos The advantages of comparing online car insurance quotes are the following: Online quotes can be obtained from anywhere and at any time. Unlike physical insurance agencies, websites don't have a specific schedule and they are available at any time. Drivers that have busy working schedules, can compare quotes from anywhere and at any time, even at midnight. Multiple choices. Almost all insurance providers, no matter if they are well-known brands or just local insurers, have an online presence. Online quotes will allow policyholders the chance to discover multiple insurance companies and check their prices. Drivers are no longer required to get quotes from just a few known insurance companies. Also, local and regional insurers can provide lower insurance rates for the same services. Accurate insurance estimates. Online quotes can only be accurate if the customers provide accurate and real info about their car models and driving history. Lying about past driving incidents can make the price estimates to be lower, but when dealing with an insurance company lying to them is useless. Usually, insurance companies will do research about a potential customer before granting him coverage. Online quotes can be sorted easily. Although drivers are recommended to not choose a policy just based on its price, drivers can easily sort quotes by insurance price. Using brokerage websites will allow drivers to get quotes from multiple insurers, thus making the comparison faster and easier. For additional info, money-saving tips, and free car insurance quotes, visit https://compare-autoinsurance.Org/ Compare-autoinsurance.Org is an online provider of life, home, health, and auto insurance quotes. This website is unique because it does not simply stick to one kind of insurance provider, but brings the clients the best deals from many different online insurance carriers. In this way, clients have access to offers from multiple carriers all in one place: this website. On this site, customers have access to quotes for insurance plans from various agencies, such as local or nationwide agencies, brand names insurance companies, etc. "Online quotes can easily help drivers obtain better car insurance deals. All they have to do is to complete an online form with accurate and real info, then compare prices", said Russell Rabichev, Marketing Director of Internet Marketing Company. CONTACT: Company Name: Internet Marketing CompanyPerson for contact Name: Gurgu CPhone Number: (818) 359-3898Email: [email protected]: https://compare-autoinsurance.Org/ SOURCE: Compare-autoinsurance.Org View source version on accesswire.Com:https://www.Accesswire.Com/595055/What-Are-The-Main-Benefits-Of-Comparing-Car-Insurance-Quotes-Online View photos
to request, modification Contact us at Here or [email protected]