Liz Cheney's odds against Donald Trump winning the 2024 GOP primary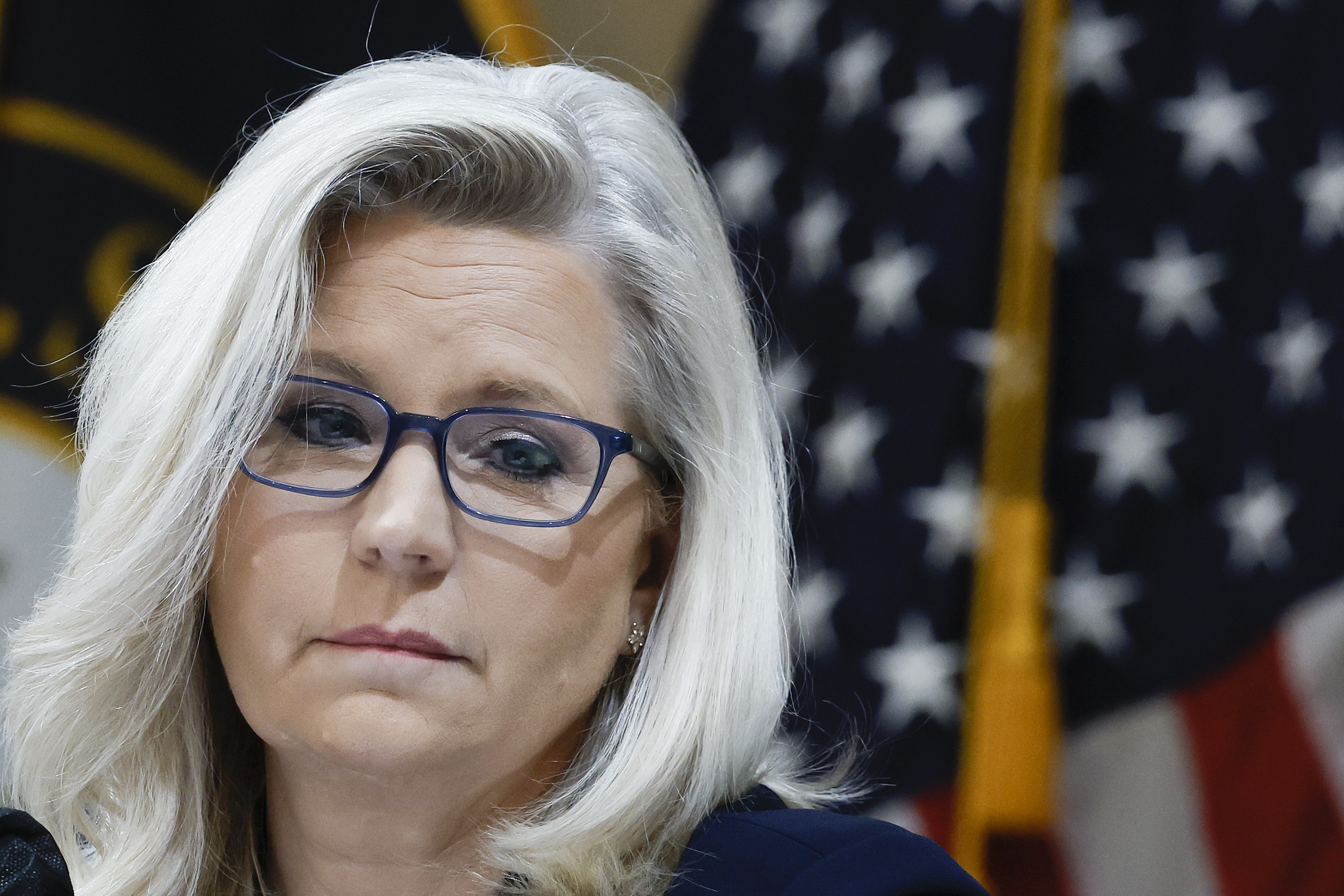 Wyoming Rep. Liz Cheney would face a daunting task to win the GOP nomination against Donald Trump, should they both choose to run in 2024, according to polls and betting odds.
In a recent interview with ABC, Cheney acknowledged that she may run for president in 2024 in order to prevent her former nemesis Trump from returning to the White House.
Cheney, one of two Republicans on the House Select Committee investigating the Jan. 6 attack, said she hasn't "made a decision" about running for president in 2024.
"I'm obviously very focused on my re-election. I'm very focused on the Jan. 6 committee," she said. "I'm very focused on my obligations to do the job I have now. And I'll make a decision around 24."
"But I think about it less in terms of deciding to run for office and more in terms of being an American – and as someone who's in a position of public trust now – how do I make sure I'm doing everything can I do the right thing, do what I know is good for the country and protect our Constitution?"
U.S. Representative Liz Cheney (R-WY), vice chair of the House Select Committee investigating the Jan. 6 attack on the U.S. Capitol, interviews Cassidy Hutchinson, a former aide to Trump's chief of staff at White House, Mark Meadows, as he testifies before the committee in the Cannon House Office Building on June 28, 2022 in Washington, DC. Anna Moneymaker/Getty Images
With the election still more than two years away, Cheney — whom Trump has long expressed his desire to see removed from office — is currently barely seen as an outside chance to land the nomination.
According to a recent Morning Consult poll, conducted between June 24-26, Trump is still the clear favorite among GOP voters, with 53% saying they would support him for the nomination, followed by Florida Governor Ron DeSantis. on 22% and former Vice President Mike Pence on eight percent.
By comparison, Cheney was among several potential candidates, including Senators Ted Cruz and Mitt Romney and South Carolina Governor Nikki Haley, who failed to garner even 3% support from Republican voters.
Elsewhere, betting exchange Smarkets does not currently list Cheney as a potential candidate for the next Republican presidential nominee. However, Smarkets includes Cheney in an expanded list of potential 2024 election winners, giving him a 0.33% chance of winning and odds of 200/1.
Trump and DeSantis are currently neck and neck favorites to become the next president, with Smarkets ranking them both as 20% likely to be the next person to enter the White House, with Joe Biden trailing third at 14%.
According to a collection of national surveys since November 2021, compiled by Polling USA, Trump is the clear favorite to land the GOP nomination if he runs. As of June 16, his poll average stood at 55.3%, with DeSantis second at 19.3% and Pence third at 12.5%.
Before Cheney can even consider a presidential bid and a potential showdown against Trump, she must first win her own GOP primary.
Cheney, who was censured by the Republican National Committee and no longer recognized as part of the party by the Wyoming GOP due to her role on the Jan. 6 panel and criticism from the former president, is aiming to defeat four candidates in the August vote, including Trump-endorsed Harriet Hageman.
Although there was no reliable poll for the GOP primary, an internal survey by a pro-Hageman group released in June found the Trump-backed candidate had the support of 56% of voters, compared to 28% who said they would support Cheney.
Correction: This article has been edited to correctly state how far away the 2024 election is.
Sources
2/ https://www.newsweek.com/liz-cheney-gop-primary-trump-2024-1721494
The mention sources can contact us to remove/changing this article
What Are The Main Benefits Of Comparing Car Insurance Quotes Online
LOS ANGELES, CA / ACCESSWIRE / June 24, 2020, / Compare-autoinsurance.Org has launched a new blog post that presents the main benefits of comparing multiple car insurance quotes. For more info and free online quotes, please visit https://compare-autoinsurance.Org/the-advantages-of-comparing-prices-with-car-insurance-quotes-online/ The modern society has numerous technological advantages. One important advantage is the speed at which information is sent and received. With the help of the internet, the shopping habits of many persons have drastically changed. The car insurance industry hasn't remained untouched by these changes. On the internet, drivers can compare insurance prices and find out which sellers have the best offers. View photos The advantages of comparing online car insurance quotes are the following: Online quotes can be obtained from anywhere and at any time. Unlike physical insurance agencies, websites don't have a specific schedule and they are available at any time. Drivers that have busy working schedules, can compare quotes from anywhere and at any time, even at midnight. Multiple choices. Almost all insurance providers, no matter if they are well-known brands or just local insurers, have an online presence. Online quotes will allow policyholders the chance to discover multiple insurance companies and check their prices. Drivers are no longer required to get quotes from just a few known insurance companies. Also, local and regional insurers can provide lower insurance rates for the same services. Accurate insurance estimates. Online quotes can only be accurate if the customers provide accurate and real info about their car models and driving history. Lying about past driving incidents can make the price estimates to be lower, but when dealing with an insurance company lying to them is useless. Usually, insurance companies will do research about a potential customer before granting him coverage. Online quotes can be sorted easily. Although drivers are recommended to not choose a policy just based on its price, drivers can easily sort quotes by insurance price. Using brokerage websites will allow drivers to get quotes from multiple insurers, thus making the comparison faster and easier. For additional info, money-saving tips, and free car insurance quotes, visit https://compare-autoinsurance.Org/ Compare-autoinsurance.Org is an online provider of life, home, health, and auto insurance quotes. This website is unique because it does not simply stick to one kind of insurance provider, but brings the clients the best deals from many different online insurance carriers. In this way, clients have access to offers from multiple carriers all in one place: this website. On this site, customers have access to quotes for insurance plans from various agencies, such as local or nationwide agencies, brand names insurance companies, etc. "Online quotes can easily help drivers obtain better car insurance deals. All they have to do is to complete an online form with accurate and real info, then compare prices", said Russell Rabichev, Marketing Director of Internet Marketing Company. CONTACT: Company Name: Internet Marketing CompanyPerson for contact Name: Gurgu CPhone Number: (818) 359-3898Email: [email protected]: https://compare-autoinsurance.Org/ SOURCE: Compare-autoinsurance.Org View source version on accesswire.Com:https://www.Accesswire.Com/595055/What-Are-The-Main-Benefits-Of-Comparing-Car-Insurance-Quotes-Online View photos
to request, modification Contact us at Here or [email protected]