Vice President Dhankhar: Prime Minister Modi praises 14th Vice President for receiving all-party support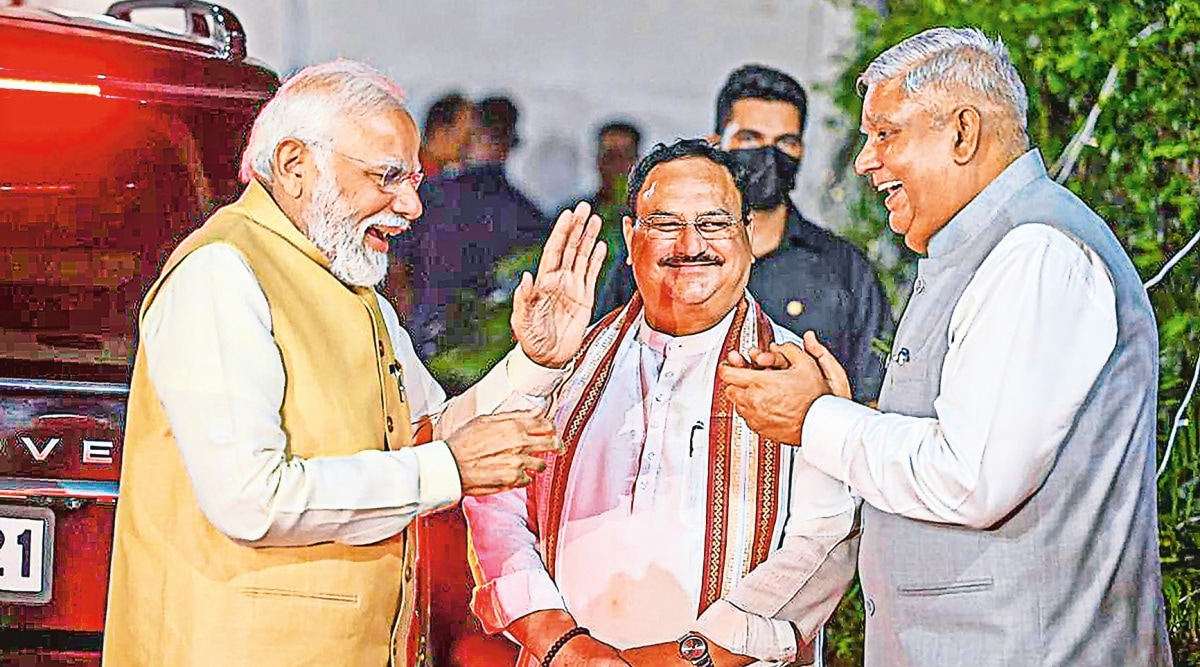 NDA candidate Jagdeep Dhankhar was elected India's 14th vice-president on Saturday, beating opposition candidate Margaret Alva by a huge margin in an election marred by absenteeism and spoiled votes.
The former governor of West Bengal got 528 of 725 votes, with Alva, a former five-term congressman, union minister and governor, getting 182, a total lower than expected. On paper, the opposition had nearly 200 votes.
The vice-president's electoral college is made up of members of both houses of parliament. Combined, the Houses have a sanctioned membership of 788 MPs, including eight vacancies in the Upper House. Among the 780 voters on Saturday, 725 votes were cast (92.94 percent turnout), including 15 invalid votes, said Lok Sabha secretary general Uptal Kumar Singh, the returning officer for the election.
Dhankhar's victory was inescapable, with the BJP alone holding 394 votes and the total totaling 510 votes, counting its allies and supporting parties like the BJD and YSRCP.
Dhankhar ended up getting even more, at 528. Congratulating him, Prime Minister Narendra Modi said he received resounding support from all parties.
As many as 55 MPs did not vote, including 34 from the Trinamool Congress, which had decided to abstain, saying opposition parties had chosen Alva without proper consultation with the party.
Vice President-designate Jagdeep Dhankhar with Union Defense Minister Rajnath Singh during a meeting in New Delhi. (Photo PTI)
Congress sources said at least two of its MPs Rajya Sabha, Randeep Surjewala and Dhiraj Kumar Sahu, did not vote because they are on treatment. Surjewala is said to be abroad. Alongside them, from the opposition camp, at least seven Shiv Sena MPs, two Samajwadi Party MPs and one AAP member did not vote.
Among those supporting Dhankhar, two BJP MPs and as many BSP members were absent, as was an independent. The two BJP MPs who did not vote were Sunny Deol and Sanjay Dhotre, who are also believed to be ill. TMC sources said BJP MP Arjun Singh, who joined the TMC in May, did not vote either.
During the presidential election, Draupadi Murmu won 540 votes from deputies. Of the 748 votes of deputies polled at the time, the common opposition candidate, Yashwant Sinha, obtained 208 (26 more than Alva).
Vice President-designate Jagdeep Dhankhar and his wife Sudesh Dhankhar (R)
with Union Home Minister Amit Shah during a meeting in New Delhi. (Photo PTI)
At the time, two TMC MPs, Sisir Kumar Adhikari and his son Dibyendu Adhikari, voted against the parties' decision to back Yashwant Sinha. Sisir is the father of the BJP MLA and opposition West Bengal leader Suvendu Adhikari.
On Saturday, Sisir and Dibyendu cast their ballots, challenging the TMC's decision to abstain. A few hours later, TMC Lok Sabha leader Sudip Bandyopadhyay wrote to them to say that the party had taken note of their decision. Both are already facing disqualification proceedings.
While the decision of the TMC – the second largest opposition party after the Congress in Parliament, with 36 deputies to abstain, had already dealt a blow to the opposition, others too like the BSP and the TDP supported Dhankhar. The AAP, TRS, AIMIM and JMM however supported Alva.
Among them, the JMM, largely a tribal party, had backed the NDA's Draupadi Murmu for the presidency, due to his tribal affiliation.
Vice President-designate Jagdeep Dhankhar and his family with Union ministers Amit Shah, Rajnath Singh and Pralhad Joshi during a meeting in New Delhi. (Photo PTI)
Dhankhar succeeds Ms. Venkaiah Naidu, whose term ends on August 10. He will be sworn in on August 11.
President Murmu was among those who hailed Dhankhar on his victory, along with Prime Minister Narendra Modi, his Cabinet colleagues, chief ministers and senior opposition leaders, including Congress Speaker Sonia Gandhi , NCP leader Sharad Pawar and Dhankhar's rival candidate, Margaret Alva.
In his message to the 71-year-old Vice President-elect, Murmu said: The nation will benefit from your long and rich experience in public life.
Congratulations to Jagdeep Dhankhar on being elected Vice President of India. The nation will benefit from your long and rich experience of public life. My best wishes for a productive and fruitful mandate.

President of India (@rashtrapatibhvn) August 6, 2022
Modi and BJP Chairman JP Nadda met with Dhankhar after the results. Thanking MPs who had voted for Dhankhar, Modi said: At a time when India is marking Azadi Ka Amrit Mahotsav, we are proud to have a kisan putra (farmer's son) Vice President who has excellent knowledge legal and intellectual prowess… I am convinced that he will be an exceptional vice-president. Our nation will benefit immensely from his intelligence and wisdom.
Alva, who congratulated Dhankhar, thanked all MPs from all parties who had voted for her. Taking snaps at the TMC, she tweeted: This election has been an opportunity for the opposition to work together, put the past behind them and build trust between them. Unfortunately, some opposition parties have chosen to directly or indirectly support the BJP, in an attempt to derail the idea of ​​a united opposition. I am convinced that by doing so, these parties and their leaders have damaged their own credibility.
Alva added: This election is over. The battle to protect our Constitution, strengthen our democracy and restore the dignity of Parliament will continue.
Congratulations to Mr. Dhankhar on his election as vice-president!

I want to thank all the opposition leaders and members of all parties who voted for me in this election.

Also, all the volunteers for their selfless service during our short but intense campaign.

Margaret Alva (@alva_margaret) August 6, 2022
Union Home Minister Amit Shah has said that as Deputy Speaker and Chairman of the Rajya Sabha, Jagdeep Dhankhar will prove to be an ideal guardian of the Constitution.
Joining Congress Speaker Sonia Gandhi in congratulating the new Vice President, Rahul Gandhi tweeted: Thank you Smt Margaret Alva ji for representing the spirit of common opposition with grace and dignity.
Like Alva, Congress has not spared the TMC either. Alva ran a spirited campaign and it was a shame the TMC didn't support her. India will have to wait for its first female vice president, Congress leader Jairam Ramesh has said. In Dhankhar he said: I hope he will show the sagacity and objectivity of Bhairon Singh Shekhawat and the wit and humor of Venkaiah Naidu, his supporters who have become Vice President.
Newsletter | Click to get the best explainers of the day delivered to your inbox
Dhankhar, a native of Rajasthan, started his political career in the former Janata Dal. A lawyer by training, he was elected to the Lok Sabha of Jhunjhunu in 1989. He was briefly Union Deputy Minister from April to November 1990. He was in charge of parliamentary affairs. He then turned to state politics and moved to Congress.
His next election was for the Rajasthan Assembly on a Congress ticket. He represented the seat of Kishangarh from 1993 to 1998. After that, he practiced as a barrister in the Supreme Court until he was appointed Governor of West Bengal in July 2019. His tenure as Governor of West Bengal has been marked by constant clashes with the Mamata Banerjee Government.
Sources
2/ https://indianexpress.com/article/india/vice-president-dhankhar-pm-modi-congratulates-14th-vp-8075506/
The mention sources can contact us to remove/changing this article
What Are The Main Benefits Of Comparing Car Insurance Quotes Online
LOS ANGELES, CA / ACCESSWIRE / June 24, 2020, / Compare-autoinsurance.Org has launched a new blog post that presents the main benefits of comparing multiple car insurance quotes. For more info and free online quotes, please visit https://compare-autoinsurance.Org/the-advantages-of-comparing-prices-with-car-insurance-quotes-online/ The modern society has numerous technological advantages. One important advantage is the speed at which information is sent and received. With the help of the internet, the shopping habits of many persons have drastically changed. The car insurance industry hasn't remained untouched by these changes. On the internet, drivers can compare insurance prices and find out which sellers have the best offers. View photos The advantages of comparing online car insurance quotes are the following: Online quotes can be obtained from anywhere and at any time. Unlike physical insurance agencies, websites don't have a specific schedule and they are available at any time. Drivers that have busy working schedules, can compare quotes from anywhere and at any time, even at midnight. Multiple choices. Almost all insurance providers, no matter if they are well-known brands or just local insurers, have an online presence. Online quotes will allow policyholders the chance to discover multiple insurance companies and check their prices. Drivers are no longer required to get quotes from just a few known insurance companies. Also, local and regional insurers can provide lower insurance rates for the same services. Accurate insurance estimates. Online quotes can only be accurate if the customers provide accurate and real info about their car models and driving history. Lying about past driving incidents can make the price estimates to be lower, but when dealing with an insurance company lying to them is useless. Usually, insurance companies will do research about a potential customer before granting him coverage. Online quotes can be sorted easily. Although drivers are recommended to not choose a policy just based on its price, drivers can easily sort quotes by insurance price. Using brokerage websites will allow drivers to get quotes from multiple insurers, thus making the comparison faster and easier. For additional info, money-saving tips, and free car insurance quotes, visit https://compare-autoinsurance.Org/ Compare-autoinsurance.Org is an online provider of life, home, health, and auto insurance quotes. This website is unique because it does not simply stick to one kind of insurance provider, but brings the clients the best deals from many different online insurance carriers. In this way, clients have access to offers from multiple carriers all in one place: this website. On this site, customers have access to quotes for insurance plans from various agencies, such as local or nationwide agencies, brand names insurance companies, etc. "Online quotes can easily help drivers obtain better car insurance deals. All they have to do is to complete an online form with accurate and real info, then compare prices", said Russell Rabichev, Marketing Director of Internet Marketing Company. CONTACT: Company Name: Internet Marketing CompanyPerson for contact Name: Gurgu CPhone Number: (818) 359-3898Email: [email protected]: https://compare-autoinsurance.Org/ SOURCE: Compare-autoinsurance.Org View source version on accesswire.Com:https://www.Accesswire.Com/595055/What-Are-The-Main-Benefits-Of-Comparing-Car-Insurance-Quotes-Online View photos
to request, modification Contact us at Here or [email protected]