Assisted by Early Coconut Seeds, residents of Giriroto: Thank you Pak Jokowi and Pak Ganjar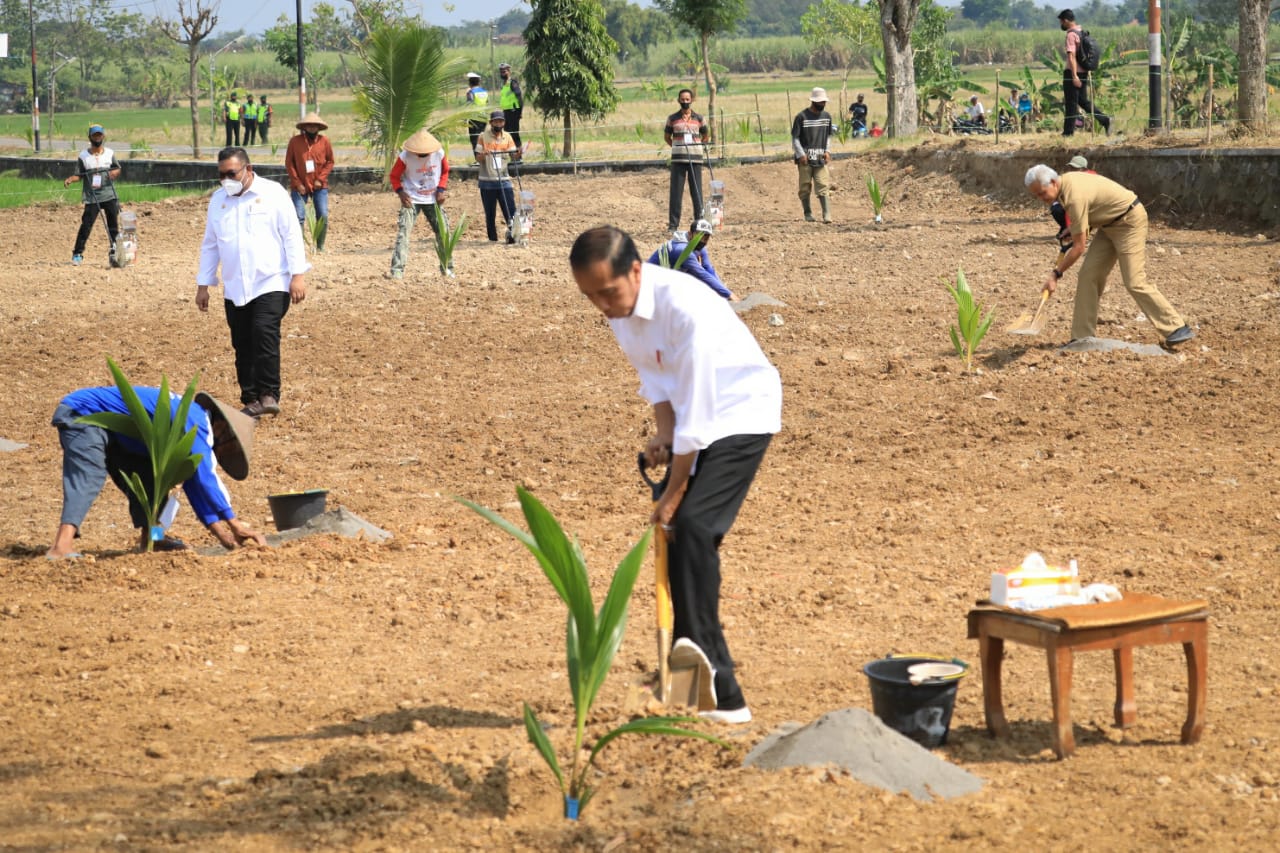 BOYOLALI – Nur Haryanti, Ida and Sari Widadyo faces looked happy. Their wait, after more than two hours in the scorching sun, was paid off after meeting Indonesian President Joko Widodo and Governor Ganjar Pranowo.
The moment came during President Jokowi's working visit to Giriroto Village, Boyolali on Thursday (8/11/2022). The President reviewed the development of early maturing coconuts, as well as planting early maturing coconuts and intercrops, in collaboration with local farmers.
Around 09:20 WIB, the delegation of the Head of State arrived on the scene. Jokowi did not go straight to the point of the event, but first greeted the inhabitants of the village of Giriroto. Practically, the atmosphere turned rowdy, as locals jostled to greet the president directly.
Not far from President Jokowi, Governor Ganjar Pranowo also greeted locals who greeted him one by one. Ganjar accompanied Jokowi who distributed t-shirts to local residents.
During the event, dozens of farmers stood on the prepared land. In front of them are the President's aide and the seeds of early maturing coconuts that have been planted. When the president had a dialogue with the farmers, Ganjar served the farmers who requested a photo with him.
Earlier, Mr. Ganjar asked who planted this. "I said yes sir, those are coconut seeds," Ida said, practicing her conversation with Ganjar.
Ida said there were a thousand early maturing coconut seedlings planted at the event. He likes to receive visits and talk to Jokowi and Ganjar.
Here are a thousand coconut seeds, happy to have to help. Hopefully the economy will improve, Ida said.
Sari Widadyo felt the same. Feelings of pleasure and happiness in meeting President Jokowi and Governor Ganjar Pranowo, increased with the help of seeds provided.
The feeling is very happyvisited everybody is happy"Also, if there is help like this, people here are happier," he said.
The 56-year-old farmer also received a message from Ganjar regarding President Jokowi's assistance. According to Widadyo, Ganjar indicated that later the farmers could enjoy the harvests.
Of Niku "I hope that the income problem of this plantation can be used by the surrounding residents, and the results can contribute to the economy and progress of this village," he said.
Another farmer, Nur Haryanti, was also happy. He had been waiting for this moment for a long time. Can directly meet and greet President Jokowi and Governor Ganjar Pranowo.
I felt very happy and touched, visited by the number one person in Indonesia and the number one person in Central Java. "To be able to shake hands directly, O Allah, is very happy," he said.
Nur continues to express her feelings about meeting Jokowi and Ganjar. Until the end of the event, Nur felt incredulous and trembling because she could take pictures with Ganjar.
Excited, happy Mr. Ganjar is very funny, humorous and populist veryhe said.
Nur said the number of seeds provided was several thousand and of different types. From early coconut, corn, chilli, tomatoes to vegetable crops.
"I hope the farmers here can take advantage of what the government has given them and become more prosperous with this kind of help," the 37-year-old said.
Food safety
Central Java Governor Ganjar Pranowo expressed his gratitude to President Joko Widodo for the seed aid provided. Ganjar hopes the seed aid provided will help develop existing industries, one of which is ant sugar.
We hope it will be a new part of the development of the industry here, and the support of the Regent is good, the scenery will be beautiful later. "There's a reservoir there, now it's been successful for two years, you know," Ganjar said.
President Jokowi said 46,000 early maturing coconut seedlings were distributed and planted in Boyolali Regency. In addition, seed assistance was also provided in Karanganyar, up to 44,000 seeds and 110,000 seeds in Sukoharjo.
It just started from here, later in the provinces where coconut can be good, we will plant it. The goal is around 1 million mature coconuts. But not just coconut. Previously, there were also corn and chili seeds, Jokowi said.
This method, he added, should be a solution to food security in Indonesia. Because right now, there is a food crisis and 300 million people in the world are starving.
"In several countries, it is estimated that if there is no solution, 800 million people will suffer from food shortages," the president said.
Jokowi thinks Indonesia is capable of coping with the food crisis. Especially if the community can optimize the existence of unproductive land.
As for the pepper, it is a question for the households of the village of being able to cultivate it. In polybag or in the yard, so that there is no shortage of chillies or our prices have increased significantly, he said. (Central Java Public Relations) *ul
Sources
2/ https://jatengprov.go.id/publik/dibantu-bibit-kelapa-genjah-warga-giriroto-terima-kasih-pak-jokowi-dan-pak-ganjar/
The mention sources can contact us to remove/changing this article
What Are The Main Benefits Of Comparing Car Insurance Quotes Online
LOS ANGELES, CA / ACCESSWIRE / June 24, 2020, / Compare-autoinsurance.Org has launched a new blog post that presents the main benefits of comparing multiple car insurance quotes. For more info and free online quotes, please visit https://compare-autoinsurance.Org/the-advantages-of-comparing-prices-with-car-insurance-quotes-online/ The modern society has numerous technological advantages. One important advantage is the speed at which information is sent and received. With the help of the internet, the shopping habits of many persons have drastically changed. The car insurance industry hasn't remained untouched by these changes. On the internet, drivers can compare insurance prices and find out which sellers have the best offers. View photos The advantages of comparing online car insurance quotes are the following: Online quotes can be obtained from anywhere and at any time. Unlike physical insurance agencies, websites don't have a specific schedule and they are available at any time. Drivers that have busy working schedules, can compare quotes from anywhere and at any time, even at midnight. Multiple choices. Almost all insurance providers, no matter if they are well-known brands or just local insurers, have an online presence. Online quotes will allow policyholders the chance to discover multiple insurance companies and check their prices. Drivers are no longer required to get quotes from just a few known insurance companies. Also, local and regional insurers can provide lower insurance rates for the same services. Accurate insurance estimates. Online quotes can only be accurate if the customers provide accurate and real info about their car models and driving history. Lying about past driving incidents can make the price estimates to be lower, but when dealing with an insurance company lying to them is useless. Usually, insurance companies will do research about a potential customer before granting him coverage. Online quotes can be sorted easily. Although drivers are recommended to not choose a policy just based on its price, drivers can easily sort quotes by insurance price. Using brokerage websites will allow drivers to get quotes from multiple insurers, thus making the comparison faster and easier. For additional info, money-saving tips, and free car insurance quotes, visit https://compare-autoinsurance.Org/ Compare-autoinsurance.Org is an online provider of life, home, health, and auto insurance quotes. This website is unique because it does not simply stick to one kind of insurance provider, but brings the clients the best deals from many different online insurance carriers. In this way, clients have access to offers from multiple carriers all in one place: this website. On this site, customers have access to quotes for insurance plans from various agencies, such as local or nationwide agencies, brand names insurance companies, etc. "Online quotes can easily help drivers obtain better car insurance deals. All they have to do is to complete an online form with accurate and real info, then compare prices", said Russell Rabichev, Marketing Director of Internet Marketing Company. CONTACT: Company Name: Internet Marketing CompanyPerson for contact Name: Gurgu CPhone Number: (818) 359-3898Email: [email protected]: https://compare-autoinsurance.Org/ SOURCE: Compare-autoinsurance.Org View source version on accesswire.Com:https://www.Accesswire.Com/595055/What-Are-The-Main-Benefits-Of-Comparing-Car-Insurance-Quotes-Online View photos
to request, modification Contact us at Here or [email protected]