Narendra Modi – Mamata Banerjee spares Narendra Modi from agency blame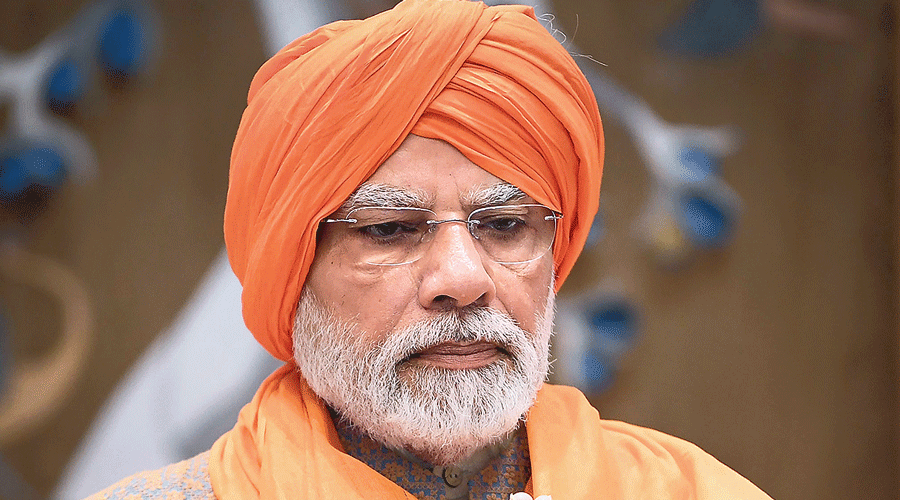 Modi during a meeting with a Sikh delegation at his New Delhi residence on Monday.
PTI picture
Chief Minister Mamata Banerjee said she does not believe Narendra Modi triggered the central agencies such as the CBI and the Bengal Law Enforcement Directorate, adding that it was done by (others) BJP leaders.
During a discussion in support of a resolution proposed by the Trinamul Congress-led State Government in the Assembly against the alleged misuse of central agencies to suppress and corner political opponents of the BJP , the Chief Minister of Bengal has repeatedly referred to the Prime Minister.
Many are unaware that the CBI is no longer under the Prime Minister's Office (PMO), but under the Union Home Ministry (under Minister Amit Shah). The agency is not controlled by the PMO, Mamata said during his 27-minute speech.
Businessmen are leaving across the country, fleeing, fearing misuse of the ED and CBI, she added. I don't believe Narendra Modi did that. This is done by (other) BJP leaders.
His remarks surprised BJP MPs. It has also prompted opposition leader Suvendu Adhikari to say his name Modis will not be enough to save the nephew from a reference to Abhishek Banerjee from central agencies investigating alleged corruption in Bengal.
Without baiting, the chief minister demanded to know why some BJP leaders were frequently seen in the offices of central agencies. Why do your leaders sit at the Nizam Palace in the evening, what advice do they give, against whom? she asked.
The Trinamul leader questioned why the Center continued to block the release of funds owed to the state, accusing the BJP state leaders of advising their Delhi bosses against releasing funds.
It won't last. Abraham Lincoln said: You can fool everyone some of the time and some people all the time, but you can't fool everyone all the time. Remember. Remember well, said Mamata.
With all due respect to the Prime Minister, I must ask him to rein in these people (BJP state leadership). They advise against releasing funds for the 100-day scheme funds (employment guarantee), but they do not advise against buying Cheetahs, she added.
Mamata was referring to Namibian cheetahs that Modi had released into Madhya Pradeshs Kuno National Park as part of a reintroduction initiative. (Modi is) now a cheetah-mitra (friend), she added.
She then urged Modi to ensure that his government functions as such.
It was his birthday (September 17), so I will only say this: don't make the government and the party one and the same. Government should operate like government. A party must function like a party. You have blurred the boundaries between them. A cheetah and a tomcat are not the same thing, Mamata said.
The Chief Minister defended her government's right to propose the resolution and regretted the state in which the nation had come into the hands of the current Union government and its agencies.
Remember, the main purpose of the resolution is not to condemn anyone, but to maintain (agency) neutrality, not bias, she said.
I'm not saying the CBI is bad. There is the BSF, CISF, SSB, IB, R&AW there are so many. I just ask them to be impartial, not one-sided.
Mamata accused the BJP leadership of being corrupt and yet unscathed due to the bias of central agencies.
Those in saffron who are delighted with these raids, if their houses are raided, stacks of cash will be found in every room, she said, asking why no BJP member has ever been summoned by an agency. center for questioning. She attacked Adhikari and his clan several times during the speech, accusing them of amassing a fortune through corruption.
Demanding answers on the thousands of crores allegedly handed out to buy out MPs and overthrow non-BJP democratically elected governments in various states, such as Maharashtra and Karnataka, Mamata said the BJP was worse than dictators.
They are more than dictators. More than Hitler, more than Stalin, more than Mussolini, more than anything, she says.
Sources
2/ https://www.telegraphindia.com/west-bengal/mamata-banerjee-spares-narendra-modi-from-agency-blame/cid/1887691
The mention sources can contact us to remove/changing this article
What Are The Main Benefits Of Comparing Car Insurance Quotes Online
LOS ANGELES, CA / ACCESSWIRE / June 24, 2020, / Compare-autoinsurance.Org has launched a new blog post that presents the main benefits of comparing multiple car insurance quotes. For more info and free online quotes, please visit https://compare-autoinsurance.Org/the-advantages-of-comparing-prices-with-car-insurance-quotes-online/ The modern society has numerous technological advantages. One important advantage is the speed at which information is sent and received. With the help of the internet, the shopping habits of many persons have drastically changed. The car insurance industry hasn't remained untouched by these changes. On the internet, drivers can compare insurance prices and find out which sellers have the best offers. View photos The advantages of comparing online car insurance quotes are the following: Online quotes can be obtained from anywhere and at any time. Unlike physical insurance agencies, websites don't have a specific schedule and they are available at any time. Drivers that have busy working schedules, can compare quotes from anywhere and at any time, even at midnight. Multiple choices. Almost all insurance providers, no matter if they are well-known brands or just local insurers, have an online presence. Online quotes will allow policyholders the chance to discover multiple insurance companies and check their prices. Drivers are no longer required to get quotes from just a few known insurance companies. Also, local and regional insurers can provide lower insurance rates for the same services. Accurate insurance estimates. Online quotes can only be accurate if the customers provide accurate and real info about their car models and driving history. Lying about past driving incidents can make the price estimates to be lower, but when dealing with an insurance company lying to them is useless. Usually, insurance companies will do research about a potential customer before granting him coverage. Online quotes can be sorted easily. Although drivers are recommended to not choose a policy just based on its price, drivers can easily sort quotes by insurance price. Using brokerage websites will allow drivers to get quotes from multiple insurers, thus making the comparison faster and easier. For additional info, money-saving tips, and free car insurance quotes, visit https://compare-autoinsurance.Org/ Compare-autoinsurance.Org is an online provider of life, home, health, and auto insurance quotes. This website is unique because it does not simply stick to one kind of insurance provider, but brings the clients the best deals from many different online insurance carriers. In this way, clients have access to offers from multiple carriers all in one place: this website. On this site, customers have access to quotes for insurance plans from various agencies, such as local or nationwide agencies, brand names insurance companies, etc. "Online quotes can easily help drivers obtain better car insurance deals. All they have to do is to complete an online form with accurate and real info, then compare prices", said Russell Rabichev, Marketing Director of Internet Marketing Company. CONTACT: Company Name: Internet Marketing CompanyPerson for contact Name: Gurgu CPhone Number: (818) 359-3898Email: [email protected]: https://compare-autoinsurance.Org/ SOURCE: Compare-autoinsurance.Org View source version on accesswire.Com:https://www.Accesswire.Com/595055/What-Are-The-Main-Benefits-Of-Comparing-Car-Insurance-Quotes-Online View photos
to request, modification Contact us at Here or [email protected]