Video of Minister Pak being heckled by Imran Khan supporters goes viral with false claim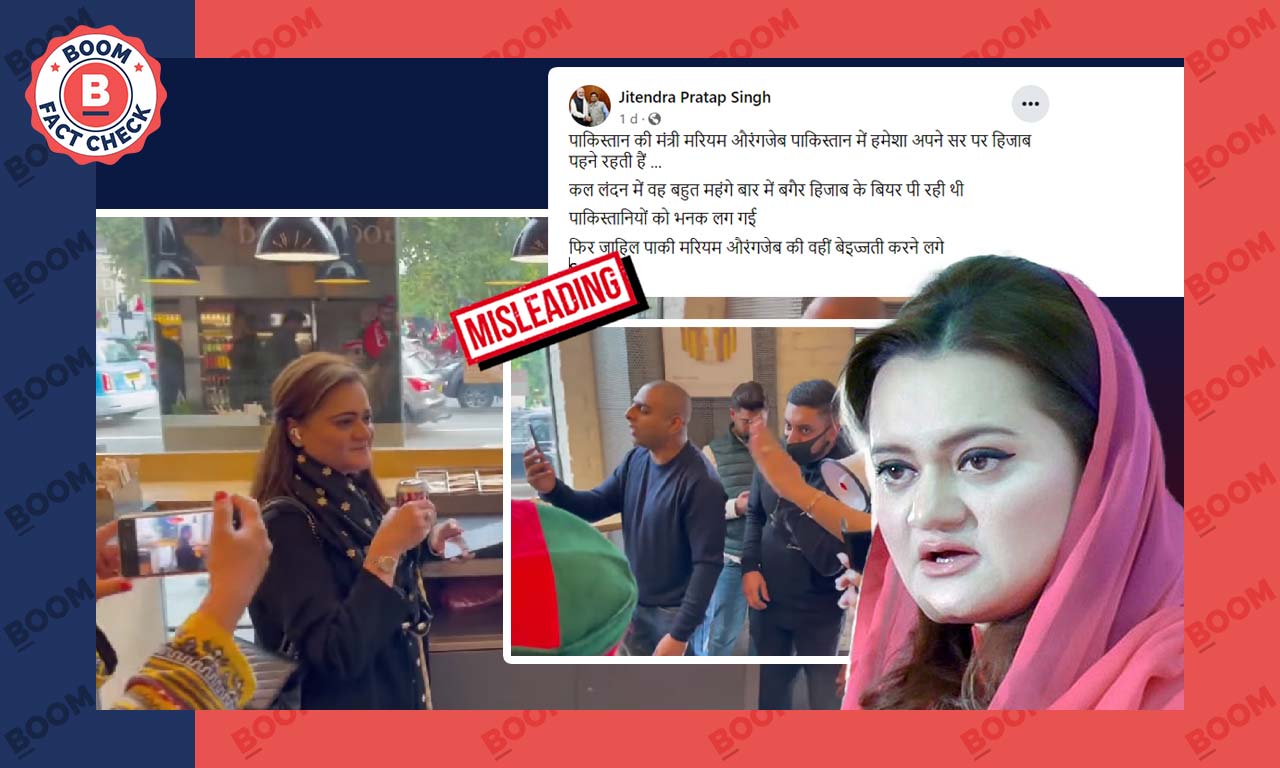 A video of Pakistani Information Minister Marriyum Aurangzeb being heckled by Imran Khan supporters in London is being shared by Indian social media users claiming she was harassed by Pakistanis in the UK for not not wear hijab.
The video shows a crowd surrounding Aurangzeb in a cafe while hurling insults at him and accusing him of stealing "money from Pakistanis".
Several Indian accounts shared the video with a Hindi statement that translates to: "Pakistani Minister Marriyum Aurangzeb has always sported a dupatta (hijab) on her head. Yesterday in London she was drinking beer in a very expensive bar, some Pakistanis came to know and they all started insulting her."
(Original text in Hindi – . )
FACT CHECK
BOOM discovered that Aurangzeb had been heckled by supporters of former Pakistani Prime Minister Imran Khan and the party he founded Pakistan Tehreek-e-Insaf. Aurangzeb is part of the Pakistan Muslim League (N) and is currently Minister of Information and Broadcasting in the country.
Pakistan experienced political turmoil after the fall of the Tehreek-e-Insaaf coalition government led by Imran Khan, Khan being ousted from his post as Prime Minister which was taken over by Shehbaz Sharif of the PMLN.
A search for "Marriyum Aurangzeb + London" showed several Pakistani, Indian and international media reports of how she was heckled in London where she is attending the 77th session of the United Nations General Assembly.
Pakistani daily Dawn reported: "Videos widely shared on social media showed Aurangzeb being harassed and heckled by people wearing PTI colors in a store" and added: "…Aurangzeb can be seen in what appears to be a cafe, surrounded by PTI supporters who yell at her, mock her, and record her with their cell phones. She takes a sip of her drink unfazed by a disrupter yelling at her through a megaphone.
Taking that as a clue, we searched for more videos and found a clearer version of the one that went viral, tweeted by Pakistani journalist Mughees Ali.
In this, some members of the crowd who heckled Aurangzeb can be seen sporting the PTI colors of red and green and the party logo as hats and sashes.
In another video, tweeted by several people shot while Aurangzeb is not in the cafe, but walking down the street, she can be seen followed by other hecklers, one of them carrying the PTI flag. .
In the video above, one of the women heckling Aurangzeb taunts her for not covering her head. However, the claim that she was heckled for not wearing a hijab abroad is misleading as the ambush appears to be political with PTI supporters behind her. Additionally, in all of the videos, the hecklers can be seen carrying megaphones, indicating this was a planned ambush.
The video can be seen below
Also Read: Bharat Republic Reports China Coup Satirical Thread as Breaking News
Additionally, Aurangzeb can be seen walking into a small store and buying a can of Diet Coke and not a beer contrary to the viral claim. In a screenshot, the pop can is seen in his hand.
Aurangzeb also tweeted about the incident by retweeting a video of the incident and said, "Sad to see the toxic impact of IK's hateful and divisive policy on our brothers and sisters. I stayed and I answered every one of their questions. Unfortunately, they are victims of IK's propaganda. We will continue our work to counter IK's toxic politics and bring people together.
Sad to see the toxic impact that IK's politics of hate and division has had on our brothers and sisters. I stayed and answered each of their questions. Unfortunately, they are victims of IK propaganda. We will continue our work to counter IK's toxic politics and bring people together https://t.co/KEgOPa5Y3p
Marriyum Aurangzeb (@Marriyum_A) September 25, 2022
Sources
2/ https://www.boomlive.in/fact-check/world/marriyum-aurangzeb-pakistan-minister-london-heckled-viral-video-fake-claim-19417
The mention sources can contact us to remove/changing this article
What Are The Main Benefits Of Comparing Car Insurance Quotes Online
LOS ANGELES, CA / ACCESSWIRE / June 24, 2020, / Compare-autoinsurance.Org has launched a new blog post that presents the main benefits of comparing multiple car insurance quotes. For more info and free online quotes, please visit https://compare-autoinsurance.Org/the-advantages-of-comparing-prices-with-car-insurance-quotes-online/ The modern society has numerous technological advantages. One important advantage is the speed at which information is sent and received. With the help of the internet, the shopping habits of many persons have drastically changed. The car insurance industry hasn't remained untouched by these changes. On the internet, drivers can compare insurance prices and find out which sellers have the best offers. View photos The advantages of comparing online car insurance quotes are the following: Online quotes can be obtained from anywhere and at any time. Unlike physical insurance agencies, websites don't have a specific schedule and they are available at any time. Drivers that have busy working schedules, can compare quotes from anywhere and at any time, even at midnight. Multiple choices. Almost all insurance providers, no matter if they are well-known brands or just local insurers, have an online presence. Online quotes will allow policyholders the chance to discover multiple insurance companies and check their prices. Drivers are no longer required to get quotes from just a few known insurance companies. Also, local and regional insurers can provide lower insurance rates for the same services. Accurate insurance estimates. Online quotes can only be accurate if the customers provide accurate and real info about their car models and driving history. Lying about past driving incidents can make the price estimates to be lower, but when dealing with an insurance company lying to them is useless. Usually, insurance companies will do research about a potential customer before granting him coverage. Online quotes can be sorted easily. Although drivers are recommended to not choose a policy just based on its price, drivers can easily sort quotes by insurance price. Using brokerage websites will allow drivers to get quotes from multiple insurers, thus making the comparison faster and easier. For additional info, money-saving tips, and free car insurance quotes, visit https://compare-autoinsurance.Org/ Compare-autoinsurance.Org is an online provider of life, home, health, and auto insurance quotes. This website is unique because it does not simply stick to one kind of insurance provider, but brings the clients the best deals from many different online insurance carriers. In this way, clients have access to offers from multiple carriers all in one place: this website. On this site, customers have access to quotes for insurance plans from various agencies, such as local or nationwide agencies, brand names insurance companies, etc. "Online quotes can easily help drivers obtain better car insurance deals. All they have to do is to complete an online form with accurate and real info, then compare prices", said Russell Rabichev, Marketing Director of Internet Marketing Company. CONTACT: Company Name: Internet Marketing CompanyPerson for contact Name: Gurgu CPhone Number: (818) 359-3898Email: [email protected]: https://compare-autoinsurance.Org/ SOURCE: Compare-autoinsurance.Org View source version on accesswire.Com:https://www.Accesswire.Com/595055/What-Are-The-Main-Benefits-Of-Comparing-Car-Insurance-Quotes-Online View photos
to request, modification Contact us at Here or [email protected]